Lighter Caesar Salad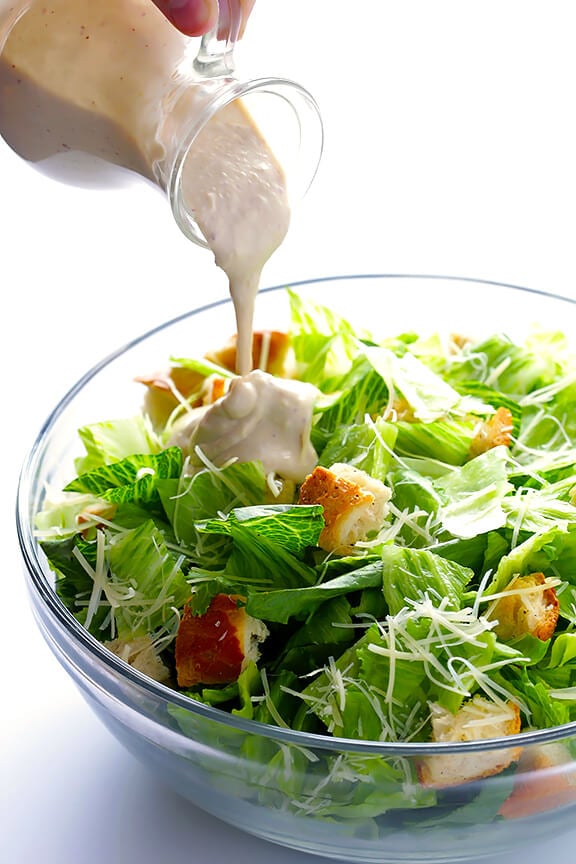 Happy March, everyone!  In case you missed it, we launched our latest monthly dare this week which is a simple one: eat more leafy greens!  You can read all about the dare here.  (And if you want to participate, be sure to snap some pics of your greens and hashtag them #eatmoreleafygreens on Instagram so that we can cheer you on as you "go green"!)
I have to admit, though.  As much as I adore loading up leafy green salads with all sorts of fruit and veggies and nuts and protein and cheeses galore, I think I will forever and always be a Caesar salad girl at heart.  Which, on one hand makes me extremely happy (because let's be real, caesar dressing is king), and on one hand makes me highly annoyed (because why do I always crave the least-healthy salad on the menu?!?).
It's true — Caesar salads are consistently some of the worst salads you can order out at a restaurant in terms of fat and calorie content.  Plus, their dressings are often stuffed with unnecessary processed ingredients.  And of course, many people still get iffy about the idea of eating raw eggs in their dressing.
But here's the secret that restaurants don't tell you — Caesar salad is totally easy to lighten up at home!
And it's totally delish.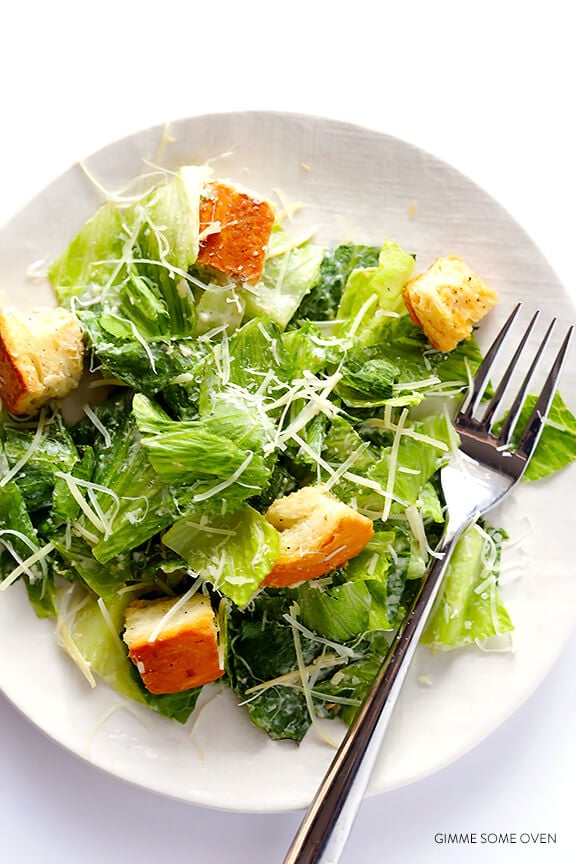 Well, I take that back.  Caesar salad is apparently hard to show you.  Because white dressings always tend to disappear on camera — argh.  I promise that this salad is loaded up with creamy dressing that my camera apparently missed.  You'll see it when it's on your plate at home.  ;)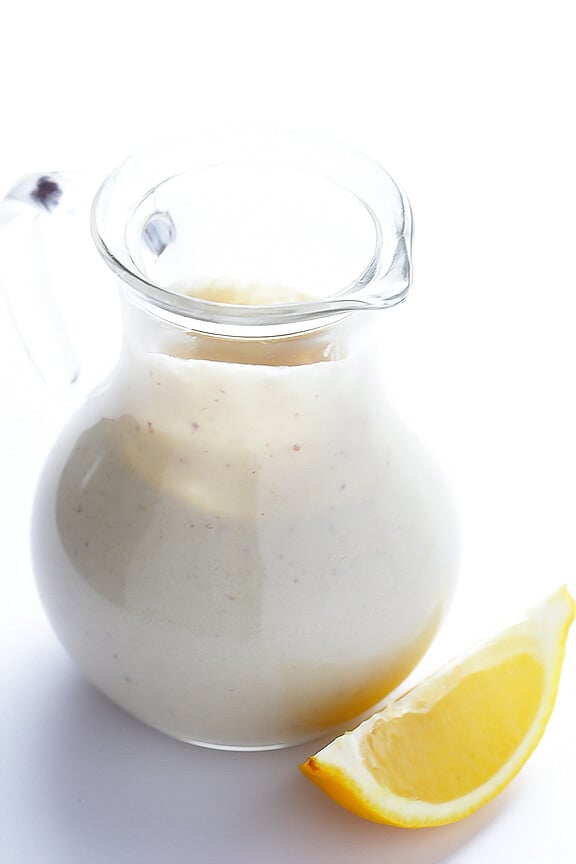 Still, the most important part of lightening up Caesar salad is the dressing.
Traditional Caesar dressing is often packed with tons of olive oil, sometimes cream, a raw egg, and copious amounts of Parmesan cheese, amongst other things.  Delicious, but definitely not nutritious.
My favorite Greek Yogurt Caesar Dressing is lightened up with lots of creamy nonfat Greek yogurt (replacing most of the olive oil and cream), it's raw-egg free (I never miss it), and we pair a moderate amount of Parmesan with the other flavor boosters in the recipe.  You can find the recipe for the dressing here.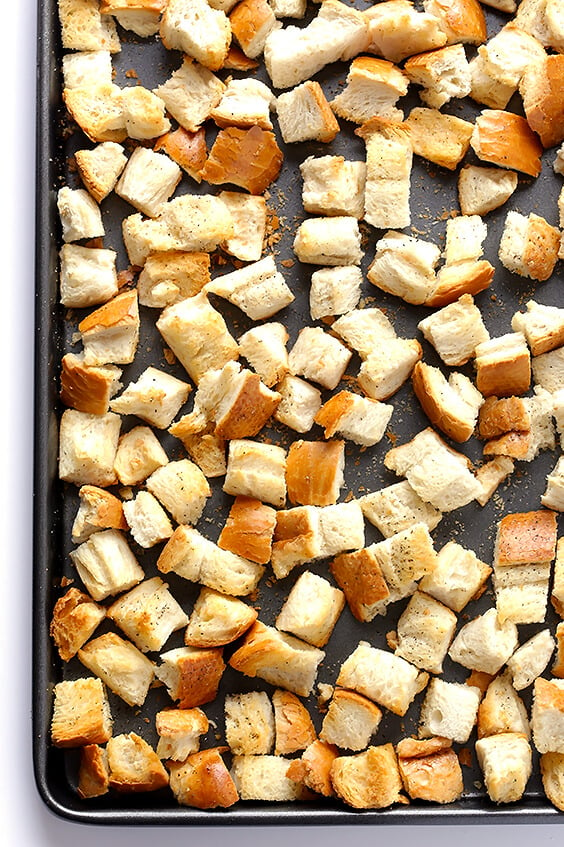 The other key, if you're lightening things up, is to go with homemade croutons.  Because first off, homemade croutons are always 10x better than store-bought.  But the other benefit is that you can choose your favorite kind of bread (whole wheat, gluten-free, whatever sounds good), and you can control the amount of oil (or butter) and seasonings you use to help crisp them up in the oven.
I'm a big fan of just misting leftover bread chunks with olive oil (using a Misto), sprinkling them with some generous pinches of salt and pepper (and occasionally Italian seasonings and garlic powder), and then baking them up until crispy.  You can find a tutorial for making homemade croutons here.

Then once you have those main ingredients all prepped, you're ready to go with the salad.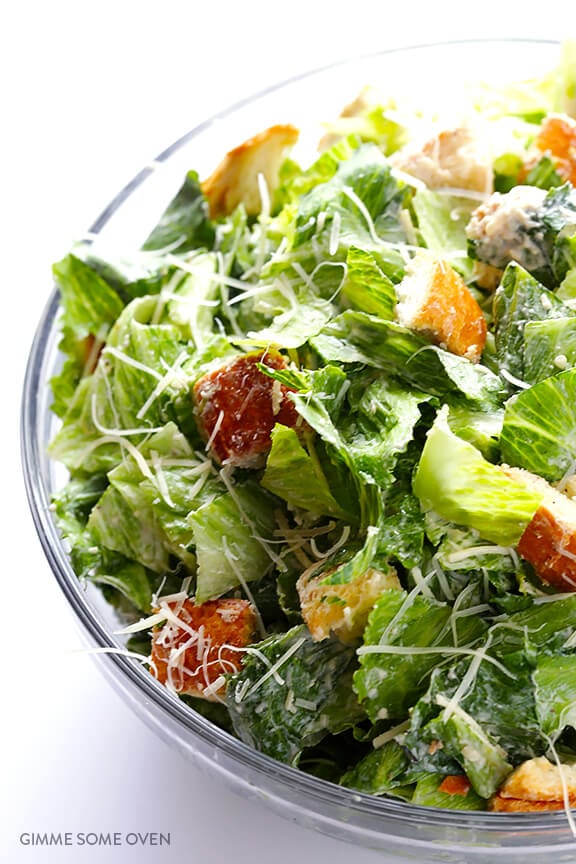 Just chop up a head of Romaine lettuce and toss it with the croutons and dressing and some freshly-grated Parmesan cheese…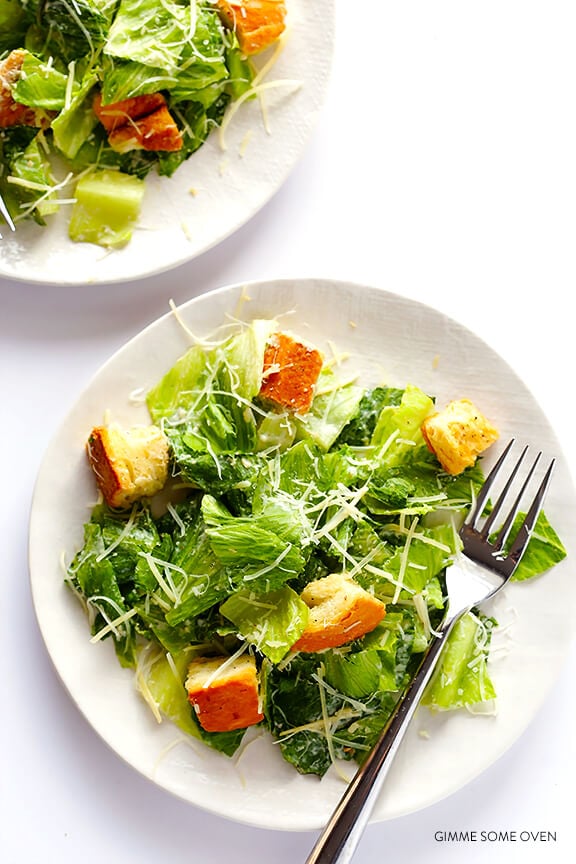 …and this healthier and crazy-delicious Caesar salad will be ready to go in no time.
(And I'm pretty positive that no one who tastes it will ever guess that it has been lightened up!)
I went ahead and made this batch with the classic ingredients, which I tend to consider a side salad.  But feel free to add in your favorite proteins and veggies to make it a main course.  Because you can't go wrong with Caesar.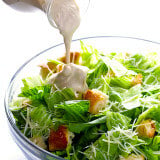 Lighter Caesar Salad Recipe
This lighter Caesar salad recipe is made with a Greek yogurt Caesar dressing, and comes together in just minutes!
Ingredients:
Directions:
Toss the Romaine, croutons, Greek yogurt Caesar dressing and 1/4 cup Parmesan cheese together until combined.  Serve immediately, topped with extra Parmesan cheese.
*Parmesan cheese is much more flavorful when it is freshly grated.  So in order to use less cheese, be sure to grate it just before serving!
All images and text ©
If you make this recipe, be sure to snap a photo and hashtag it #gimmesomeoven. I'd love to see what you cook!