Prosciutto & Melon Pasta Salad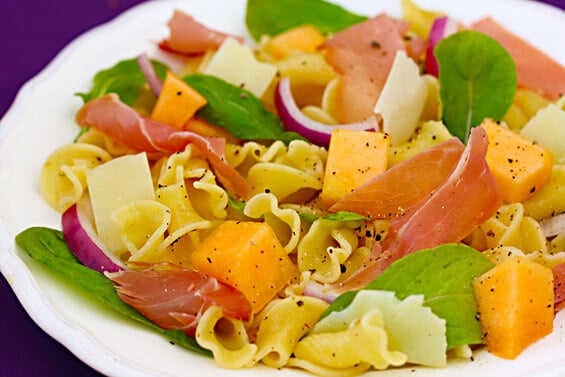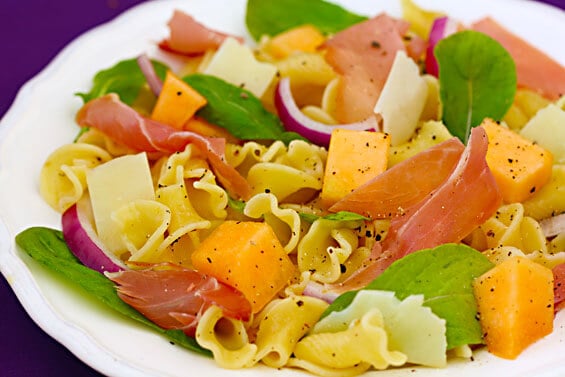 I know I've talked on here repeatedly about how much I love-love-love my Saturday morning trips to our City Market in downtown KC.  And how lucky we are here to have such great local farmers with their amazing array of fresh produce, herbs, meats, cheeses, plants, flowers, and on…and on…..
But I don't think I've ever talked about the treasures that lie on the perimeter of the market.  Forming an enormous "L" around the farmers market are a host of local restaurants and stores, mostly specializing in specific ethnic cuisines.  One of my favorites is Carollo's – the most amazing Italian market and deli ever (or so I think!).  I know we live in the heart of the Midwest, but for the brief moments I'm wandering around this grocery overflowing with pastas, tons of freshly-made cheeses, olives, olive oils, wines, and every kind of Italian meats you can imagine…I can almost pretend I'm in the heart of Italy.  :)
Anyway, Carollo's also happens to be my favorite place to buy pancetta and prosciutto.  (Which, as a sidenote for all of you from KC, it's actually more fresh and more inexpensive there than at our local grocery stores!)  So when I saw this recipe in this month's Cooking Light, and already had some cantaloupe and arugula at home, it seemed like the perfect excuse to swing by my favorite place to pick up some prosciutto.  So I did.  :)
And I'm so glad — this salad was a complete delight!  Loved the sweet melon, salty/smoky prosciutto and peppery arugula combination.  And the lemony white wine vinaigrette and parmesan were the perfect, light touch on top.  I actually loved this as a pasta salad, but you could easily leave out the pasta and go low-carb!  Either way, definitely a delicious "light" summer salad.  Cheers to great meals fresh from the market!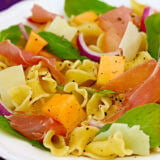 Prosciutto & Melon Pasta Salad
A delicious, flavorful and LIGHT pasta salad!! Detailed recipe and instructions included.
Ingredients:
8 ounces farfalle pasta
1 1/2 Tbsp. fresh lemon juice
1 1/2 Tbsp. white wine vinegar
1/4 tsp. salt
1/4 tsp. black pepper
1/8  tsp. ground red pepper
1 garlic clove, coarsely chopped
2 1/2 Tbsp. extra-virgin olive oil
1 cup baby arugula
3/4 cup diced cantaloupe
1/4 cup thinly-sliced red onions (or shallots)
2 Tbsp. torn mint leaves (optional)
2 ounces thinly sliced prosciutto, cut into 2-inch-long strips
1 ounce shaved Parmigiano-Reggiano cheese
Directions:
Cook pasta in a large pot of generously-salted boiling water, according to package directions.  Drain; cool to room temperature.

To make the dressing, combine lemon juice and next 5 ingredients (through garlic) in a food processor; process to blend. With processor on, slowly pour olive oil through food chute; process for 15 seconds or until blended.  (You can also do this step in a bowl, just whisking the ingredients together while pouring in the olive oil.)

Combine cooled pasta, arugula, cantaloupe, red onions, mint, and prosciutto in a large bowl. Drizzle the dressing over salad just before serving, and toss gently to coat. Top salad with cheese.

If you make this recipe, be sure to snap a photo and hashtag it #gimmesomeoven. I'd love to see what you cook!
Ali's Tip:
If you like mustard, the original recipe called for adding in 1/4 tsp. into the dressing, as well as using shallots instead of red onion.  I happen to be anti-mustard, and had no shallots around, but I'm sure the original recipe would be wonderful with these ingredients too!