Key Lime Tartlets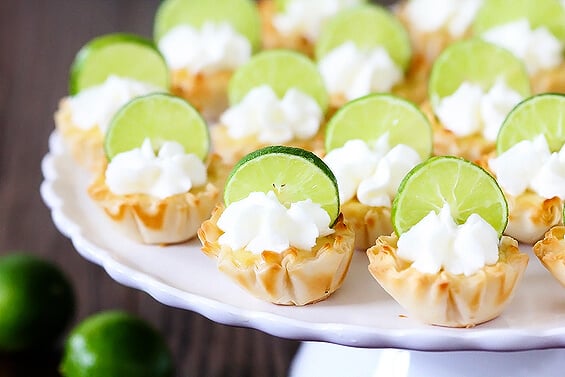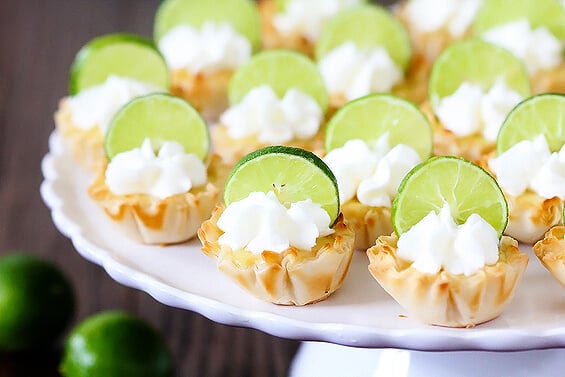 This weekend I had — not one — but two good friends turn 30!!!
Actually, it will be my turn next May.  (Which I am strangely really excited about!)
But for my friend Christy's 30th, which coincided with my monthly rockin' book club, the birthday girl requested some sort of key lime pie dessert to celebrate.  I was going to go with a traditional pie, but after passing by one of my favorite ingredients at the store (these adorable mini phyllo cups), thought it would be fun to try "bite-sized".
And sure enough, these were SO delicious!  Seriously.  I'm pretty sure I may have accidentally eaten a handful when garnishing them.  :)  There was something about the smooth, citrusy custard paired with the flaky, crispy shells that just seemed like the perfect combination.  And thankfully, it looks like the birthday girl and friends thought so too, as they totally dug in at our book club bday celebration.
So for those of you who love key lime pie, or those who love a quick 20-minute dessert, you really, really, really should try these.
Really.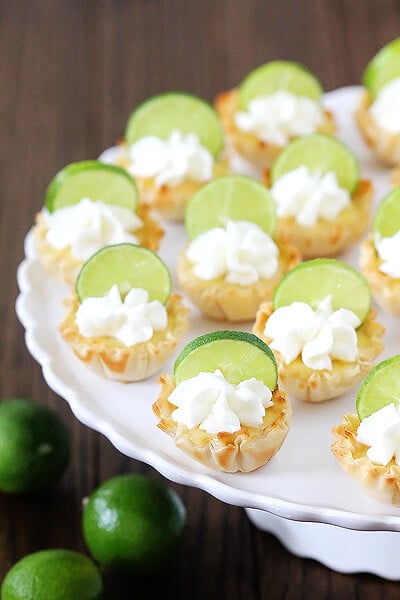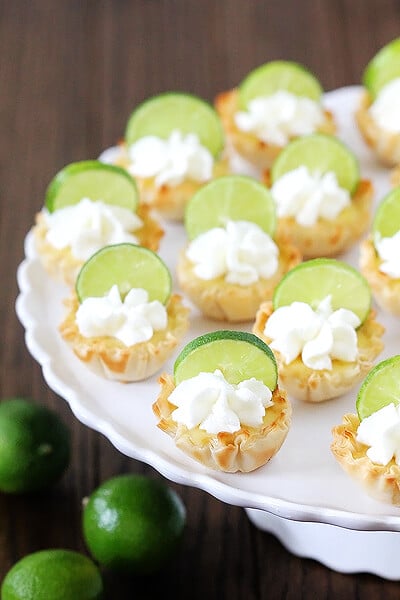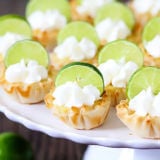 Key Lime Tartlets
You'll love this key lime tartlets recipe! These delicious and adorable individual little treats are ready to go in less than 20 minutes. Try them today!
Ingredients:
2-3 packages frozen mini phyllo tarts
1 (14 oz.) can sweetened condensed milk
1/2 cup fresh lime juice, plus zest from two limes
2 Tbsp. powdered sugar
4 egg yolks
2 cups whipped cream
8-10 key limes, sliced into thin coins for garnish
Directions:
Preheat oven to 375 degrees.
In a large bowl, whisk egg yolks until blended. Add in sweetened condensed milk, lime juice, sugar, and lime zest. Whisk together until smooth and blended.
Spoon batter into mini tarts so that they are nearly overflowing. Bake for about 12 minutes, or until custard has set. Remove and let cool to room temperature. Then top with whipped cream and key lime coins.
Ali's Tip:
This recipe makes a lot of custard!  Feel free to use 2 packages of phyllo tarts and then use the leftover custard to make a small batch of plain custard or an extra medium-sized tart.  Or use 3 packages, and make even more little tartlets!
All images and text ©
If you make this recipe, be sure to snap a photo and hashtag it #gimmesomeoven. I'd love to see what you cook!