Homemade Caramel Corn
I loved being in Europe for this holidays this year.  But one of the traditions I missed back in the States was my annual dose of holiday caramel corn.  It seems like everywhere you go around the holidays, there are those big tubs with butter, cheddar and caramel corn a'plenty.  And ever since I was a kid, the caramel corn definitely gets the most love from this foodie.  ;)
So when I arrived home in January, I decided it was high time in my 29th year of life to learn how to make my own homemade caramel corn.  Granted, I make stovetop popcorn all the time, so the idea of learning how to add in the extra sweetness didn't sound like too many extra steps.  But little did I know — homemade caramel corn is so easy!!!  I was thinking it would be a complex process with candy thermometers, and 500 steps, and sticky caramel everywhere.  But it turns out that this sauce is totally easy and pretty foolproof (as caramel sauces go), and the oven pretty much does all of the work.  And within an hour, a huge batch of caramel corn is ready to go!
My biggest surprise, though, was realizing how much better homemade popcorn tastes than store-bought!  I don't if it's the freshness, or the flavor, or the double-bonus of having your entire house smell like sweet caramel.  But my friends agreed that this version is a definite winner, and they have been happily helping me eat the (um, three?) batches I've already made this month.
What do you love most about caramel corn?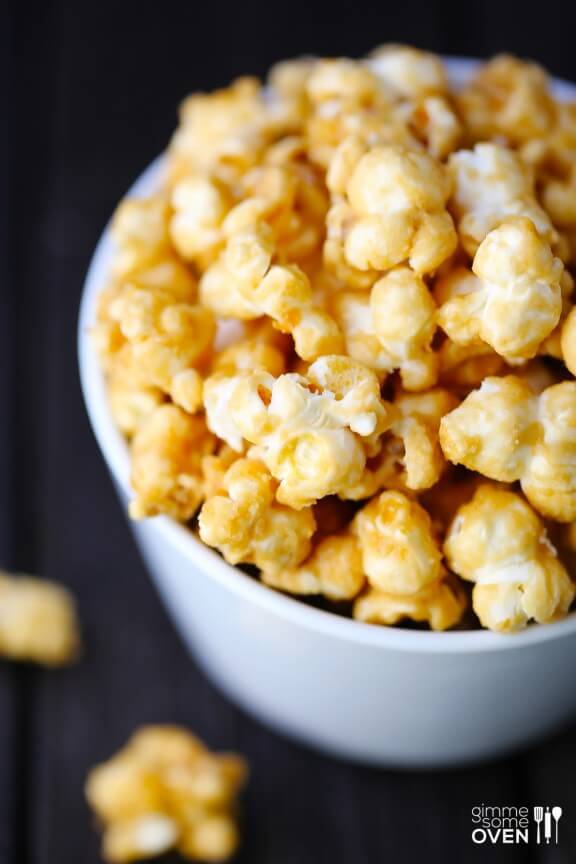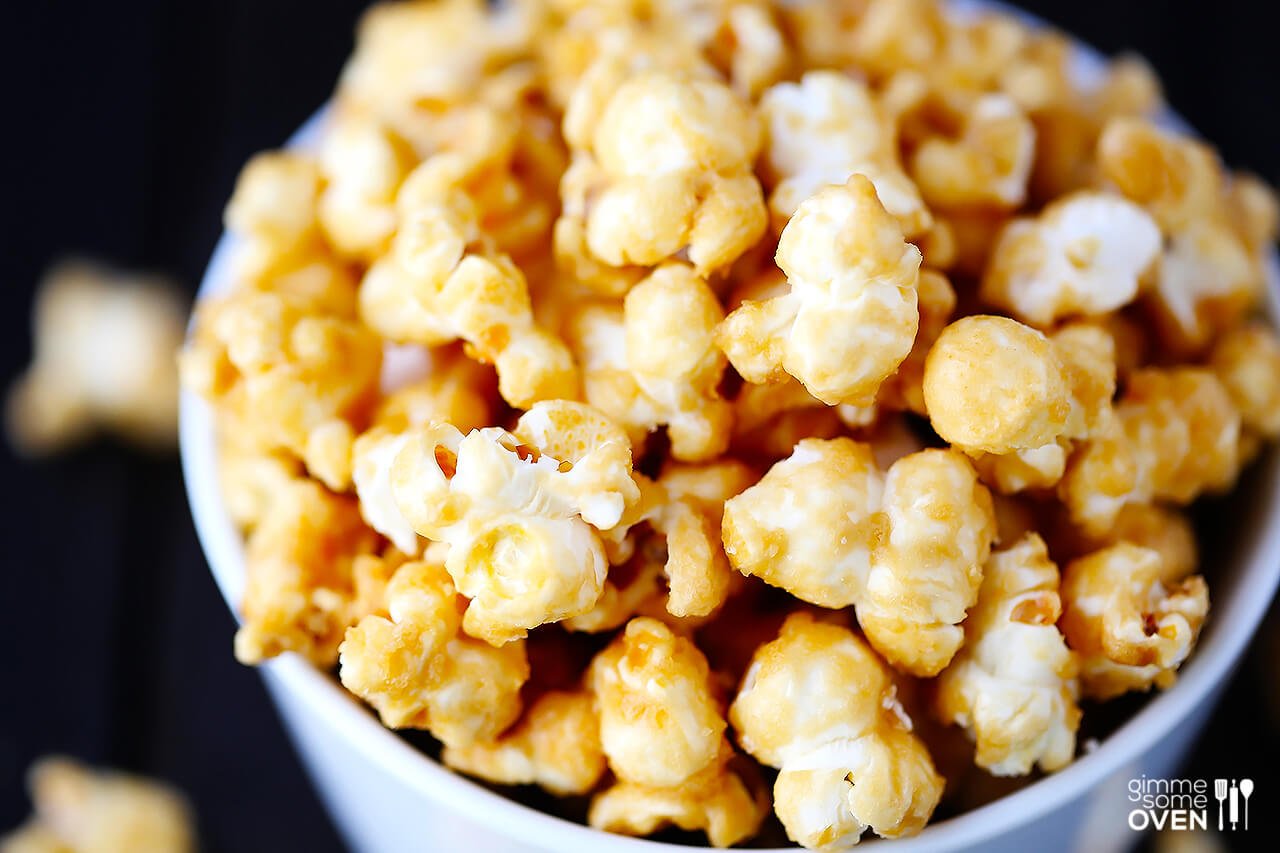 Homemade Caramel Corn
A simple recipe for delicious homemade caramel corn.
Ingredients:
1/2 cup (1 stick) salted butter
1 cup light brown sugar, packed
1/4 cup light or dark corn syrup
1 1/2 tsp. salt
1/4 tsp. baking soda
1/2 tsp. vanilla extract
12 cups popped popcorn (about 1 cup kernels before popped), preferably warm from being freshly popped
Directions:
Preheat oven to 300 degrees F. Line a rimmed baking sheet or roasting pan with aluminum foil, and grease with cooking spray.
Melt butter in a large stockpot pot over medium-high heat. Add brown sugar and corn syrup, stir to combine. Bring to a rolling boil, then reduce the heat to low and let simmer undisturbed for 5 minutes. Stir, then continue to cook for an additional 4 to 6 minutes, stirring every 30 seconds, until the mixture is a deep golden color. Turn off the heat and slowly whisk in salt, baking soda and vanilla, being very careful as the mixture will bubble. Stir in the popcorn and toss until it is evenly coated with the caramel, being sure to scrape the caramel off the bottom of the pot.
Spread the mixture onto the prepared baking sheet or pan in an even layer. Bake for 15 to 20 minutes, stirring to toss every 5 minutes, until the caramel corn has turned a deep amber color. Remove the caramel corn from the oven and transfer to a surface covered with parchment or wax paper to cool. Once it reaches room temperature, use your hands or a spoon to break up the caramel corn, then store in an airtight container for up to a week.
If you make this recipe, be sure to snap a photo and hashtag it #gimmesomeoven. I'd love to see what you cook!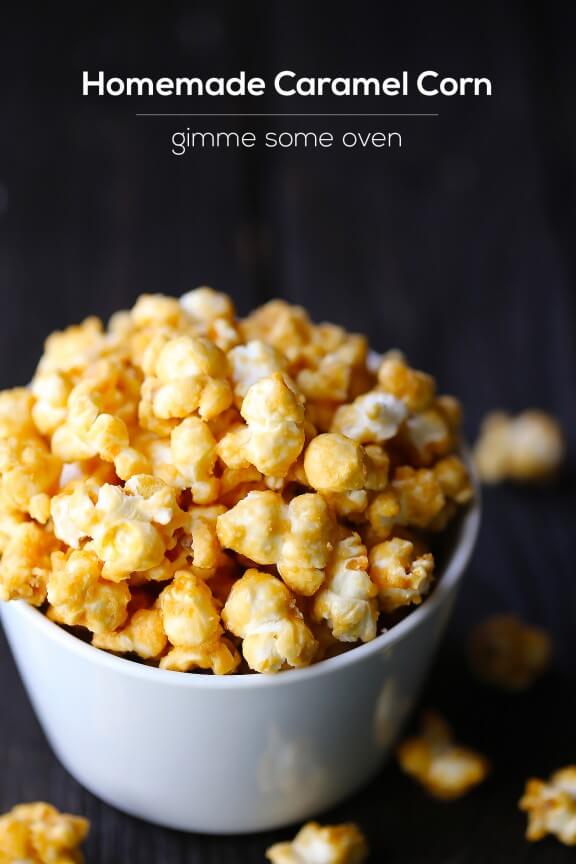 This post contains affiliate links.