Naturally-Sweetened Honey Popcorn Balls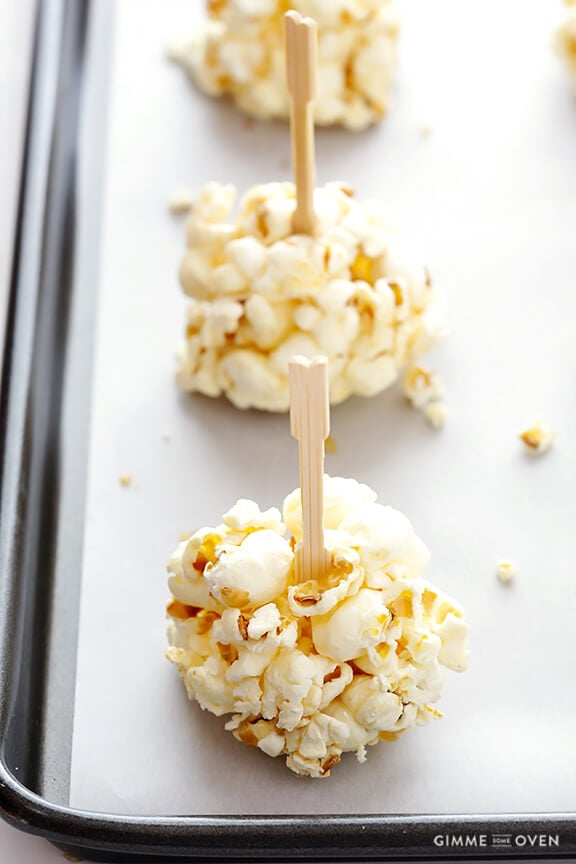 Now that we have made our way past the holidays, it's time for my next favorite round of parties.
It's award show season!!!
Please tell me that you have your calendars marked.  But in case you need a reminder, we're kicking things off this weekend with the Golden Globes (Jan. 11), followed by the Screen Actors Guild Awards (Jan. 25), then get ready to jam at the Grammy's (Feb. 8), and the grand finale is of course the Academy Awards (Feb. 22).  And um, need I remind you that Tina and Amy are hosting this weekend??  Yes, please.
Well, if you're looking for an award-winning snack to serve at your awards show parties, I have one that I'm pretty excited to share with you today.  It's a naturally-sweetened, corn-syrup-free, 2-ingredient, mini-sized, easy-to-make and ridiculously delicious take on classic popcorn balls.
Yep.  Honey Popcorn Balls.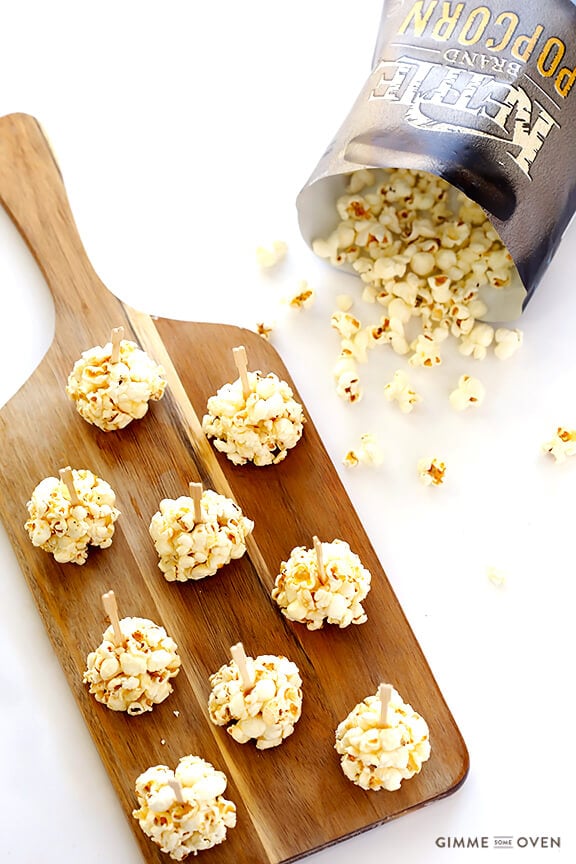 I'll admit — I have long been a fan of the classic popcorn ball.  But whenever I have tried them in the past, they have always been disappointing.  First off, they are usually crack-your-teeth hard.  They are ginormous and make you feel like you're biting into a mile-high burger.  And the recipe developer side of me knows that they're usually chocked full of corn syrup, and butter, and/or sugar-laden marshmallows to hold them together.
Fun idea?  Yes.
Actually good?  Not usually.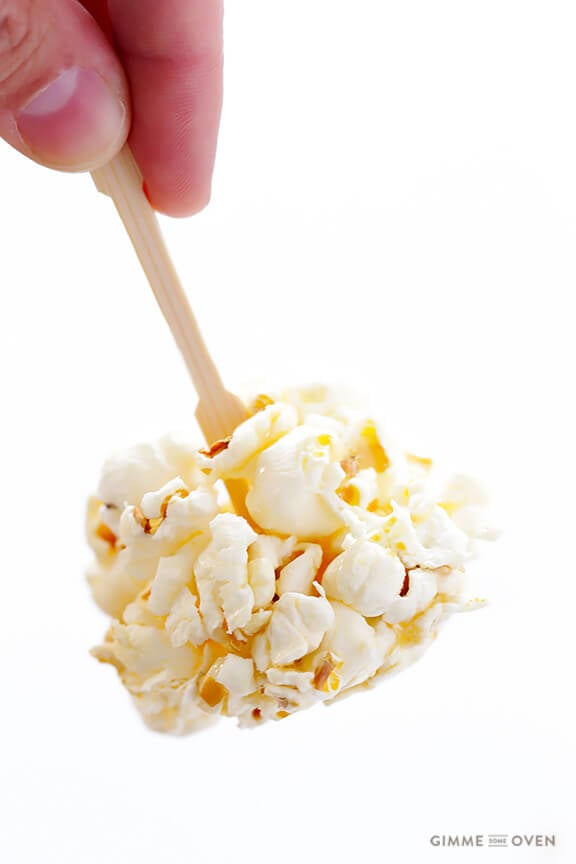 But when I saw a few popcorn balls being served during the holidays, the idea occurred to me to see if they could be "lightened up" using honey as a sweetener and a binder, instead of the usual less-than-healthy suspects.
After a little bit of experimenting, the verdict is now in.
It can be done!!!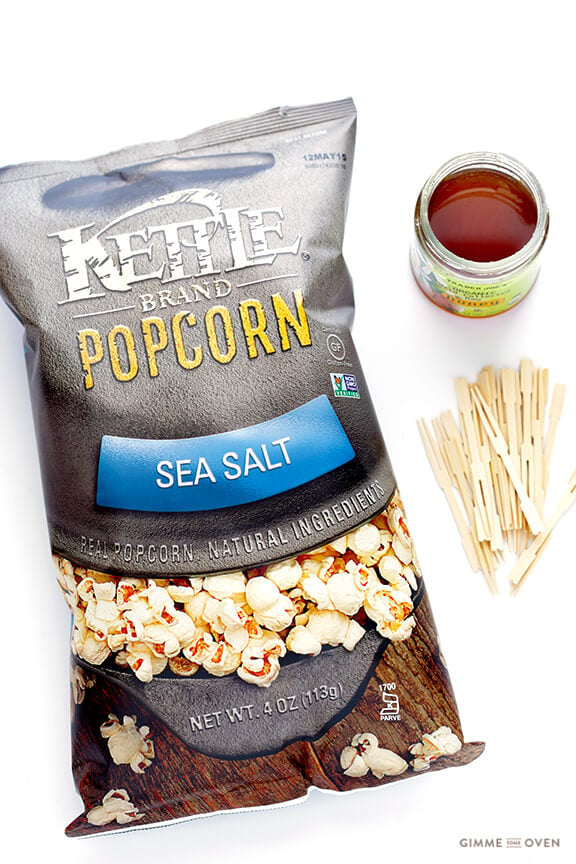 And even crazier?  All you really need are 2 ingredients:
Popcorn + Honey.
To make this recipe even easier, I ended up using with one of my new favorite discoveries of the year for one of the ingredients — Kettle Brand Popcorn.  Yes, popcorn.  I have to admit I had no idea that the brand behind my favorite Kettle Chips made an entire line of popcorn too!  (They even have flavors like Sriracha, Salt and Fresh-Ground Pepper and Maple Bacon!)  But now that I've tried it, I am a mega fan.  Plus, just like with their chips, they are committed to using super simple ingredients in their popcorn too.  So I could rest easy knowing that their Sea Salt Popcorn uses the exact same ingredients I would use to make it on the stove — popcorn, vegetable oil, and sea salt.  Perfect.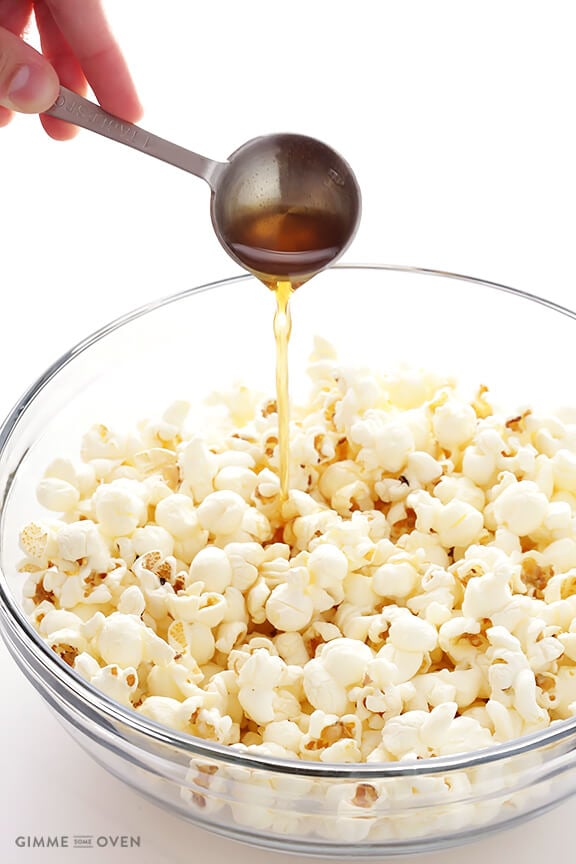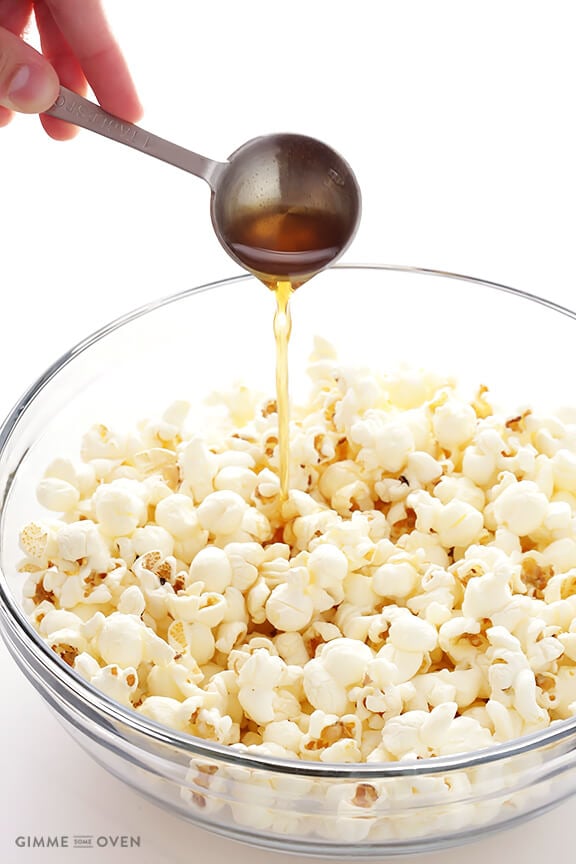 Anyway, the key to making these popcorn balls is to heat and partially caramelize the honey.  To do so, simply add some honey to a saucepan and heat it until it is simmering.  Once it's nice and heated, immediately drizzle it over a bowl of popcorn.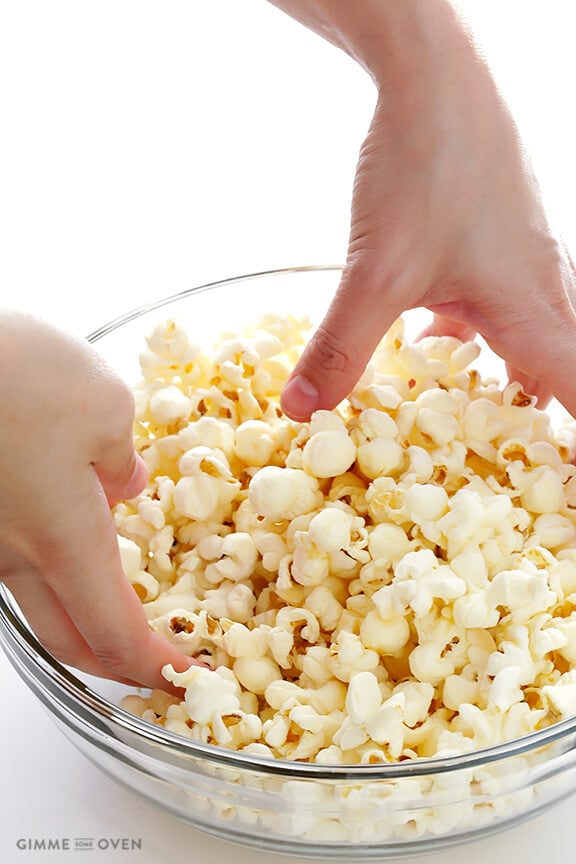 Then toss the popcorn until it's evenly coated with the honey.  (You may need to let the popcorn rest for a few minutes so that you don't burn your fingers!)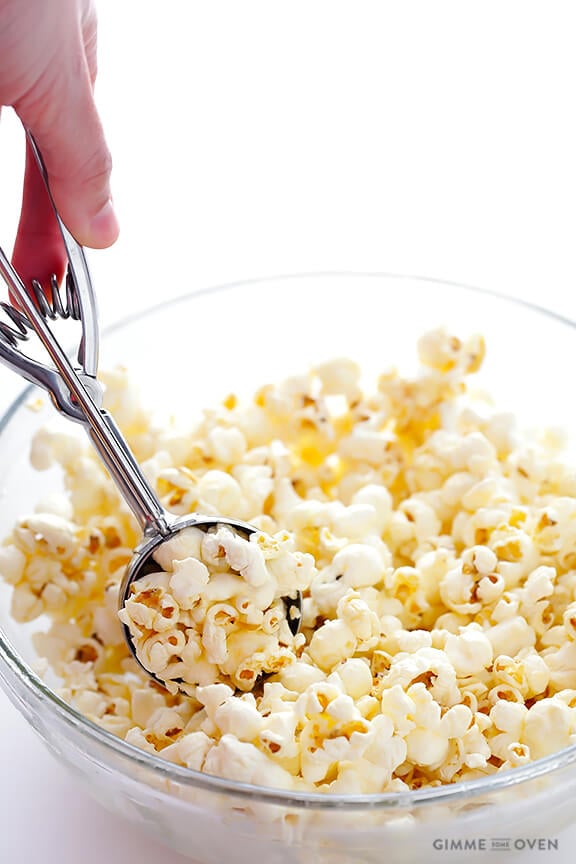 Then (my trick!) pop the bowl of popcorn in the freezer for 10-15 minutes until it is nice and chilled.  Then form the popcorn into balls and place them on a parchment-lined cookie sheet to cool.
But actually, when I say form, I mean mash.  The thing about using honey as a binder versus corn syrup or marshmallows is that it's obviously not as sticky.  So in order for the popcorn to stick together, I found that you really had to mash it.  (Which just means more tasty popcorn in each bite!)
The easiest way I found to do this was to use a cookie scoop, and press it firmly against the side of the bowl to mash the popcorn into it, and then plop it on a cookie sheet.  And then if you want to be cute, you can pop some bamboo sticks or popsicle sticks in the middle of each ball.  But you can also just form popcorn balls with your hands, or use a greased measuring cup.  (Or you can also press the honey popcorn into a baking dish and cut it into bars!)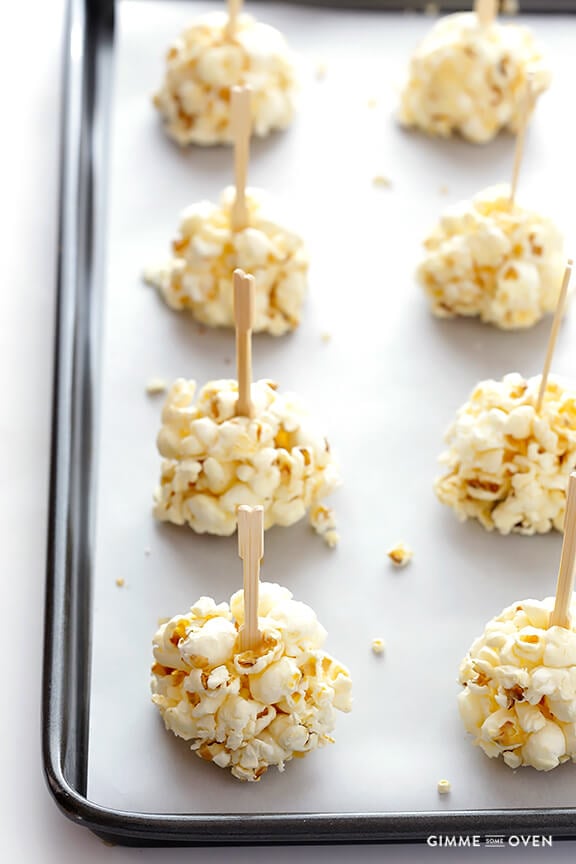 However you form the popcorn, though, let me just assure you that you will love the flavor of these popcorn balls.  As someone who has loved caramel corn for years, I was worried that the flavor on these would seem a little lackluster, or too overtly honey-ish.  But the sea-salty flavor of the popcorn combined perfectly with the honey, and I loved them.
My friends loved them too, even before I explained that they were a healthier version of caramel corn.
Actually, we all agreed that it was kind of nice that they weren't sickeningly sweet like usual.  Instead, we loved the "lighter" flavor balance, the fact that they were more reasonably bite-sized, and — very important — soft enough to actually bite into.
Just like Tina Fey and Amy Pohler — win-win, if you ask me.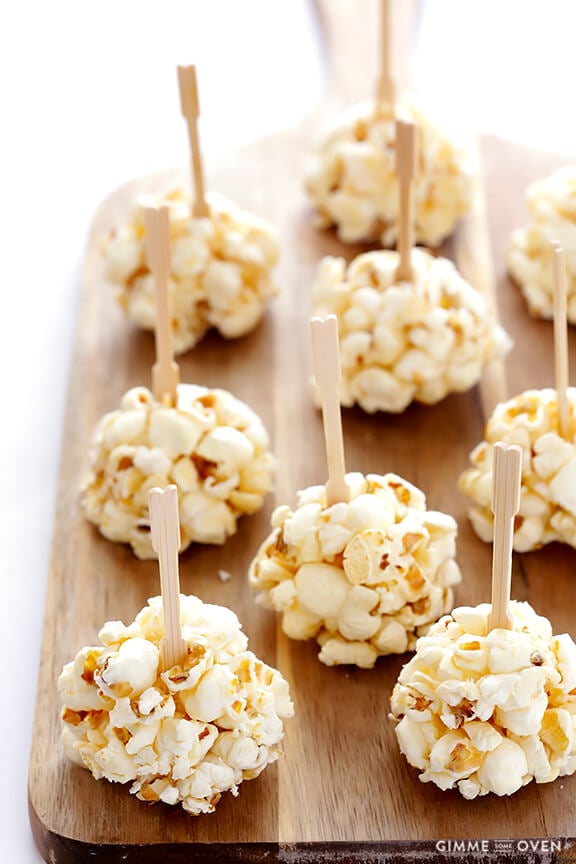 Hope you enjoy these guys as much as we did.  And happy awards show season!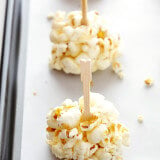 Naturally-Sweetened Honey Popcorn Balls
These naturally-sweetened honey popcorn balls are easy to make with 2-ingredients, and even better than traditional popcorn balls!
Ingredients:
6 cups popcorn (I used Kettle Brand Sea Salt Popcorn)
4 tablespoons (1/4 cup) honey
Directions:
Place popcorn in a large mixing bowl.  Set aside.
Heat honey in a small saucepan over medium-high heat until it reaches a simmer, stirring occasionally.  Let the honey simmer for 1 minute without stirring.  Then immediately remove from heat and drizzle the honey over the popcorn.  Toss to combine until the popcorn is evenly coated with the honey.
Transfer the popcorn to the freezer.  Let it chill for 5-15 minutes until the honey is chilled and cool to the touch.  Remove from the freezer.
Shape the popcorn into small balls using a large ice cream scoop or a (1/4 cup) measuring cup, or by simply shaping the popcorn into balls with your hands.  (It may help to grease your hands with cooking spray.)  Place the popcorn balls on a parchment-lined baking sheet.  If desired, stick a bamboo skewer or a popsicle stick into the center of the popcorn ball.  Let cool to room temperature.
Serve immediately or store in a sealed container for up to 1 week.
All images and text ©
If you make this recipe, be sure to snap a photo and hashtag it #gimmesomeoven. I'd love to see what you cook!
This is a sponsored post in partnership with Kettle Brand.  All popcorn-loving opinions are my own, as always.  Thanks for supporting the brands with help make this site possible!