introducing the new gimme some oven!
This post may contain affiliate links. Please read my disclosure policy.
I can hardly contain my excitement! After months of planning, dreaming, designing, re-designing, and a few zillion cups of coffee in the process, I am so excited today to introduce you all to the new Gimme Some Oven! And as you can see, the big news is that 'Gimme Some' has now expanded beyond the oven!!
Allow me to introduce you to 4 new sections of the blog:
Gimme Some Film

movies, tv, directors, actors, queue lists, fun flashcards and all things "film"

Gimme Some Life

a mix of lighthearted and deeper thoughts on all things "life"

Gimme Some Reads

books, authors, quotes, poetry, song lyrics and all things "bookish"

Gimme Some Style

DIY/crafts, fashion, shopping, house projects, decor, and all things "stylish"
Why expand beyond food, you might ask? Well, as much as I adore blogging about my favorite recipes, I have always felt like cooking was one of many interests that bring me joy. When I get together with my friends, we definitely talk about great recipes and restaurants from time to time. But most of our conversation seems to center around the latest books we have read, or the next film we should see together, or our latest DIY projects, or the "perfect" pair of black boots. But actually more often, we end up just talking for hours about the ups and downs and hilarity and tears and triumphs and failure and stories and adventures of all that is our everyday "life".
So it makes me so, so glad that we now have a beautiful site to reflect all of those things! I will be continuing to blog regularly at Gimme Some Oven, so hakuna matata – no big changes there. But then I will also be blogging about my day-to-day life and thoughts at Gimme Some Life.
Part of the bigger news is that three of my good (and extremely talented) friends are coming on board to help write for the other three sites. I have always said that I have been gifted with the most amazing friends, and now I am so excited for you to get to meet some of them. You are going to love each of these women! Allow me to make some brief introductions (although I also hope you'll click over to the sites to learn more!):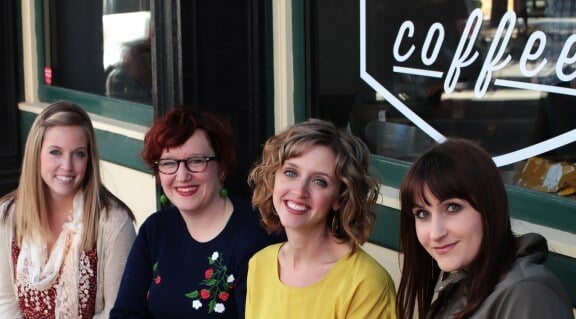 Sarah is a writer, screenwriter, director, and total movie-lover and will be the writer for Gimme Some Film. This blog will include everything from guides to films (upcoming, in theaters now, and out on dvd), to great tv shows, to fun facts about actors and directors (get ready for some flashcards!), to insights into the world of screenwriting and directing, to just generally inspiring you to fall in love with film. She has a great taste in everything from classics to indies to blockbusters, and we promise — no film snobbery here! Just a great place to come learn more, be inspired, and celebrate the amazing world of cinematography.
Liz is someone I have always admired for her super-cute style in fashion, home decor, and all things crafty and DIY. So it's only natural that she will be blogging at Gimme Some Style. Get ready to pin away with her posts!! Liz has amazing ideas in store for you with all sorts of DIY and crafty projects (especially in time for the holidays!), creative ideas for home decor, and all sorts of inspiration and great trips for dressing trendy, confident, and cute on a budget. You are going to love her!
Bet, who is also a very talented writer, screenwriter, poet, photographer, quote-gatherer, and reader of all kinds of amazing books, will be blogging at Gimme Some Reads. Bet is one of my friends who profoundly inspires and touches my life through her words and her sharing of other writer's good words. So I am completely excited for her to now share them with you. From her thoughts on good books and poems, to a wealth of thoughtful and inspiring quotes, to all sorts of "bookish" and book club fun and beyond, I trust that your life will be enriched as well be these good reads.
Finally, I will be continuing to blog my favorite recipes at Gimme Some Oven, and then am happy (and a little nervous!) to start writing a more personal blog over at Gimme Some Life. I am intentionally not laying out a super-structured plan for the site, and hoping to use it as a bit of an exercise in writing wherever the wind blows. :)  Somedays the posts may include things like my thoughts on my favorite winter workouts, why I shed a small tear this week about the Civil Wars' announcement, or how I've recently switched from my French press to pour-over. But my favorite conversations in life tend towards the deeper side, so I am hoping to also blog some more in-depth thoughts on my own life, the world, faith, art, relationships, and just in general whatever may be on my mind for the day.
As any of you bloggers know in redesigning a site, the biggest thanks of all goes out to my amazing brother-in-law who coded and designed the site, Jeff. This is not even his main job, but he has graciously put in countless hours on this project, staying up until the wee hours of the night in Chicago to work with me in Kansas City as we put the final touches on everything. And of course, I'm extra grateful for his patience in working with a hopelessly non-technie like me. He's great! Also, huge thanks to his cousin, Jordan, who created all 5 of our new logos — he did a great job!
We are still working out some of the final bugs of the site as we roll out the redesign this week. So thanks in advance for your patience, and please don't hesitate to email if you notice that something isn't working quite right.
Ok, time to stop typing and let you get on to the new posts! I did just want to close by saying thank you to all of you wonderful readers for continuing to follow Gimme Some Oven. Quite simply, you are the best. Your support, encouragement and faithfulness have meant so much to me over the 3.5 years I've been blogging, and I count it such a blessing that you would make this site a small part of your days. I hope that this new version of the site will be a great resource and inspiration to you, and can't wait for all sorts of great posts ahead.
Cheers to the newest adventure for "Gimme Some Oven"!