2-Ingredient Queso Dip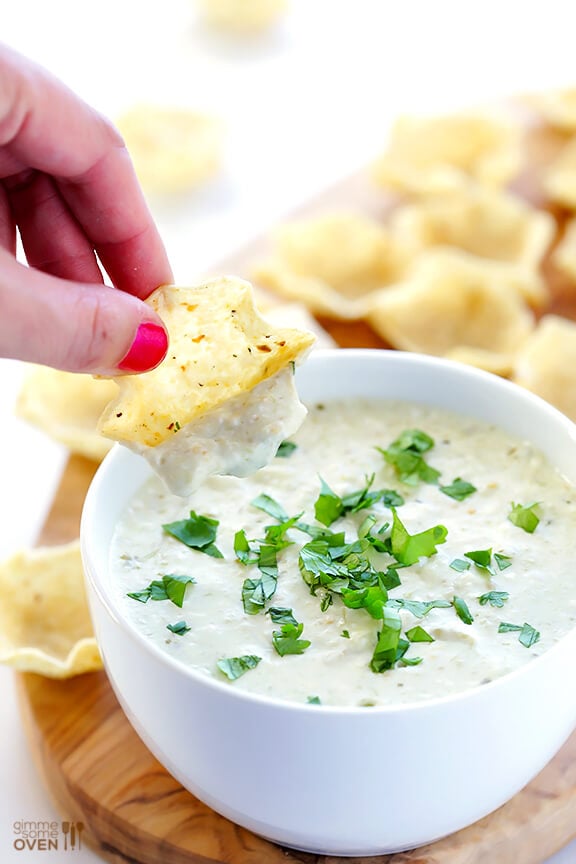 I love the guys in my life.  But I have to admit, there's nothing quite like a full-on girls night.
A few weeks ago, my friend Sara a group of friends up to her new house for just that.  Boyfriends and husbands were swapped for beach towels and bottles of wine.  And a group of girlfriends congregated for "happy hour" on Sara's neighborhood lake.  It was a lovely end-of-summer evening, and we spent it floating on noodles, sipping cold drinks, watching the sun set over the water, and getting wonderfully lost in the moment and one another's stories and laugher and smiles.  So many relaxed, happy smiles.
Afterwards, we toweled off and retreated to Sara's house, where we feasted on a smorgasbord of random appetizers that everyone had brought along.  I mean, lounging on a noodle in the middle of the lake can work up an appetite.  ;)  So we rewarded ourselves accordingly by going back for seconds and thirds.  Then we brought our dessert into the living room as we clustered around to watch an episode of the show Sara fell in love with while living in England, The Great British Bake-Off.  (Sidenote: SO GOOD.)  Which was followed by a few hours of girl talk, which nowadays ranges from everything to dating to literature to international politics and everything in between.
Basically, it was a great night.
And a reminder of how important (and inspiring and strong and encouraging and awesome) these women are in my life.  I'm pretty sure I won the girlfriend lottery with this crew.
But yes, this is a recipe post.  So as such, I need to tell you about the monumentally important recipe that I snacked on basically the entire night.  This amazing 2-Ingredient Queso Dip.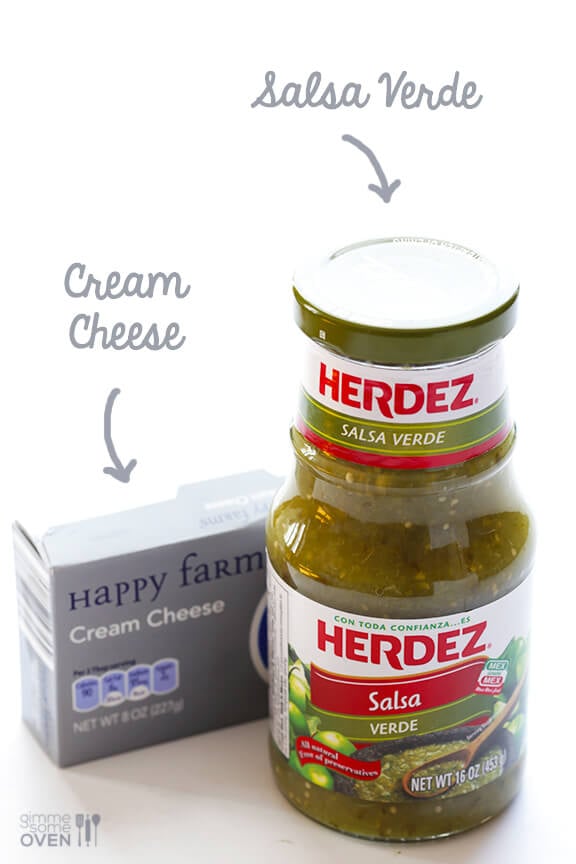 Ok, actually I wasn't quite sure what to call this one.  Salsa queso?  Creamy salsa dip?  2-Ingredient Wonder?
Well, whatever you call it, I basically made a meal out of this dip that Sara's friend, Angela, brought to our girls night.  And even though I'm sure many of you have made it before, it was new to me.  And the two ingredients in it?
Salsa verde and cream cheese.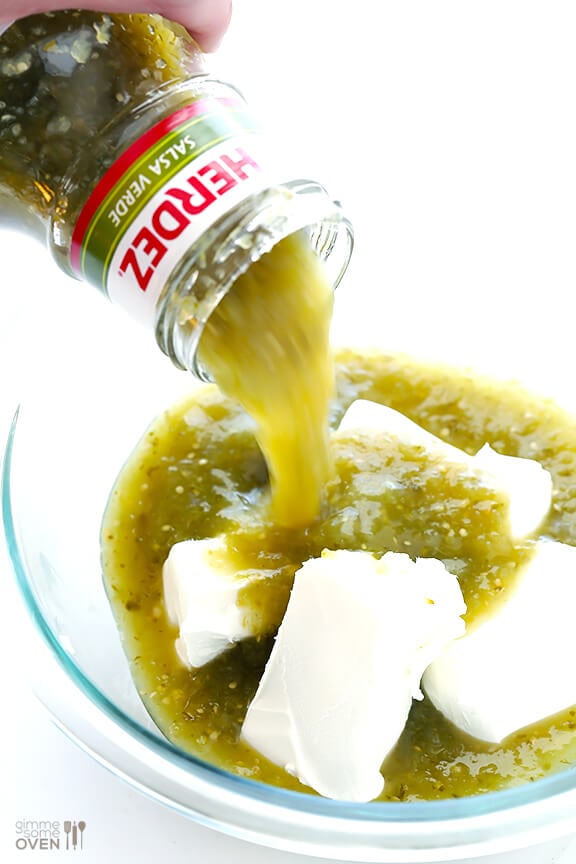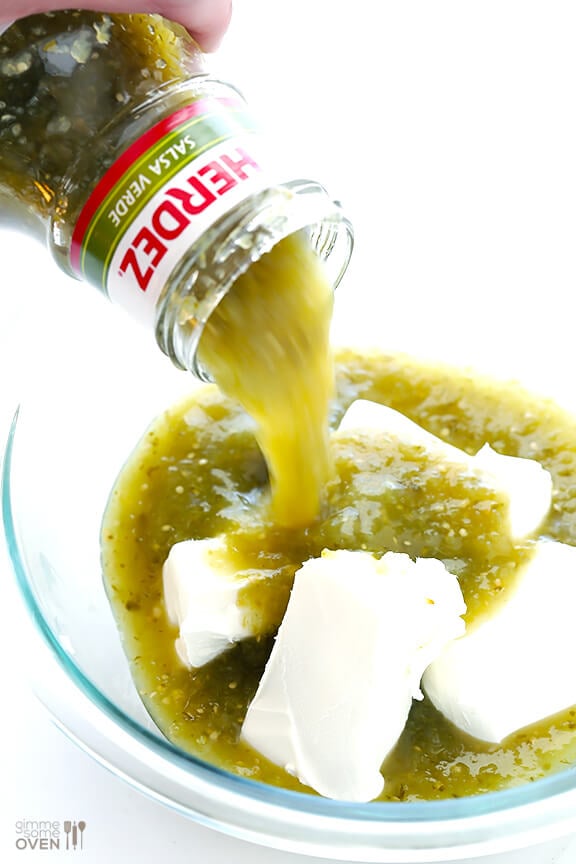 I'm pretty sure that I've had this dip before when made with traditional red salsa.  But when I saw Angela pull out the green jar, my tastebuds immediately went on high alert because who doesn't love a recipe with salsa verde?
Not I, said the cat food blogger.  :)
As it turns out, this 2-ingredient queso dip could not be easier to make.  Angela simply added the salsa verde and cream cheese to a microwave-able bowl, and then zapped them for a few minutes until the cream cheese was completely soft and melted.
Then the whisked the two ingredients together until smooth and combined.  (It's ok if this salsa is still a slightly lumpy.)  And then — voila — a delicious queso dip was ready to go!
And oh man.  We didn't waste a second diving in.  Of all the appetizers there that evening, this queso dip was most certainly the hit.  Or at least, it was the main attraction on my plate.  I couldn't get enough!  It was tangy, spicy, creamy, slightly sweet.  And it paired perfectly with salty chips for dipping.
My kind of appetizer.
I have since made it a handful of times, and it usually disappears instantly.  Everyone loves it because it is that perfect combination of creamy and tangy and spicy and slightly sweet.  But I love it because it literally takes less than 5 minutes to prepare, and easy to customize with your favorite kind of salsa.
So if you love dips, trust me, this one should be in any queso-lover's recipe repertoire.  Perfect for game days, perfect for appetizers, and perfect for girl's nights.  Thanks, Angela, for the inspiration!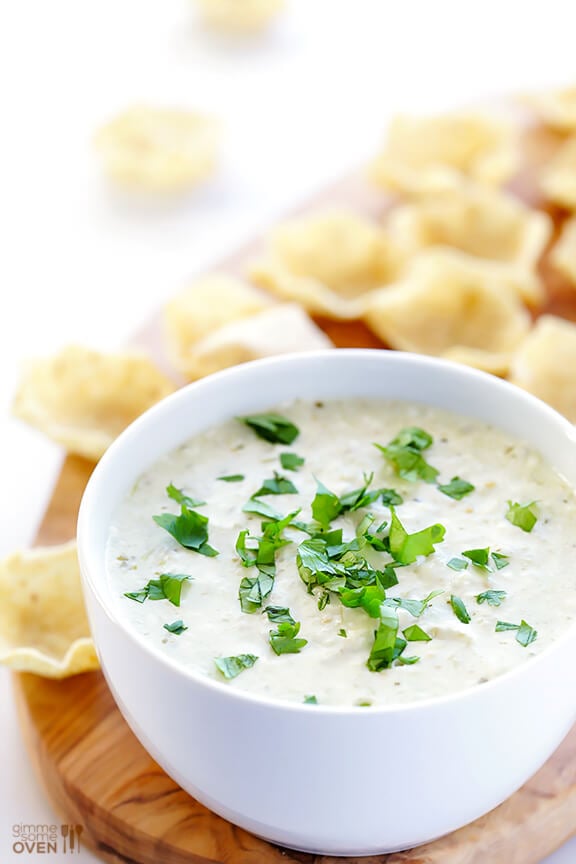 2-Ingredient Queso Dip
This 2-Ingredient Queso Dip recipe only takes minutes to make, and it is RIDICULOUSLY easy!
Ingredients:
1 (8 ounce) brick cream cheese (I recommend either full-fat or low-fat, not fat-free)
2 cups (or 1 16-ounce jar) salsa verde, homemade or store-bought
Directions:
Cut the brick of cream cheese into four pieces, and stir them together with salsa verde in a microwave-proof bowl.
Microwave for 3-4 minutes, stopping to whisk the mixture after each minute, until the cream cheese is melted and smooth.  Serve warm.
(If you don't want to use a microwave, you can also heat up this dip on the stove.  Just place the cream cheese and salsa in a medium saucepan and heat over medium heat, whisking every minute or so, until the cream cheese is completely melted.  Remove from heat and serve warm.)
All images and text ©
If you make this recipe, be sure to snap a photo and hashtag it #gimmesomeoven. I'd love to see what you cook!