Ali's Guide To The Amalfi Coast
This post may contain affiliate links. Please read my disclosure policy.
A quick recap of our five days on the Amalfi Coast, including all of our best travel tips for where to eat, stay and visit.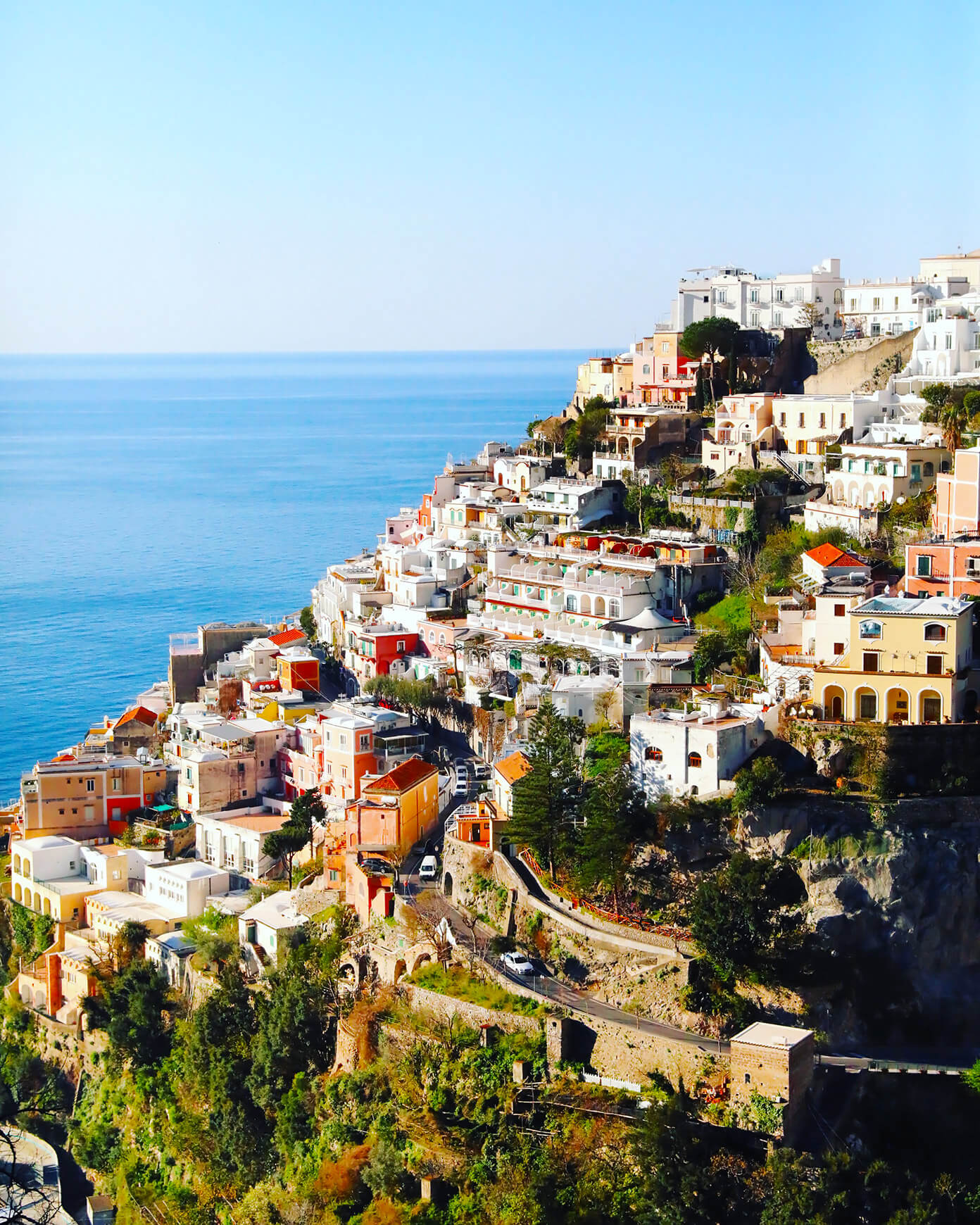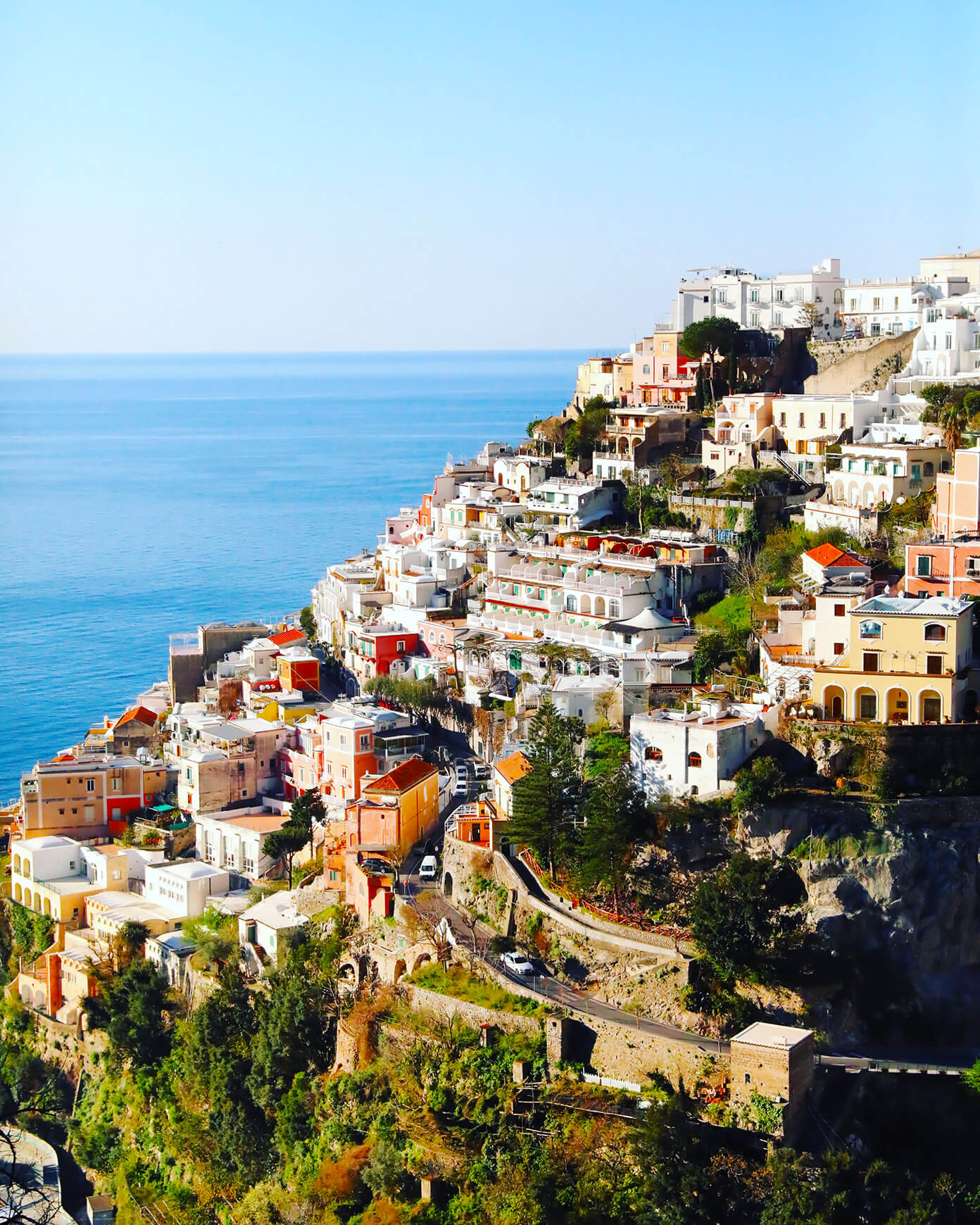 Somebody pinch me — how is this our life right now?! ♡
A few weeks ago, Barclay and I realized that we had one free weekend left before all of our springtime visitors would start arriving in Barcelona to come stay with us. So we decided to hop onto Google Flights to see what cheap flights might be available for a last-minute trip. And right off, we happened to spot some 29€ round-trip tickets to Naples — which immediately made us think of our friends' Alex and Sonja's trip to the Amalfi Coast last summer. I still vividly remember all of the dreamy photos and stories that they shared from their time traveling around Positano, Ravello and Capri. And the more we thought about the possibility, the more Barclay and I liked the idea of a sunny destination with lots of hiking available, especially since it was still going to be too chilly to swim anywhere in Europe in early April. Also, neither one of us will ever turn down a chance to eat more Italian food.
So — we booked it! Well actually, my finger miiight have slipped and gone ahead and booked us two extra nights while we were at it, turning our spontaneous little weekend trip into a full five-night vacation in Positano. And oh my goodness, you guys.
We absolutely loved the Amalfi Coast.
I mean, Italy will forever and always be one of my places to visit, period. But this romantic part of the Western coast — with its picturesque villages carved up into the hillsides, brilliantly blue Mediterranean waters below, flowering wisteria and vibrant lemon trees everywhere you turn, dramatic cliffs and hidden grottos and world-famous hiking trails waiting to be explored, Caprese salads and fresh seafood pastas and lemon everything waiting to be tasted, plus some of the most charming locals you will have the chance to meet — the Amalfi Coast is just magic.
We chose to plant ourselves in Positano for the duration of our stay, and then took day trips from there, including one full day spent in Capri, one full day hiking the world-famous Path Of The Gods, one day combining visits to both Amalfi and Ravello. And then — as we love to do when we can — we also had one 100% down day, where we basically just read books and went for walks and took naps and lingered for hours at cafés. (Basically my dream kind of day!) Oh, and we also stopped for lunch in Naples on the way to Positano at our favorite pizzeria in the world, which I highly recommend doing if you are flying in through that airport.
In writing, it all sounds like a lot. But in reality, the pace of the trip was actually super easygoing, and we agreed it was one of the most relaxing and restorative vacations we have taken this year. Also, one of the most delicious.
That said, we didn't realize until we arrived in Italy that the beginning of April is still technically the off-season there. So most of the recommended restaurants that we had on our list were still closed for the winter — whoops. On the flip side, though, we were able to enjoy the coast before the throngs of tourists arrived. Which meant that the towns were all blissfully tranquil, the hotels were much more affordable and discounted for the season (which we realized after the fact), and we were easily able to get into all of the restaurants that were still open for the season. Off-season perks!
All in all, we had an absolutely amazing time. And while we were there, I received soooo many messages from you all asking about our hotel and various travel recommendations. So if you happen to be one of the lucky ones traveling to the Amalfi Coast this coming year, or if it's on your bucket list for someday, or if you just want to see 4.3 million photos of our trip, here's my full trip report from our five days on the Amalfi Coast.
We feel so incredibly lucky to have had the chance to go back to Italy again, and hope that it won't be our last!


As I mentioned above, the majority of the recommended restaurants that we had on our list were still closed for the off-season while we were there in early April. But — hello — it's Italy.  There is always good food to be found!
My two main goals while we were on the Amalfi Coast were simply to eat (1) a Caprese salad in Capri and (2) as many lemon gelatos and granitas as I could find. And I'm happy to report that endeavor was a delicious success.
The Amalfi Coast is also known for its fresh fish and fresh pastas, both of which we also ordered as often as possible. And while we also enjoyed the local limoncellos, I have to say that the red wines were what stole the show for us when it came to drinks with our meals. Both Barclay and I have been missing our favorite full-bodied red zinfandel wines since we've been living in Barcelona. (There are tons of great wines in Spain, but for some reason, they don't grow zins.)  But we recently learned that the same grape is grown by a different name (primitivo) in Italy. So we were stoked to see it on menus everywhere and throughly enjoyed sampling a few.
Here are some of the favorite places we ate!
Where We Ate In Naples:
L'Antica Pizzeria da Michele: We couldn't resist stopping for lunch in Naples at our favorite pizzeria in the whole entire world before heading down to the Amalfi Coast. We first visited Da Michele a year ago during our trip to Rome, and loved every single thing about this place. (And also realized, upon leaving, that it was the pizzeria made famous by Elizabeth Gilbert in Eat Pray Love!) And I'm happy to report that it was just as magical the second time around.
There are only two pizzas on the menu: marinara and margherita. We ordered one of each.
If you do decide to go here, I really recommend arriving early when they open at 11am to beat the lines.
Website | Facebook | TripAdvisor | Google Maps
Where We Ate In Positano:
Chez Black: When we realized that the other recommendations on our list were closed for the season, we decided to try out this popular restaurant one evening when we were down by the beach that our hotel and various blogs had recommended. The view was great, but we both felt like the food was pretty "meh". That said, one of their zinfandels knocked out socks off.
I ordered the pasta with prawns, Barclay ordered the homemade pasta with whitefish steaks (the special of the day), and we shared the mozzarella smoked in lemon leaves plus a bottle of zin.
Il Ritrovo: We had a fabulous dinner here our last evening in Italy. The restaurant is located high up in the neighboring village of Montepertuso. And the vibe inside was super-charming and twinkly and magical at night. We loved the food and wine that we ordered, as well as the bonus welcome drinks and little tasting dishes that they brought by our table throughout the night. It's worth noting that this restaurant also offers free shuttle service to and from your hotel if you're staying in Positano, which we really appreciated after a long day of hiking. :)
We started with a plate of grilled vegetables and a simple mixed salad, then ordered the baked salmon and pasta with sausage and red sauce.
La Tagliata: Soooo many of you on Instagram said that this place was a must…and it did not disappoint. ♡ Also located up in Montepertuso, this farm-to-table restaurant has a beautiful view of the sea, plus a full farm that you can tour before dinner (if you'd like) to see where everything is grown. Their famous fixed menu was definitely very meat heavy, but they offered Barclay some extra pastas as a vegetarian option which were delicious. If you decide to go here, come very hungry!
The fixed menu included antipasti (grilled veggies, broccoli, ricotta & mozzarella cheese plate), a primeri course (four seasonal pastas), and a segundi course (soooo many meats). Then for dessert, a profiterol, sweet ricotta cake, chocolate mousse and limoncello.
They also offer a complimentary shuttle service if you're staying in Positano.
Lo Guarracino: The walk out to this restaurant along the coast at nighttime (we were there before Daylight Savings) was magical. And the restaurant itself was so lovely. Be sure to reserve a table outside on the terrace if you can!
We ordered a beautifully-presented plate of grilled vegetables, spaghetti with cherry tomatoes and chili, linguine with shrimp, and red wine.
Palatone Grocery: We stopped by this tiny family-run grocery store to grab paninis before our hike and loved it.
I ordered a panini with arugula and prosciutto, and Barclay ordered the caprese. We loved getting to choose the ciabatta for our sandwiches from their enormous shelf full of freshly-baked breads! Then then wrapped them up tightly for us so that we could carry them along on our hike. (See our tips for the Path of the Gods below!)
Saraceno D'Oro: Open since the 1960s, this sweet family-run restaurant was one of our favorite meals in Positano. We sat out on their little patio for hours one evening, drinking zinfandel and chatting with the owners and watching the sun go down. We realized later that they were known for their pizzas, but we ordered the specials and really enjoyed them.
We ordered the daily specials — mozzarella-stuffed ravioli with yellow cherry tomatoes and the grilled whitefish. Followed by a delicious Caprese cake (almond and chocolate) and a lemon sorbet for dessert.
Where We Ate On The Island Of Capri:
L'Approdo: Our Blue Grotto rowboat guide, Antonio, recommended this place to us. It was super-touristy (right on the beach) and definitely overpriced, but pretty good.
Our main food mission was to have a Caprese salad while on the island. So we ordered one here and it was fantastic. The pizzas we also ordered, by contrast, were just ok.
Where We Ate In The Town Of Amalfi:
Da Maria: A classic restaurant and pizzeria on the main street of Amalfi. We stopped by and shared a quick margherita pizza for a snack during our bus layover en route to Bomerano.
We just split a margherita pizza.
Pasticceria Andrea Pansa: A classic Italian bakery and espresso bar in the center of town, open since 1830.
Sporta Marina: We shared one of their famous lemon sorbets served in a fresh lemon cup. It wasn't cheap, but it was delicious. ;)
Where We Ate In Ravello:
Vittoria: A casual, cozy lunch spot in the heart of the town. A few of you recommended this place and we really enjoyed it!
We ordered their pasta with anchovy pesto, the pasta with shrimp and sun-dried tomatoes, and house wine.

As I mentioned, we spent five nights (and roughly five days, after travel) on the Amalfi Coast, and chose to take things at a pretty relaxing pace. So our itinerary was basically:
Friday: Arrived in Positano mid-day, and just wandered around exploring the city and the beaches.
Saturday: Took the bus to Amalfi and then Bomerano, and hiked the Path Of The Gods back to Positano.
Sunday: Took the ferry to Capri for the day.
Monday: Chill day in Positano, dinner in Montepertuso.
Tuesday: Took the bus to Ravello (again, via Amalfi), then ended with another dinner in Montepertuso.
Wednesday: Back to Barcelona.
For us, this ended up being the perfect balance of activities and relaxation, with enough day trips sprinkled in to really get a feel for the Amalfi Coast vibe as a whole. If we'd had more time, we would have loved to have visited Sorrento and Pompeii. But hopefully we'll get the chance to return again and see them someday.
Here are some of the highlights of things to do in Positano, Amalfi, Bomerano and Capri!
Hike The Path Of The Gods
One of the most highly-rated hikes on earth, The Path of the Gods (Il Sentiero degli Dei) is a 2-3 hour hike of medium intensity with some absolutely breathtaking views along the Amalfi Coast. Since it takes around 2 hours to get to the trailhead by bus from Positano, we ended up basically devoting a full day to the adventure — stopping first at a cute little grocery near our hotel to purchase paninis and water for the day, then later in Nocelle for a picnic with said paninis and lemon granitas, followed by more celebratory granitas and dinner on the beach once we made it back. It was a gorgeous day, and oh boy, our legs felt that hike.  (Especially after those final 1700 steps descending into Positano!)  But we loved every minute of it and would totally recommend it.
A few tips on exactly how to navigate this hike if you're staying in Positano…
How To Get There:

Taxi: You can of course rent a taxi, which would probably be the fastest yet most expensive option. Or you can do what we did and take the…
Bus: Unfortunately, you can't buy tickets on board the busses themselves. Your best bet to buy tickets in town is at any tobacco shop, and then take the bus from Positano to the town Amalfi, which took about an hour and cost €3 per ticket. From Amalfi, we went to the bus ticket office in the main square by the port and bought another pair of round trip tickets from Amalfi to Agerola, and then got off at the Bomerano stop. (Be sure to get off at the correct stop – there are three in Agerola!)  Once we stepped off the bus, signs pointing to The Path of the Gods (Sentiero degli Dei) trailhead were easy to find. It was just a 10-minute walk to the trailhead.

How To Navigate The Trail: 

We just used Google Maps.
If you don't want to hike all the way to Positano, you can stop in Nocelle (the official end of the trail) and either take a bus or taxi back into Positano. We did the 1700 stairs and — whew — felt them the next day!

What To Pack: 

Snacks, water, legit-good hiking shoes, and lots of sunscreen! There are a few water points along the trail, so if you bring a smaller bottle, you can always refill it.
Day Trip To Capri
Capri is probably the most touristy island on the Amalfi Coast for a reason — it's gorgeous. It's also one of the most expensive places to stay on the Amalfi Coast. So we opted to just take a day trip there from Positano — leaving on the earliest ferry at 9:30am and returning on the latest one at 5:00pm — and completely enjoyed our time there!
We began our day with a 2-hour boat tour around the island, which included the option to pause mid-way through for a tour of the Blue Grotto. It's 1000% touristy — people line up on tour boats by the dozens to squeeze into teen-tiny rowboats where you are paddled into the tiny cave while the guides serenade everyone with Italian opera songs. But at least in my opinion, it was 1000%. We were there on a beautiful sunny day, and seeing the light hit the water just right to turn it the most dazzling shade of blue was breathtaking. And hey, I was a classical opera major in college, so bring on the Italian arias anytime!
Since we were just on Capri for the day, we tried our best to see as much of the island as possible after our tour. So from the Capri dock, we had a quick lunch down by the beach. Then took a local bus up to Capri town, located in the center of the island. Then from there, we made our way past the shops and alleys to the Gardens of Augustus, which had some gorgeous views of the coastline from above. From there, we took another hour or so hike back through town toward the east coast until we reached the Arco Naturale, which was stun-ning. After that, we grabbed some quick gelato, took the funicular back down to the beach, and ferried back home.
A few notes on Capri…
The round-trip ferry tickets were about 40€ each from Positano. In the off season, there was only one option each day for when to leave and return. But in the high season, there are more ferries available and more options for timing.
In order to get to the Blue Grotto, you have to take a 2 hour boat tour around the island, where passengers are given the option to pay an additional fee (€14 cash only) to a separate company who then leads people into the Blue Grotto in groups 2-4 passengers per boat.
Entry fee to the Gardens of Augustus was 2€ per person.
Many travelers shared with us that if you can manage to stay overnight in Capri, the place takes on a completely different character (charming) once all of the day-trippers leave in the evening.
Day Trip To Amalfi & Ravello
For our final full day in Italy, we took a day trip to Ravello, including a brief stop in Amalfi along the way.
In Amalfi, we visited the Duomo (the Amalfi Cathedral), which boasts a wide variety of architectural styles dating back to the 9th century. But mostly we just had a good time wandering the streets, stopping for a quick espresso, a mid-morning pizza, and more lemon gelato. Yum.
Afterwards, we took the bus into Ravello, where we spent the rest of the afternoon. We visited the Villa Rufolo in the city center, which is now home to various small museums, a moorish tower from the 13th century, some lush gardens (that were in full bloom even in early April), and gorgeous views of the coast. We also took a long walk through town, passing by the a convent and library named for St. Francis (who was said to have traveled through town on his way to Amalfi), the Church of Saint Claire, and the charming and well-maintained Villa Cimbrone gardens. The views from the Terrace of Infinity (Terrazza dell'Infinito) within the gardens are simply breathtaking.
We also had a lovely lunch in Ravello, followed by (surprise!) more lemon gelato. When in Europe… ♡
A few notes on Amalfi/Ravello…
The ferry from Positano to Amalfi (€8 each way) costs a bit more than the bus, but it's a nice change of pace and even gets you there a few minutes faster than by land. Then from Amalfi, the 5110 bus to Ravello leaves about 2 or 3 times per hour. The bus terminal at Amalfi is definitely a bit of a free-for-all, so you may have to just ask around to find the bus if you don't immediately see it written on one of their windshields.
The entry fee to Villa Rufolo was around €7.

Where We Stayed In Positano:
Since we booked this trip at the last minute, our options for where to stay were pretty limited. Not to mention, since we were traveling during what was still technically the off season, many of the hotels in Positano were closed. However, we ended up finding a good off-season rate at this cute little hotel called Il Moro and had the best stay there!
First off, the hotel itself was just recently renovated and is super-cute and charming. It's really small (I think there were only five rooms), but the rooms themselves were surprisingly spacious. Plus our room (the standard room) came with its own terrace and — get this — a "thinking room."  As in, a tiny little room at the end of our terrace with windows overlooking Positano with a little wicker rocking chair where you could just sit there and think.  YOU GUYS. ♡♡♡  Barclay went in there each day to play his ukelele (bonus, it was soundprooof, so he didn't have to worry about the other guests) and I loved taking my book in there to read in the warm morning sunlight. I mean, our room itself was great, but the thinking room stole the show. Such a fun surprise.
We were also blown away by how well the staff took care of us while we were there — specifically, the amazing Paula. She was working the front desk each day that we were there, and also prepared breakfast for everyone each day (which was included..and delicious). But she went above and beyond in helping us plan our itineraries each day, navigate Amalfi bus routes and transportation, make restaurant reservations, and so much more. And on the day that we returned exhausted from our hike, she also brought some limoncello and almonds up to our room as a little happy hour treat. Basically, she is the best and helped us in so many ways, and we so enjoyed getting to know her and learn more about Positano through her eyes.
If you are considering Il Moro, we would 1000% recommend it. ♡  That said, though, I definitely do want to disclaim that it is not in the city center! It is up (literally UP) high on the hill, probably about a 20-25 minute walk up from the beach in Positano, or a 15-minute walk up from the city center. It was definitely a bit of a workout getting there and back each day, which was great for burning off some of those zinfandel and pasta cals. But if you have any sort of mobility issues (especially bad knees), I'm not sure that I would recommend it unless you want to pay for lots of cab/bus fares. If you don't mind extra hiking, though, it's wonderful!

Finally, just a few quick travel tips if you are planning a trip to the Amalfi Coast that might be helpful!
Getting Around Positano
To say this town has some stairs is an understatement. It's not an easy place to manage if you have mobility issues, but there are some helpful resources we discovered during our time there to make exploring easier.
First, there are two types of buses in Positano. There is the SITA bus, which is a regional service that connects the entire Amalfi Coast. Or there is also the local Mobility Amalfi Coast bus, which essentially makes a big loop around the town of Positano (plus a few of the nearby towns). They're pretty easy to navigate and can prove especially helpful if your legs are tired after all of those stairs.
Or, of course, there are always taxis available in Positano too. We were told that they were quite pricey, so we mostly just walked everywhere and took busses for longer trips outside of town. Private car service back to the Naples airport is also available and ranges from around €100-130 each way. Most hotels will be able to help make a reservation if you ask.
Bring Layers, Hats and Good Shoes
The temperatures fluctuate pretty dramatically between day and night on the Amalfi coast, so bring lots of layers in order to stay warm (especially if you're traveling in the springtime or fall). Also, the winds on the coast are formidable. So if you have longer hair, don't worry about doing your hair in the morning and just pack a hat or some good hair-ties instead. And finally, bring some legit-good walking shoes, especially if you plan to do any hiking. You are going to want shoes that have a solid grip!
Bring Nausea Meds
Speaking of cars and busses, I just wanted to throw out a note to any of my fellow kindred spirits out there who deal with carsickness — bring nausea meds.  Those roads between towns on the Amalfi coast are incredibly gorgeous. And also, incredibly windy!
Make Reservations
Since we were there in the off season, we were able to walk into just about any restaurant and get a table immediately. But we heard stories galore about many restaurants being booked days (or sometimes weeks) in advance. So if you are traveling during peak season, it would be worth your time to make some reservations in advance.
Order Lemon Everything
Lemon trees are absolutely everywhere in the Amalfi Coast. And with them comes lemon everything — lemon gelato, lemon granitas, limoncello, lemon sauces, mozzarella wrapped in lemon leaves, and so much more. Try them all! ♡

Alright, that about sums it up. Big thanks to our friends, Sonja and Alex, whose Amalfi guide served as one of our main guides and sources of inspiration for our trip. And a big grazie to all of you for following along! Stay tuned for some more adventures ahead this summer. And in the meantime, you can always follow along with our adventures here in Barcelona on my Instagram.
Arrivederci, amici!