Ali's Guide To Mexico City
This post may contain affiliate links. Please read my disclosure policy.
All of my best tips for where to eat, visit and stay in Mexico City (CDMX).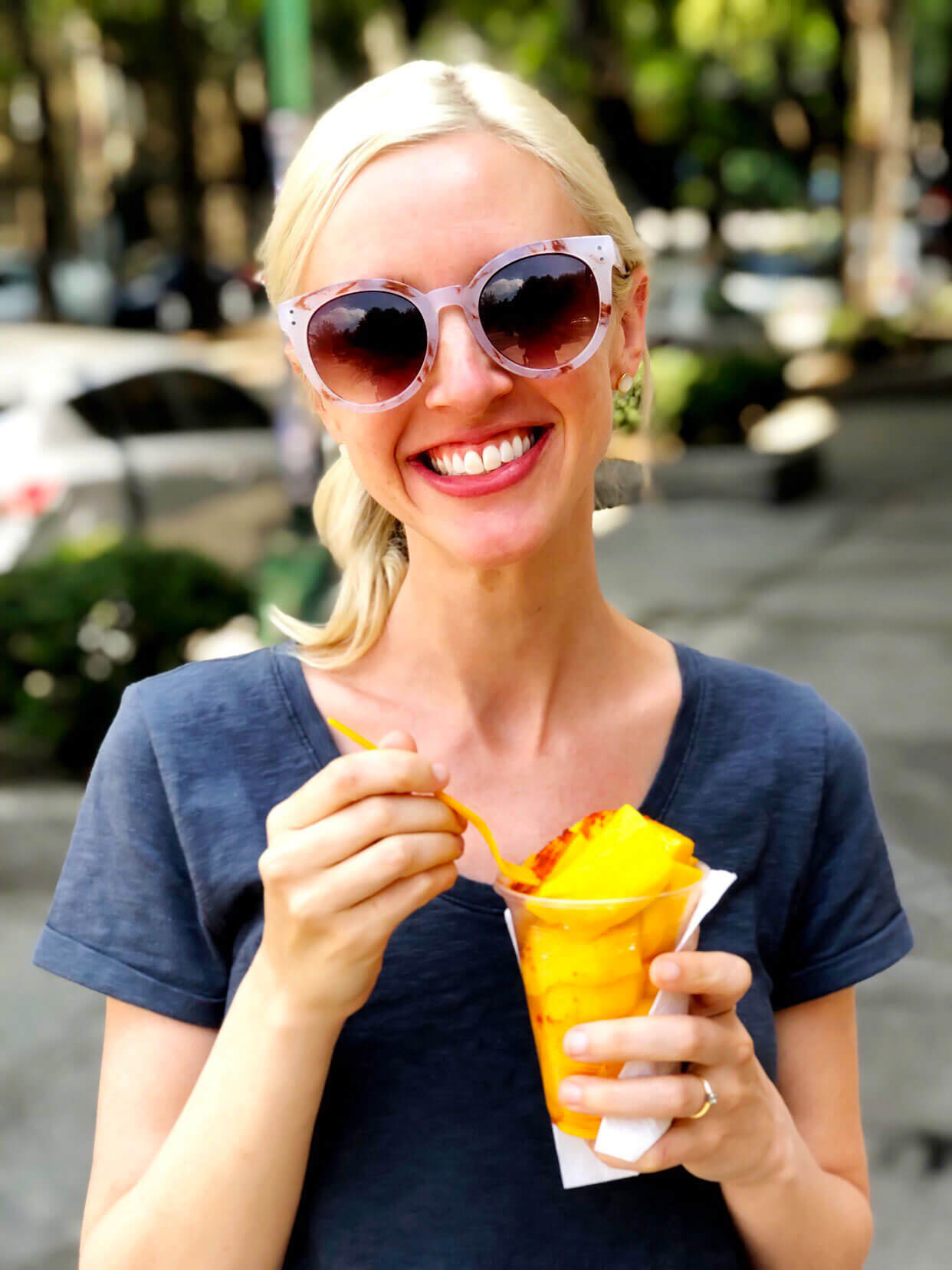 Everyone has their favorite places in the world to visit, and Mexico City is hands-down one of mine.
I absolutely love this city. ♡♡♡
I love its eclectic, colorful, friendly vibe. I love its refreshingly mild weather and open-air everything. I love its clean minimalist modern architecture juxtaposed side by side with gorgeous colonial old-world homes and vibrant technicolor murals. I love its ancient pyramids and compelling museums and sacred cathedrals around every corner.
I love every single bite of its food.  I love its horchatas and aguas frescas, its mezcals and margaritas. I love its huitlacoche and achiote and street elote. I love sampling as many of its tacos as humanly possible, and learning more about its new-to-me prehispanic foods, and tasting what its modern chefs are up to lately. I love wandering all around its markets and passing by a thousand street food vendors each day. I love that — not just one, but multiple — salsas are served with every meal.
I love the kindness and generosity of the people who live there. I love the deep pride they hold in their culture, and admire how hard they are working right now to make the city a welcoming place for visitors. I love their eagerness to dole out a long list of personal recs for exactly where to eat the best tacos around town. I love how their Spanish pronouns err on the side of respect, and the quirky bits of Spanglish that get woven into daily conversation, and all of their fun sayings (¡que padre!). I love the warmth of their welcome.
For these and so many more reasons, I just love this city and think it is a total gem.
And for those of you who live in the States, good grief, it is also so close. (Just a 2.5 hour flight outta Houston!)  I mean, the coasts of Mexico are beautiful and will always be a great option if you're looking for a relaxing beach vacay. But if you have been itching to get south of the border and are up for a bit more adventure, I would wholeheartedly encourage you to consider the urban heart of this country. The climate in Mexico City is fantastic, there is so much to do, there are so many great places to eat, the cost of traveling there is very affordable, and we felt completely safe both times we've been there. (More of my thoughts on safety below, since so many of you asked me about that on Instagram while we were there.)  And of course, if you do go, I have lots and lots of recommendations to share with you!
So without further ado, I've finally compiled all of my notes from our recent 4-day trip and am excited to finally share my best recommendations for where to eat, visit, and stay in Mexico City. Per ushe, I've also included a few zillion photos from our trip, although feel free to just click the links below if you would like to skip straight to the recs. If you have visited the city yourself and have more gems to share, please leave them in the comment section below too. And if you head there sometime soon and use any of these tips, would love to hear how your trip goes! I have a feeling you are absolutely going to love it.
Alright, let's talk all things Mexico City!
Where To Eat
Where To Visit
Where To Stay
Travel Tips ♡



Contramar Hands-down my top restaurant rec in the city! Barclay and I visited Contramar on our honeymoon a few years ago and loved it so much that we couldn't wait to return. So we came here to celebrate our anniversary the very first afternoon that we landed in Mexico City, and coincidentally were seated at a charming table outside with our very same server, Sergio, who remembered us from our honeymoon! So fun. ♡  Anyway, I've had a total chef crush on Gabriela Cámaras for years and think that her food at Contramar is outstanding. It's so fresh and flavorful, it's a perfect blend of traditional and modern, every dish is made with the best sauces (the raw green salsa is dreamy!), and their mezcal margs can't be beat. To be sure, this anniversary meal was probably our biggest splurge in Mexico City. But even after ordering our hearts out with tons of courses plus drinks and dessert, I think our entire bill came still only came to $150. Loved every moment of our time there.
We started our meal with their complementary chips, breads, raw green salsa, hot pickled veggies and fresh lime slices — all of which, for the record, I could have totally made a meal of. Plus a round of mezcal margs, which were fabulous.
Then for our first course, we ordered a round of their famous tuna tostadas with chipotle mayo and bowls of shrimp caldo.
For our second course, we ordered their ceviche with zihuatenejo and pescado Contramar (their signature grilled fish with a red chili rub on one side and a green parsley rub on the other).
Finally, we wrapped things up with a fig tart and frozen espresso cocktail for dessert.
Every single thing was AMAZING — highly recommend.
Heads up that they are not open for dinner and close at 6pm. I would also highly recommend making a reservation in advance, although you can also sometimes get lucky as a walk-in.
Also, Netflix recently did a short documentary on Chef Cámaras and her restaurants, which is worth the watch before you go!
Website | Instagram | TripAdvisor | Google Maps
El Moro: When in Mexico City, churros and chocolate at El Moro are a must. We picked up a round this time at Mercado Roma and watched them fry up before our eyes, which was fascinating. Then promptly enjoyed every last hot bite. :)
We ordered a round of chocolate and churros. (I also highly recommend a large bottle of water to go wash that sugar down!)
They have multiple locations all around town, so just Google and find one near the neighborhood where you are staying.
Website | Instagram | TripAdvisor | GoogleMaps
Gatorta An awesome vegan street food stand, that's also famous for its vegan tiramisu (so so so good).
We shared a vegan torta pibil as a snack plus a slice of tiramisu. Both were fantastic.
Just a heads up that there's no place to sit and the line can be a bit long, but it's worth the wait!
Facebook | TripAdvisor | Google Maps 
La Clandestina: We couldn't visit Mexico without sampling some good mezcal! Stopped by this cute little local bar on a sunny summer evening for happy hour, and enjoyed a round of mezcals and guac on their front patio. It was perfect.
We ordered six different mezcals to sample and a bowl of guacamole (you can add crickets on top, if you'd like).
Website | Facebook | TripAdvisor | Google Maps 
La Pitahaya Vegana One of our two favorite vegan taco spots in CDMX, located in the trendy Roma neighborhood. We had heard that this place was famous for their trademark hot pink tortillas (colored with beets). But wow, the fillings inside those tortillas totally stole the show. So fresh and creative and tasty. Highly recommend.
We tried the cauliflower tacos (with coconut cottage cheese and pineapple cream), the oyster mushroom "al pastor" tacos (with grilled pineapple) and the curried potato tacos (with 18-spice masala). Holy yum.
Website | Facebook | TripAdvisor | Google Maps 
Lardo We ran out of time to visit this charming restaurant during our last trip to CDMX, so it was a top priority this trip. And all of your recommendations were spot on — we completely loved it. We stopped by on a sunny morning for brunch, and the vibe inside with the windows open and cool breezes flowing and fresh pastries baking was so lovely. Our food was also fantastic (that mole!), our server was so kind, and our only regret was that we didn't have time to return for dinner. Next trip!
We ordered an omelette made with cricket mole (don't be afraid of the bugs, it's amazing), chilaquiles verdes, and a house-made guava pastry. All wonderful.
We were able to walk in and be seated immediately on a quiet weekday morning, but have heard that Lardo can get quite busy during peak times. So I would recommend making a reservation in advance.
Website | Instagram | TripAdvisor | Google Maps 
Por Siempre Vegana Taquería Lots of you recommended this vegan taco stand, but unfortunately, we ran out of time to have a full meal there. That said, we happened to be in the area one day so stopped by to share a single taco for a snack, and it was fantastic. Not to mention — it had a million delicious topping options to choose from too!
We tried their house specialty — vegan tacos "Al Pastor", made with soy and their own house blend of spices. Delightful. Also, at $10MX, most of their menu items cost about $0.50 a taco!
Facebook | TripAdvisor | Google Maps
Postales de Café: We fell in love with this cute little coffee shop and bean distributor near our AirBnB, located in the heart of the Condesa neighborhood. If you happen to be in the area, they make a delicious cup of coffee.
They're a full-service shop, with espresso drinks as well as filter coffee made in various styles.
Website | Instagram | TripAdvisor | Google Maps
Taste Colonia Roma Food Tour (via AirBnB Experiences): Barclay and I have a tradition of always beginning our trips with food tours, so we booked this one in hopes of learning a bit more about the Roma Norte neighborhood. And we really enjoyed it! Our guide was fun and knowledgable, she took us on a great walking tour of Roma Norte in between stops, and we ate so much delicious food. I would highly recommend booking this or another food tour if you are visiting the city for the first time.
Our 4-hour tour included stops at: Tres Galeones (fish tacos and shrimp sope), Café de Raíz (tamale tasting), La Pitahaya Vegana (multiple vegan tacos), Graciela (beer tasting), Broka (ceviche de nopal), and Escollo (epazote quesadilla and mezcal).
If you decide to book the tour, come hungry. It's a lot of food!
Our tour also ran over an hour and a half late, so schedule in some buffer time afterwards.
Tierra Garat: We stopped by this coffee shop while meandering around Roma Norte one day and loved their vibe and delicious coffee. Looks like they have additional locations around the city and beyond as well.
Barclay ordered a macchiato and I ordered a yummy iced coffee (served with an eco-friendly agave straw, so cool).
Website | Instagram | TripAdvisor | Google Maps
Tres Galeones We were introduced to this taco spot on our food tour and loved it so much we went back the next day! Their menu features contemporary Mexican street food with a seafood focus, and all of their tacos are divine.
We tried the marlin tostada, shrimp sopa, fish "carnitas" tacos, fish tacos al pastor (with pineapple), crab ceviche tacos, and octopus tacos (with pibil salsa).
Also highly recommend their horchata and agua de Jamaíca.
Facebook | TripAdvisor | Google Maps 
VEGuerrero Our other favorite vegan taco spot in CDMX! I'm admittedly not usually that into meat substitutes (typically, I would rather just eat straight veggies vs. vegetarian-ingredients-trying-to-resemble-meat). However, this place came highly recommended and their tacos totally lived up to the hype. Vegans and meat lovers alike would love their food!
We ordered the pastor, chorizo, and chicharron tacos. My vegetarian husband and I could not believe the chicharrones were vegan.
That said, they have a wide variety of other dishes, not just tacos.
Facebook | TripAdvisor | Google Maps 
Finally, I typically don't give negative reviews in these posts, but I've been getting lots of requests to share the places we visited that did not live up to the hype. So without going into detail, I would just offer that Condesa DF (we went for drinks and dinner) and Fonda Fina (we went for dinner) were not our faves.

Any Local Food Markets: If you have followed my travel posts before, you've probably heard me nerd out on how much I love visiting local markets. But Mexico City especially has so many great ones to visit!! Even if you don't buy anything, local markets are such a great place to learn more about how the locals shop and eat and go about daily neighborhood life. Plus, they are a fantastic place to sample some local foods and perhaps even pick up a souvenir or two. (My bag was loaded up with hot sauces and achiote paste.)  Some of our favorite markets we walked through included:
Mercado Roma
Mercado Medellín
Mercado de San Juan
Tuesday Tianguis in Condesa
La Ciudadela (Textile Market): Speaking of markets, we also loved wandering around this (huge!) local artisan craft market. It's a sensory overload with all of its gorgeous, vivid colors. And the stalls are overflowing with everything from ceramics to textiles, clothing, jewelry, instruments, and more. If you love local shopping, it's a great place to visit. Heads up though — most of the vendors only accept cash, so come prepared.
Website | Instagram | TripAdvisor | Google
National Museum of Anthropology: This stunning museum has the country's most comprehensive collection of cultural and historical artifacts, all presented in a beautifully-designed modern space. Even if you only have a few hours to spend there, it's worth the visit to learn a bit more about the rich and diverse cultural history of Mexico. The ground floor takes you through pre-hispanic Mexico, and then you can venture to the second floor to continue the timeline to the present day. For those interested in a guided tour, the museum also offers tours in English during the week, with the exception of Sundays.
Website | Instagram | TripAdvisor | Google
Pyramids of Teotihuacan: We finally made it out to see the pyramids this trip and they were incredible! I have to tell you though — we had initially budgeted a full day for the pyramids, since most of the websites we saw online only offered 8-hour tours. But a local Uber driver gave us a pro tip that the pyramids are actually incredibly easy (and cheap) to visit on your own, especially first thing in the morning. So we woke up early and hailed an Uber there and were pleasantly surprised to find that — you guys — we had the pyramids completely to ourselves during our first half hour there. Absolutely surreal! We walked the path between the largest pyramids for an hour or so until the sun started to get super hot. Then we just hailed another Uber and amazingly were back in Roma Norte in time for a mid-morning coffee date. So the whole trip ended up costing us less than $50 and took just over 3 hours, which was much more our style than an expensive day trip on a tour bus. Highly recommend! A few of our tips..
Wake up and go as early as you can. The pyramids advertise that they are open from 9-5 every day of the year, but we arrived around 8:15am and there were plenty of staff already in the office ready to sell tickets and let us in. In our opinion, it was 100% worth it to beat the crowds!
Bring sun protection.  There is very little shade once you enter the pyramid grounds, and pretty much zero shade once you are climbing up on the pyramids themselves. So bring a hat a good sunscreen.
Pack water. The one downside to arriving early was that the water vendors had yet to set up shop. So if you are trying to beat the crowds (or just save money and plastic bottles), be sure to pack a reusable water bottle to hydrate in that direct sun.
(Optional) Hire a guide. Many of the signs around the pyramids are sun-faded and offer limited information (especially in English). If you are interested in learning more about the Teotihuacan pyramids, you might consider hiring a guide. There were plenty milling around the entrance offering private tours when we arrived.
Website | TripAdvisor | Google
Taste Colonia Roma Food Tour (via AirBnB): See notes above — I always recommend booking a food tour when visiting new cities. ♡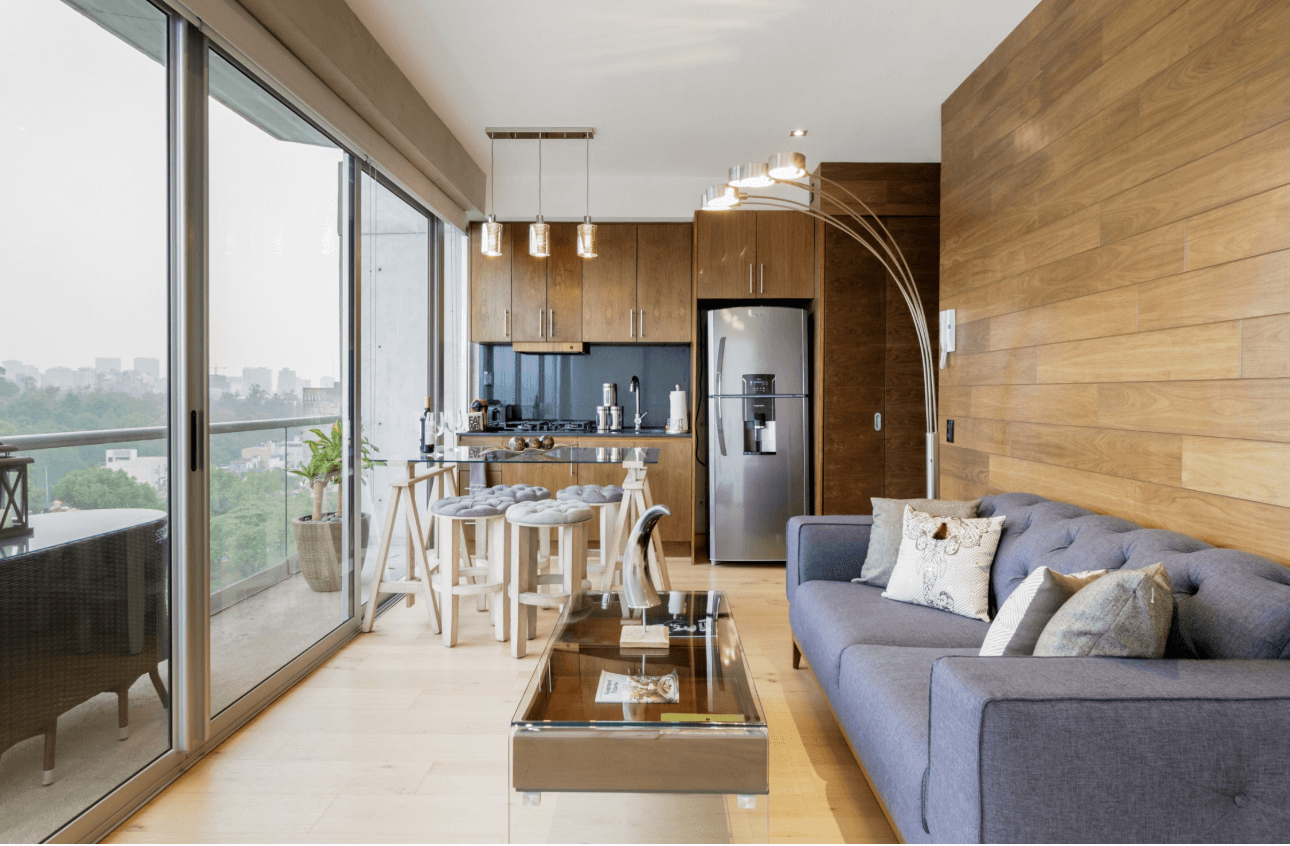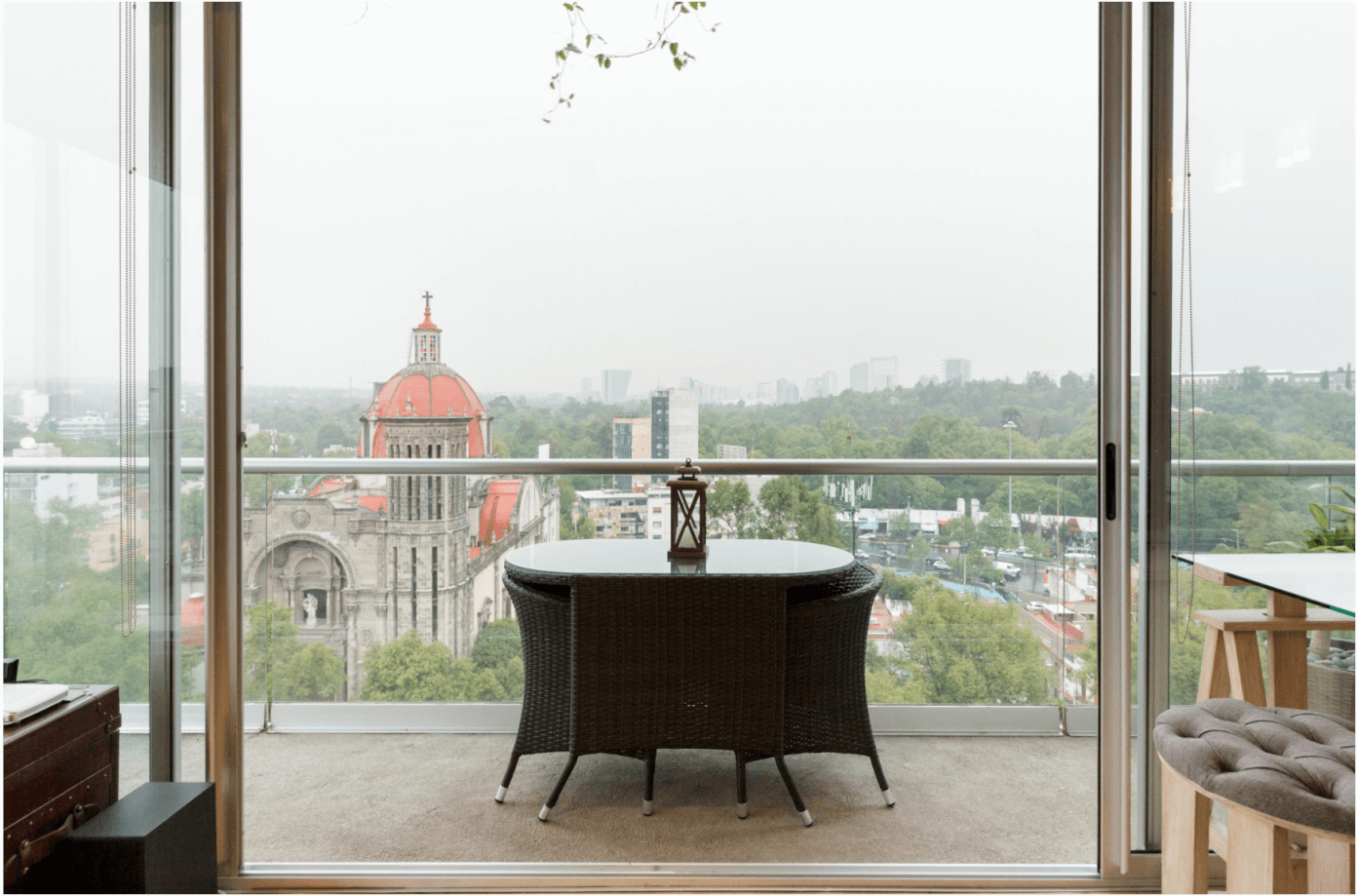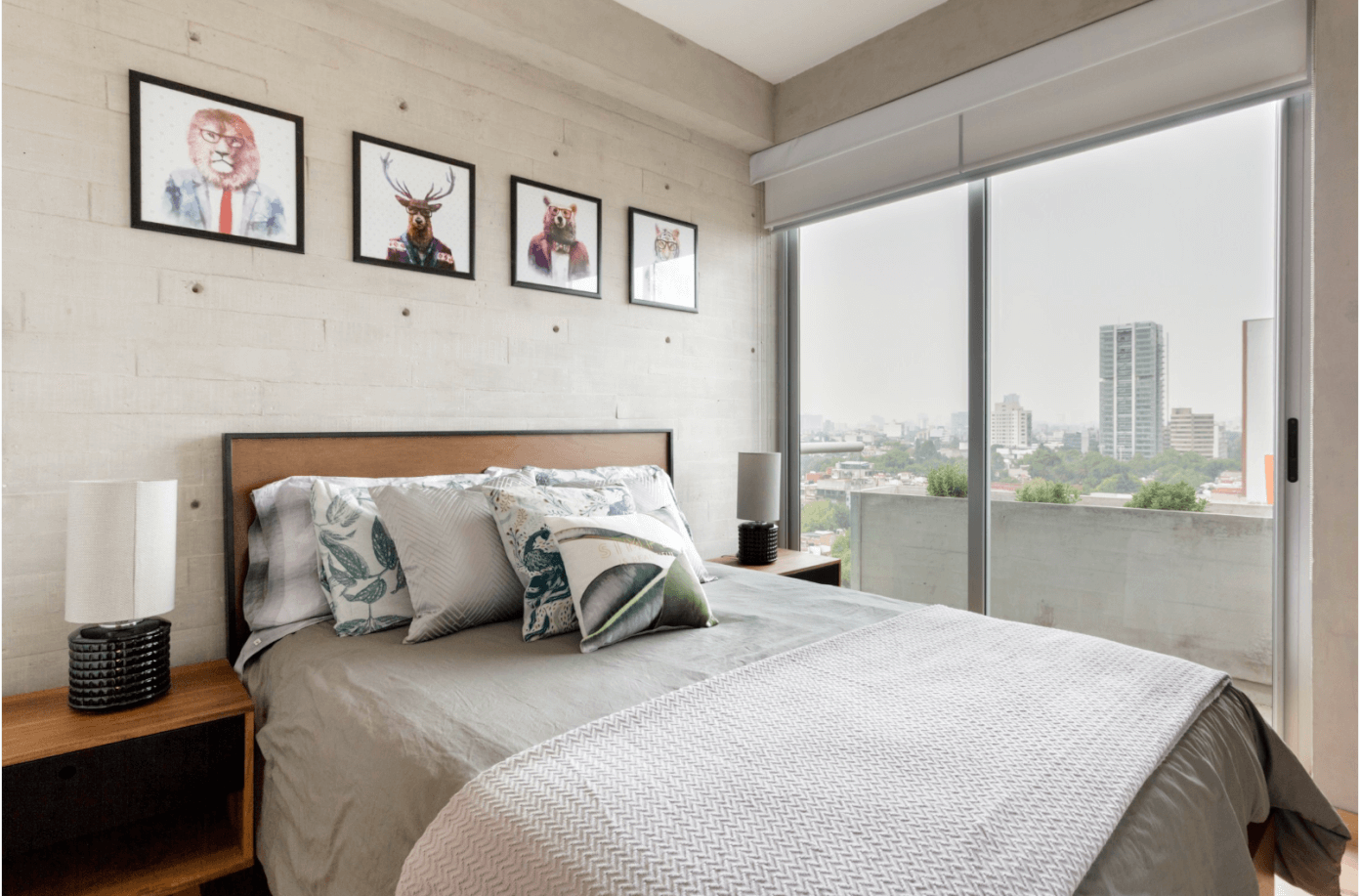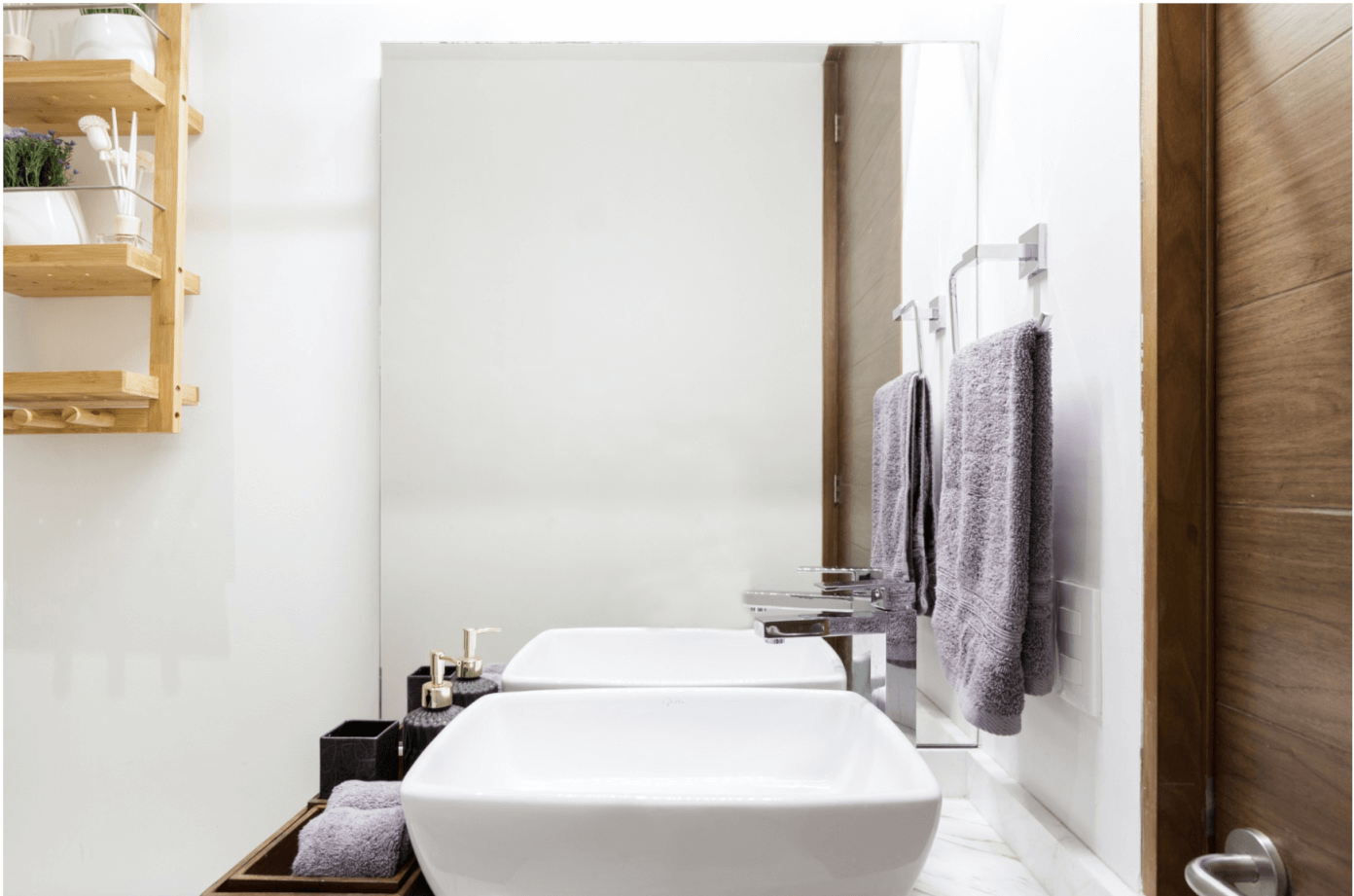 So as much as I usually love staying at cute, local, boutique hotels when we travel, I've gotta say that when it comes to choosing a place to stay in Mexico City — AirBnB is where it's at.  There are tons of gorgeous homes available to rent at a small fraction of the price of trendy hotels in the area. And since the food around the city is so amazing anyways, we weren't interested in complementary breakfasts or hotel pools this trip anyway. ;)
That said, the only hard thing about booking AirBnBs in Mexico City is that there are too many great places to choose from! I had about 10 different homes bookmarked on AirBnB, all with incredibly different styles of architecture (and so many cool patios). But in the end we ended up opting for this Condesa apartment with its lovely views and outdoor balcony.
Overall, it was great. The building had a concierge staff, who were very helpful with giving neighborhood recommendations and also oversaw building security. And then the apartment itself was just as pictured, including amazing views, a comfy bed, Mexican Netflix (we watched "Roma" one night before bed!), filtered water, plus bottle of wine which we immediately put to use out on that lovely balcony.
The only bummer (my fault) was that the location of this particular apartment on the verrry outside edge of Condesa. And we completely underestimated how enormous Condesa actually is! It took us a good 10-15 minute walk each day just to get into the heart of the neighborhood itself, which wasn't a problem for the two of us who love walking, but it is something to keep in mind if anyone in your traveling cue has mobility issues.
Next time we go to Mexico City, we really want to stay in the heart of Roma Norte. It ended up being our favorite neighborhood this trip and seems like it would be a great central location.

Pick a neighborhood (or two) and dive deep. Because this city is so cool and there are so many great things to do (not to mention places to eat!), it's tempting to want to hop all around the city and see it all. But if you are only there for a few days, I really just limiting your time to a single neighborhood or two. Because if I haven't already said it enough — this city is huge.  And even just walking (or driving) from one neighborhood to the next can take at least 45-60 minutes, which gets even worse during rush hour and can really eat up your time. I would just plant yourself in one or two of the following neighborhoods and dive deep:
Roma Norte
Condesa
Polanco
Juárez
Don't hesitate to call an Uber! Taxis are often known to upcharge tourists in CDMX, but Uber is very reliable and widely available and crazy cheap. (Like, a 45 minute ride for us was about $5.)  If you don't speak Spanish, it's also a very easy way to get around. And if you do speak Spanish, chat it up with your driver! We had some wonderful conversations buzzing all around the city.
Plan for traffic delays. That said, if you do decide to grab an Uber instead of walk, budget in extra time for serious traffic delays. We missed a dinner reservation one evening because a 20-minute Uber ride ended up taking over an hour and a half. (Ooof.)  The city is especially congested during rush hour, and neighborhoods are farther apart than they may look on a map, so budget in some serious buffer time.
Plan for airport delays. We also waited for nearly two hours in customs upon arrival in CDMX, so I would recommend budgeting in extra time for your arrival as well just in case.
Don't drink the water. It's safe in some places, but not reliable in all. So I wouldn't risk it.
Use caution with street food. I can vouch from experience — you are going to want to eat it all.  But as always with street food in developing countries, it's probably best to err on the side of caution. My personal rule in general is to only eat street food that is (1) cooked, not raw (2) freshly cooked in front of me, and (3) from a stall that has a running water source in sight. To be sure, that is still is not a 100% reliable way to prevent food poisoning, as bacteria often live on cutlery and the water used to wash produce. But when it comes to street food, you have to decide how much risk you want to take. I definitely broke my own rule a few times this trip, and paid for it with a batch of street ceviche (oof). But I would say to exercise your desired amount of caution. And also, it's never a bad idea to pack some stomach meds in your suitcase just in case. ;)
Bring cash. Many of the places we visited (especially markets and street food stands) don't do credit cards. So it's always good to have some pesos on hand.
Speak some Spanish. Finally, as always, I believe it is a deep sign of respect to at least learn and use a few phrases of the local language when traveling. Even if it's just offering a simple buenos días to store owners, or saying gracias to your server, a little effort goes a long way with locals and shows that you are trying to be a good guest. Also, if you ever find yourself in a language barrier pinch, Google Translate is amazingly accurate nowadays!
For more Mexico City (and Oaxaca) recommendations, feel free to check out my post from our honeymoon. But otherwise, I hope this post has been helpful. And I sincerely hope you have the chance to visit Mexico sometime soon! ♡
Barclay and I are actually headed to Copenhagen today, so more travel recs to come!
This post contains a few affiliate links.