3-Ingredient Bacon-Wrapped Dates
Happy Friday, friends!!
In honor of the Labor Day and the glorious 3-day weekend ahead, I thought we could revisit one of my all-time favorite old recipes on the blog that doesn't require a lot of labor.  And guess what — also happens to have 3 ingredients!  (Hey, you all know how much I love a well-themed recipe.)  :)
Heck yeah, you'd better believe I'm talkin' bacon-wrapped dates.
I imagine most of you have probably already discovered the deliciousness that is this recipe.  But just in case you haven't, I feel like this would be the perfect weekend to give it a try.  Why?  Well it's ridiculously delicious.  But just as important, it's also ridiculously easy.  Just grab a package of dried dates (I actually always keep one in my pantry specifically for this appetizer), your favorite soft cheese (I love blue cheese, but goat or brie or any others will also work), and some mmmbacon.  Stuff the cheese in the dates, wrap 'em in bacon, and pop everything in the oven for about 20 minutes.  And the result?!
Appetizer magic, I tell you.
Seriously.  I've served my friends countless appetizers over the years, and hardly any disappear as quickly as these guys at a party.  (Which I must admit is sometimes infuriating — why is it that people tend to go most crazy for the insanely-ridiculously-embarrassingly-pulled-it-together-in-20-minutes-before-the-party recipes?  Please tell me this happens to some of you!)  Well, either way, I'm thrilled that people love them because I sure as heck love to make them.
I actually just made a batch this past week for a friend's engagement party.  So when I had a few minutes to spare beforehand (thanks to this recipe — what a concept!), I snapped some updated photos to share with you.  Let's wrap up some dates!
To make these bacon-wrapped dates, begin with a package of dried pitted dates.  Use a small paring knife to slice them halfway open…
…then stuff them with a teaspoon or so of soft cheese.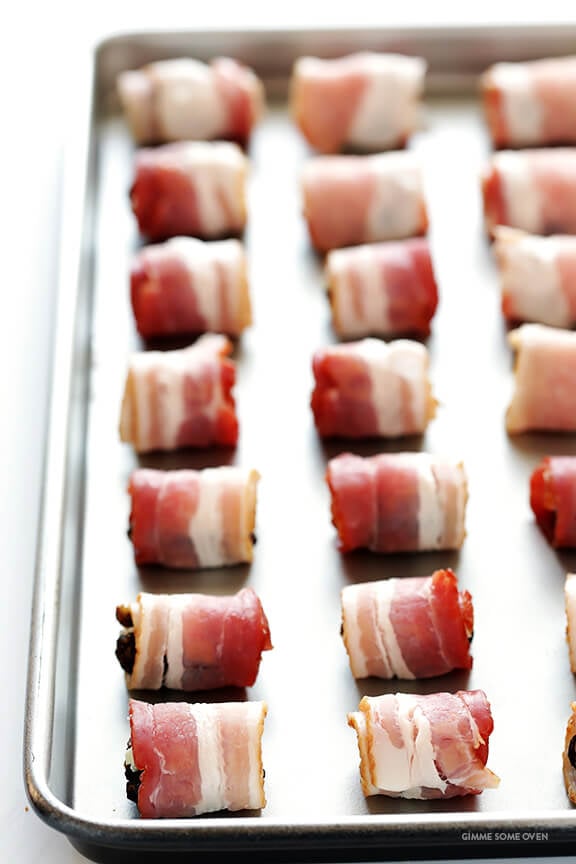 Wrap 'em up with 1/3 slice of bacon, and then place them on a greased (or preferably a parchment-covered) rimmed baking sheet.  The bacon will definitely release some grease, so be sure that your sheet has rims on the edges.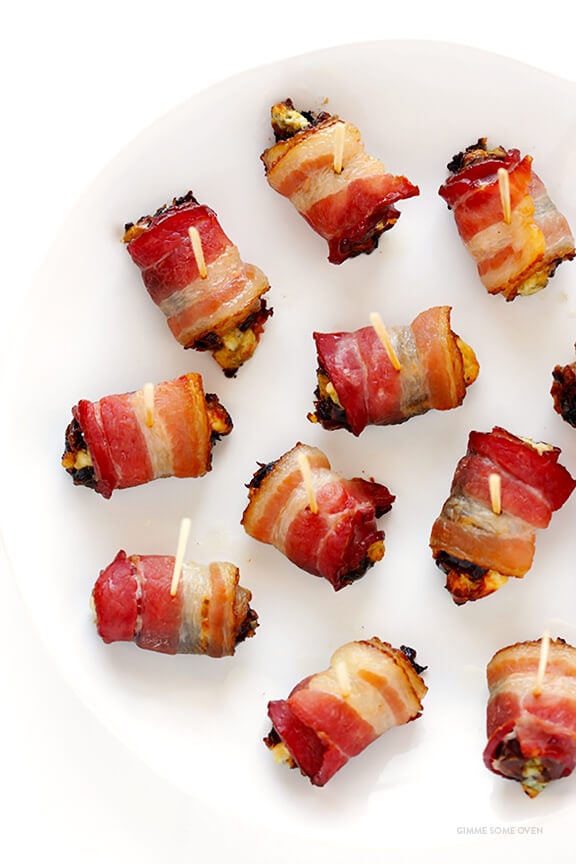 Then poke them with some toothpicks and bake them up until the bacon reaches your desired level of crispy-ness.  I recommend turning them once halfway through baking to ensure even crispy-ness on all sides.  And if you want really crispy bacon, I recommend partially-frying the bacon (or partially-cooking the bacon in the microwave) beforehand.  Still, even with the oven-only method, these usually get pretty crispy.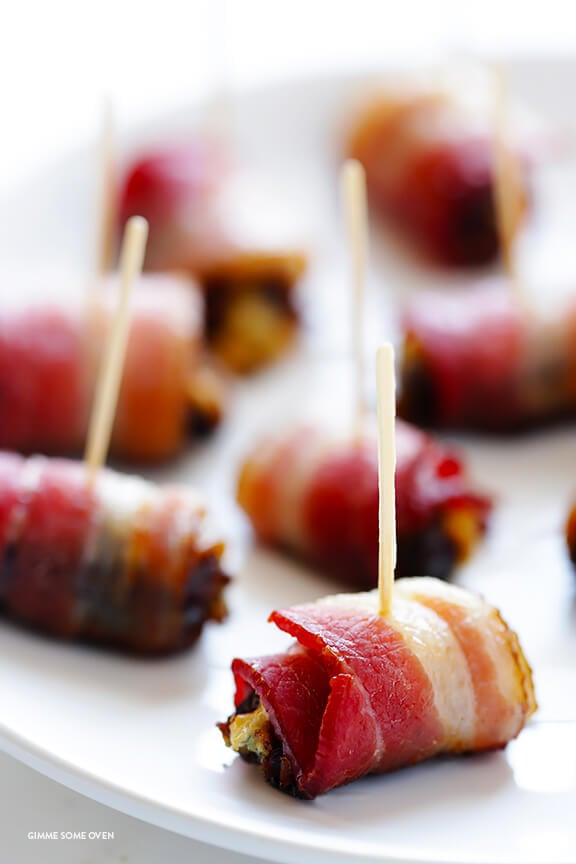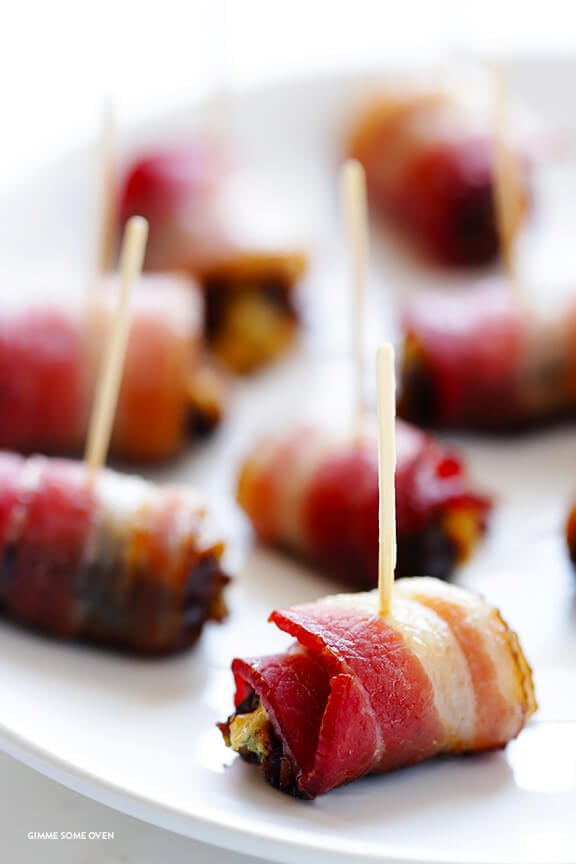 Then serve them up, and watch 'em disappear like hot cakes.  Or maybe we should go ahead and change that saying to bacon-wrapped dates.  ;)
Hope that you enjoy them, and I wish all of you a restful Labor Day spent with those you love!
Bacon-Wrapped Dates
This 3-Ingredient Bacon Wrapped Dates recipe is incredibly easy to make, and it's always a crowd favorite!
Ingredients:
1 (8 oz.) package of dried, pitted dates (about 30 dates)
1 (4 oz.) container crumbled blue cheese*
1 (12 oz.) package bacon, with the slices cut into thirds
Directions:
Preheat oven to 375 degrees F. Prepare a rimmed baking sheet with parchment paper, or spray with cooking spray.
Slice the dates along the side so that they open flat for stuffing. Fill the date with about a teaspoon (more or less) of blue cheese, then wrap it with a slice of bacon so that the blue cheese opening is completely sealed and the bacon overlaps underneath. Seal the stuffed date with a toothpick, and place on the baking sheet. Repeat with remaining dates.
Bake for 15-25 minutes, or until the bacon is cooked and the cheese is lightly browned, turning the dates halfway through so that they crisp up evenly on all sides. Remove and serve warm.
*Feel free to use any soft or melting cheese for this recipe.  (Ex. goat cheese, gorgonzola, brie, and smoked gouda are all delicious!)
All images and text ©
If you make this recipe, be sure to snap a photo and hashtag it #gimmesomeoven. I'd love to see what you cook!