Butternut Squash and Mushroom Tacos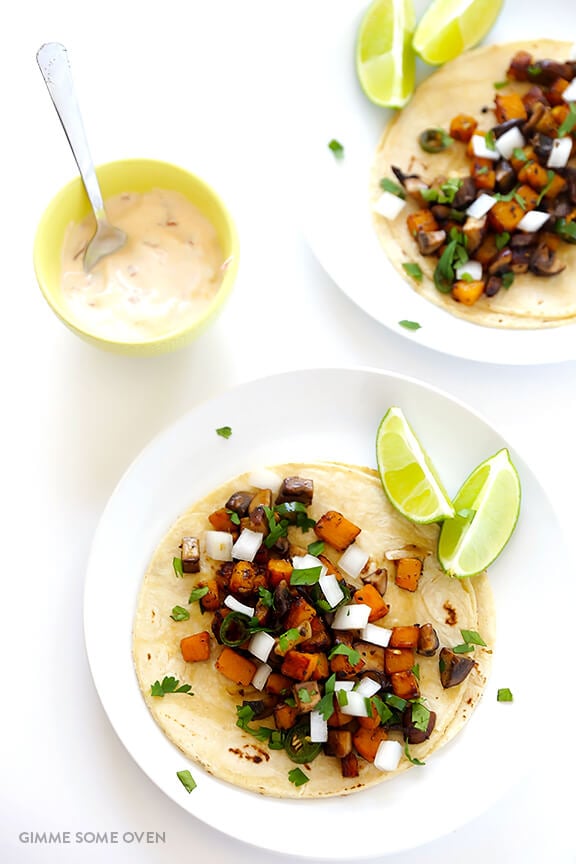 I'm pretty sure that I have eaten my weight in tacos over these past few weeks visiting Austin.  And some crazy good ones, at that.  But today's recipe is actually one that was inspired by my trip to visit Utah last month.
Yes, Utah.  In addition to being the home of some of my favorite blogging friends, I have learned over the past few years that Utah is also home to some killer good restaurants.  And of course, my host during my time in Salt Lake City — Miss Foodie Crush herself  — definitely knows how to pick 'em.  In just a few days, we managed to circle the culinary globe, indulging in everything from Mexican to French to Japanese to Korean and more.  It was such a treat, and I was stuffed.  But one of my favorite meals ended up being on my last day there, just before heading to the airport, when we gathered a group of blogging friends together for lunch at a place that specialized in my favorite food group — tacos.
The restaurant was called Luna Blanca, and should definitely be on your list if you ever travel to Salt Lake.  Why?  Well, the atmosphere was casual and fun, their chips and salsa rocked, and I basically wanted to order every taco on their menu.  When the moment of decision came, though, I decided to go with the daily special that the server recommended — butternut squash and mushroom tacos.
And I'm so glad I did.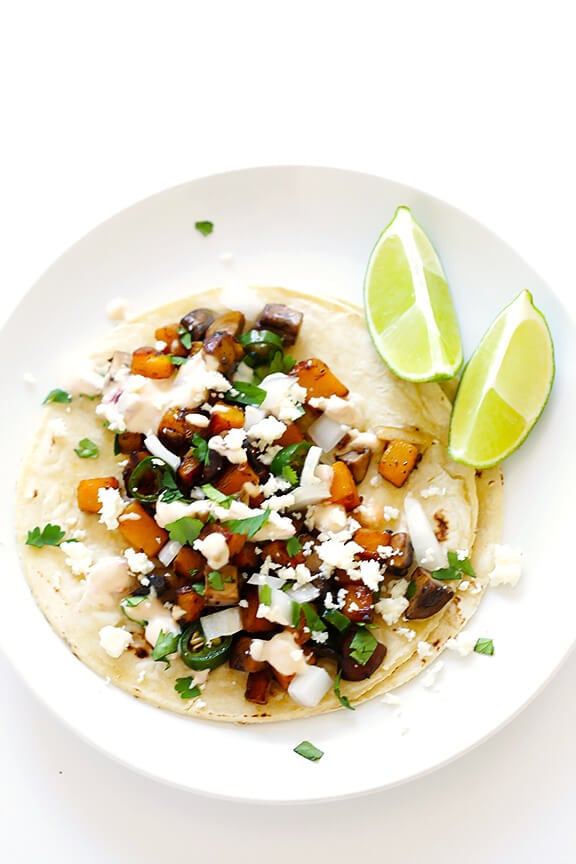 The butternut and mushroom tacos were perfecto.
I mean, let's be real, I'm not quite sure how you could ever go wrong with butternut.  But when paired with rich portobellos, fresh cilantro, onions, peppers, cheese, and crema, let's just say I was butternutty for how crazy good these guys were.  It was fresh and healthy Mexican food at its best.
So of course, as food bloggers do, I had to run home and try making them myself.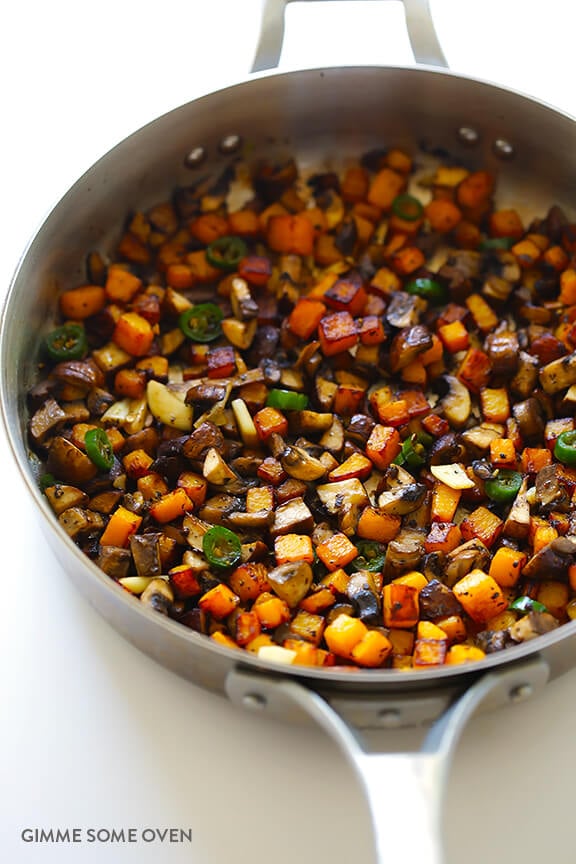 Unfortunately, I wish I had taken better notes on the tacos at Luna Blanca.  I couldn't remember if the veggies were roasted or sauteed, what kind of peppers they used, and what on earth was in the sauce on top.  But I'm pretty sure that the recipe I improvised turned out to be pretty spectacular, so they're at least close.  :)
Since I feel like I'm always roasting butternut squash, I thought I would try something different and make these tacos 100% on the stovetop.  So I finely diced a bunch of butternut squash, baby bella mushrooms, garlic, and some serrano peppers (or you can use jalapeno peppers if you want less heat).  Then I stir-fried the squash until tender, set it aside, and stir-fried the remaining ingredients until they were cooked.  These pictures don't even quite do that skillet justice — the colors were beautiful!
Then I warmed some tortillas on the skillet, and served the mixture up street-taco style with some fresh cilantro and diced onions and a squeeze of lime.
OH.
And I whipped up a tasty little chipotle crema (Greek yogurt-style) to go on top, which you must do.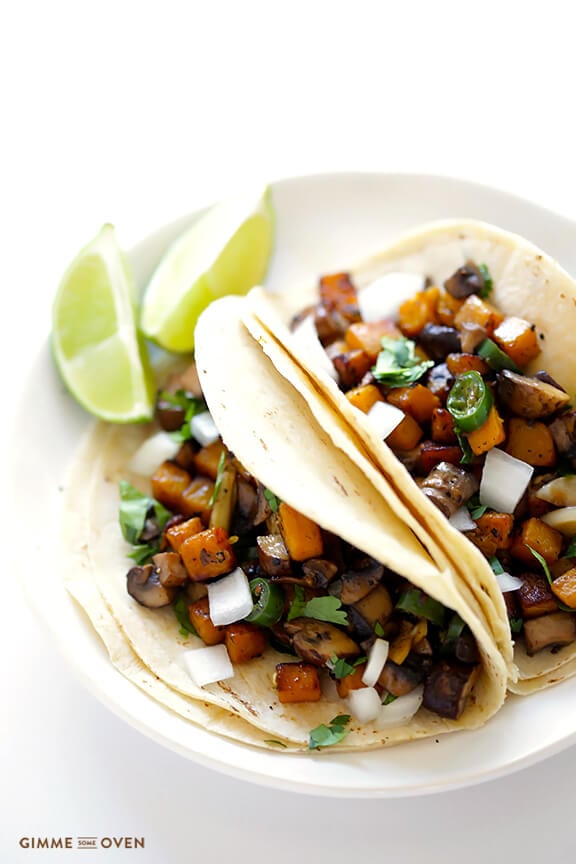 So simple and straightforward.  But super good.
The flavors of the butternut and mushrooms come through, made all the more delicious after sauteeing them with the garlic and serrano.  The street taco toppings are as good as ever.  And the smoky chipotle crema ties everything together perfectly.
Plus, they're naturally gluten-free if you make them with corn tortillas.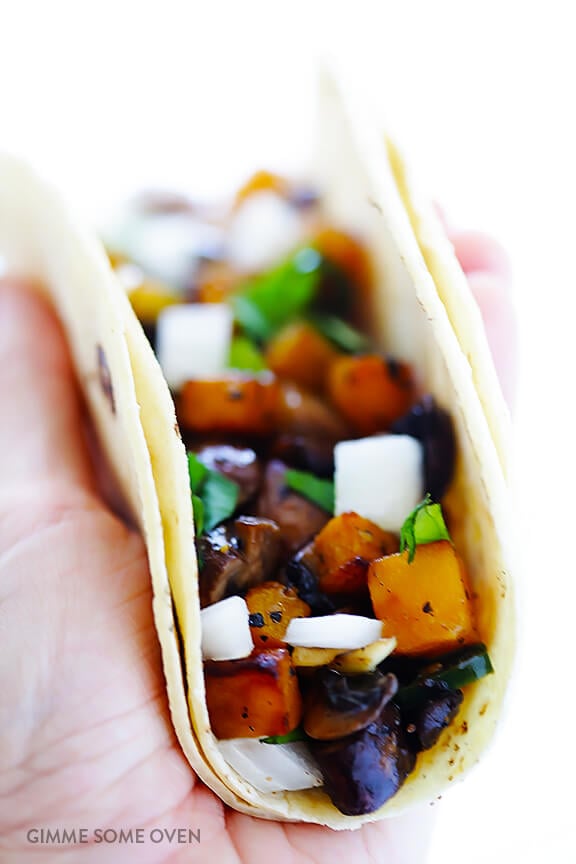 But the best part?  I know that whenever I make these tacos again, I'll be reminded of the wonderful meal (thanks, Luna Blanca) and the even more wonderful friends (yes you, Annelise, Dara, Heidi, Kelley, and Maria) that inspired them.  Cheers, friends!
Butternut Squash and Mushroom Tacos
These butternut squash and mushroom tacos are made with simple ingredients, and full of the most delicious flavor!
Ingredients:
Taco Ingredients:
2 tablespoons olive oil, divided
2 cups finely diced butternut squash (about 1/2 of a large butternut squash that has been peeled and seeded)
8 ounces baby bella or button mushrooms, finely diced
1 serrano pepper, stem removed and thinly sliced (*I recommend using a seeded jalapeno instead, if you prefer less heat)
3 cloves garlic, peeled and thinly sliced
1/2 teaspoon sea salt
1/4 teaspoon freshly-ground black pepper
1/8 teaspoon ground cumin
corn tortillas
for serving: chopped fresh cilantro, diced white onions, lime wedges, crumbled cotija cheese
Chipotle Lime Crema Ingredients:
1/2 cup Greek yogurt or sour cream
1 chipotle chile in adobo sauce
1 clove garlic
1 tablespoon lime juice
pinch of salt
Directions:
To Make The Tacos:
Heat 1 tablespoon olive oil in a large saute pan.  Add butternut squash, and saute for 6-8 minutes or until tender, stirring occasionally.  Transfer the squash to a separate plate using a slotted spoon, and set aside.
Add the remaining 1 tablespoon oil to the saute pan.  Add mushrooms and serrano, and saute for 4-5 minutes or until the mushrooms are cooked.  Add the garlic and saute for an additional 2 minutes, stirring frequently.  Stir the butternut squash in with the mushrooms, then season with salt and pepper and cumin to taste.  Remove from heat and set aside.
Warm the tortillas for a few seconds each in the skillet, if you would like.  Then assemble the tacos by layering two corn tortillas together, topped with some of the butternut mixture, sprinkled with cilantro/onions/lime if you would like, and then drizzled with the crema.
To Make The Crema:
Add all ingredients to a food processor blender, and pulse until combined.
Or, just finely chop the chipotle in adobo, and stir it in with the other ingredients until combined.
All images and text ©
If you make this recipe, be sure to snap a photo and hashtag it #gimmesomeoven. I'd love to see what you cook!