Chocolate Zucchini Cake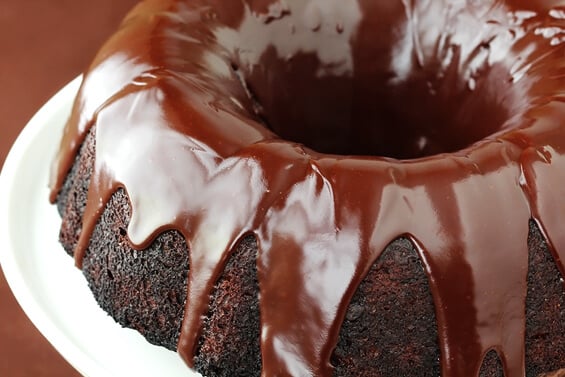 Of course I couldn't let "Zucchini Week" go by without making some dessert!  So allow me to present to you….a (healthier!) chocolate zucchini cake!!!
This recipe is kudos to one of my favorite bloggers — Jen from My Kitchen Addiction.  I was looking for a recipe that used white whole wheat flour (my favorite for baking), as well as something a little on the healthier side.  Sure enough, Jen's showed up at the top of my search, and it's even made with olive oil, mostly brown sugar, and two whole cups of shredded zucchini!  Perfect!!
Not surprisingly, the cake ended up being a great success.  I will admit that it's not overly sweet, so may taste a tad bit on the "healthy" side for some.  But it's still very delicious on its own!  Since I happen to be addicted to making glazes for bundt cakes, I went ahead and topped mine with a super-yummy dark chocolate glaze (and ahem, thus cancelled out most of the health benefits of the cake).  So tasty.
Definitely a delicious recipe and a fun way to sneak a ton of veg into a favorite dessert.  Enjoy!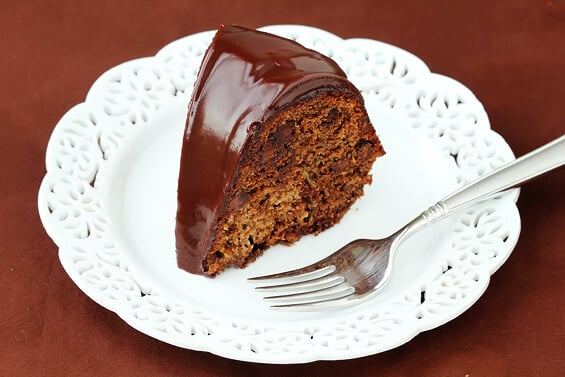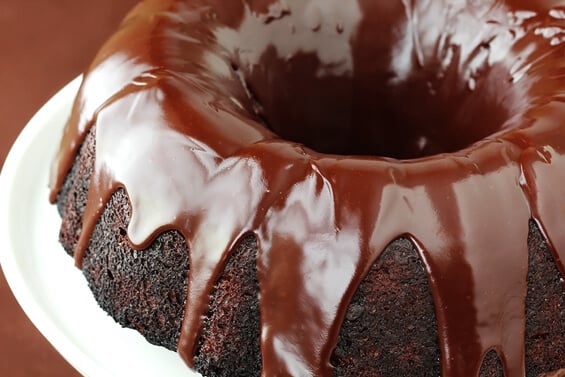 Chocolate Zucchini Cake
Love chocolate? Love zucchini? This delicious Chocolate Zucchini Cake recipe will leave your mouth very happy. Try it today!
Ingredients:
!Cake Ingredients:
!
2 1/2 cups white whole wheat flour
1/2 cup cocoa powder
1 tsp. ground cinnamon
1 tsp. baking soda
1 tsp. baking powder
1/2 tsp. sea salt
1 cup lightly packed dark brown sugar
1/2 cup granulated sugar
1/2 cup extra virgin olive oil
1/2 cup buttermilk
3 eggs
2 tsp. vanilla extract
2 cups shredded zucchini
1 cup semi-sweet or dark chocolate chips
!
!Chocolate Glaze Ingredients:
!
8 ounces dark or semi-sweet chocolate, chopped
6 Tbsp. unsalted butter
2 Tbsp. milk
1 Tbsp. honey
1/2 tsp. vanilla extract
Directions:
To Make Cake:
Preheat the oven to 350°F. Lightly grease and flour a bundt pan, and set aside.
In a mixing bowl, whisk together the flour, cocoa powder, cinnamon, baking soda, baking powder, and sea salt.
In a separate mixing bowl, whisk together the brown sugar, granulated sugar, and olive oil. Add the buttermilk, eggs, and vanilla. Stir in the zucchini. Add the dry ingredients, stirring until they are just incorporated and evenly moistened. Fold in the chocolate chips.
Transfer the batter to the prepared bundt pan, and bake the cake for about 40-45 minutes, until a toothpick inserted comes out clean (or with just a few wet crumbs). Let the cake cool in the pan for about 10 – 15 minutes. Then, invert the cake onto wire rack to cool completely. Top with the chocolate glaze, or dust with powdered sugar before serving.
To Make Chocolate Glaze:
In a small saucepan, melt the chocolate and butter together over medium low heat, stirring continually. Remove from heat, then stir in milk, honey and vanilla. Let cool 1-2 minutes, then serve warm.
If you make this recipe, be sure to snap a photo and hashtag it #gimmesomeoven. I'd love to see what you cook!
Ali's Tip: Be sure not to drain/strain the moisture out of the zucchini for this recipe!  Many baking recipes have you try and take out the zucchini's moisture before add it in with other ingredients, but cakes rely on it (in place of extra oil) to keep the cake nice and moist.  :)
Source: Cake recipe adapted from My Kitchen Addiction.