Crispy Roasted Garlic Chicken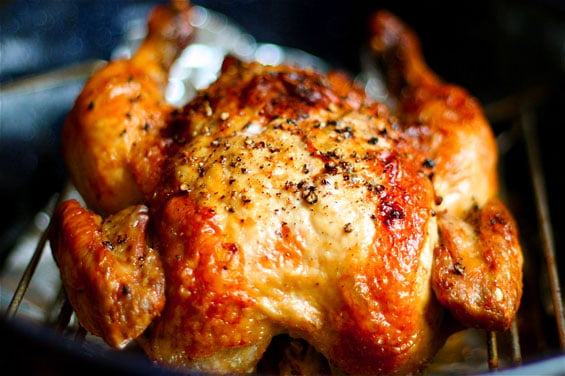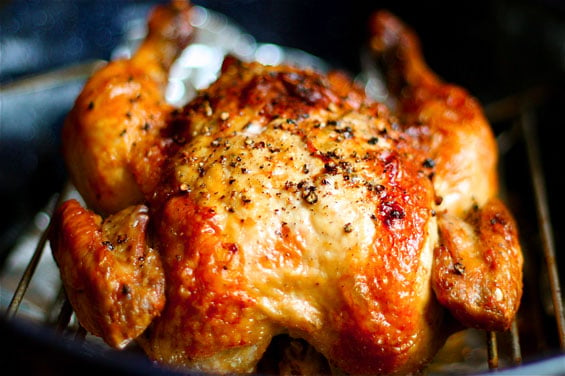 One of my new endeavors of the year is learning how to coupon.  Yes, the verb – coupon. As much as I love to cook, and as tiny as my food budget is, this has probably been a no-brainer for years.  But somehow I'd never really given it a try…
So, I've spent the last 9 or so months learning the art of store coupons, manufacturer coupons, "matching", doubling, pairing….you name it!  And, of course, learning how to smile and thank your cashier and the patient people behind you as you figure it all out.  :D  Thankfully, it has been beyond worth it.  Thanks to internet coupons, and especially to coupon blogs, I've saved a fabulously significant chunk in my grocery budget.  Hoorah!
Anyway, all that to say that I'm totally proud to say that on a recent grocery trip, I was able to swing three whole frozen chickens for $1.50 each.  Holla!  Thus, one of the lucky birds turned into this delicious, simple roast.  I know there are about five zillion different methods for roasting.  But for this recipe, decided to go with a crispy-roasting method I learned about awhile back from Cooks Illustrated.  Look out — it calls for heating up that oven to 450 and 500 degrees.  But hey — when it's snowing and dropping into the 'teens here in KC — a toasty kitchen sounds just about perfect.  :)
I ended up just going with a super-simple garlic, garlic, and more garlic recipe.  But feel free to sub in your favorite fresh herbs, honey, or whatever may float your boat.  This is definitely more of a "method" sort of post…  Enjoy!!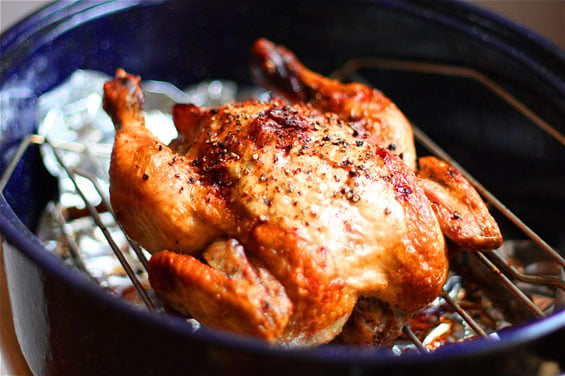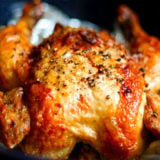 Crispy Roasted Chicken
You'll love this Crispy Roasted Garlic Chicken Recipe for dinner! So good!
Ingredients:
1 (3-4 pound) whole chicken (giblets removed and discarded, if included)
6 cloves garlic, minced (about 2 Tbsp.)
2 Tbsp. butter, melted
salt and freshly ground black pepper
Directions:
Thoroughly rinse the outside and inside of the chicken. Gently pat try with paper towels.
Using your fingers, carefully lift up the skin on top of the chicken (near the neck) and pull up gently. With your other hand, gently separate the skin from the breast and thigh meat. Then take half of the garlic and stuff it in between the skin and meat, so that it is fairly evenly spread out. Take the remainder of the garlic and spread it all over the cavity inside the chicken.
Then take the butter and baste the entire outside of the chicken. Sprinkle generously with freshly ground pepper and salt.
(Optional: Cover and refrigerate for 12-24 hours.)
Adjust oven rack to lowest position and preheat to 450 degrees. Place foil loosely in large roasting pan. Flip chicken so breast side faces down, tucking the wings under (as pictured below), and set V-rack in roasting pan on top of foil. Roast chicken 25 minutes.
Remove roasting pan from oven. Using 2 large wads of paper towels, rotate chicken breast-side up. Baste briefly with pan juices or additional melted butter. Return to oven and continue to roast until instant-read thermometer inserted in thickest part of breast registers 135 degrees, 15 to 25 minutes.
Increase oven temperature to 500 degrees. Continue to roast until skin is golden brown, crisp, and instant-read thermometer inserted in thickest part of breast registers 160 degrees and 175 degrees in thickest part of thigh, 10 to 20 minutes.
Transfer chicken to cutting board and let rest, uncovered, for 20 minutes. Carve and serve immediately.
Ali's Tip:
This method is for the crispy version!  For slightly less crisp, and less maintenance, another method is to simply cook the chicken breast-side down for about an hour (or until internal temperatures are met) at 375 degrees.  Basting every 20 minutes or so is also a plus!
If you make this recipe, be sure to snap a photo and hashtag it #gimmesomeoven. I'd love to see what you cook!