Beef Stroganoff
This easy Beef Stroganoff recipe can be made in about 30 minutes, it's full of savory steak and mushrooms, and it's absolutely delicious.  Feel free to serve over noodles, rice, polenta…you name it.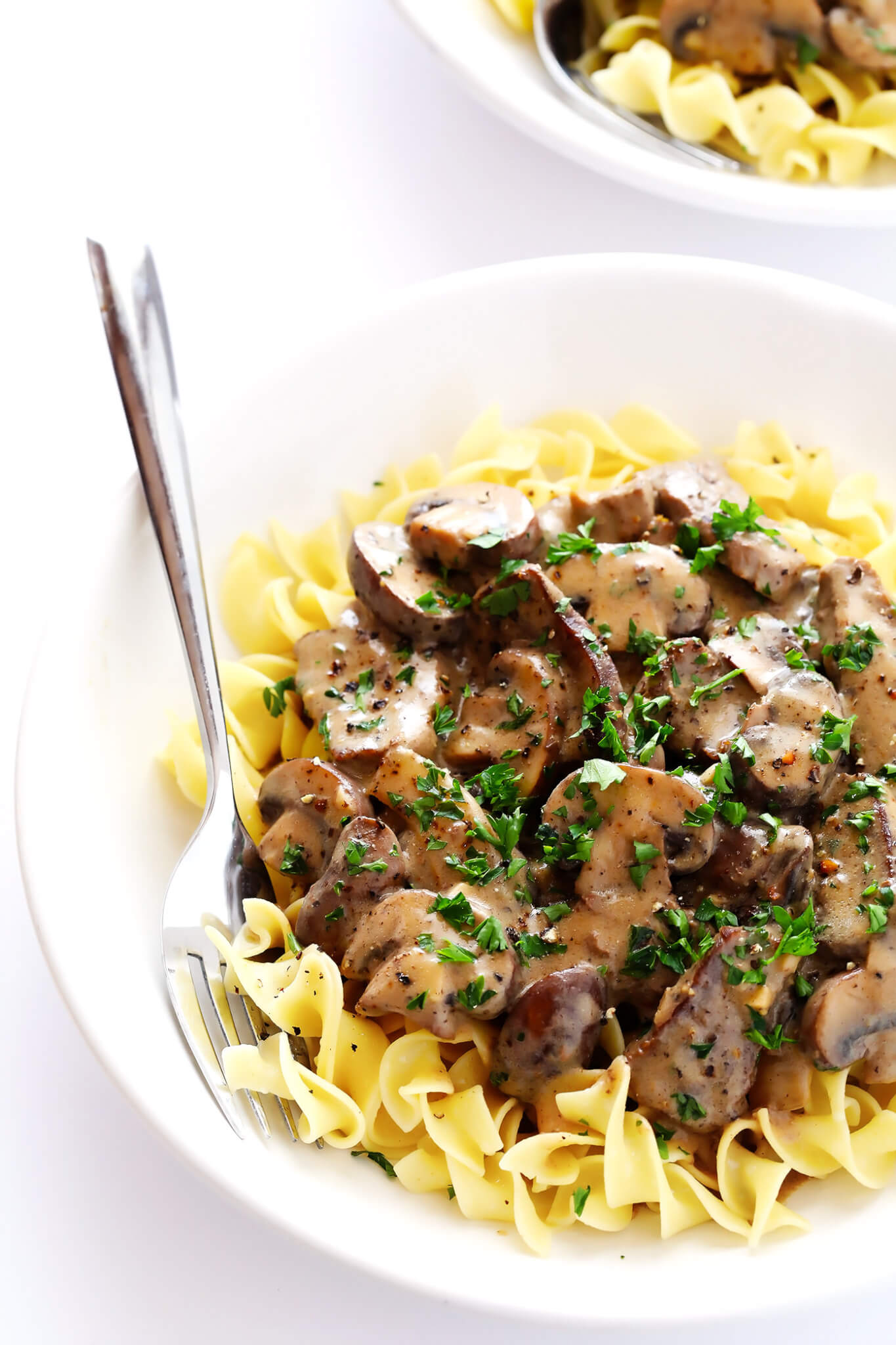 Since marrying a vegetarian, I've had tons of people ask how we "handle" meals together with different diets.  Our answer?
"Easy!"
Before we met, I was already cooking primarily plant-based meals for myself when eating at home, with the occasional splurge once a week or so on a dish that included meat.  That rhythm has continued to be a good balance for me, and has continued to worked well even now as a couple.  It's been great getting to introduce Barclay to so many of my vegetarian favorites (and having him as an extra-willing taste tester as I'm tinkering around with new recipes).  Then on the nights when I get a craving for some meat, we'll do our own thing!  I'll make it count with a dish that I really, really love (which likely means that bacon or steak will be involved).  And Barc will happily revert to his bachelor days and make himself the world's largest green salad (his idea of a dream dinner).  So far, it's been a pretty seamless transition for both of us, and a delicious win-win.
Anyway, this week on a chilly night, I was craving some cozy, creamy comfort food.  So I ended up cooking a batch of this throwback beef stroganoff recipe for myself.  And goodness, it was good.
I actually shared this one on the blog for the first time four years ago, but thought I would bump it back up to the top of the blog today with some updated photos and a step-by-step video.  I've loved it for years because it's quick and easy to make in just 30 minutes, it's lightened it up with a few modern updates, and it's always so comforting and delicious.  Tons of our readers have also tried it and agreed.
I also actually have a vegetarian version of this recipe on the blog now — a mushroom stroganoff — if this happens to be a plant-based night in your home.  But if you happen to fall in the steak-loving dinner camp, this homemade beef stroganoff recipe the one you've gotta try.  💛
Easy Beef Stroganoff Recipe | 1-Minute Video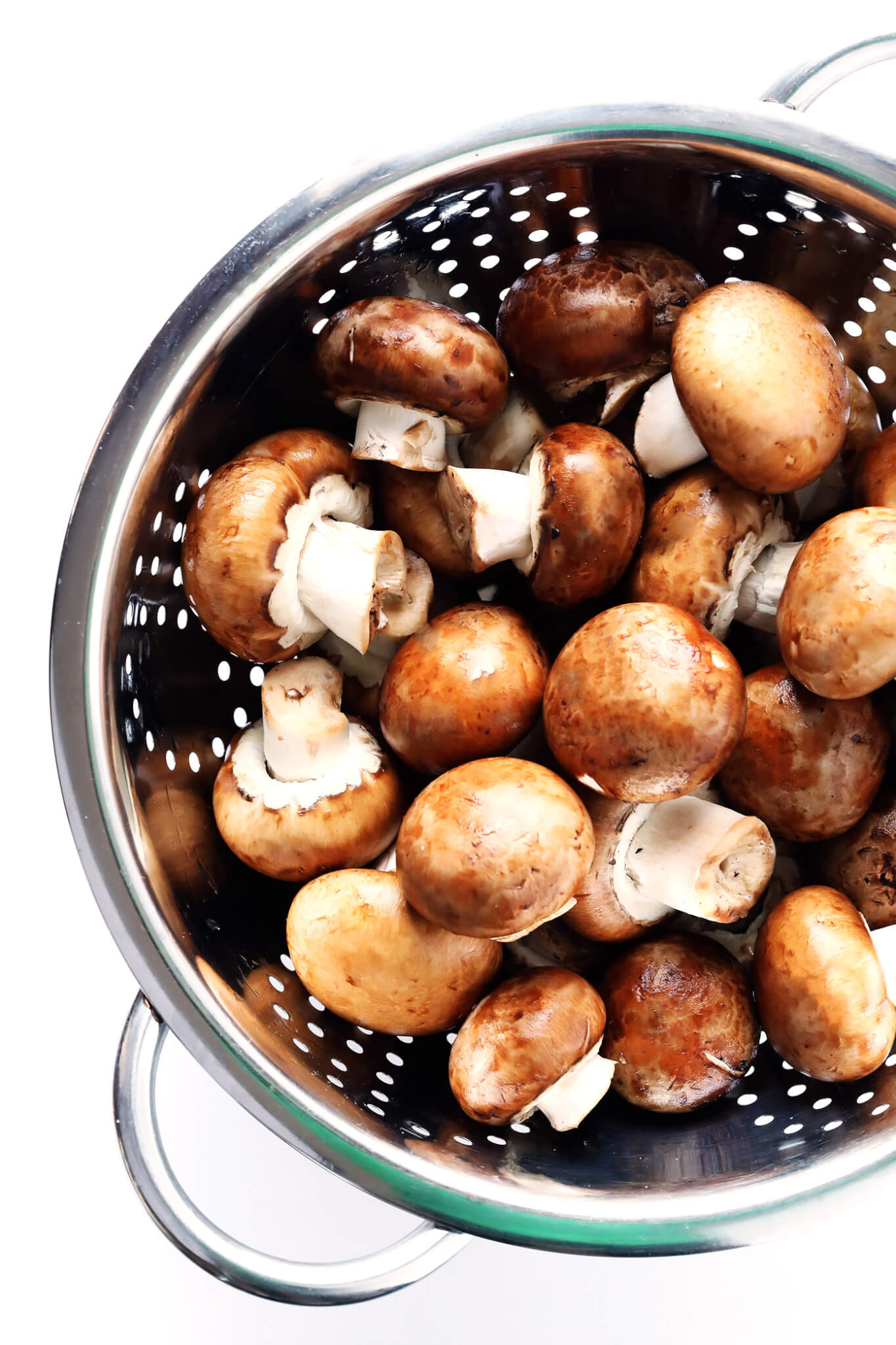 Beef Stroganoff Ingredients:
To make this easy beef stroganoff recipe, you will need:
Mushrooms: I'm partial to baby bellas, but just about any variety (or combo) of mushrooms will work here.  Halve or slice them into bite-sized pieces.
Steak: I recommend flank steak for this recipe, but any stir-fry-friendly cut will do.
Sauce Ingredients: Butter, onion, garlic, white wine, beef broth, Worcestershire, flour and plain Greek yogurt (or sour cream) are the classics here.  Although if you prefer not to cook with wine, feel free to just add in a little extra beef broth instead.
Egg Noodles: These are traditional for serving, but rice, quinoa, polenta, zoodles or any other kind of noodles would also be delicious.
Garnishes: I love some chopped fresh parsley (or thyme, or chives) and lots and lots of freshly-cracked black pepper on my stroganoff.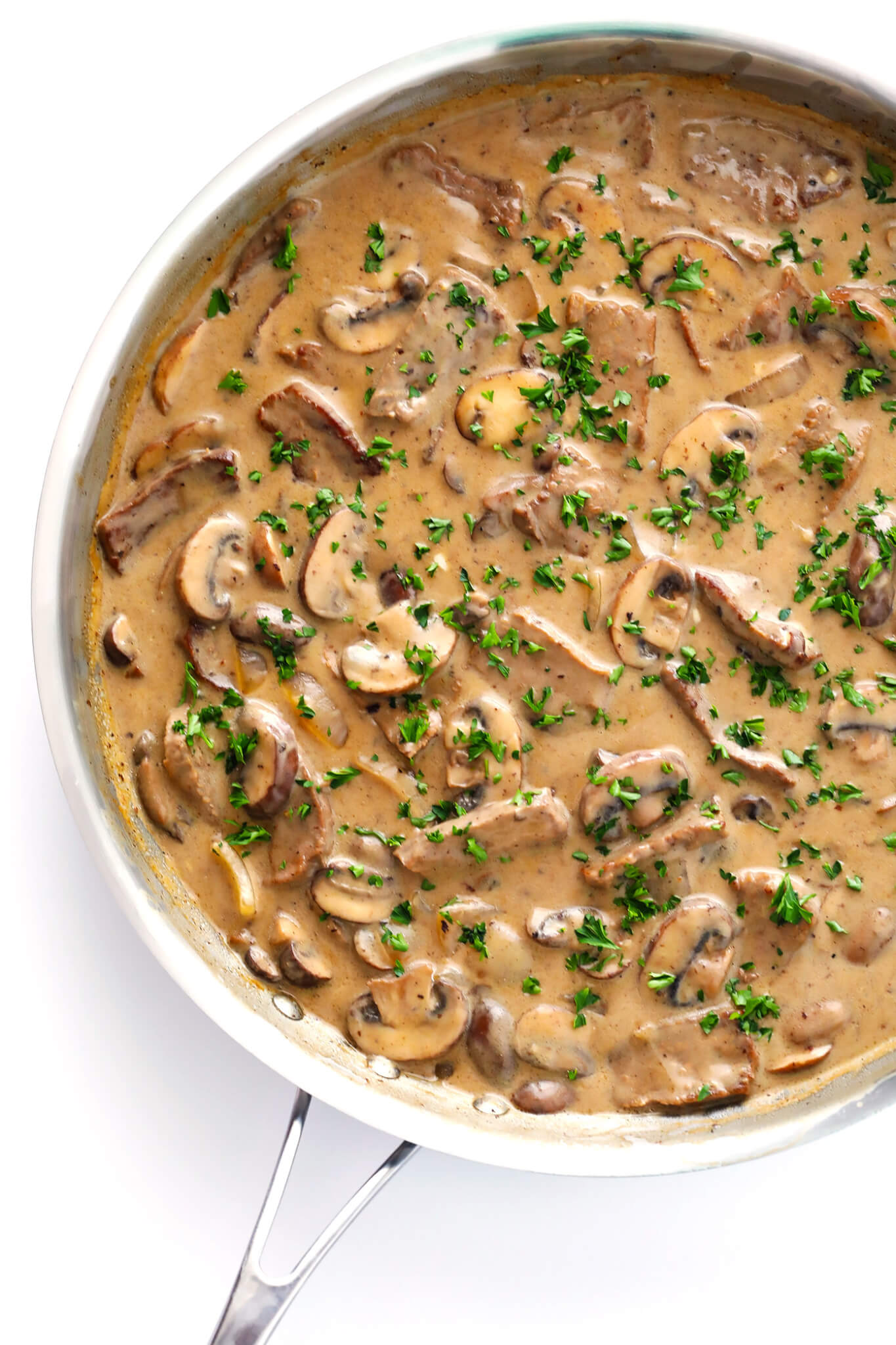 How To Make Beef Stroganoff:
To make this recipe for beef stroganoff, simply…
Sauté the steak. Begin by cooking the steak in a sauté pan until it is nice and browned.  Transfer the cooked steak to a separate (clean) plate.
Sauté the mushrooms, onion and garlic. In the same sauté pan, cook these until they are softened and ready to go.
Deglaze the pan.  Slowly add in the wine, and use a wooden spoon to scrape the bottom of the pan to lift up any of those delicious brown bits.
Add the remaining sauce ingredients, minus the Greek yogurt.  Then stir and simmer until thickened.
Finish the sauce.  Then add in the Greek yogurt and steak, stir until combined and creamy, then….
Serve!  Over noodles or whatever sounds good, garnished with any of your desired toppings.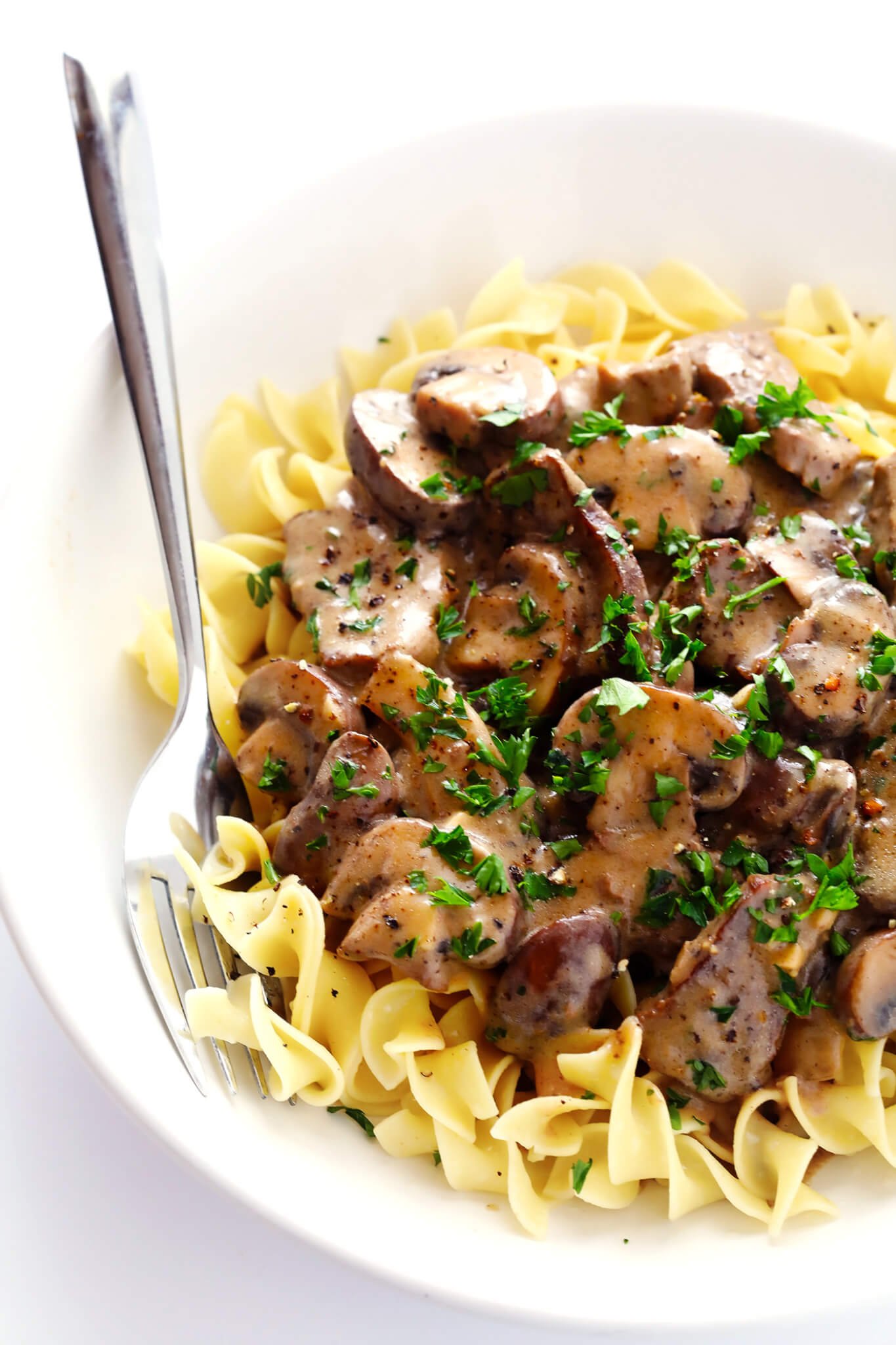 Beef Stroganoff Variations:
If you'd like to mix things up, I'm a big fan of adding in:
extra veggies: any stir-fry-friendly veggies will do here!
extra heat: if you'd like a tiny kick, try adding in some crushed red pepper flakes or sriracha to your sauce
different protein: if steak isn't your thing, this recipe is also delicious with chicken, pork or tofu
And again, if you are interested in a completely vegetarian version of this recipe, Barclay and I are big fans of this mushroom stroganoff recipe as well.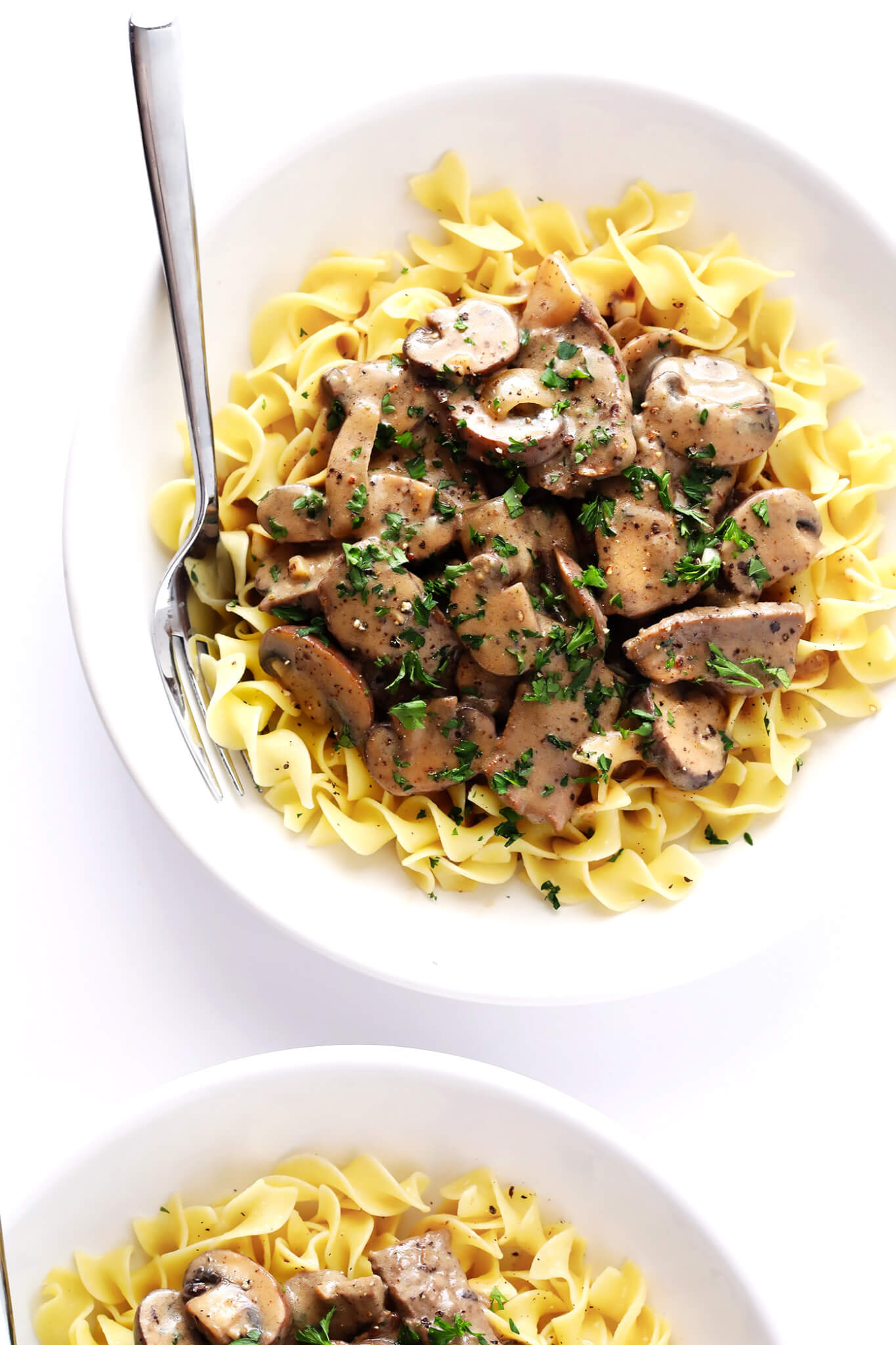 What To Serve With Beef Stroganoff:
I love serving this with:
Enjoy, everyone!
30-Minute Beef Stroganoff
Classic beef stroganoff is cooked with an amazing creamy mushroom sauce and served over egg noodles. And it all comes together in under 30 minutes!
Ingredients:
1 pound wide egg noodles
4 tablespoons (1/4 cup) butter, divided
1.5 pounds thinly-sliced steak (I used flank steak)
Kosher salt and freshly-cracked black pepper
1 small white onion, thinly sliced
4 cloves garlic, minced
1 pound sliced mushrooms (I used a mix of button and baby bella mushrooms)
1/2 cup dry white wine (or you can substitute in more beef broth)
1.5 cups beef broth
1 tablespoon Worcestershire sauce
3 tablespoons flour
1/2 cup plain Greek yogurt or light sour cream
optional garnishes: chopped fresh parsley, extra black pepper
Directions:
Cook egg noodles al dente in boiling, generously-salted water according to package instructions. (For optimal timing, I recommend actually adding the egg noodles to the boiling water at the same time that the beef broth is added to the stroganoff.)
Meanwhile, as your pasta water is coming to a boil, melt 2 tablespoons butter in a large saute pan** over medium-high heat. Add the steak in a single layer, seasoned with a few generous pinches of salt and pepper, and let it cook undisturbed for about 3 minutes to get a good sear. Flip the steak, and cook on the other side until browned, about another 3 minutes. Then remove steak from pan with a slotted spoon, and transfer to a separate plate. Set aside.  (**If your pan is not big enough to fit all of the steak in a single layer, then add just 1 tablespoon of butter to the pan and cook half of the steak. Then repeat with a second batch.**)
Return pan to heat and add the remaining 2 tablespoons butter. Once it has melted, add the onions and saute for about 3 minutes. Add garlic and mushrooms, and stir to combine. Continue sauteing for an additional 5-7 minutes, or until the mushrooms are cooked and the onions are soft. Add the white wine, and deglaze the pan by using your cooking spoon to scrape the brown bits off the bottom of the pan. Let the mixture cook down for an additional 3 minutes.
Meanwhile, in a separate bowl, whisk together the beef broth, worcestershire sauce and flour until smooth. Pour the beef broth mixture into the pan, and stir to combine. Let the mixture simmer for 5 minutes, stirring occasionally. Then stir in the Greek yogurt (or sour cream) until combined, and then stir the cooked steak back in. Season with additional salt and pepper if needed.
Serve over the egg noodles, garnished with parsley if desired.
All images and text ©
If you make this recipe, be sure to snap a photo and hashtag it #gimmesomeoven. I'd love to see what you cook!