Easy Pepper Steak
This Easy Pepper Steak recipe can be ready to go in 30 minutes, and is full of the great Chinese pepper steak flavors we all love!
Ok, friends.  Instead of raving about how much I love pepper steak today, wanna learn a little behind-the-scenes secret about food blogging?
Most of the "dinner" recipes I make for the blog actually are not cooked anywhere near dinnertime.
I know.  (Insert sad-faced emoji.)
Instead, just about every recipe I make for the blog is cooked around 10am.  (Insert sunshine emoji!  How do I type anymore without emoji's?!?)
It's true.  When I began food blogging, and learning more about photography, I learned that natural light is king queen when it comes to getting good photos.  And in my place, it just so happens that the best light seems to happen between 10am-2pm.  Gah.
So cocktails?  10am.  Decadent chocolate desserts?  10am.  Easy Pepper Steak?  You guessed it.
I call it the early-early-early food-blogging-bird special.  :)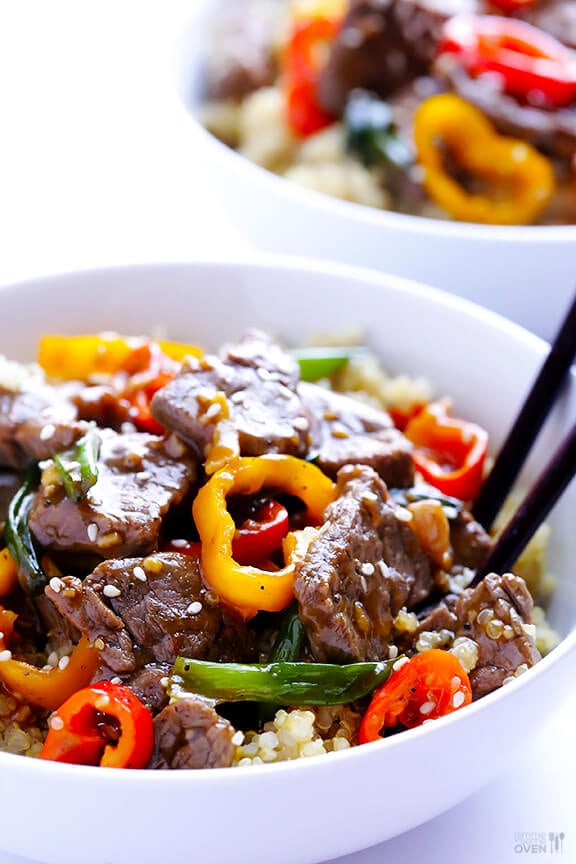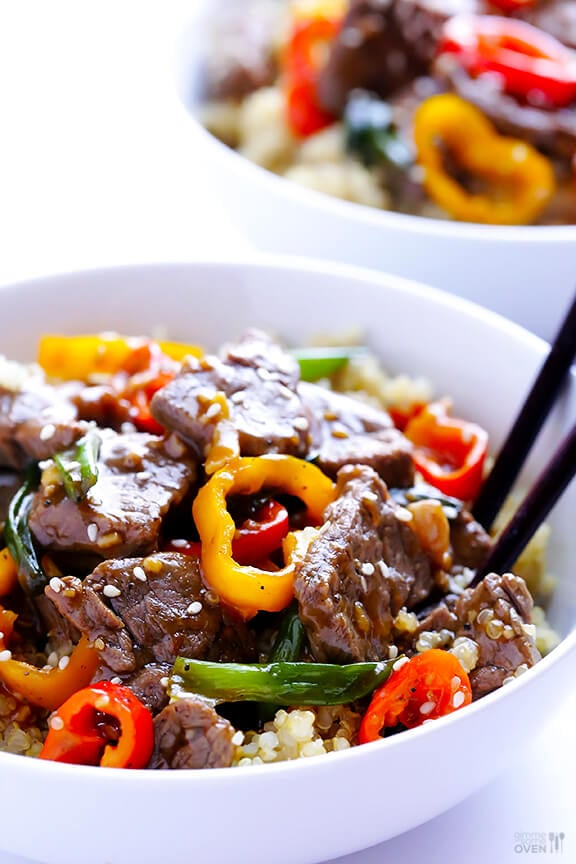 Still, that doesn't mean that I don't snack along the way.  And then count down the hours until I can reheat all of these delicious food at a, you know, normal time of the day — as I did yesterday with this pepper steak.  After a crazy day of meetings and errands and cooking, I was so excited to come home to this delicious comfort food for dinner.  We used to make pepper steak all the time growing up, and it is still a classic that can't be beat in my book.
And it can be made in 30 minutes, give or take time for marinading the beef.  Score.
Often times I load it up with many more veggies, but I decided to go "classic" with just peppers and scallions for this recipe.  Although for a fun twist, I used those cute little sweet mini peppers (my favorite!), and served it over quinoa instead of rice.
However you make it, and whatever time of the day, I guarantee it's a good one.
Easy Pepper Steak
This easy pepper steak stir-fry is full of great flavor!
Ingredients:
Marinade Ingredients:
1/4 cup soy sauce
1/3 cup water
2 Tbsp. rice wine vinegar
1 Tbsp. corn starch
1/8 tsp. coarsely-ground black pepper (or more/less to taste)
Pepper Steak Ingredients:
1 lb. thinly sliced flank steak or sirloin, cut diagonally across the grain into thin strips
2 Tbsp. olive oil
12 mini sweet peppers, thinly sliced (or 2 regular-sized bell peppers, thinly sliced)
2 scallions, sliced diagonally into 1 inch pieces, white and green pieces separated
2 Tbsp. minced fresh ginger
4 garlic cloves, minced
Directions:
To Make The Marinade:
Add all marinade ingredients to a large bowl or ziplock bag, and stir to combine. Add the sliced steak, and toss in the marinade. Cover/seal and refrigerate for at least 15 minutes.
To Make The Pepper Steak:
Heat 1 Tbsp. oil in a large saute pan over medium-high heat. Add the sweet peppers and white part of the scallions, ginger, garlic, and saute for 3 minutes, stirring occasionally. Transfer to a plate.
Add the remaining 1 Tbsp. oil to the saute pan. Remove half the steak from the marinade with a slotted spoon (reserving the marinade) and saute about 2-3 minutes until browned, stirring occasionally. Transfer steak to plate with the veggies. Saute the remaining steak, then transfer to plate.
Add the reserved marinade to the skillet and cook for 1 minute or until thickened. Add the steak, veggies and green parts of the scallions to the skillet, and stir to combine. Cook for an additional minute, then remove from heat.
Serve immediately over rice or quinoa.
All images and text ©
If you make this recipe, be sure to snap a photo and hashtag it #gimmesomeoven. I'd love to see what you cook!