Fleur de Sel Caramels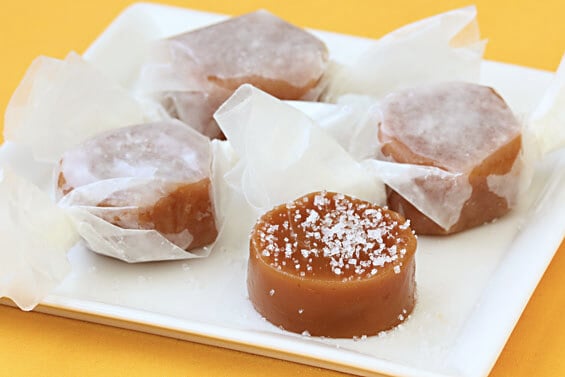 Ever since I saw Ina Garten make homemade fleur de sel caramels awhile back, I've been itching to give them a try myself.  I have to admit that candy thermometers still make me nervous (always get so anxious waiting for candies to reach the right temperature!!), but these looked too good to resist!!  And after conquering the homemade caramel sauce for this amazing buttercream earlier this year, I figured I could wait just a little longer for them to reach the "firm ball" stage for this recipe.  :-)
So I dug out my candy thermometer, picked up an extra carton of heavy cream (somehow I always forget what's behind the "creamy-ness" in caramel!), and decided to give these a go on my lunch break this week.  And I'm pleased to report….
….SUCCESS!!!
Well, there was one fatality with my candy thermometer.  After making it through the process, it accidentally got bumped and shattered in the sink.  Oops.  But the caramel was a total, and utterly delicious success.  Again, I felt like the cooking part of it felt like a project in science class — watching (while not stirring) the caramel go from clear, to faint yellow, to "golden brown".  And then, as Ina says, watching the mixture boil up "violently" as the cream is added in.  But overall, it really wasn't that difficult!  I took the extra step of making "rolled" caramels like Ina, but next time will probably just do simple cubes.  (They get wrapped up anyway!)
So if you love caramel, and even if you're not the best of friends with your candy thermometer, I completely recommend giving these a try!  Especially with that yummy fleur de sel, these truly are a huge step up from anything you can purchase in the store.  Classy.  Cute.  Delicious.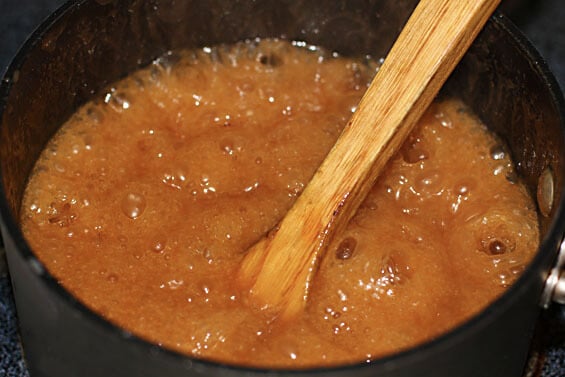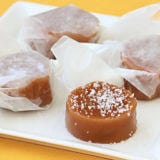 Fleur de Sel Caramels
Sweet, simple and oh-so-delicious homemade treats! You will love this Fleur de Sel Caramels recipe!
Ingredients:
1/2 cup sugar
1/4 cup light corn syrup
1 1/2 cups heavy cream
5 tablespoons unsalted butter
1 teaspoon fleur de sel, plus extra for sprinkling
1/2 teaspoon pure vanilla extract
parchment paper or wax paper, for wrapping
Directions:
Line the bottom of an 8-inch square baking pan (or loaf pan) with parchment paper, then brush the paper lightly with oil (or lightly cover with cooking spray), allowing the paper to drape over 2 sides.

In a deep saucepan (6 inches diameter by 4 1/2 inches deep) combine the sugar, corn syrup, and 1/2 cup water and bring to a boil over medium-high heat. Continue to boil until the caramel is a warm golden brown color. Don't stir – just swirl the pan to mix. Watch carefully, as it will burn quickly at the end!

In the meantime, bring the cream, butter, and 1 teaspoon fleur de sel to a simmer in a small pan over medium heat. Remove from the heat, set aside and keep warm.

When the caramelized sugar is the right color, very slowly add the cream mixture to the caramel while stirring – it will boil up violently. Stir in the vanilla with a wooden spoon and cook over medium heat for 5 to 10 minutes, until the mixture reaches 248 degrees F (firm ball) on a candy thermometer. Very carefully (it's hot!) pour the caramel into the prepared pan and refrigerate until firm.

For rolled caramels:

When the caramels are cool, use the parchment paper to pry the sheet from the pan onto a cutting board. Starting at 1 end, roll the caramel up tightly until you've rolled up half of the sheet. Cut the sheet across and then roll the second half tightly. You will have 2 (1 by 8-inch) logs. Sprinkle both logs lightly with fleur de sel, cut each log in 8 pieces. Cut parchment papers (or wax paper) in 6 by 4 1/2-inch squares and wrap each caramel in a paper, twisting the ends. Store in the refrigerator or at room temperature.

For square/cubed caramels:

When the caramels are cool, use the parchment paper to pry the sheet from the pan onto a cutting board. Then use a large knife to carefully cut the caramel into squares of your desired size.

If you make this recipe, be sure to snap a photo and hashtag it #gimmesomeoven. I'd love to see what you cook!
Ali's Tip:
These would also be delicious dipped in chocolate!!!