Ginger Beef, Mushroom & Kale Stir-Fry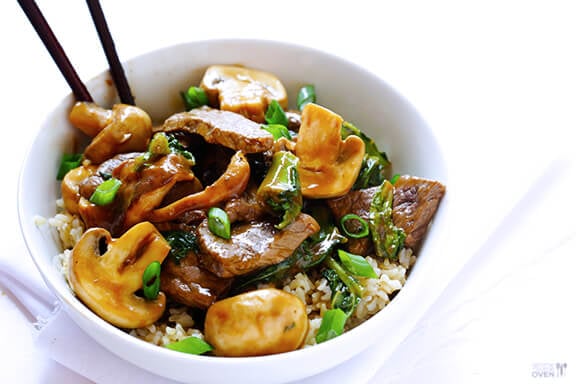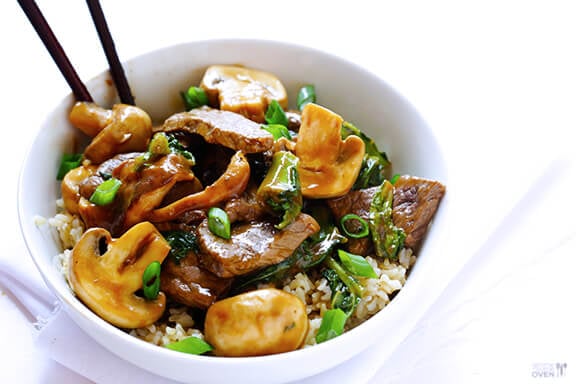 Alright folks!  This recipe marks my second round of McCormick's Go 4 Gourmet challenge, in which McCormick presents you with 4 ingredients and challenges you to see what deliciousness can result.  As I mentioned with my chorizo and brussels sprouts soup recipe last month, it's all very "Chopped"-esque, which I love.
I also happened to love this month's 4 ingredients — ground ginger, veggie broth, shiitake mushrooms and fresh kale.
Those ingredients are all regulars in my kitchen. So I decided to whip them up into one of my favorite quick and easy weeknight dinners — a beef stir-fry!  Wait, make that a ginger beef, mushroom and kale stir-fry!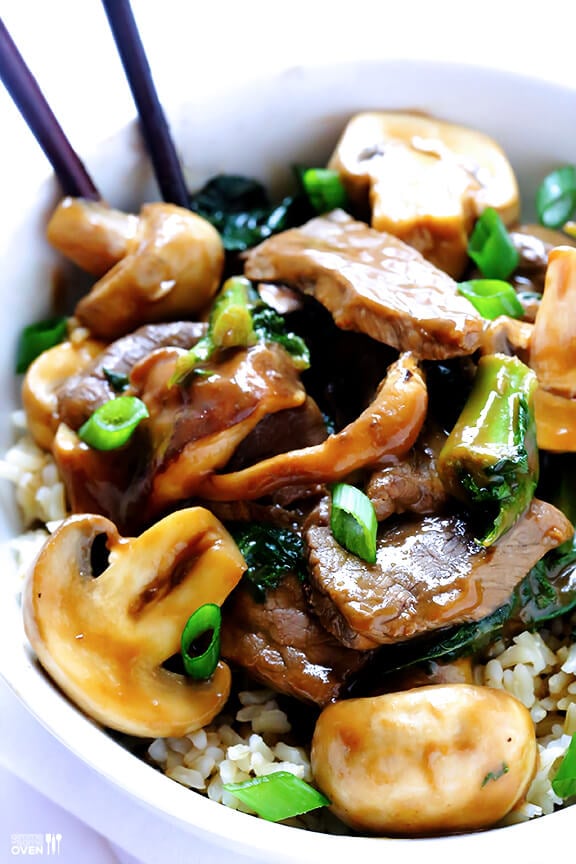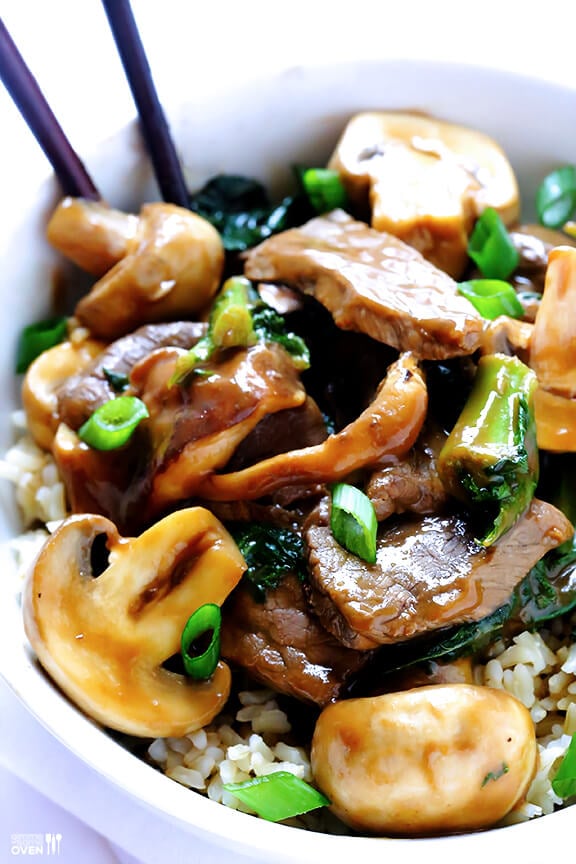 I was actually telling my mom about this recipe yesterday after I made it, and mentioned that I imagined it would be right up my dad's alley since he used to order a ginger beef dish every single Saturday for my ENTIRE childhood at our favorite local Chinese restaurant.  I was telling her that had this really yummy ginger sauce that covered tender steak, a bunch of mushrooms and kale—-
—-when she stopped me.
"Dad doesn't do the 'k' word," she whispered.
Apparently he overheard her on the phone.
"Nope," I heard him say in the background.  "No kale!"
This is one of those moments when I wish we didn't live 3 hours apart.  Because had I been there, I would have marched these leftovers right over to their house to make him sample a bite.  Because I'm pretty positive that even the "kale-ambivalent" folks out there would LOVE it in this dish!  That includes you, Dad.  ;)
I don't know if I had ever used kale in an Asian-flavored stir-fry before, but I'm so glad McCormick threw it into the mix, because it was a fantastic addition and softened up perfectly along with all of those mushrooms.  And the flavor of those greens, paired with the beef and mix of mushrooms and that heavenly ginger sauce made for a fantastic lunch.  And dinner.
And it all came together in less than 30 minute (including time for the beef to marinate)!  Definitely a perfect meal for a busy weeknight.
Here's the scoop: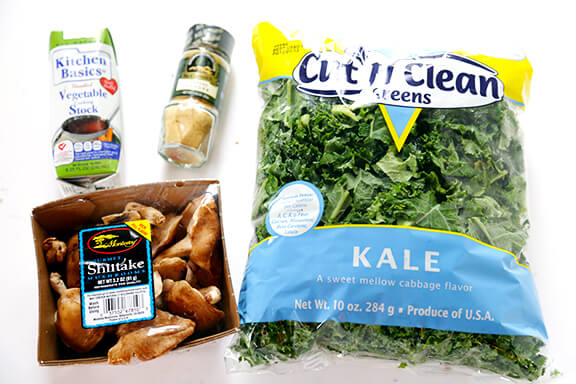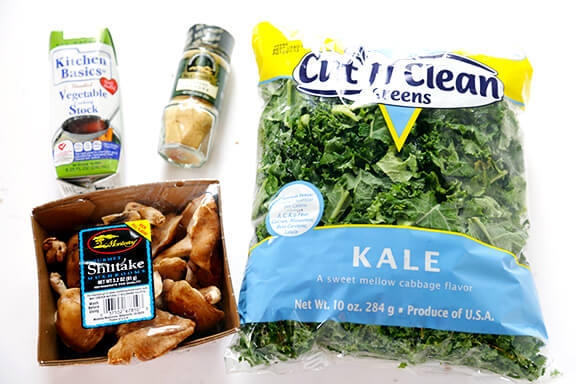 As I mentioned, here were the Go 4 Gourmet four ingredients for this round.
First, you just whip up a very simple ginger marinade.  Takes about a minute.  And then toss it with the beef in a ziplock back or large bowl, cover it, and let that delicious ginger do its work.
Meanwhile, prep your veggies.  I decided to do a mix of mushrooms, tossing in some larger button mushrooms with the shiitakes for a little different texture and flavor.  And then chop up that kale, baby!  (Or you can be like me and get in the habit of buying pre-chopped kale.  Perfect for kale chips too!)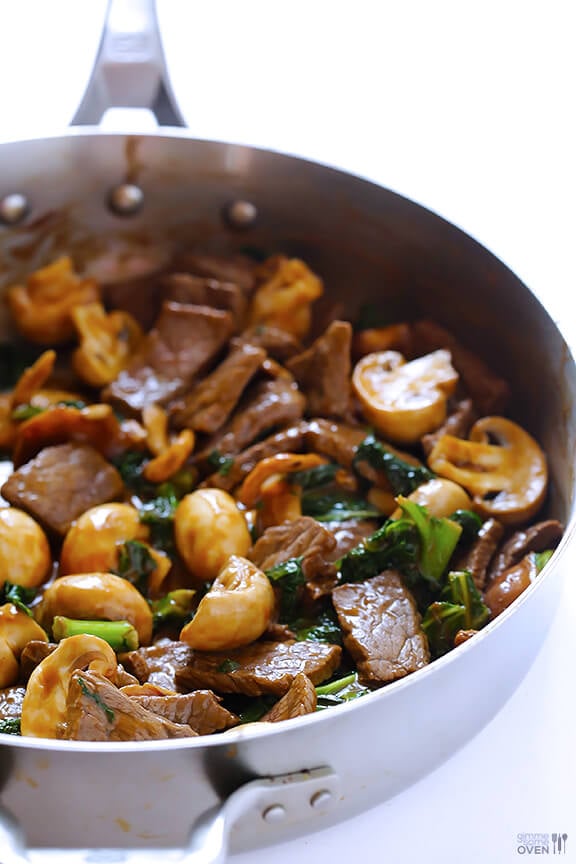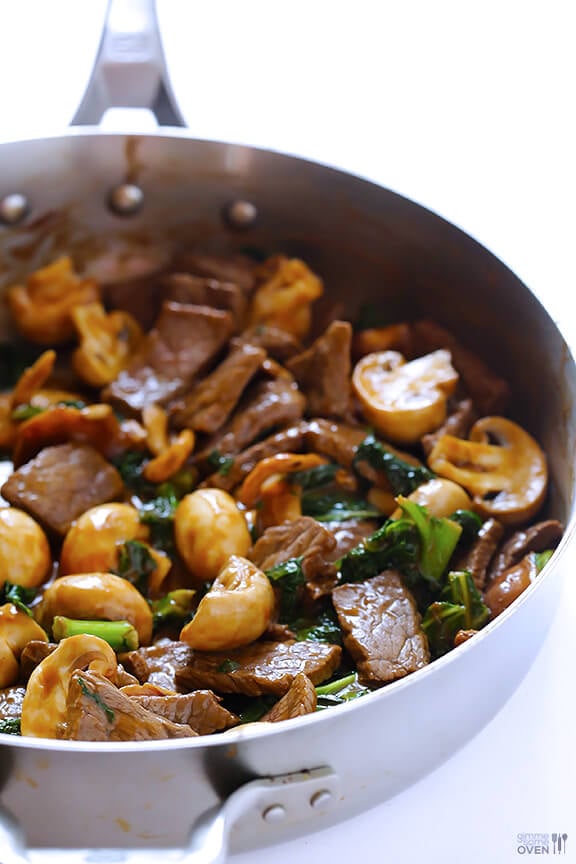 Then saute them up!
The beef gets perfectly cooked and tender, the mushrooms are cooked and delicious, the kale wilts down and softens, and that sauce — oh that sauce — is perfection.  I served mine over some brown rice, but you could also serve this over quinoa or noodles or just eat it plain.
Be sure to check out McCormick's Go 4 Gourmet site to see what other recipes folks created with these ingredients!  Creativity and deliciousness abound, trust me.  :)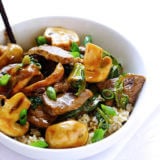 Ginger Beef, Mushroom & Kale Stir-Fry
This delicious ginger beef, mushroom, and kale stir fry is quick to make and full of great flavor!
Ingredients:
Marinade Ingredients:
1/3 cup soy sauce (if making gluten-free, be sure to use GF soy sauce)
1/2 cup vegetable broth (or chicken/beef broth, or water)
3 tablespoons rice wine vinegar
2 tablespoons corn starch
2 teaspoons ground ginger
1/4 teaspoon freshly-ground black pepper
Stir-Fry Ingredients:
1 lb. thinly sliced flank steak or sirloin, cut diagonally across the grain into thin strips
2 garlic cloves, minced
2 tablespoons olive oil
8 ounces baby portobello or button mushrooms, halved
4 ounces shiitake mushrooms, halved
3 cups chopped kale
2 green onions, thinly sliced
Directions:
To Make The Marinade:
Add all marinade ingredients to a bowl and whisk to combine. Pour marinade into a large bowl or ziplock bag, then add in the steak and gently toss to combine. Cover/seal and refrigerate for at least 15 minutes.
To Make The Stir-Fry:
Once steak has marinated, heat 1 tablespoon oil in a large saute pan over medium-high heat. Remove steak from marinade with a slotted spoon, reserving the marinade, and add to saute pan with garlic. Saute for about 2-3 minutes until browned, stirring occasionally. Remove steak with a slotted spoon and set aside.
Add remaining tablespoon of oil to the pan.  Then add in the mushrooms, kale, and reserved marinade, and stir to combine. Cook for 3-4 minutes, until the kale is wilted, the sauce has thickened and come to a boil, and the mushrooms have cooked, stirring regularly so that sauce does not burn. Add in the steak, and toss to combine.
Serve immediately over rice or quinoa, garnished with chopped green onions.
All images and text ©
If you make this recipe, be sure to snap a photo and hashtag it #gimmesomeoven. I'd love to see what you cook!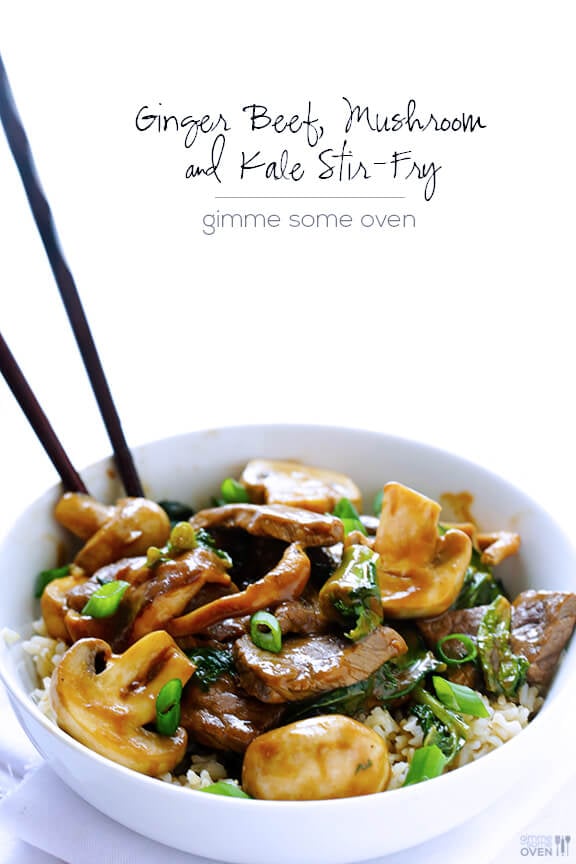 Disclaimer: This was a sponsored post with McCormick.  All opinions are 100% my own as always, and I loved being a part of this one!  Thanks for supporting the brands that help make this site possible.