(Healthier!) Apple Crumble Muffins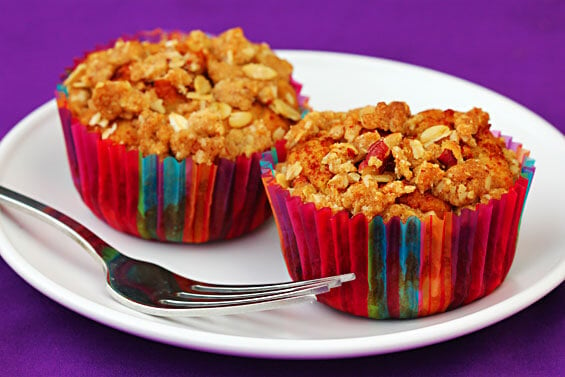 I don't know about you, but often it seems that however I begin the day — with a healthy or not-so-healthy breakfast — can usually set the tone for how I continue eating the rest of the day.  But since I'm not one to rise and shine any earlier than need be, and often end up having my hot tea and breakfast during my 25-minute commute to work, anything healthy in the "grab and go" category is always much appreciated!
So when I recently saw a recipe for these healthier apple crumble muffins — made with (mostly) whole-wheat flour, honey, yogurt, pecans, and some yummy crisp apples — I couldn't wait to give them a try.  I noticed that they also called for apple cider, so was excited to add in some from my first homemade batch from last week as well.  :)
Not surprisingly, they turned out to be delicious!  Definitely not quite as sweet and buttery as normal crumble muffins (that are often loaded with butter/oil and sugar), but I thought the healthier twist was still completely satisfying.  I especially loved the crunchy pecans in the topping — delicious, and a perfect touch of protein to begin the day.
So cheers to having (at least part of) your apple-a-day for breakfast!  Enjoy!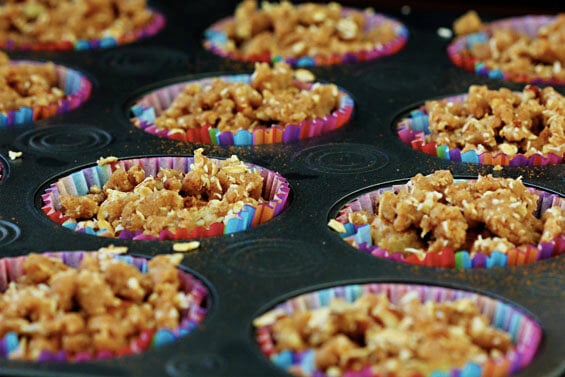 (Healthier!) Apple Crumble Muffins
Whole-wheat flour, honey, yogurt, and toasted pecans make this delicious healthier apple crumble muffins recipe a crowd-pleaser !
Ingredients:
Muffin Ingredients:
1 cup unbleached all-purpose flour
1 cup unbleached whole wheat flour
1 tsp. baking soda
1 Tbsp. baking powder
1/2 tsp. salt
1 egg, room temperature
1/3 cup honey
3/4 cup plain yogurt
1/4 cup apple cider, store-bought or homemade
1/4 cup melted butter
1 Tbsp. cinnamon
2 peeled, cored, apples (I used Granny Smith), diced to 1-cm cubes
Crumble Topping Ingredients:
1/4 cup of whole wheat flour
1/4 cup pecans
4 Tbsp. (half stick) cold butter
pinch of salt
1/3 cup brown sugar (feel free to use less)
1/4 cup oats
Directions:
In a large bowl combine each flour, baking soda, baking powder, salt, and cinnamon. In another bowl mix egg, honey, yogurt, apple cider and butter. Pour liquid mixture into the dry ingredients and mix well. Gently fold in the sliced apples. Then scoop into pre-lined (or greased) muffin tins, filling until 2/3 full. Top with crumble topping (instructions below), and then bake muffins in a preheated 375 degree oven until golden, about 25 minutes (or until a toothpick inserted in the middle comes out clean). Remove muffins from pan and cool completely.

Crumble Topping Instructions:

In a food processor blend first five topping ingredients until it resembles a crumbly mixture. Add oats and pulse 2-3 times until just combined. Sprinkle each muffin with the crumble topping.

If you make this recipe, be sure to snap a photo and hashtag it #gimmesomeoven. I'd love to see what you cook!
Ali's Tip:
If you're like me, and can't get through an entire batch right away, muffins also generally freeze very well!  Then you can just pop a few out when you're ready, and with a quick pop in the microwave to defrost, they're ready to go in an instant!