How To Use Google Keyword Planner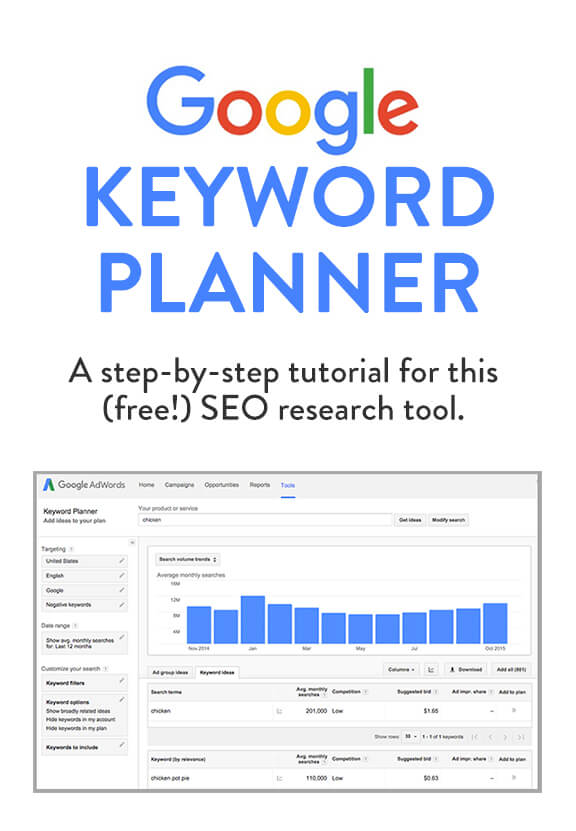 Hey everyone! I've received a handful of emails and texts from bloggers who heard my interview on the Food Blogger Pro podcast this week (so honored to have been a part of it!) asking for more information about how to navigate the Google Keyword Planner. So I thought I'd pop in today with a quick step-by-step tutorial for how I use it.
As I mentioned on the podcast, I've been a big fan of this resource from Google for years and years. Why?
Well first off, it's backed by Google, who has the best access to SEO research on the planet.
It's quick and easy to use, especially on days when I have "recipe development block" and need some ideas for what to cook and share on my blog next.
As opposed to many other keyword research tools, it's 100% FREE!
To be clear, this tool definitely not guarantee "instant success" with a keyword. I've been consulting it for years, and sometimes the stars align and it really helps with SEO, and sometimes I never notice a difference. But if nothing else, I find that it's a great tool to use when you're:
Searching for general recipe trends (i.e. How are people cooking broccoli lately?)
Deciding between two different recipe options (i.e. Should I make chicken noodle soup, or cream of chicken soup?)
Creating SEO-friendly recipe names (i.e. chicken enchiladas vs. chicken enchilada recipe)
Wondering how many people actually search for a given term each month, and how much competition exists for that term
The best thing about this tool is that it's easy to do significant SEO research for a term in less than a minute. Or — if you're like me — you can also fall down the Keyword Planner rabbit hole and spend hours clicking around and making a list of possible terms you want to try in the future. (You've hereby been warned.)  ;)
Either way, here's how to do it!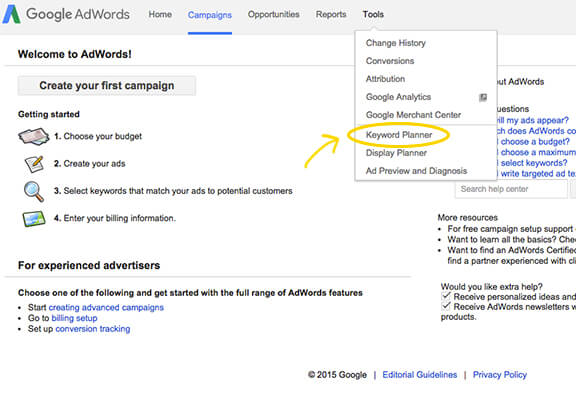 1. Begin by visiting the Keyword Planner homepage. Since this tool is a part of Google AdWords, you'll need to be signed in with your Google account information. (If you don't already have an AdWords account, go ahead and sign up — it's free.)
Once you sign in, you'll be directed to the AdWords homepage (see image above), where you'll need to click on the Tools dropdown menu and then select Keyword Planner.
Or, if you're already signed in, you'll be directed straight to the Keyword Planner homepage (see image below).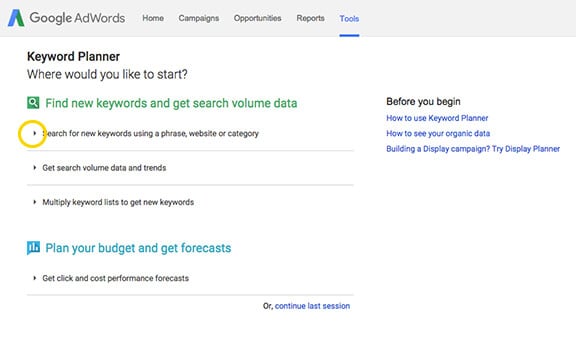 2. Once you've arrived, click on the little dropdown arrow next to Search for new keywords using a phrase, website or category.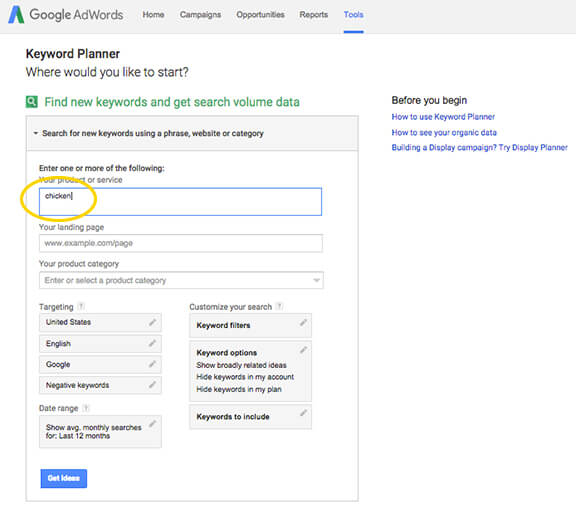 3. Then the fun begins! (Or my nerdy, techy, SEO-y version of "fun".)  ;)
In the search box, go ahead and type in whatever term you would like to research. For an example, I'm going to go with the word "chicken". Then click the blue Get Ideas button below.
(There are obviously more options you can click here to help refine your search, but 99% of the time I just type in the search term.)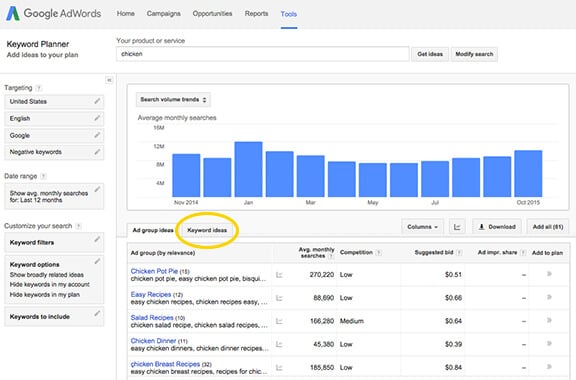 4. And here are all of your results! Initially the Ad group ideas results will pop up, but I haven't found these to be all that useful. (They are basically combined or related search terms that Google recommends you consider, but they aren't always that relevant.)  Instead, I recommend that you click on the Keyword Ideas tab above.
5. You should now see your specific search term at the top of the page on the left, with two important pieces of information beside it — the average monthly searches (the average number of times people have searched for this exact keyword based on the date range and targeting settings that you've selected) and competition (the number of advertisers that showed on each keyword relative to all keywords across Google).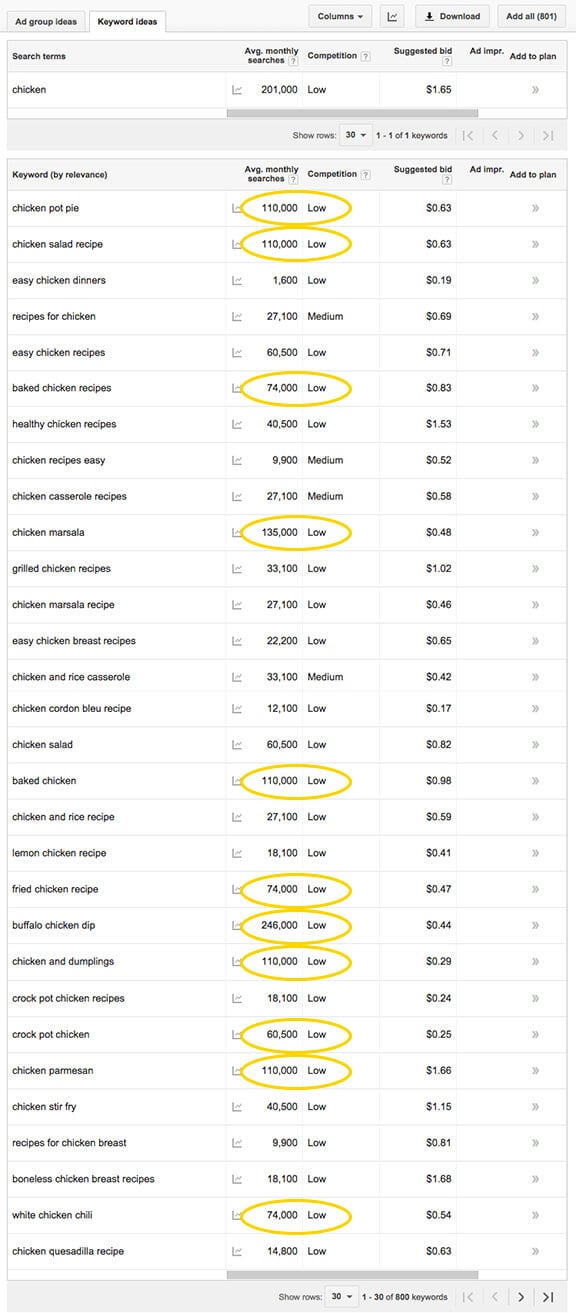 6. It's 100% up to you how you would like to use these results. But in general, I always recommend that bloggers focus on the terms with low competition and semi-high average monthly searches.
Why low competition? Well, that one probably goes without saying — there's less competition, so that means there's a much higher chance that your post may rank higher in Google searches. It's not a guarantee for sure. (And keep in mind that "low" is a term relative to the number of total searches, so a term with 100K+ monthly searches may still have tens of thousands of pages competing for page rankings.)
Why semi-high average monthly searches? Well, that's totally just a recommendation from me. You're, of course, totally welcome to focus on the highest average monthly searched terms. But in my experience, the biggest recipe sites out there (i.e. Food Network, AllRecipes, etc.) have almost always already targeted those terms, and thus, will be very more difficult to potentially "outrank" on Google. So in general, I tend to focus on the semi-high or medium average monthly searched terms. And then maybe include some of the highest ones as secondary keywords within my posts.
That said, remember that getting ranked on the first page of Google for your search term isn't everything! :)  If you really want to make a buffalo chicken dip, for example, I think you should totally make it. If anything, the results here just confirm that there will probably be plenty of people already interested in that topic. And hey — why not do a quick secondary search to see if there's a similar keyword that you might want to target more specifically instead?
So, for example, if you have decided you'd like to make some buffalo chicken dip, let's type it in and see what the Keyword Planner has to say…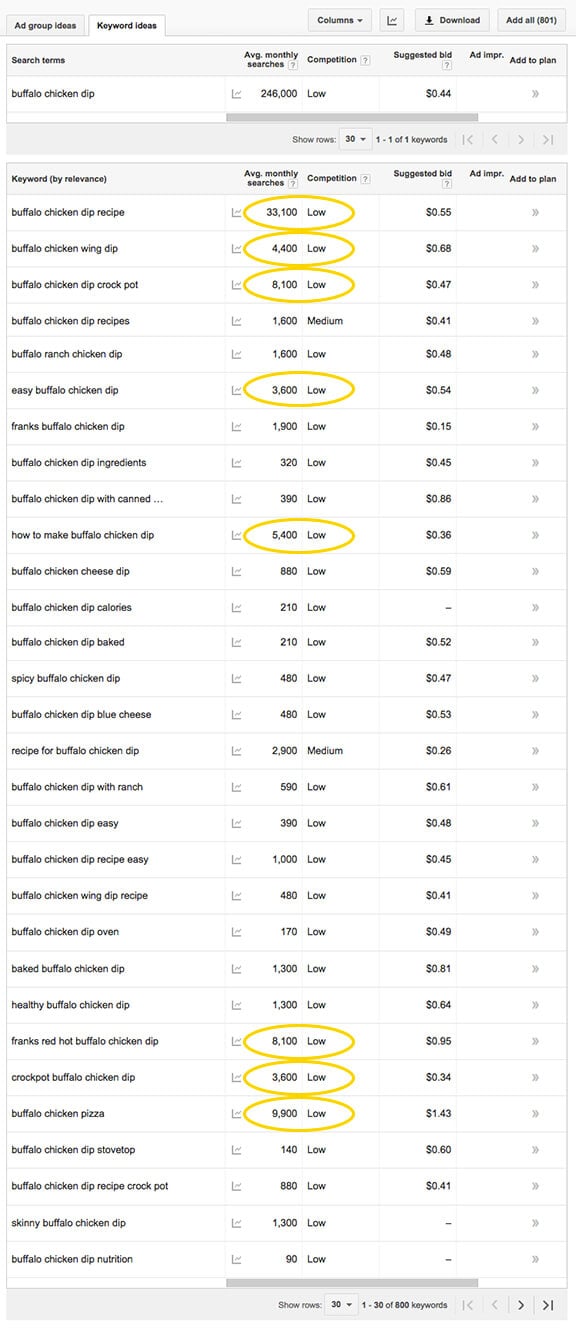 7. Oooooh, gold! So many great related terms!!
My biggest takeaway from this is that whenever you would potentially talk about buffalo chicken dip within your post, be sure to say "buffalo chicken dip recipe". It's an easy way to sneak 2 keywords in 1! (Hint hint — this is why I always stick the word "recipe" at the end of each of my URLs.)
But from this list, you'll see that there are some great alternative keywords you could also use for the same recipe (i.e. Easy Buffalo Chicken Dip, How To Make Buffalo Chicken Dip, Buffalo Chicken Wing Dip, etc.). Or, this keyword research might inspire you to change things up and do a slightly different recipe altogether (i.e. Buffalo Chicken Pizza, Crock Pot Buffalo Chicken Dip, etc.)  So much great information to consider. And I tend to always find, so much great inspiration to be found!
Of course, doing keyword research is only a small part of the work of creating a SEO-friendly post. The hardest part of blogging will always be:
creating quality, beautiful, sharable content
effectively using these keywords throughout the post
then promoting/sharing the post and letting it simmer for awhile in Google  (<– keyword = awhile, since keywording work can take weeks or months or years to really help a post's page rankings)
But like I said before — if you're stuck and need some new ideas, or if you'd just like to dig down and do some deeper research on some already-existing ideas, or even if you'd like to go back and tweak the keywords on some already-published posts — I think this tool will turn out to be a big help.
Hope that this tutorial helps! And happy researching!