Instant Pot Butternut Squash Soup
This Instant Pot Butternut Squash Soup recipe is super quick and easy to make in the pressure cooker, it's naturally gluten-free and vegan, and it's full of the best fall flavors that everyone will love! (This post contains affiliate links.)
This one goes out to all of my Instant Pot fans out there!
We've had loads of requests ever since this magical pressure cooker hit the market for tips on how to adapt my favorite Slow Cooker Butternut Squash Soup recipe for the Instant Pot.  And with good reason — why wait 4-8 hours for this cozy soup to cook when it could be ready from start to finish in about 30 minutes instead?!
Like I said…magic. ✨✨✨
Seriously, this continues to be one of my all-time favorite soup recipes, and thousands of readers have made it over the years and agreed as well.  So grab your pressure cookers and let's make a batch…in an "instant"!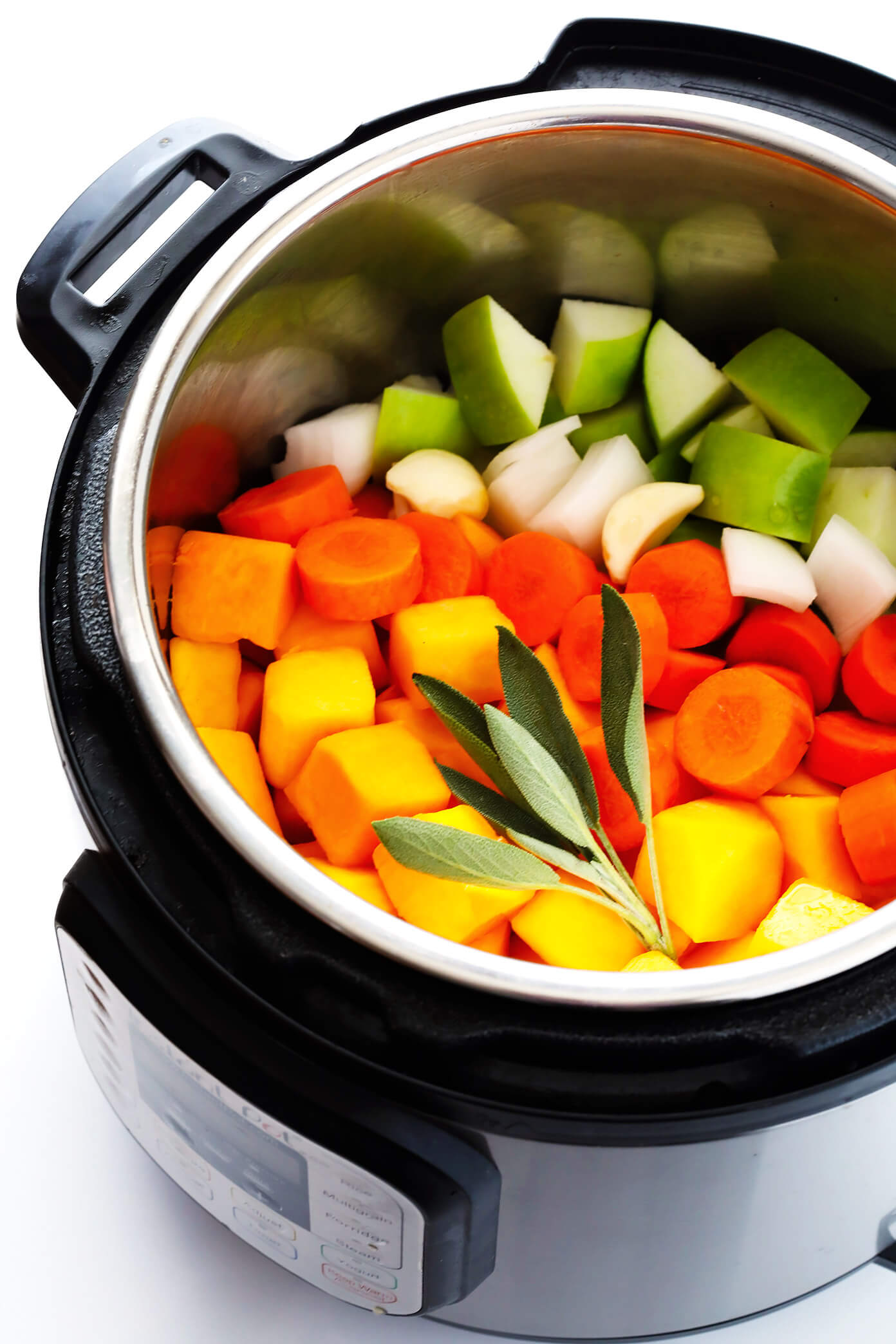 This butternut squash soup recipe actually hails from my mom, who first made it for our family when everyone was back home in Wichita a few Thanksgivings ago.  It's loaded up with lots of fall favorites — hearty butternut squash, tart Granny smith apples, a (surprise!) carrot, and some extra garlic and sage for seasonings.  It's also made extra creamy with coconut milk, although you're welcome to sub in heavy cream or any other kind of milk that you prefer.
To make the soup in the Instant Pot (<– this is the model I own), just pop the beginning ingredients in there together and cook on high pressure for 8 minutes.  Then, there's no need to wait for the natural release.  Just (very carefully) turn the valve to "venting" for a quick release.  Then remove the sage, add in the coconut milk, puree with a blender (or immersion blender) until smooth and creamy, taste, season…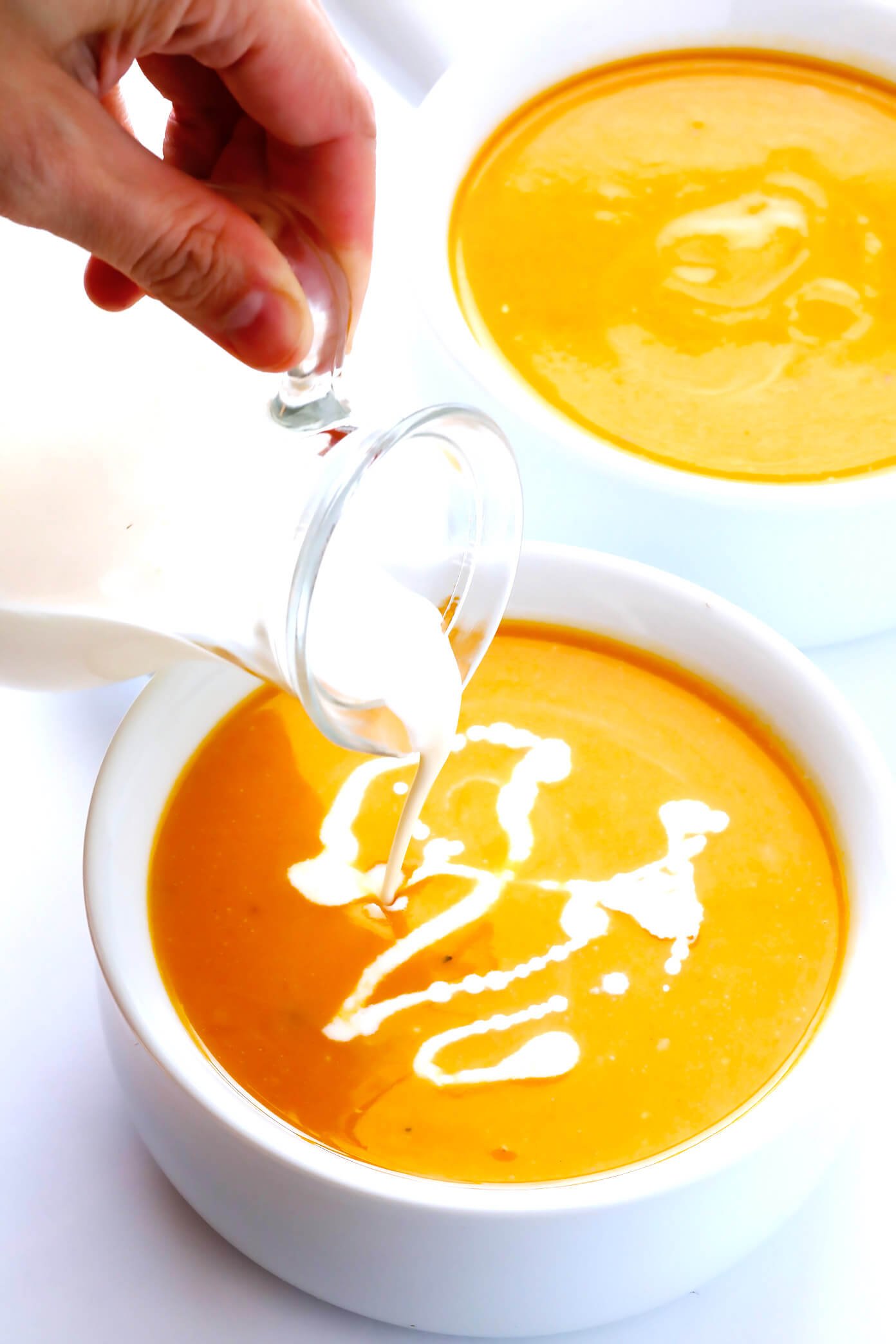 …and if you feel like adding an extra touch, drizzle some extra coconut milk on top and sprinkle with some fresh herbs or pumpkin seeds or a sprinkle of seasoning (smoked paprika, cinnamon, cayenne, you pick).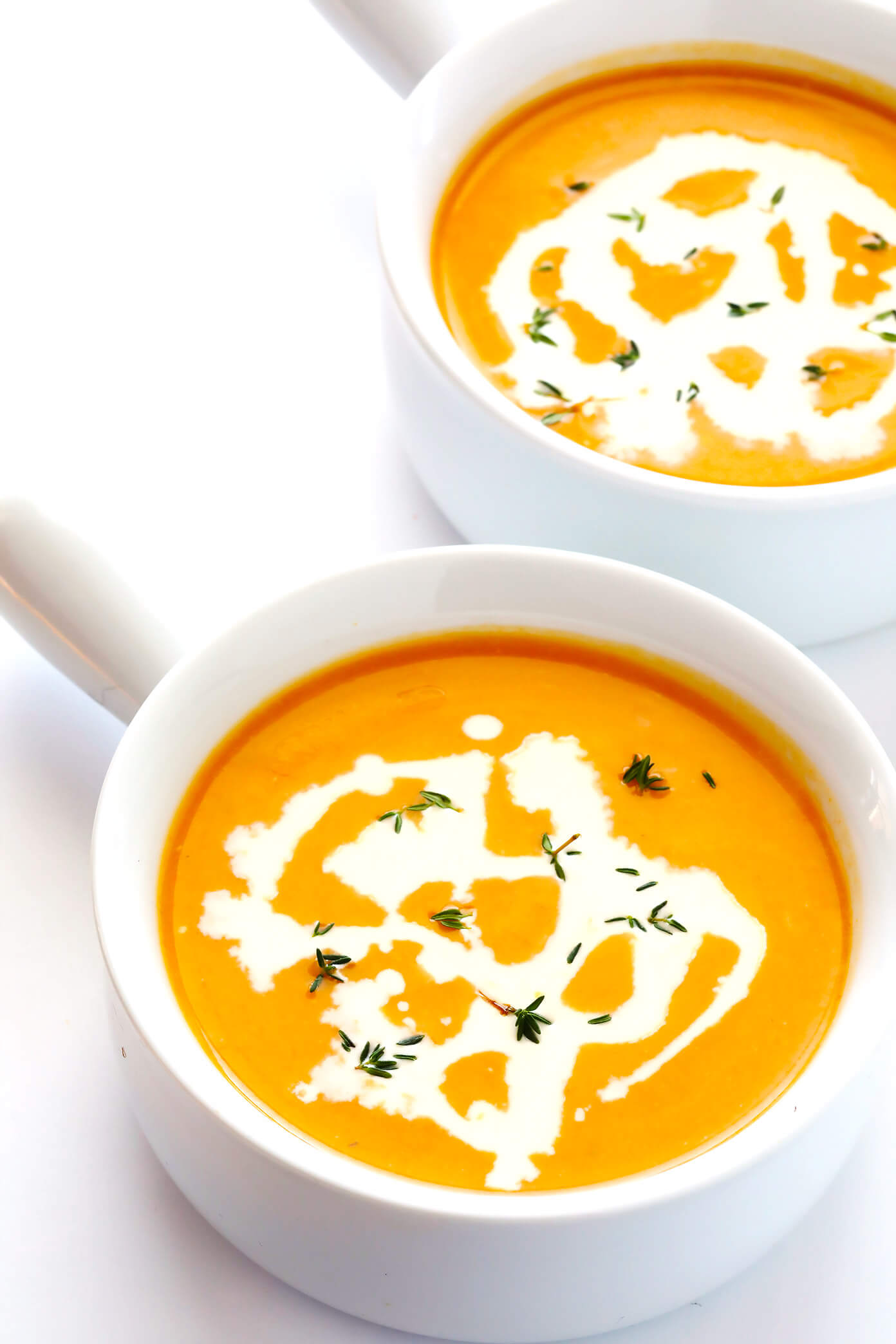 And within about 30 minutes, this gorgeous meal will be yours to enjoy.  It's so warm and hearty and comforting, it's full of ingredients you can feel great about, and it is just SO amazingly good.  Every time.
Enjoy, everyone!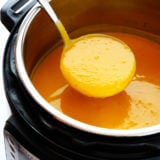 Instant Pot Butternut Squash Soup
This delicious Instant Pot Butternut Squash Soup recipe is quick and easy to make in the pressure cooker, it's naturally gluten-free and vegan, and it's SO comforting and delicious!  Feel free to add in more cayenne if you would like an extra kick.
Ingredients:
2 cups vegetable stock
4 cloves garlic, peeled and minced
1 carrot, peeled and diced
1 Granny Smith apple, cored and diced
1 medium (uncooked) butternut squash*, peeled, seeded and diced
1 sprig fresh sage
1 white onion, diced
1/2 teaspoon salt, or more to taste
1/4 teaspoon freshly-ground black pepper, or more to taste
1/8 teaspoon cayenne, or more to taste
pinch of ground cinnamon and nutmeg
1/2 cup canned (unsweetened) coconut milk
optional garnishes: extra coconut milk and a sprinkle of smoked paprika (or cayenne pepper)
Directions:
Add vegetable stock, garlic, carrot, apple, butternut squash, sage, onion, salt, pepper, cayenne, cinnamon and nutmeg to an Instant Pot pressure cooker.  Toss to combine.  Close lid securely and set vent to "Sealing".
Press "Manual", then press "Pressure" until the light on "High Pressure" lights up, then adjust the +/- buttons until time reads 8 minutes.  Cook.  Then very carefully, turn the vent to "Venting" for quick release, and wait until all of the steam has released and the valve has dropped.  Remove the lid.
Remove and discard the sage.  Stir in the coconut milk.
Use an immersion blender to puree the soup until smooth.  (Or you can transfer the soup in two batches into a traditional blender, and puree until smooth, being very careful when working with the hot liquid.)  Taste, and season with additional salt, pepper and cayenne if needed.
Serve warm, with optional garnishes if desired.
*A medium-sized butternut squash should weigh around 3-4 pounds.
All images and text ©
If you make this recipe, be sure to snap a photo and hashtag it #gimmesomeoven. I'd love to see what you cook!