Mojito Pie
This past Tuesday, the hallowed day that our neighbors all get together for our #neighbornights to grill dinner together, it was raining.  So on a whim, I decided to invite the neighborhood over to my house for the evening.
Now don't get me wrong, I love to entertain.  But…
1. My place was a MESS.  No really — a mess.  My dining room was piled high with props for a project I'm working on.  I had shot three recipes that day, and managed to use practically all of the dishes in the house — which were thus stacked high in my sink.  And I finished my last shot a few minutes before everyone came, so I didn't even get time to hide — ahem load — things in the dishwasher.
2. I had no idea who was coming. This is the thing with our neighbor nights (and maybe millenials in general) — no one RSVPs.  Some weeks we have 3, some weeks we have 30.  When the start time rolled around, I knew of 3 people who were coming for sure, and 4 people who were not.  But since it was a location change, I figured it might just be a handful.
3. I was dog-tired.  I have still been catching up on work all week after being gone in El Salvador.  And I had pulled a late-nighter the night before, and it was catching up with me after a long workday come dinnertime.
4. I had barely any food in the house.  Literally, I had just done my quarterly fridge clean-out before leaving the country, and hadn't been on a serious grocery store trip since.  So I basically had condiments and butter in the fridge…and some nachos and this mojito pie that I had photographed that day.

Not quite the Martha Stewart moment of my dreams.  Especially when 12 people decided to show up at the last minute.
But you know what?  I actually loved the mess (literally) out of that moment.  Because that's real life.

And it ended up being a stellar night.
Yep, those are my people right there, all crammed around my dining table in our paper plate (even those were mismatched) and random smorgasbord glory.
And that was about an hour in.  People hung around for hours after that, talking about everything from hilarious dental visits to building schools in Africa to our neighborhood development plans to job-searching to Spanish cooking and just about anything else you can imagine.  And I should mention, my neighbor Alex (bottom-right) played fetch with my energizer bunny dog for basically the entire the entire evening, which made Henry's day.
And as for the food, it was loaves and fishes, baby.  It just seemed to be one of those weeks when hardly anyone had time to actually cook any dishes to bring.  But my neighbor Jillian did bring a big pot of soup, and others brought the random food and drinks they had on hand.  And somehow, everyone was happy and stuffed by the end of the evening.
And I'm pretty sure no one cared about the mess.
Well, just Yours Truly…for a hot minute…and then I was over it.
Because getting to have friends in my home, around my dining room table, talking, eating, laughing, sharing, drinking, connecting, and just making memories together is pretty much my favorite thing ever.
And I'm pretty positive that in a year, no one will remember a mountain of dishes in the sink.  But they will remember rolling over with laughter when Alex explained how he valiantly tried (and then failed) to toilet train his cat.  And how we all passed around a $3 bottle of Walmart wine and agreed it was actually as good as some of the more expensive bottles.  And how I'm pretty sure we all looked around the room at various points of the night, and realized that people who used to be just neighbors are now genuinely friends.
Yeah, that's the good stuff.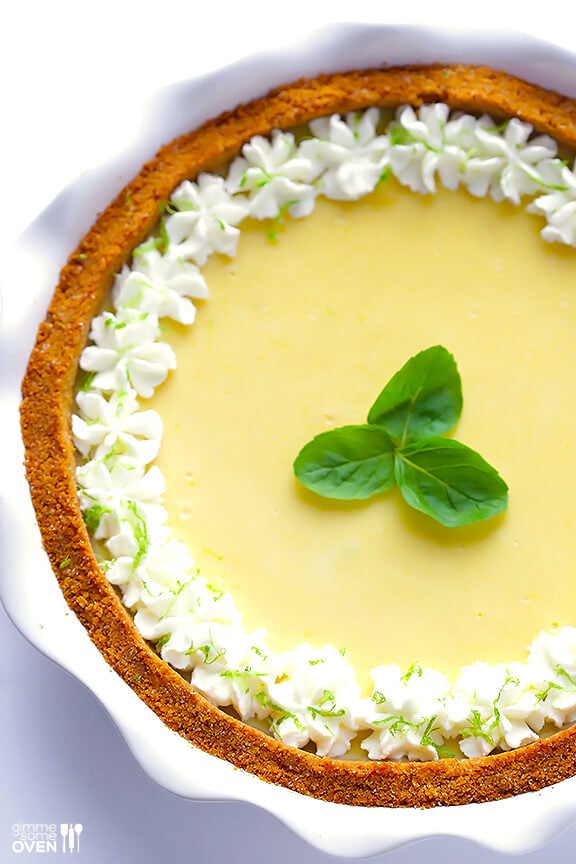 Also good?  This pie that I forgot about and then brought out at the end of the evening.  (And then had to scavenge to find some mini paper plates on which to serve it!)
It's basically my favorite key lime pie recipe with some fresh mint muddled in, an (optional, but recommended) splash of rum, and a classic graham cracker crust.  I made my first one a few weeks ago to take home to Wichita for Memorial Day weekend, but thought it was a little heavy on the mint.  So I made a second batch this week, and my neighbors were my willing taste-testers, per usual.  According to them, it passed with flying colors.
It is also ridiculously easy to make.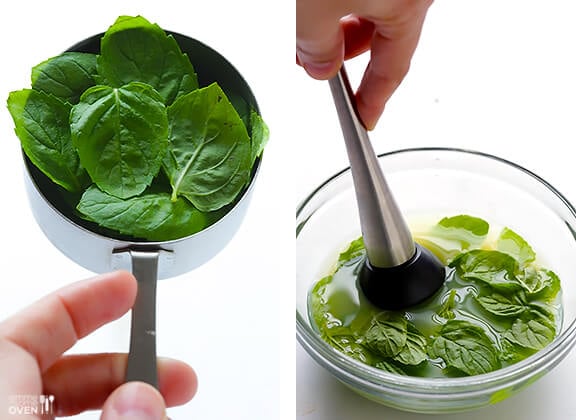 Begin by making your mojito — er, half of a mojito.
Just about 1/4 cup of mint in with your lime juice until the flavors are released.  (Note, this photo was from my first batch, which used 1/2 cup of fresh mint and was extra minty.  If you like your flavors more subtle, I would use 1/4 cup mint.)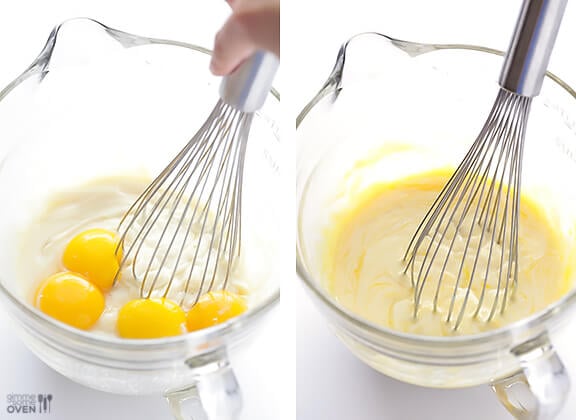 Then in a separate bowl, whisk together your custard.  And then add the lime juice to the custard and whisk for about a minute or until smooth.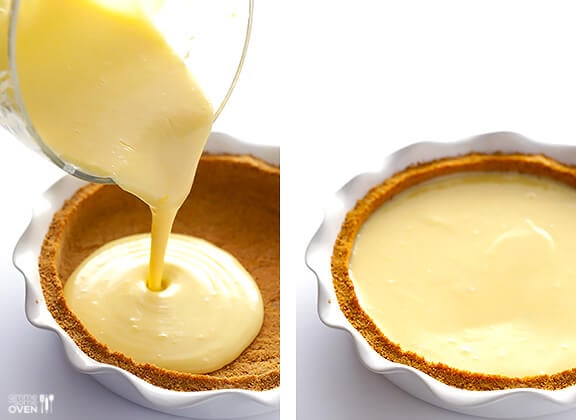 Pour the custard into a pre-baked graham cracker crust (recipe below).  Then bake for about 15 minutes…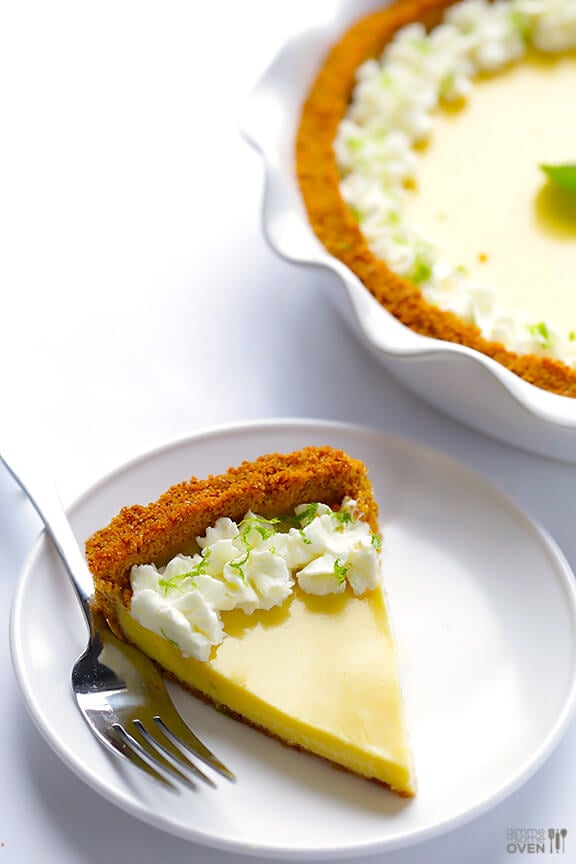 And voila!  You can now eat as well as drink your mojitos!!
Seriously, it was fresh and sweet and light and perfect for summer.  And if you happen to be having a group of people over when your life is feeling less than perfect, well, this pie is perfect for those kind of occasions too.  ;)
As my dining room decor says above — cheers!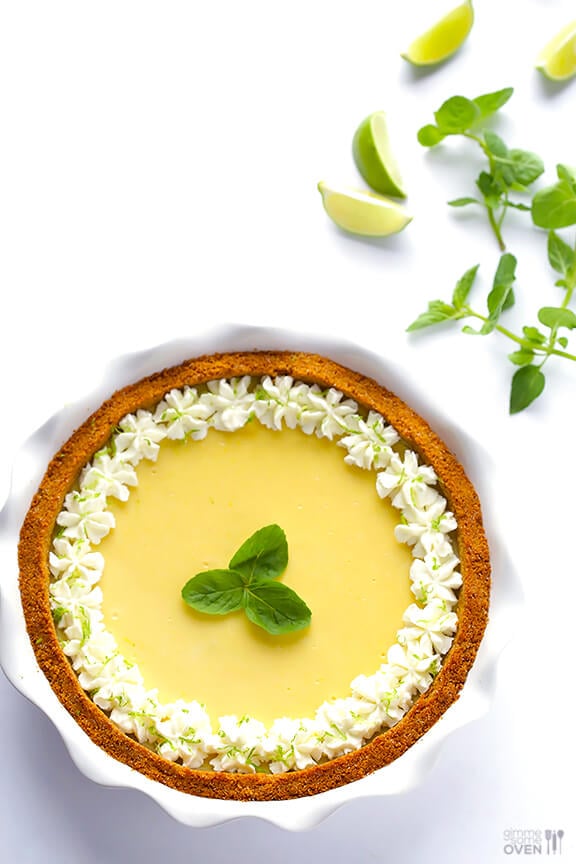 Mojito Pie
This mojito pie recipe is refreshing with its fresh lime and mint flavors.
Ingredients:
Graham Cracker Crust Ingredients:
1 1/4 cups finely-ground graham cracker crumbs
2 Tbsp. sugar
5 Tbsp. butter, melted
Filling Ingredients:
1/2 cup lime juice (preferably fresh)
1/4 cup fresh mint leaves, loosely packed
1 (14-ounce) can sweetened condensed milk
4 large egg yolks
2 tablespoons rum (optional)
Optional topping:
2 cups whipped cream
lime zest
mint leaves
Directions:
To Make The Graham Cracker Crust:
Preheat oven to 350°F.
Stir together graham cracker crumbs, sugar, and butter in a bowl until evenly combined. Press mixture evenly onto bottom and up side of a 9-inch (4-cup) pie plate. Bake crust on the middle oven shelf for 10 minutes, then remove and let cool.
To Make The Filling:
While the crust is baking, make your filling. Combine mint leaves and lime juice in a shaker or glass. Use a muddler (or the end of a large wooden spoon) to muddle the mint into the lime juice. Then strain out the juice and discard the mint leaves.
In a separate mixing bowl, whisk together the condensed milk and egg yolks in a bowl until combined. Add the minty lime juice and rum (if using) and whisk by hand for 1 minute until combined and slightly thickened.
Pour filling into crust and bake on the middle oven shelf for 15 minutes. Transfer pie to a cooling rack, and let sit until it reaches room temperature. Then refrigerate for at least 3 hours, or until chilled and set.
Add optional toppings just before serving, if desired.
All images and text ©
If you make this recipe, be sure to snap a photo and hashtag it #gimmesomeoven. I'd love to see what you cook!