No Bake Caramel Apple Cheesecakes
Holiday baking season seems to have officially arrived.  But for the days (or holidays) when you may not have time to bake the day away, I'm a big fan of no-bake cheesecakes.  Especially these no-bake caramel apple cheesecakes!
These little guys are all of the goodness of caramel apples "no-baked" into fluffy, creamy individual cheesecakes that everyone will love!  The crust is a buttery pecan mixture (or you can go nut-free with graham crackers).  Then the filling is a smooth creamy cheesy mixture made with applesauce.  And of course, I like to add a little extra whipped cream and caramel on top.  So good!  And much easier to eat than a caramel apple.  ;)
Wishing you all a wonderful holiday baking and no-baking season!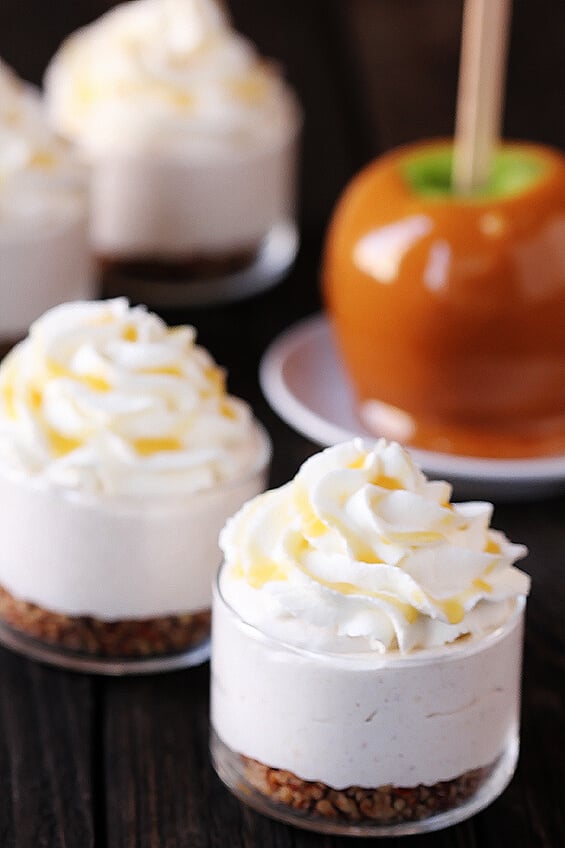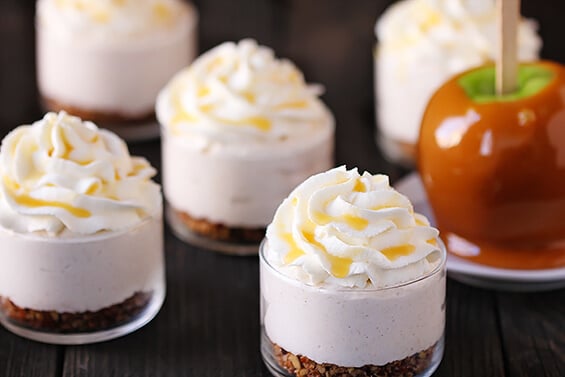 No Bake Caramel Apple Cheesecakes
All of the goodness of caramel apples in these easy no bake cheesecakes!
Ingredients:
For The Crust:
3/4 cup ground pecans
1 Tbsp. sugar
pinch of salt
2 Tbsp. butter, melted
For The Cheesecake Filling:
3/4 cup sugar
1 (8 ounce) package cream cheese, softened
1 tsp. ground cinnamon
pinch of nutmeg
2/3 cup lightly-strained applesauce (**see note below**)
2 cups whipped cream (you can use homemade whipped cream http://gimmesomeoven.com/how-to-make-whipped-cream/ or frozen whipped cream topping)
Toppings:
additional whipped cream (about 2-3 cups)
caramel sauce (homemade or store-bought)
Directions:
To Make The Crust:
Stir together all crust ingredients in a bowl until evenly combined. Spoon 2 tablespoons of the mixture into each serving dish, and press in the bottom until even to make the crust.
To Make The Cheesecake Filling:
Add the sugar, cream cheese, cinnamon and nutmeg together in a food processor and pulse until blended. Add the applesauce and pulse until blended, scraping down the sides with a rubber spatula once in between to be sure that everything is well-mixed. Use the rubber spatula to fold in the whipped cream until combined. Spoon or pipe the filling mixture in even portions into your baking dishes. Top with additional whipped cream, and drizzle with caramel sauce.
1) I recommend lightly straining the applesauce to remove some of the extra water. You can do this in a colander, or with a cheesecloth. Just lightly strain it to remove some of the obvious extra juice — don't totally squeeze it dry!
2) I bought the mini glass dishes for this from Pier One, although they are now widely available at many stores including Target, TJ Maxx, World Market and beyond.
All images and text ©
If you make this recipe, be sure to snap a photo and hashtag it #gimmesomeoven. I'd love to see what you cook!