Pasta with Slow-Roasted Tomatoes, Garlic & Parmesan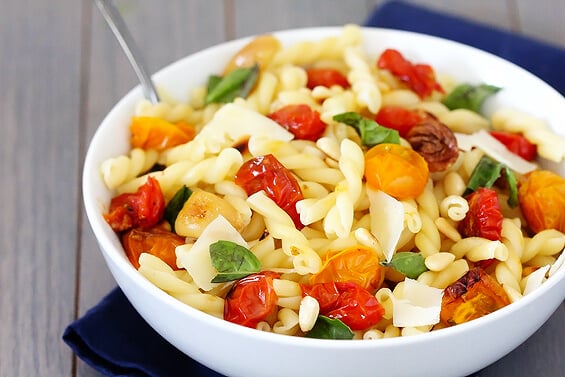 Huge thanks to those of you who have shared your recipes in our first week of the "Tomato Love Recipe Exchange"!  (And for those of you who are just tuning in, Cassie and I are cohosting an 8-week series of giveaways and recipe exchanges celebrating tomatoes!  Click here to enter to win this week's tomato appetizer recipe exchange, where someone will win a KitchenAid 7-Quart Stand Mixer!)
We have talked a lot so far about celebrating#TomatoLove recipes.  But this whole project actually began when Cassie and I became aware of the heartbreaking-turned-encouraging story that has unfolded in the tomato fields in Florida, where 90% of our country's offseason tomatoes are grown.  You can read many more details here, but the short story is that for too many years, the tomato fields in the Immokalee region of Florida were what Chief Assistant US Attourney Douglas Malloy called "ground zero" for modern-day slavery.  The stories about the human rights abuses are so sad, but perhaps the more devastating fact was that this wasn't happening right in our own backyard on American soil.  Goodness.  :(
But thanks to the hard work of some amazing people and organizations, some seriously encouraging strides have been made.  To date, over 1,000 people have been freed from slavery in the Florida tomato fields over the past 15 years.  And the tomato farmers themselves helped develop the Fair Food program, which establishes a zero tolerance policy for slavery, child labor and abuse — that (hooray!) most fast-food companies and some grocery stores (such as Whole Foods and Trader Joe's) have endorsed.  So exciting!
I know that this can seem like an issue that's far removed from us, wherever we may be, but the reality is that we are part of the story whenever we buy offseason tomatoes.  So when I think of these farmers like some of the good farmers I know at my local market, and imagine the thought of them moving from such frightening working conditions to a safe, supported environment where they could be compensated for a job well done — it suddenly becomes real.  And the strides that have been made are a TOTAL reason to celebrate!!!
So here is one more #TomatoLove recipe to celebrate — one of my all-time favorites.  This will also be posted over with IJM's "Recipe For Change" page, where I would so encourage you to check out and learn about how you could continue to be a part of this life-giving change for tomato farmers (by literally just giving a few minutes of your time!).  Just by being a foodie, you can also help change the world a bit for better!!  You really can make a difference locally, nationally and internationally — I love it.  Cheers to more #TomatoLove!!
***I know this can feel like a heavier issue than normal for a food blog, but I have been so humbled and inspired by the emails/posts/comments from everyone expressing your hearts for these farmers.  I am so grateful for each of you! ***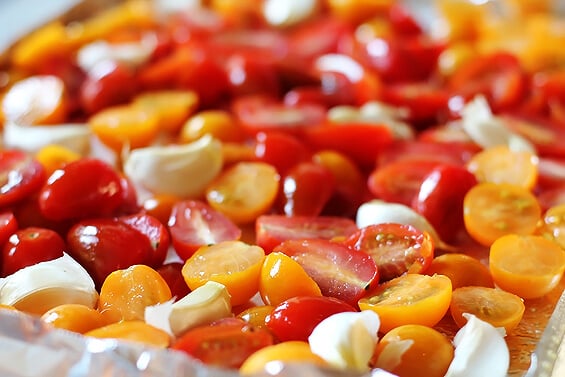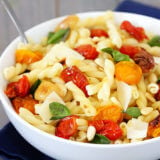 Pasta with Slow-Roasted Tomatoes, Garlic & Parmesan
Simple ingredients combine to make an absolutely delicious slow-roasted tomato pasta!
Ingredients:
3-4 cups cherry or grape tomatoes, each sliced in half lengthwise (I like a combination of red and yellow tomatoes)
1 head garlic, separated into (unpeeled) individal cloves
2 Tbsp. olive oil
salt and freshly-cracked black pepper
1 lb. (16 oz.) dried pasta
1 cup loosely-packed fresh basil, thinly sliced or chopped
1 cup freshly-grated Parmesan cheese
1/2 cup toasted pine nuts
Directions:
Preheat oven to 250 degrees F. Line a baking sheet with parchment or aluminum foil.
Spread the halved tomatoes and (unpeeled) garlic cloves in a single layer on the baking sheet. Lightly drizzle with olive oil, then season with generous pinches of salt and freshly-cracked black pepper. Bake for 2 1/2 to 3 hours, or until the tomatoes have shriveled but are still slightly juicy. Remove and set aside.
About 30 minutes before removing the tomatoes from the oven, fill a large pot with generously-salted water and bring it to a boil. Add a tablespoon of salt to the water, then add the pasta and cook it al dente according to package instructions. Drain the cooked pasta, then toss with the slow-roasted tomatoes and fresh basil. Serve immediately, garnished with freshly-grated Parmesan and toasted pine nuts.
*Ali's Tip*
Feel free to add in any extra veggies during the slow-roasting process, such as onions, zucchini, squash, mushrooms, red peppers, etc.
All images and text ©
If you make this recipe, be sure to snap a photo and hashtag it #gimmesomeoven. I'd love to see what you cook!