Rainbow Sangria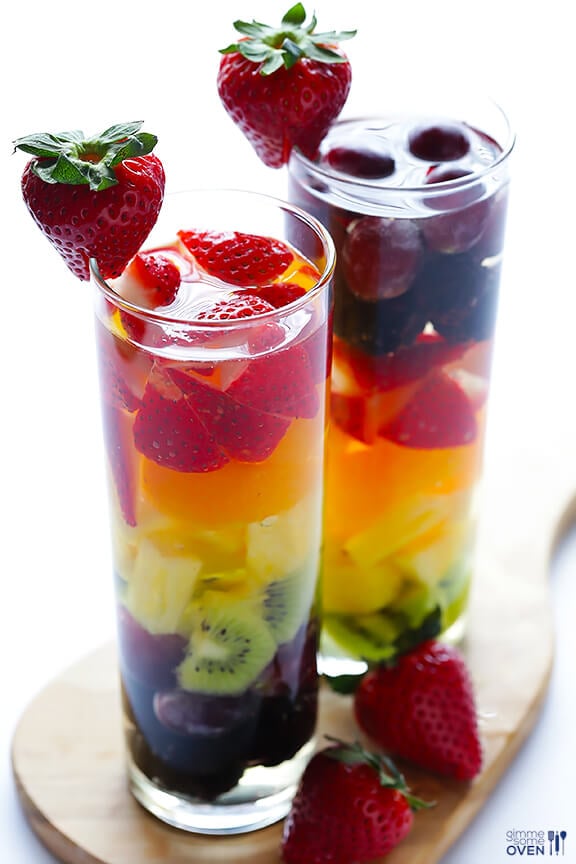 Ever since my friends and I met for a tapas happy hour at our neighborhood Spanish restaurant a few weeks ago, I've had sangria on my mind.  Mmmmsangria.  Everything about that drink makes me happy — the fresh fruit, the sweetness paired with dry wine, and of course the colors.  If you've read this blog before, you know that I have a thing for color.  ;)
So of course, when I found myself in the fruit section at the market this week trying to decide what kind of sangria to make for our weekly neighbor night, I immediately thought of sangria.  But then I was immediately paralyzed by indecision, based 100% on color palates.  Should I make a red sangria with lots of strawberries and pomegranates?  Or a yellow sangria with pineapple and lemons and apples?  Or a cool-toned sangria, with kiwi and blueberries and blackberries and such?  Or…
…oh good grief, why had I never thought of this before?
Sangria with All The Colors.
The only reasonable solution, of course.  ;)
Yep, pretty sure I was that adult who was practically skipping around the fruit section once the idea occurred to me.
I mean, if you've ever read this blog before, you know that I have a thing for color.  Especially when it comes to food.  And all the better if that's woven into a fabulous happy hour!
And boy oh boy, it turned out even better than I expected.
Just look at that rainbow!
Ok, ok, or if you don't want a literal rainbow, you can mix things up.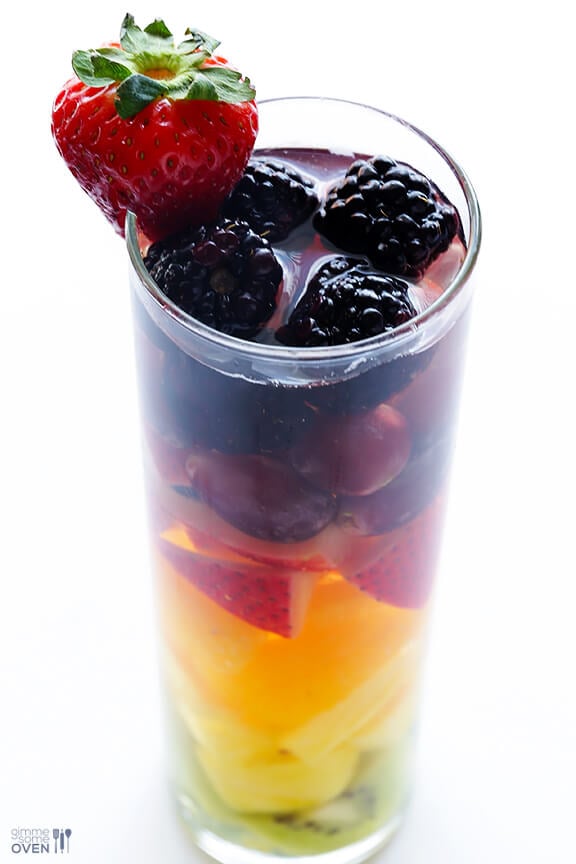 But me?  I love a pretty red-orange-yellow-green-blue-purple.  Especially when there's some white wine and brandy mixed in.  Although for this batch, I decided to nix the club soda and carbonation.  (But you can totally add it in if you'd like.)
I wanted a 100% unobstructed view of that gorgeous fruit.  And boy, was it pretty.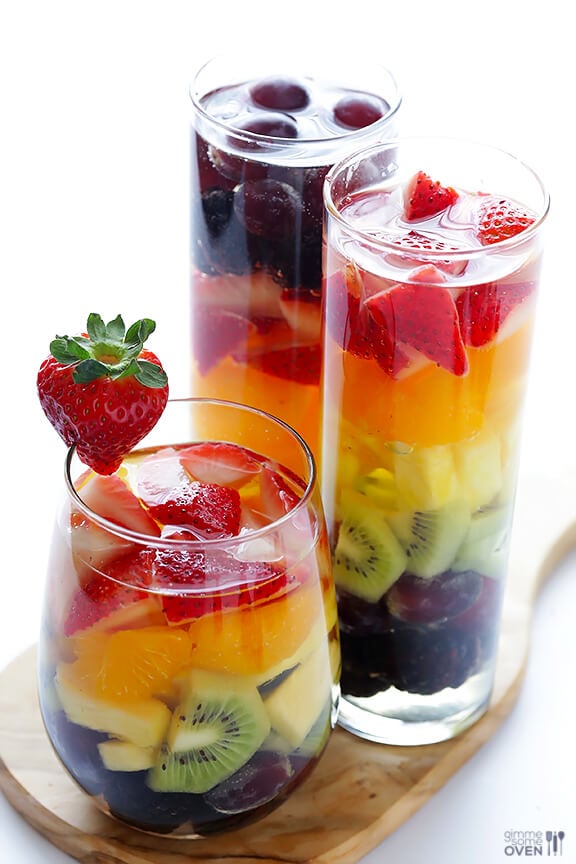 Yes, yes, I know that the fruit-to-wine ratio in these photos is much higher than usual.  And that was the first comment from my friends, after the ooohed and ahhhed over the color.  But you know what?  We just kept an extra bottle of white wine handy, and refilled the glasses when someone wanted their topped off.
But I served the drinks with straws and spoons, and everyone had a great time using both!  I intentionally chose all immediately-edible fruit for this recipe (instead of lime or lemon wedges, etc.) so that drink would be easy to enjoy, and my friends did just that.  And loved it.
I also chose not to muddle the fruit, but instead poured the drinks about 30 minutes before my friends came and let them rest in the fridge for a bit so that the flavors could meld, which actually worked really well.  But if you don't mind the colors bleeding together, muddle away so that you can taste even more fruity goodness with that wine.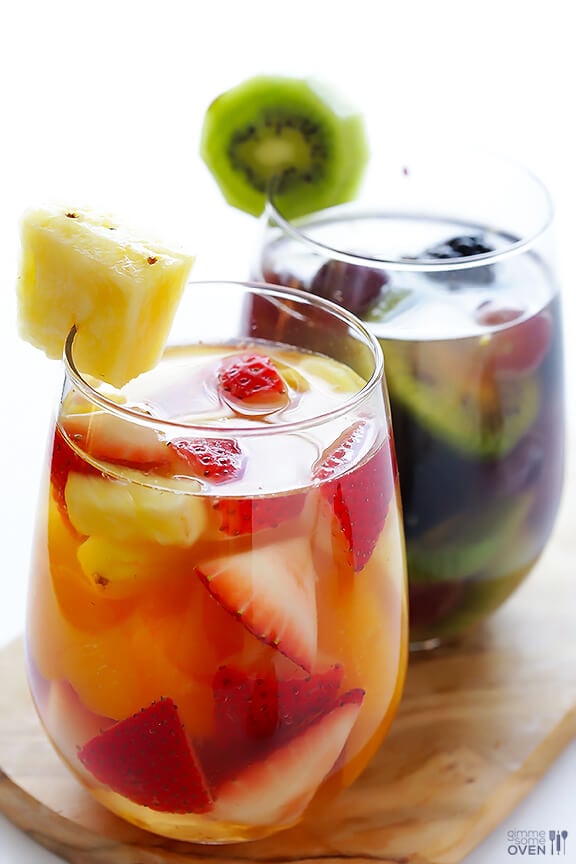 I also made some versions with warm and cool toned fruits, just because I was on a bit of a color high.  ;)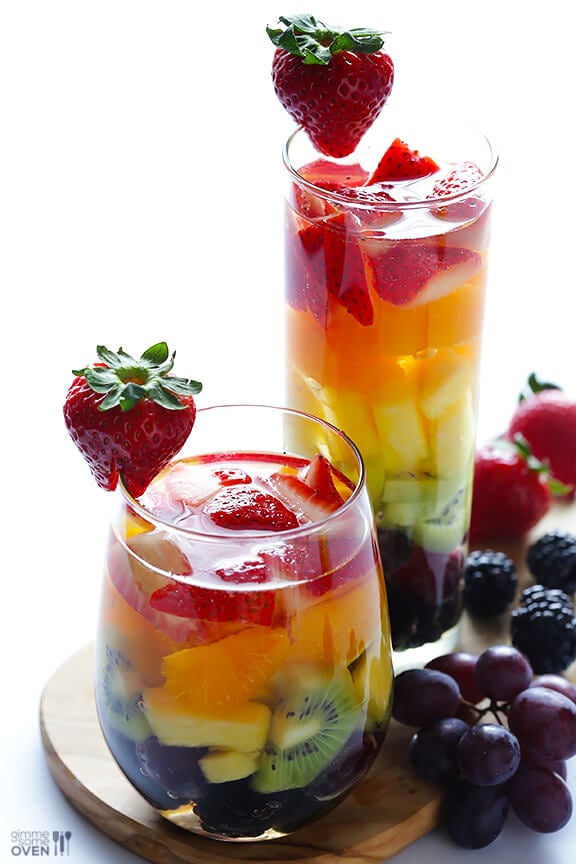 All in all, everyone gave the sangria big thumbs up on flavor and presentation.  Which was awesome, because they truly did not take long to make.  Which means I will absolutely be making them again soon.  Which makes this color-obsessed, sangria-loving, quick-recipe-making food blogger extra happy.
Cheers, friends!
(And pretty please, if you make these, take a photo hashtag them #gimmesomeoven or tag me @gimmesomeoven.  I would love to see them!)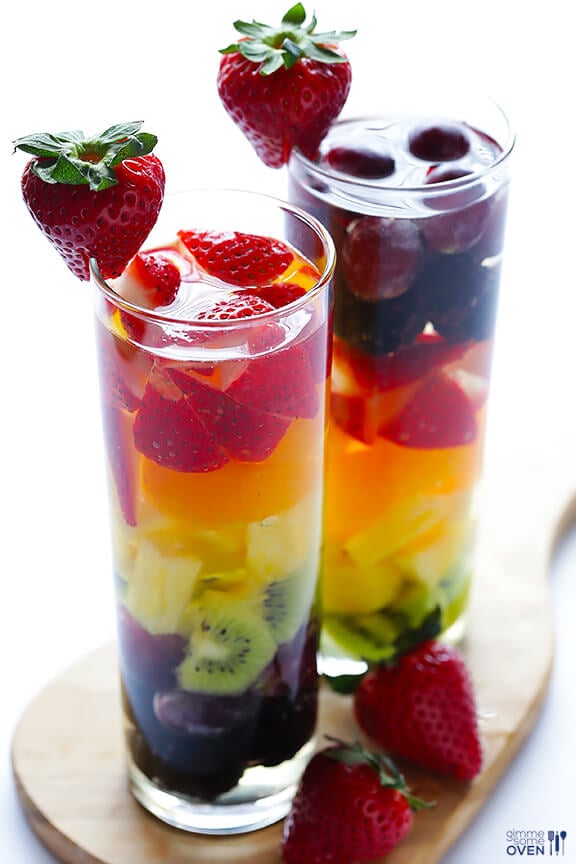 Rainbow Sangria
This simple rainbow sangria tastes just as beautiful as it looks!
Ingredients:
1 refrigerated bottle dry white wine
3 Tbsp. granulated sugar or honey
2 Tbsp. lime juice
8 cups diced rainbow fruit (*see note below*)
2 oz. brandy (optional)
1/2 cup club soda or ginger ale (optional)
Directions:
In a pitcher (or in the wine bottle), combine wine, sugar/honey, lime juice, and stir until combined.
Add fruit to your serving glasses or (separate) pitcher in your desired color order. Then pour the wine over the fruit until the fruit is covered. Refrigerate the drinks for 15 minutes to let the flavors meld. Or serve immediately if you're feeling impatient. ;)
Top with a splash of brandy and club soda if desired.
*To make a rainbow of fruit, you will need bite-sized fruit in the following colors. I used the first fruit listed in each color, specifically because I wanted them to be edible right out of the glass with a spoon. (Instead of a lime wedge, etc.)
Red: strawberries, raspberries, pomegranates
Orange: mandarin oranges, any other kind of orange/clementine wedge, cantaloupe
Yellow: fresh (not canned) pineapple
Green: kiwi, honeydew, green grapes
Blue: blueberries
Purple: red grapes, blackberries, dragonfruit
All images and text ©
If you make this recipe, be sure to snap a photo and hashtag it #gimmesomeoven. I'd love to see what you cook!
I also want to note that as I was typing up the recipe, I looked online and saw that a handful of other food bloggers had already had the same idea for this recipe too.  So if you want more rainbow sangria tips/recipes, be sure to also check out The Taylor Life and Healthy Happy Life for more inspiration!