Salted Dark Chocolate Peanut Butter Cookies {great food blogger cookie swap}
Hooray!  Today is the big reveal day for the Great Food Blogger Cookie Swap '12, when food bloggers everywhere are posting the recipes for their cookies that were mailed all across the nation.  And with hundreds bloggers participating this year, there were a lot of delicious cookies being swapped!  (Just type the hashtag #fbcookieswap into Instagram or Twitter, and you can see all of the sweetness for yourself!)
My cookies of choice this year were these Salted Chocolate Peanut Butter Cookies — just a simple double chocolate cookie with peanut butter chips mixed in, and a pinch of sea salt sprinkled on top.  Simple, soft and so delicious!  I was matched to send my cookies to Natalie, Sarah and Julie.  And then also received three delicious batches of cookies in return.  Such a fun surprise each day in the mail!
But honestly, as fun as the cookies were, my favorite thing about the swap was getting to partner with an organization created by OXO called Cookies for Kids Cancer.  I feel like everyone from bloggers to tv food celebs have been buzzinag about it this year.  But if you haven't heard of it, pop over and learn more.  So inspiring!  Every participating blogger donated to the cause this year, along with hundreds of others who hosted bake sales this holiday season to benefit the organization.  Such a cool way for foodies to use their passion for cooking to make a difference.
Huge thanks to Lindsay and Julie for organizing the Great Food Blogger Cookie Swap again this year.  I know my holidays were definitely all the sweeter for having been a part.  Here's my recipe!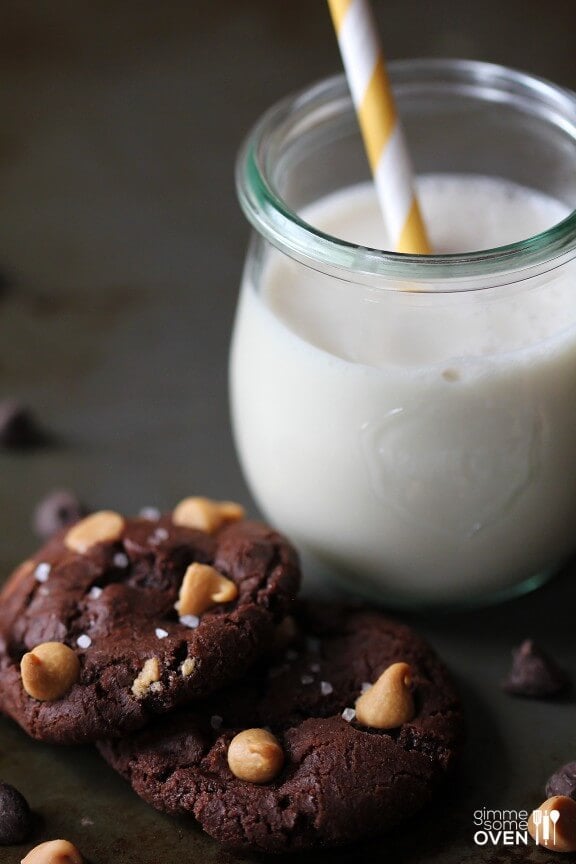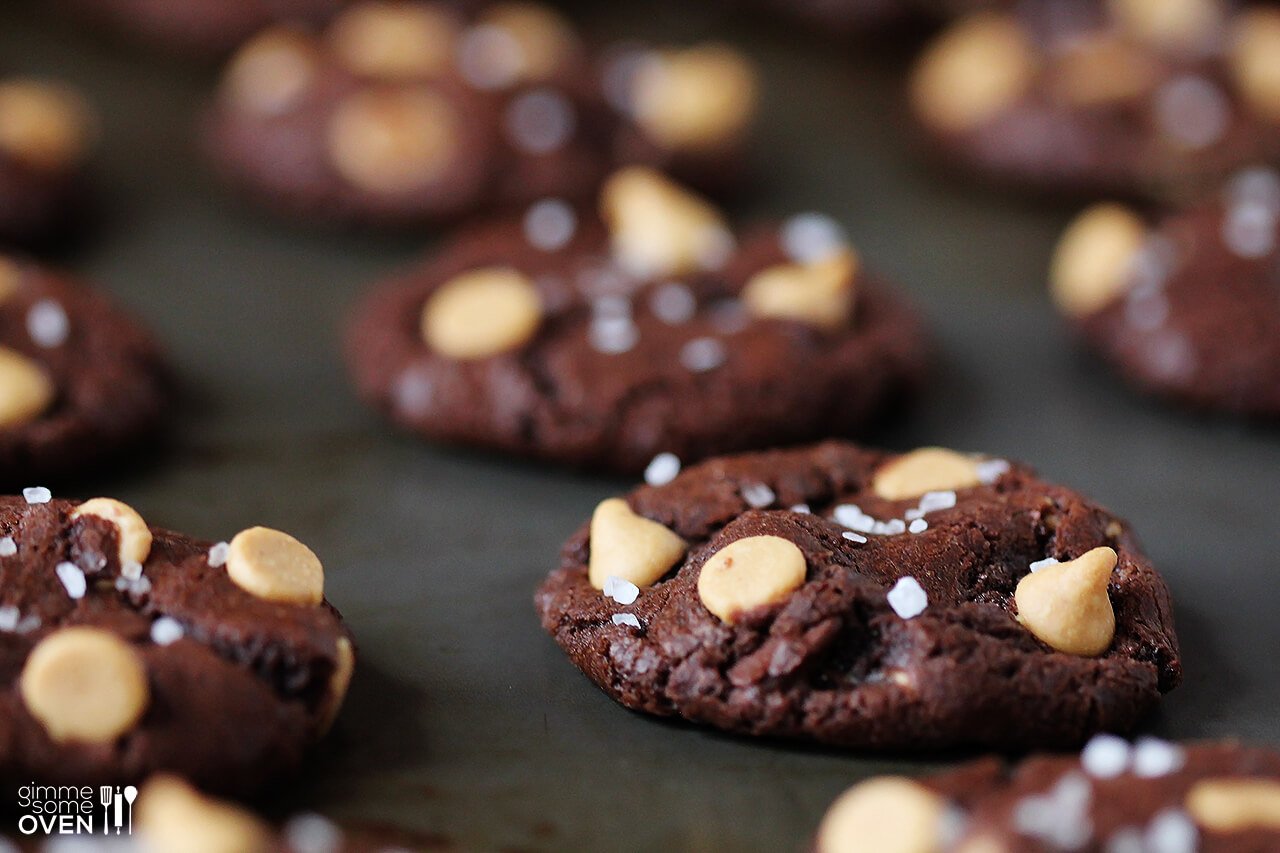 Salted Dark Chocolate Peanut Butter Cookies
This yummy Salted Chocolate Peanut Butter Cookies recipe was Ali's submission for this year's Food Blogger Cookie Swap! #fbcookieswap
Ingredients:
1 cup all-purpose flour
1/2 cup dark chocolate cocoa powder (or unsweetened Dutch-process cocoa powder )
1/2 tsp. baking soda
1/2 tsp. salt
4 ounces coarsely chopped dark chocolate
1 cup dark chocolate chips
1 cup peanut butter chocolate chips
1 stick (1/2 cup) unsalted butter
1 1/2 cups sugar
2 large eggs
1 tsp. pure vanilla extract
sea salt for sprinkling
Directions:
Preheat oven to 325 degrees.
Whisk together flour, cocoa powder, baking soda, and salt in a medium bowl; set aside. Melt coarsely chopped chocolate with the butter in a small heatproof bowl in a double-boiler or in the microwave, stirring frequently.
Once melted, transfer chocolate mixture to the bowl of an electric mixer fitted with the paddle attachment. Add sugar, eggs, and vanilla; mix on medium speed until combined. Reduce speed to low; gradually mix in flour mixture. Fold in chocolate and peanut butter chips.
Round batter into heaping tablespoon-fulls, and place 2 inches apart on parchment-lined baking sheets. Sprinkle each ball of dough with a pinch of sea salt. Bake until cookies are flat and surfaces begin to crack, about 12-15 minutes. (**Do not overbake these, or they will totally dry out!**) Transfer on parchment to wire racks and let cool.
Serve immediately, or store in a sealed container for up to 3 weeks.
If you make this recipe, be sure to snap a photo and hashtag it #gimmesomeoven. I'd love to see what you cook!