Skinny Honey Lemon Chicken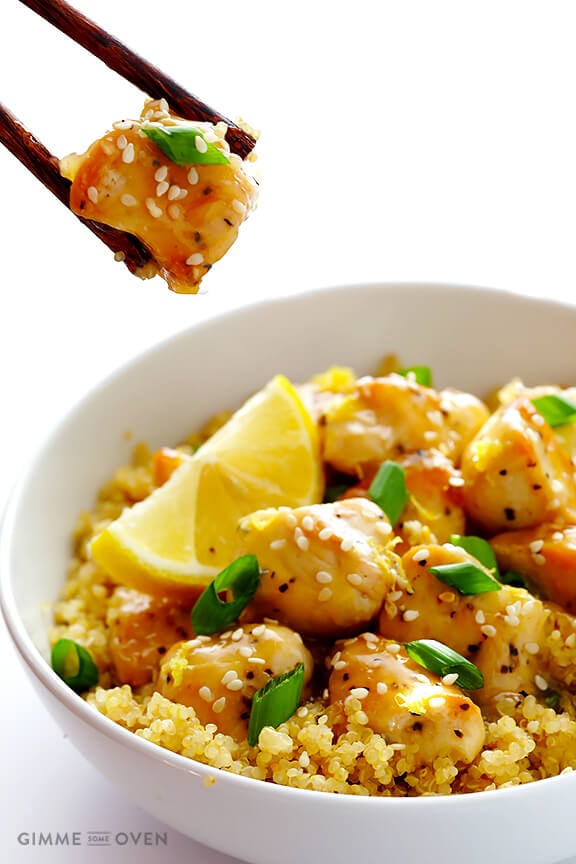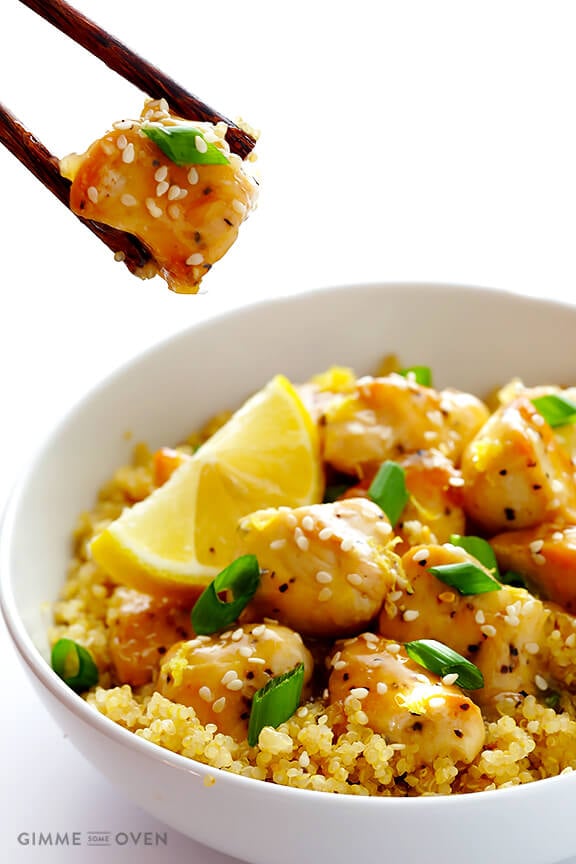 Happy New Year's, everyone!
Is your 2015 off to a good start?  Make any big resolutions?  Or, like me, did anyone choose a word to help define the new year?  For anyone interested, my word for 2015 is "dare".  (And bonus, we're kicking off a series of monthly dares on the blog and would love to have you join in this January as we are daring to move in the mornings.  You can read about it here!)
Well, whatever your plans for the new year may be, I figure we're all going to need some protein-packed meals to make 'em happen.  So as is my tradition here on the blog, we're kicking off this January with an entire month of healthier recipes on the blog.  I have a bunch of quick and easy weeknight dinners ready to share with you, some winning game-day appetizers, a few healthy snacking options, and — yes — even some healthier desserts.  So if one of your goals for the new year is to spend more time in the kitchen, let's do it together!!
To kick off the new year, I thought I would start with a simple sweet and savory meal that's sure to please a crowd.  And since it only requires about 20 minutes of prep and cook time, I'd say it's sure to please the cook as well.  It's sauteed, not fried.  It's naturally sweetened with honey.  And it is crazy good.
I'm calling it Skinny Honey Lemon Chicken.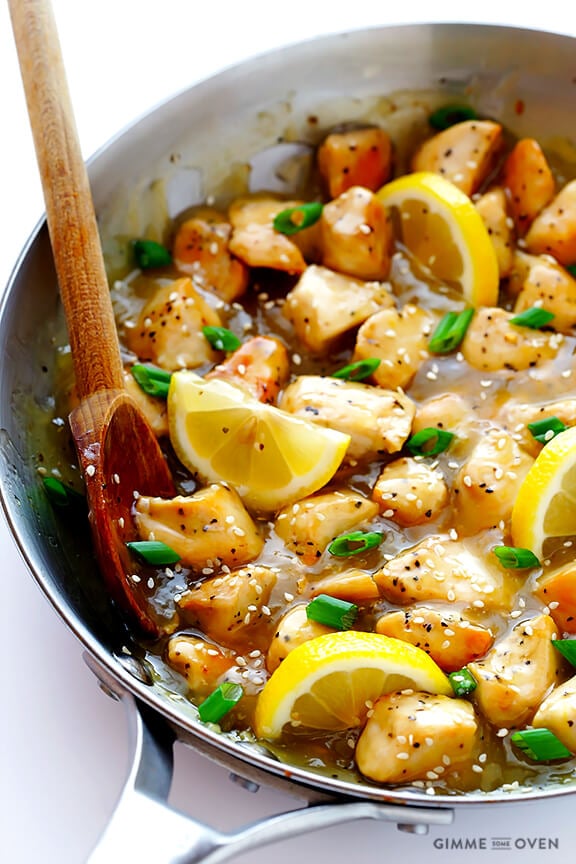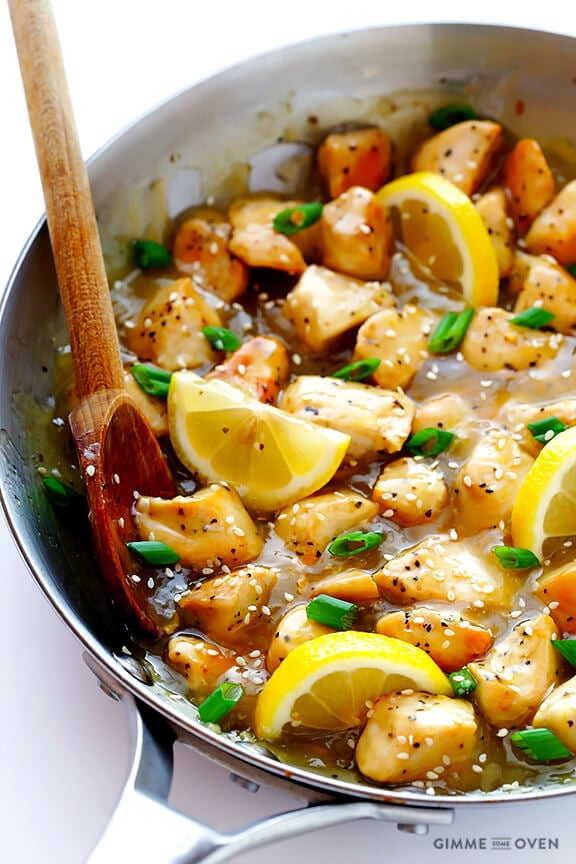 Actually, this recipe is a follow up to the wildly-popular Skinny Orange Chicken that I posted last New Year's Day on the blog.
It's basically a quick chicken stir fry that is tossed in a naturally-sweetened honey lemon sauce.  I kept it simple with just chicken, and served it over protein-rice quinoa instead of rice.  But this recipe is meant to be more of a "base" recipe, and is perfect for adding in your favorite vegetables, or some cashews, or substituting in any other proteins that might sound good.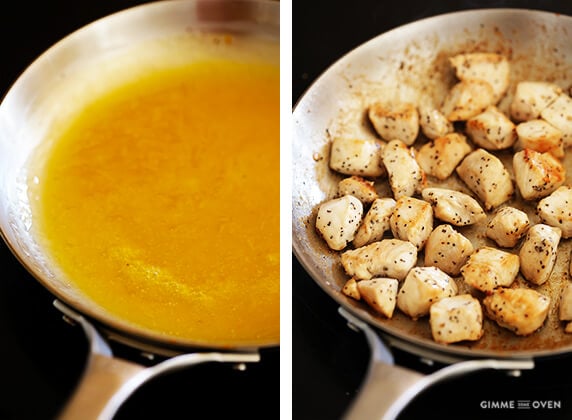 To make it, begin by marinating some chicken with some soy sauce and rice vinegar.  (If you are making this gluten-free, be sure to use GF soy sauce.)  Then saute it up, while whisking together the ingredients for your sauce.  Transfer the chicken to a separate plate, and then cook the sauce until it's nice and thick.  And then toss it all together.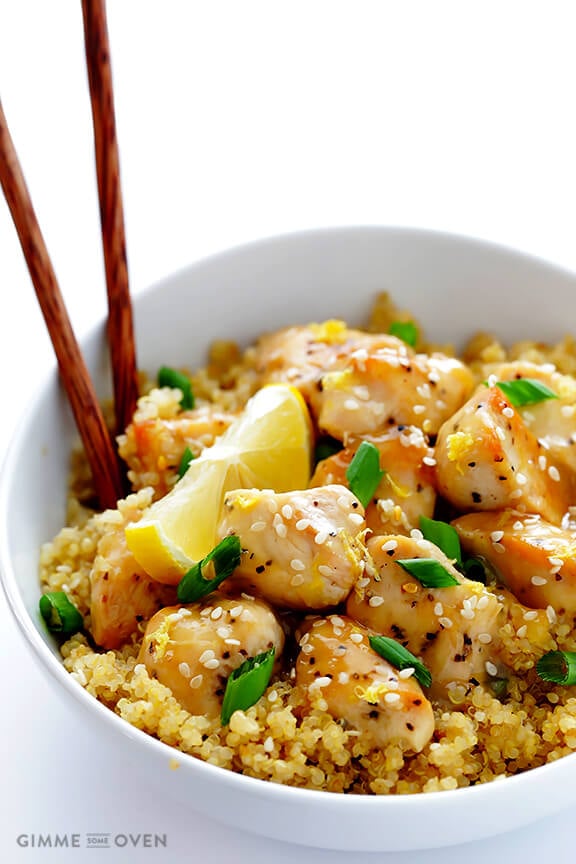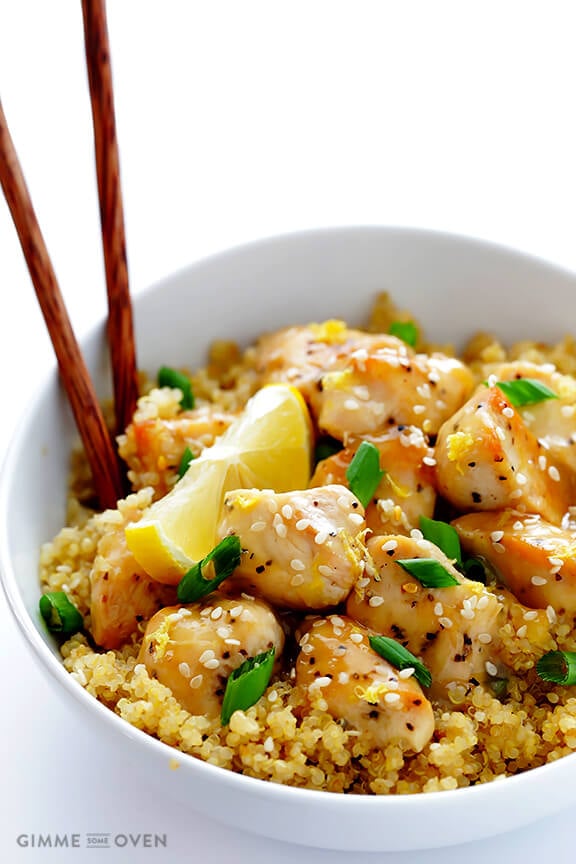 And then you can serve it however you'd like!  I was craving traditional rice, so opted instead for some protein-rich quinoa.  But you could serve it over vegetables, noodles, in a salad, or whatever sounds great.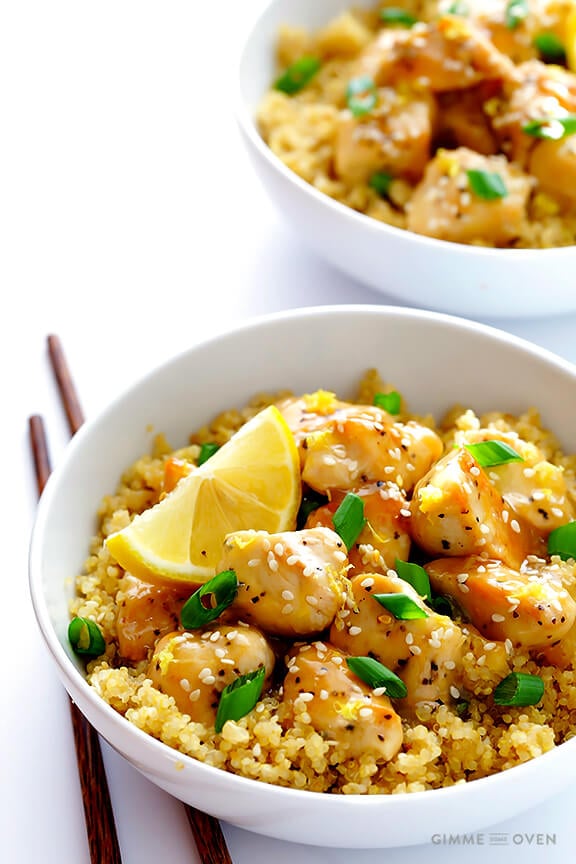 Feel free to also adjust the sauce to your desired level of sweet-and-sour-ness.  Everyone has different preferences with lemon and sweeteners, so once you have made the actual sauce, feel free to add in extra lemon juice or honey to taste.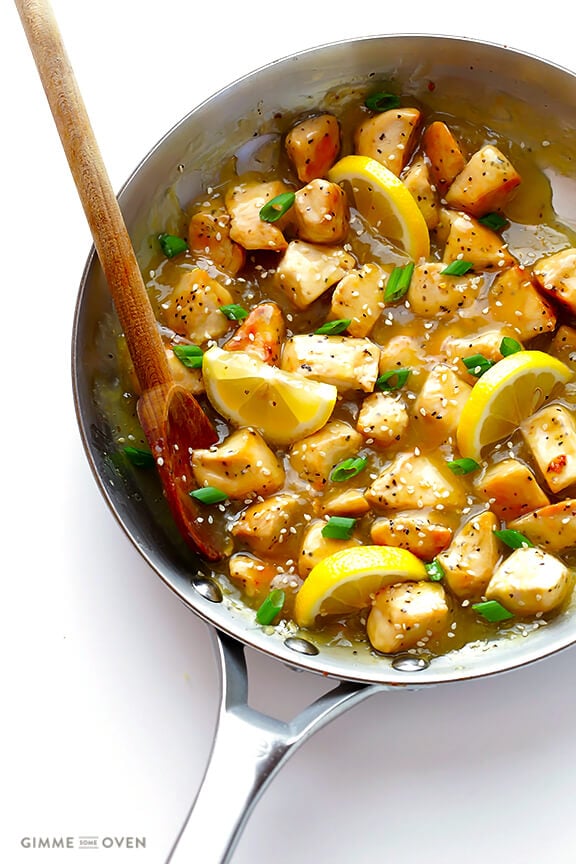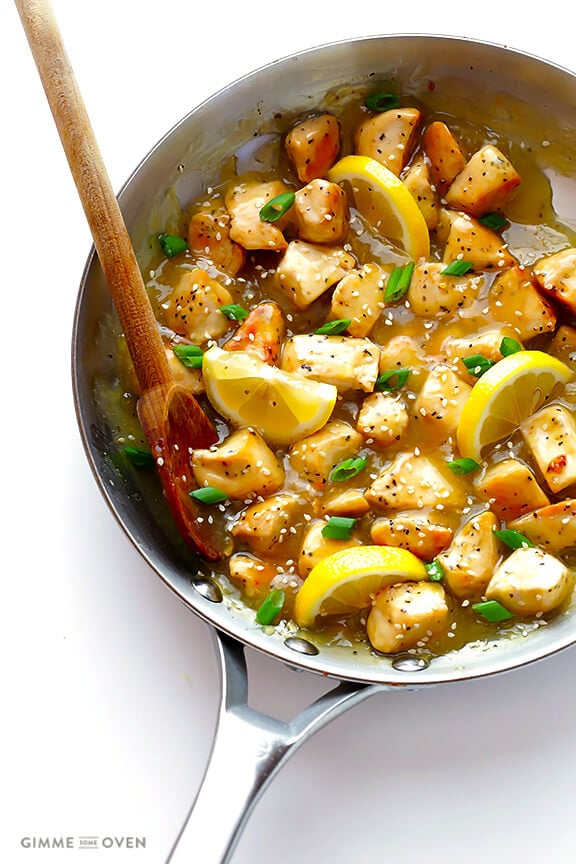 All in all, it's a quick, flavorful, easy, and healthier base recipe that I love tinkering around with.  So play with it and make it your own, and hopefully can serve as some delicious fuel for the new year.
Cheers to 2015!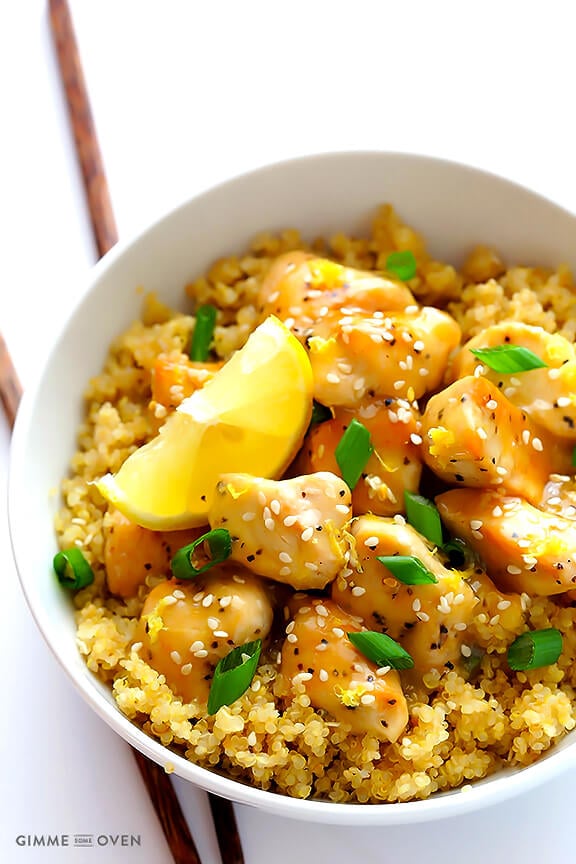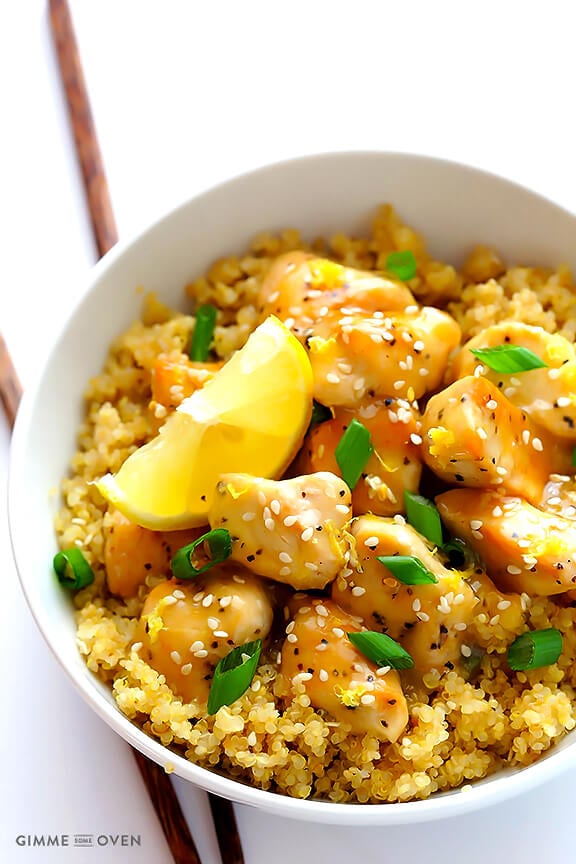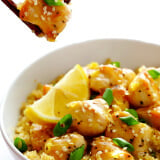 Skinny Honey Lemon Chicken
This Skinny Honey Lemon Chicken recipe is quick and easy to make, made naturally lighter and gluten-free, and it's absolutely delicious!
Ingredients:
Skinny Honey Lemon Chicken Ingredients:
1.5 lbs. boneless, skinless (raw) chicken breasts, cut into bite-sized pieces
3 tablespoons soy sauce (if making this gluten-free, be sure to use GF soy sauce)
2 tablespoons rice wine vinegar
salt and pepper
1 tablespoon olive oil
Honey Lemon Sauce (see below)
optional toppings: toasted sesame seeds, thinly-sliced green onions, extra lemon zest, lemon slices
Honey Lemon Sauce Ingredients:
3/4 cup chicken stock
1/4 cup fresh lemon juice
3 tablespoons honey (or more/less to taste)
2 tablespoons cornstarch
zest of 1 lemon
pinch of ground ginger
(optional: sriracha, for heat) *edited*
Directions:
Combine the chicken, soy sauce and rice wine vinegar to a large ziplock bag, and toss until the chicken is evenly coated.  Refrigerate for at least 10 minutes, or up to 8 hours.
When you are ready to cook the chicken, drain and transfer it to a separate plate.  Season the chicken on both sides with a few generous pinches of salt and pepper.  And in a separate bowl, whisk the honey lemon sauce ingredients together until combined.
Heat oil in a large saute pan over medium-high heat.  Add the chicken and saute for 5-7 minutes or until it is cooked through and no longer pink inside, stirring and turning the chicken occasionally for even cooking.  Transfer the chicken to a separate (clean) plate with a slotted spoon.
Pour the (whisked) honey lemon sauce into the empty saute pan.  Cook over medium-high heat for 2-3 minutes, or until the sauce reaches a low boil and thickens.  Add in some sriracha if you would like for extra heat, to taste.  (Feel free to also season with extra salt and pepper, or extra honey or lemon.)
Add the chicken back into the pan and toss until it is evenly coated with the sauce.  Remove from heat and serve the chicken immediately, topped with optional toppings if desired.
All images and text ©
If you make this recipe, be sure to snap a photo and hashtag it #gimmesomeoven. I'd love to see what you cook!