Slow-Cooker Chicken Tortilla Soup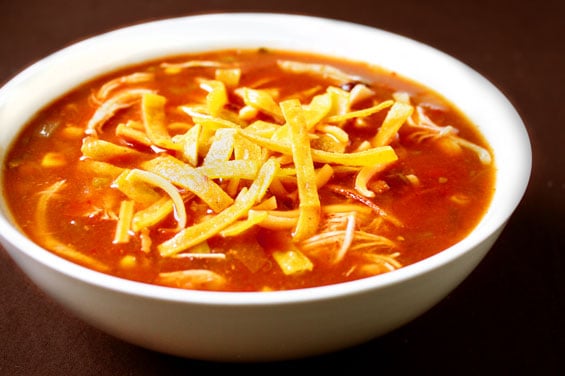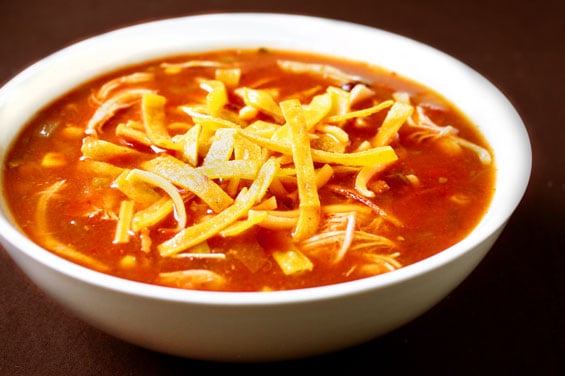 WOW – fall is flying by!  Now that we've about reached the halfway point for our fall season at work, it was time this weekend for our quarterly social.  And since Yours Truly was in charge this time, we of course had ourselves a delightful little potluck – yeah!!  :)  I mean, seriously, who would want to order in pizza or sandwiches, when you could have a smorgasbord of all your volunteers' favorite dishes to sample??
Being that it has turned ridiculously cold ridiculously soon this year, I made it a soup-themed potluck.  I'd baked a nice little dessert to bring, but then realized the night beforehand that the organizer (um… me) somehow missed noticing that we were way short on the main dish – soups!  Yikes!  So to even things out, I turned to the recipe that I've often turned to in a bind m-a-n-y times over the years – this fantastic slow-cooker chicken tortilla soup!
I randomly stumbled across it online a few years ago, and was intrigued by the slow-cooker idea.  So I gave it a try for (another) potluck, and after about 15 people asked for the recipe, I figured it was a keeper…which is fantastic because it is SO easy to make!  Seriously!  Don't be scared off at all by the long list of ingredients.  The are quick to combine, and there's no cooking required – just chopping one onion.  (Which if you're really in a bind, the stores finally now sell frozen chopped onions – voila.)  However, for the overachievers or those who would like to hear a little sizzle on the stove, however, I've included an easy little homemade tortilla strips how-to.  :)
Hooray for crock-pots and good soups!  Two of my favorite things about winter.  :D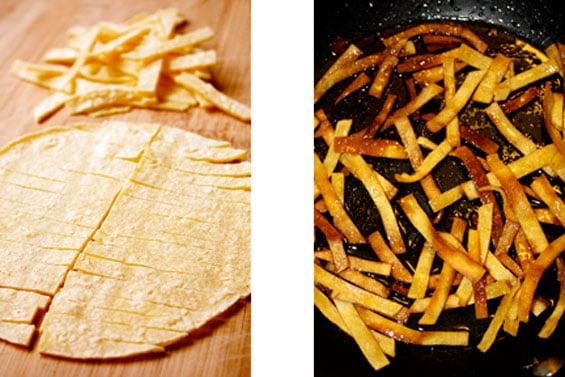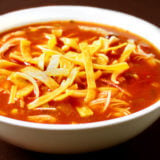 Slow-Cooker Chicken Tortilla Soup
You'll love this Slow-Cooker Chicken Tortilla Soup recipe! Come home to the moist deliciousness of a warm, bubbly, delicious slow-cooked meal. So easy!
Ingredients:
1 pound boneless, skinless chicken breasts or tenderloins (frozen or refrigerated)
1 (15 ounce) can diced tomatoes
1 (10 ounce) can good-quality mild enchilada sauce
1 medium onion, chopped
1 (4 ounce) can chopped green chile peppers
1 (10 oz.) package frozen corn (or 1 can of whole-kernel corn, drained)
1 (15 oz.) can black beans, drained (optional)
2 cloves garlic, minced
3 cups chicken broth
1 cup water
1 tsp. cumin
1/2 tsp. chili powder
1/2 tsp. chipotle powder (optional)
1 Tbsp. lime juice (optional)
1 bay leaf
2 Tbsp. fresh cilantro, chopped
Homemade Tortilla Crisps Ingredients
3 corn tortillas
2-3 Tbsp. olive oil
Optional Garnishes
avocado slices
shredded Mexican or cheddar cheese
limes
chopped tomatoes
soft tortillas (you can place these in the bottom of the bowls, and ladle the soup on top if you'd like!)
Directions:
Place all soup ingredients (chicken through cilantro) in a large crock pot and stir briefly to combine. Cover, and cook on "low" setting for 6 to 8 hours or on "high" setting for 3 to 4 hours. Anywhere from 15-60 minutes beforehand, remove the chicken breasts. Let cool briefly, then shred and return to soup.
To serve, ladle soup into individual bowls, and add desired garnishes.
Homemade Tortilla Strips "How-To":
Use a knife or pizza cutter, cut a few corn tortillas into small strips (as pictured above).
Skillet Method:
Heat oil in a skillet over medium heat. Test to see if the oil is ready by dripping a drop or two of water in the skillet. (No sound – too cool. Splatter – too hot. Sizzle – perfect!) Once it's ready, add in the tortilla strips. Give them a stir or a flip every 20-30 seconds, until they have begun to turn slightly golden. Remove and place on paper towels to drain and dry. Season with salt or other seasonings.
Oven Method:
Preheat oven to 400F degrees. Lay out tortilla strips on a greased cookie sheet, and brush with olive oil. (Optional: season with salt or other seasonings.) Bake the tortilla strips for 5 minutes, then give them a quick stir and/or flip. Bake for 5 minutes more, or until they are crispy and golden.
Ali's Tip:
The recipe as written is fairly spicy.  So if you're at all sensitive to "heat", would recommend adding in the spices to taste at the end.  And if it is ever too hot, feel free to add in extra water or chicken broth.  :)
If you make this recipe, be sure to snap a photo and hashtag it #gimmesomeoven. I'd love to see what you cook!