Slow Cooker Cranberry Sauce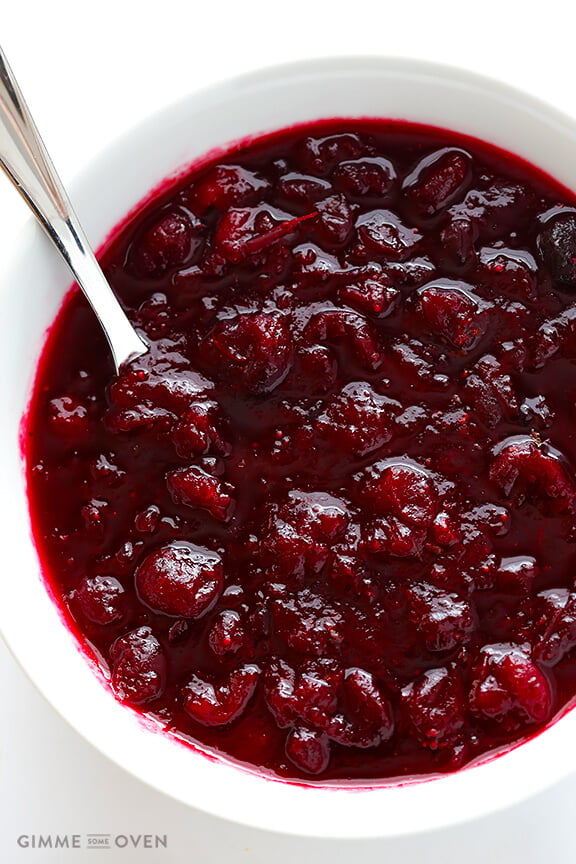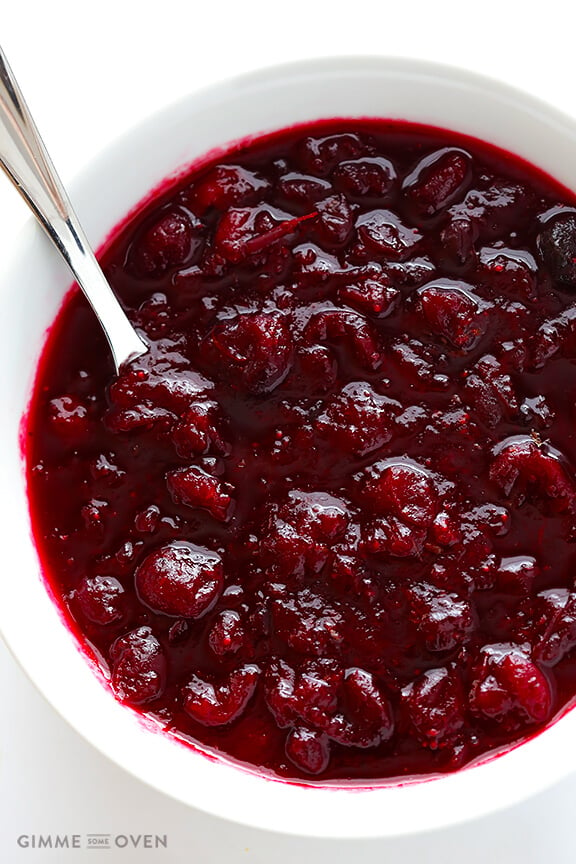 My friends have gotten used to the fact that they are always my guinea pigs for trying out new recipes.
It is the rare — very rare — occasion that I bring a dish to a gathering that I have actually tried before.  Instead, they have come to expect that I'll be the eager-beaver-food-blogging-friend who is watching carefully as they taste that first bite, and scrutinizing their expressions, and then peppering them with questions about what they think.  Actually, I don't even have to ask them anymore.  They have learned over the years that I want their honest opinions, and they now offer them with flourish and lots of fancy adjectives, which they know is speaking my food blogger love language.  ;)
However.  That said, I'm hosting Friendsgiving tonight at my place for about 30 or so neighbors.  And I decided to make all of my contributions in the slow cooker this year.  Partly because I have discovered this year that you totally can (shout out to my slow cooker mashed potatoes yesterday in case you missed them!).  And partly because I unabashedly own 3 slow cookers and love to have them all working at the same time.  And partly because I just want to hang and chat it up with my friends instead of standing over the stove stirring and multitasking!
That said, since I'm responsible for some of the staples, I did want to test a few of them beforehand to make sure that I don't royally mess anything up, since it's Friendsgiving and all.  So this weekend, I tossed some cranberry sauce ingredients in my slow cooker to see how they would do.  Sure enough, they slow cooked like a charm.
I mean, let's be real, cranberry sauce could hardly get any easier on the stove.  But if you happen to love slow cookers as much as I do and want a stove-free Thanksgiving (or if you at least want to free up some extra space on that stove), you've gotta try this one.  Here's my classic recipe, with a few options for various twists…
First off, fresh cranberries are a must.
No judging here if you're a fan of the stuff in the can.  But seriously, making fresh cranberry sauce could not be easier.
So pick up a bag of fresh cranberries and toss them in your slow cooker.  Then stir in some water, orange juice, and your desired sweetener.  I used coconut sugar this year, but you can use granulated sugar, brown sugar (or a mix of the two), honey, maple syrup, you name it.  I like my cranberry sauce slightly tart, which is how I wrote the recipe, but just add in as much as you'd like.
(As a tip, I recommend starting with less sweetener.  And then once the cranberries are cooked, give it a taste, and you can then add more if you'd like.)
Once all of the ingredients are in there, simply place the lid on the slow cooker and let it work its magic.  (If anyone's interested, here's an affiliate link to my slow cooker.  This is my regular-sized, no frills, get-the-job-done slow cooker that I have had for years.)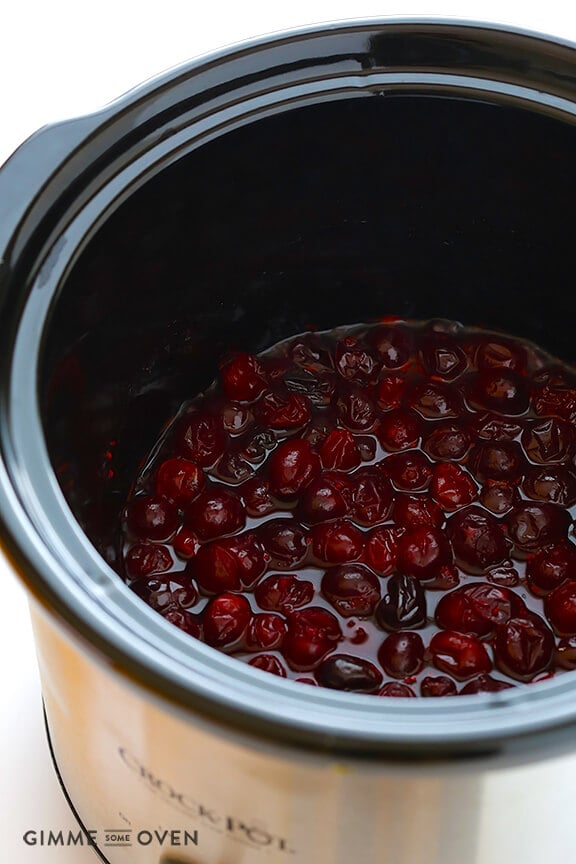 I cooked mine quickly on high heat, which only took a little under 3 hours.  But you can also cook these on low and leave them in there for up to 7-8 hours.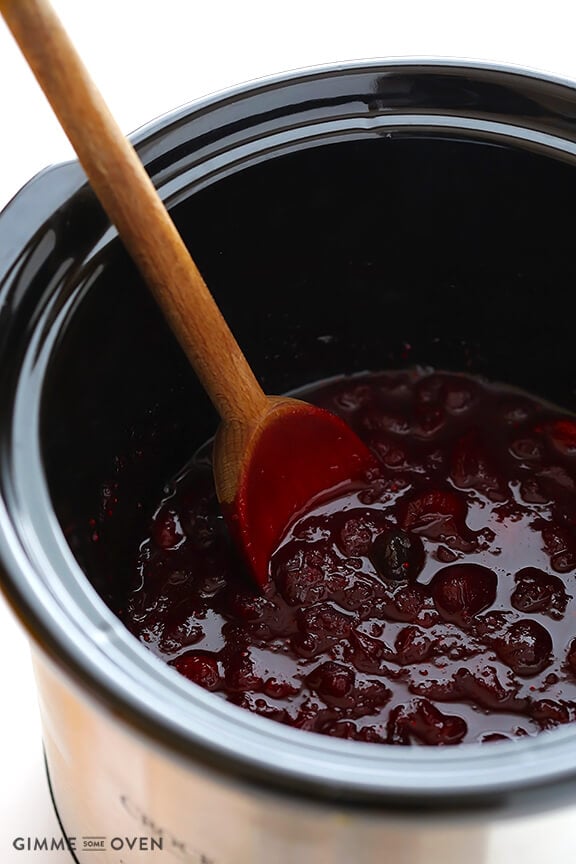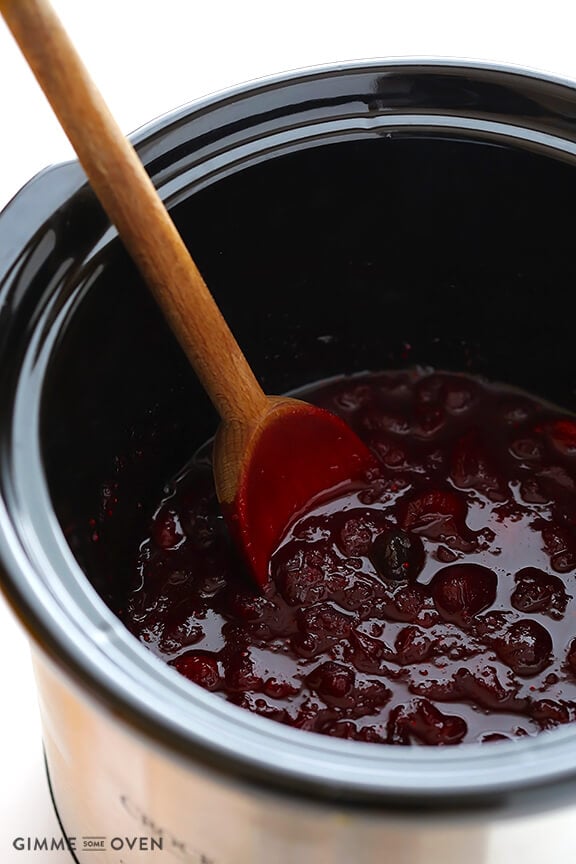 Use your spoon to mash up the cranberries just a bit to your desired consistency.  And they will probably seem very liquid-y, but keep in mind that the sauce will thicken considerably as it cools.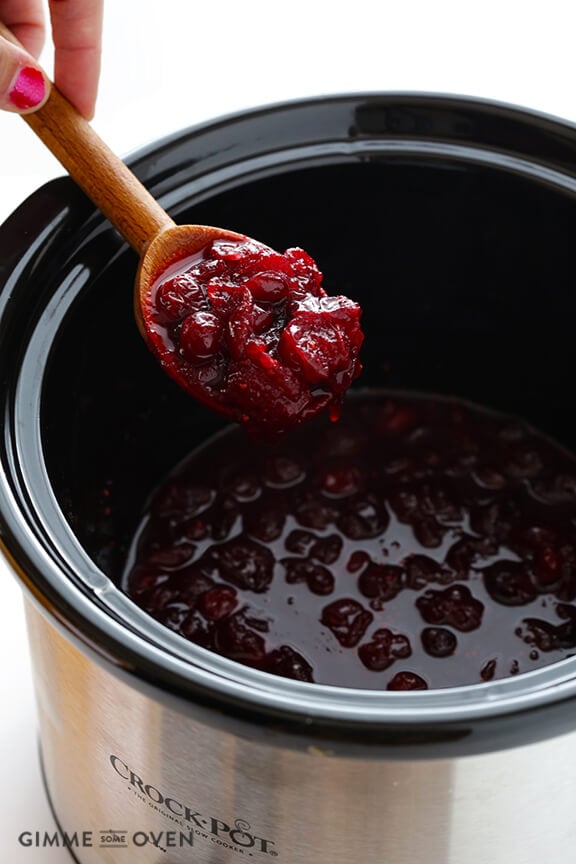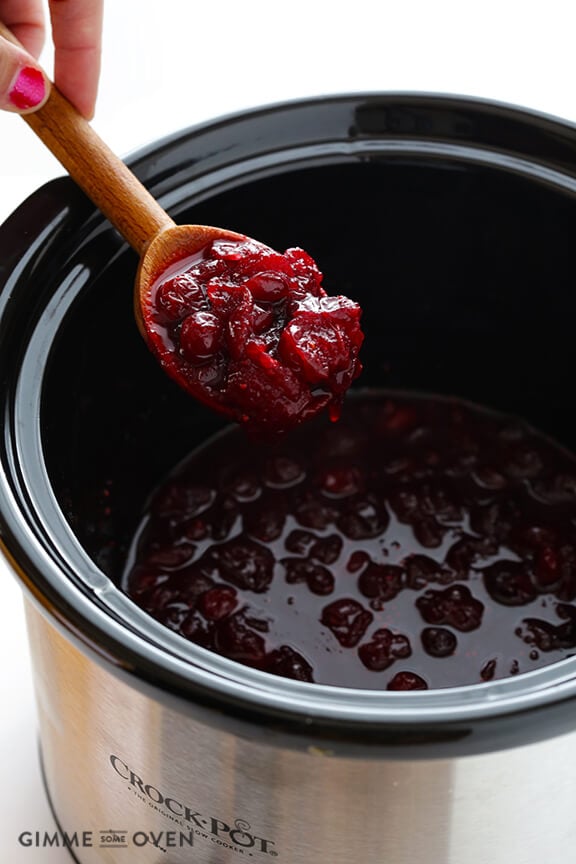 I like my cranberry sauce to still be slightly lumpy, so I only mashed it a bit.  Feel free at this point to also stir in any extra seasonings if you want, such as a splash or bourbon or red wine, a pinch of ground ginger, a pinch of cinnamon and cloves, some chopped walnuts, or — my favorite — a little splash of vanilla.  Or you can just go with the classic recipe, which is — you know — a classic.  :)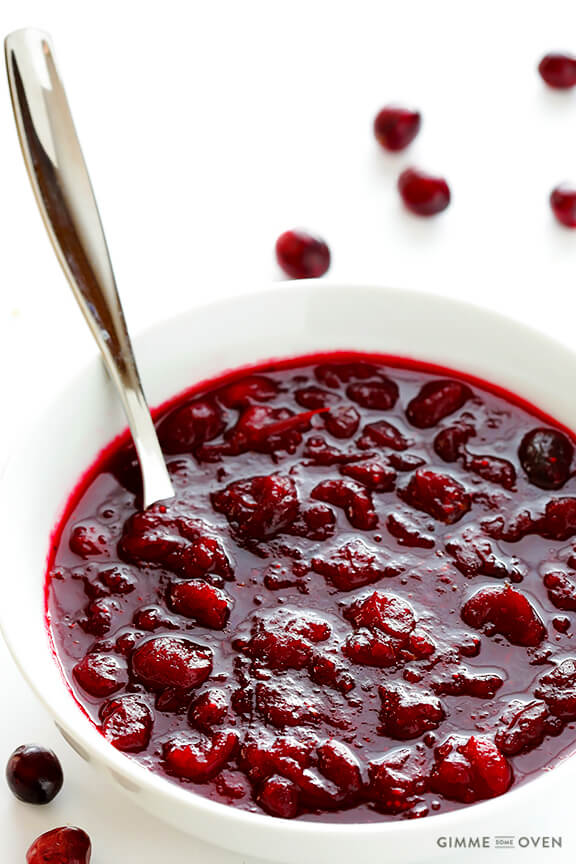 However you make them, I'm pretty sure that cranberry sauce absolutely can't get any easier than this slow cooker method.  So give it a try, and enjoy those berries!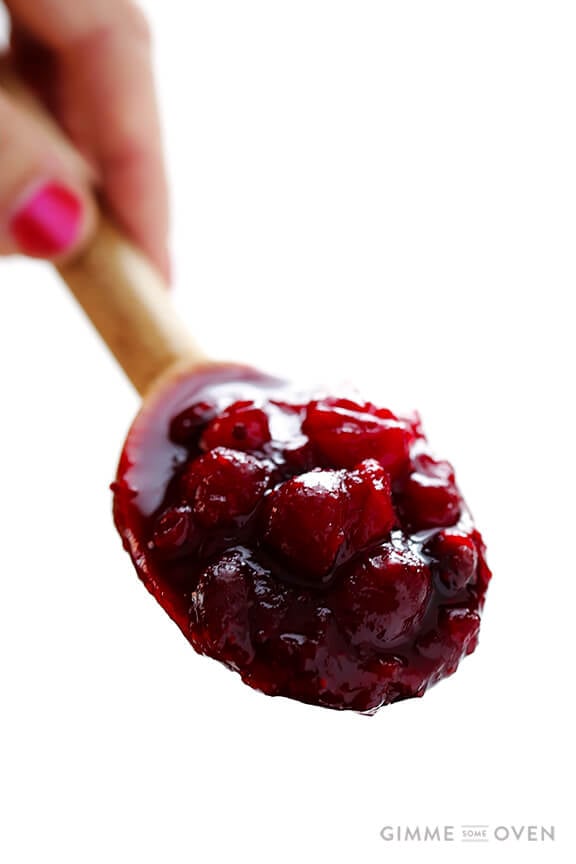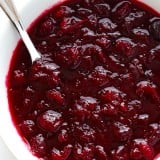 Slow Cooker Cranberry Sauce
This slow cooker cranberry sauce could not be easier! Plus it's super tasty and easy to customize with your desired kind and amount of sweetener.
Ingredients:
12 ounces fresh cranberries
1/2 cup orange juice
1/2 cup water
1/3 cup maple syrup, granulated or brown sugar, or your preferred sweetener (adding more/less to taste)
optional add-ins: a splash or bourbon or red wine, orange zest, a pinch of ground ginger, a pinch of cinnamon and cloves, some chopped walnuts, or a splash of vanilla extract, store-bought or homemade
Directions:
Add all ingredients to the bowl of a slow cooker and stir to combine.
Cook on high for 3-4 hours or on low for 7-8 hours, or until the cranberries have popped open and the sauce is bubbly.
Taste and stir in any extra sweetener or add-ins if desired.  Serve warm.  (Heads up that the sauce will thicken considerably as it cools.)
All images and text ©
If you make this recipe, be sure to snap a photo and hashtag it #gimmesomeoven. I'd love to see what you cook!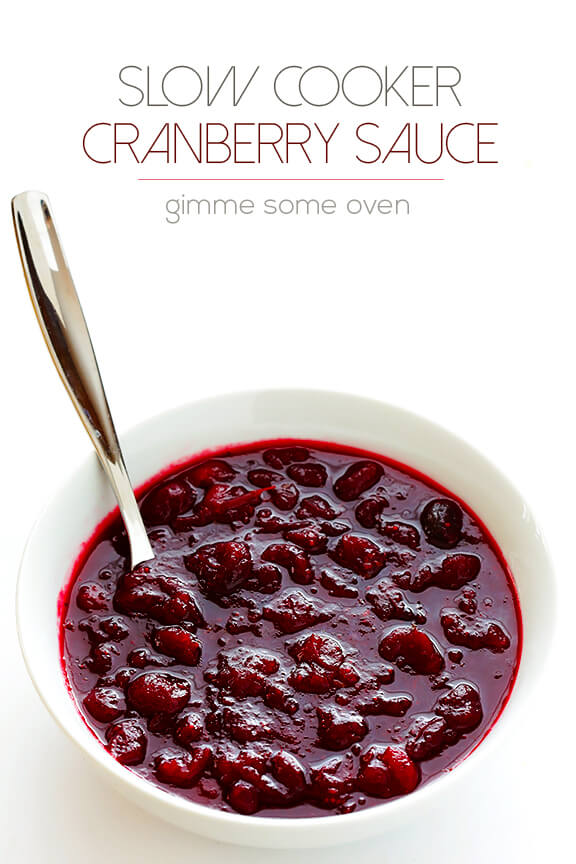 By the way, this cranberry sauce would also be great with these two recipes!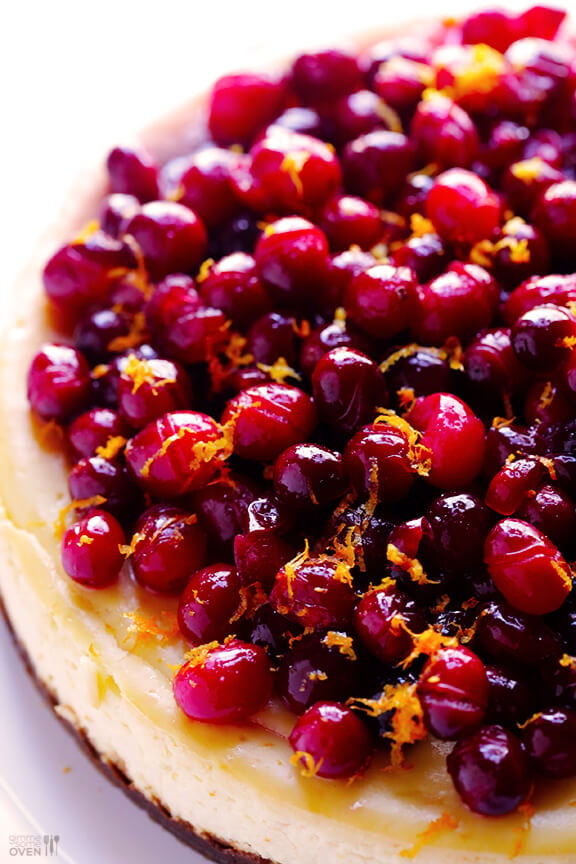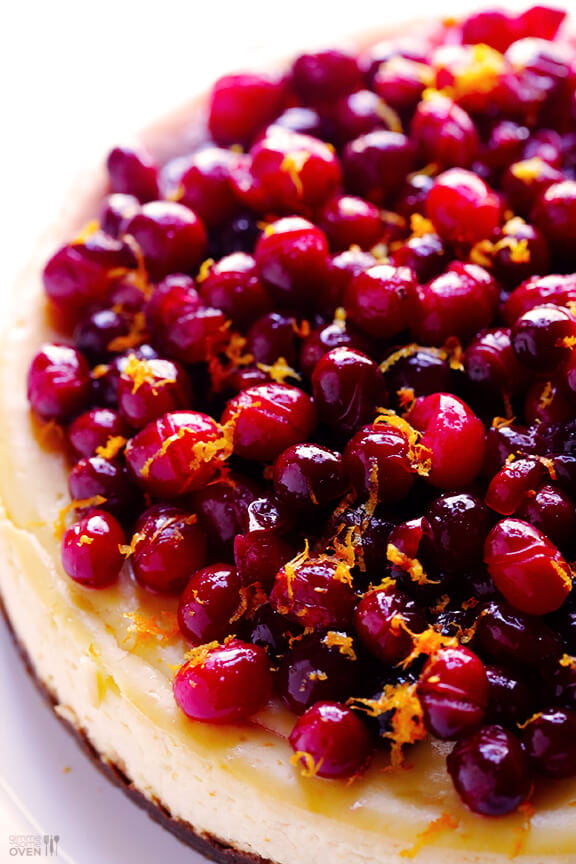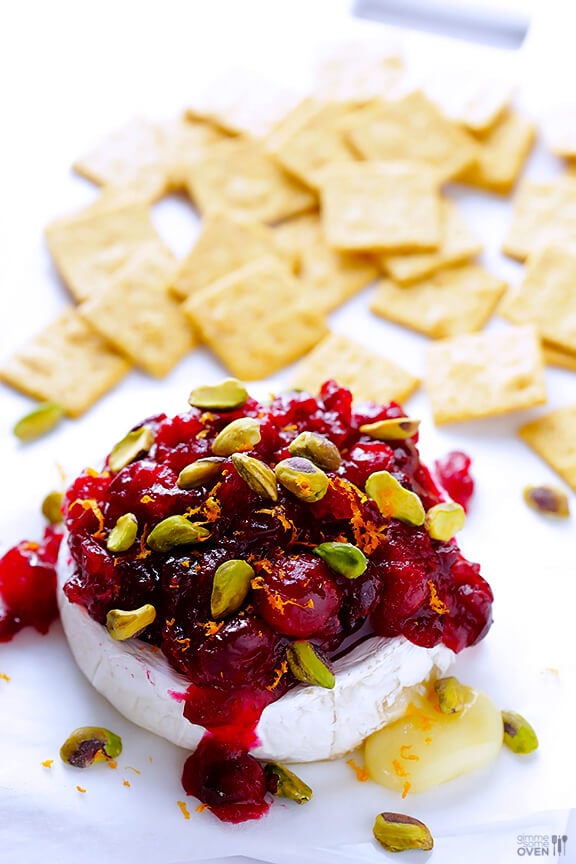 Cranberry Pistachio Baked Brie
This post contains affiliate links.