Tilapia With Cilantro-Lemon Butter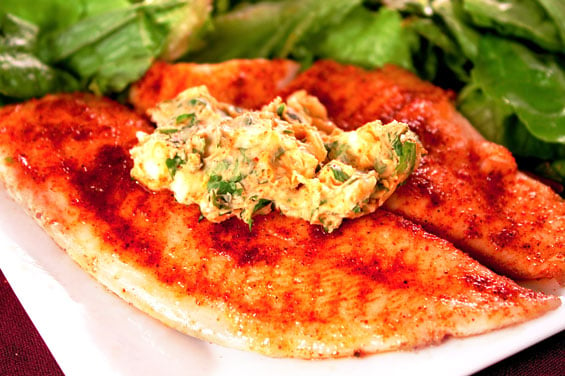 "Looks like we made it….  Look how far we've come now baby…!"
Ok, I'm actually not a big country music fan, but wahoo!!!  Made it through seven days in a row of yummy, affordable recipes on the blog for Cheap Eats Week!  And have had a delightful, and delicious time in the process.  :)  It's always so fun to see how — with a little creativity, and a little prior planning — healthy and satisfying meals really can be made on a dime.
To finish off the week, I leave you with one of my favorite fish recipes that always gets rave reviews.  I used a few (tiny, as you can see!) tilapia filets that I had in the freezer, but you can definitely substitute in whatever light, white fish you'd prefer.  The highlight of this recipe is without a doubt the cilantro-lemon butter.  It's super-easy to prepare, but tastes absolutely wonderful.  And for whatever reason, people always absolutely l-o-v-e the presentation of fish served with this colorful butter melting on top.
The other fun bonus is that the butter and seasoning blend can easily be prepared in advance.  So if you're entertaining, or just looking for a speedy dinner to prepare, you can literally prepare this recipe in under 10 minutes.  A definite classic in my home — enjoy!!  :)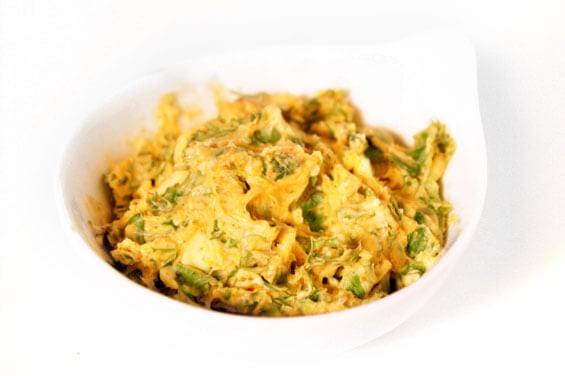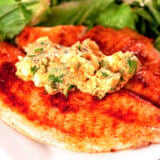 Tilapia with Cilantro-Lemon Butter
You will love this Tilapia With Cilantro-Lemon Butter Recipe! So healthy and flavorful!
Ingredients:
Fish Ingredients:
1/2 tsp. salt
1/2 tsp. ground cumin
1/2 tsp. paprika
1/4 tsp. ground red pepper
4 (6-ounce) tilapia fillets
1 Tbsp. olive oil
Cilantro-Lemon Butter Ingredients:
3 tablespoons butter, softened
3 tablespoons finely chopped fresh cilantro
1 teaspoon grated lemon rind
1/2 teaspoon paprika
1/4 teaspoon salt
1 lemon, quartered
Directions:
To make the butter, simply combine the first five "cilantro-lime butter" ingredients together in a bowl and use a spoon to stir/mash until blended. Store in refrigerator if not used immediately.
To prepare fish, combine first four "fish ingredients"; sprinkle over both sides of fish and then lightly coat fish with cooking spray. Heat olive oil in a large nonstick skillet over medium-high heat. Add fish and cook 3 minutes on each side or until fish flakes easily when tested with a fork. Place fish on a serving platter and top with a dollop of cilantro-lemon butter. Serve with a lemon wedge, to be squeezed on top of the fish.
Ali's Tip:
Be sure that your cilantro-lime butter is not too cold when you serve this recipe.  Otherwise, it may not melt quickly enough.  So especially if you have prepared the butter in advance, let it come to room temperature before placing on top of the fish!
If you make this recipe, be sure to snap a photo and hashtag it #gimmesomeoven. I'd love to see what you cook!