Berry & Ricotta Danishes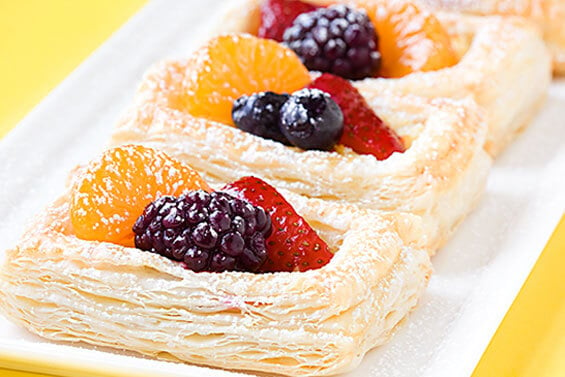 For one morning — one splendid morning — I felt like a pastry chef.  :-)
But I admit, thanks to the brilliance of puff pastry, this recipe was actually ridiculously simple.  The most time-consuming part was just cutting out the little frames of the pastry dough.  But other than that, easy peasy.  :)  Just whip up the ricotta mixture, an optional glaze if you'd like, warm up the berries…and voila.  A dozen absolutely charming, delicious, and I daresay professional looking little fruit danishes are yours to be had!
Feel absolutely free, as well, to use your favorite fruits with these!  I happened to have frozen berries and some mandarin oranges on hand (sigh…winter), but can't wait to try these this summer with some fresh berries, plums, peaches…you name it!  :)  You could also toss on some toasted pecans, almonds, or walnuts on these as well.
Definitely a recipe too fun not to try at home!  Enjoy!!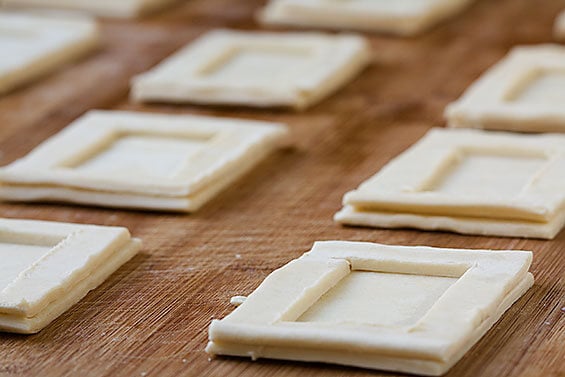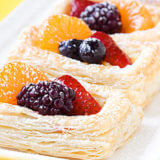 Berry & Ricotta Danishes
This quick and simple Berry & Ricotta Danishes recipe will have you enjoying these cute little berry-licious little treats in no time! Enjoy!
Ingredients:
Pastry/Topping Ingredients:
1 package (2 sheets) puff pastry, thawed
1 egg white, whisked
fresh fruit (I used berries and mandarin oranges), warmed
extra powdered sugar (for dusting)
Ricotta Mixture Ingredients:
1 cup of ricotta cheese
1/4 cup powdered sugar
1 egg yolk
1 tsp. vanilla extract
1/2 tsp. lemon zest
2 Tbsp. all-purpose flour
Glaze Ingredients (Optional):
1/2 cup powdered sugar
1/3 cup lemon juice (or water if need be)
Directions:
Preheat oven to 350 degrees.
Make the ricotta filling by combining all ingredients in a mixing bowl. Mix well with a wooden spoon to thoroughly combine. Set aside.
Thaw the puff pastry according to package instructions. Remove the pastry from the refrigerator and place sheets on a clean, dry surface. Use a small, sharp knife to cut the each pastry along their two long folds (so that each sheet is divided into 3 long rectangles.). Then cut each rectangle into four smaller rectangles (so that they each measure about 2″ x 3″). Half of these will become the rectangle "bases", and half the rectangle "frames".
To make the "frames", take half of the rectangles and cut out their centers so that approximately 1/2″ of pastry makes a frame around the edges. (See photo.) Then lightly brush the "bases" with water around the edges, and lay the "frames" on top of them, pressing gently together.
Transfer the "frame"/"base" combos to two large cookie sheets lined with parchment paper (or well-greased cookie sheets), so that you have 12 per sheet. (Be sure that they're about 2″ apart. Depending on the size of your cookie sheets, you may need to spread them out over 3 sheets…)
Fill the inside of each frame with about 1 tablespoon of the ricotta mixture. Then brush the edges of the frame with egg white. Transfer sheet to the oven, and cook for about 15-18 minutes, or until the puff pastry is fully "puffed" and begins to turn slightly golden. Remove from oven, and add berries to the center of the ricotta mixture.
Drizzle with the glaze (optional). But definitely give these a lovely dusting of powdered sugar to finish them off. :)
If you make this recipe, be sure to snap a photo and hashtag it #gimmesomeoven. I'd love to see what you cook!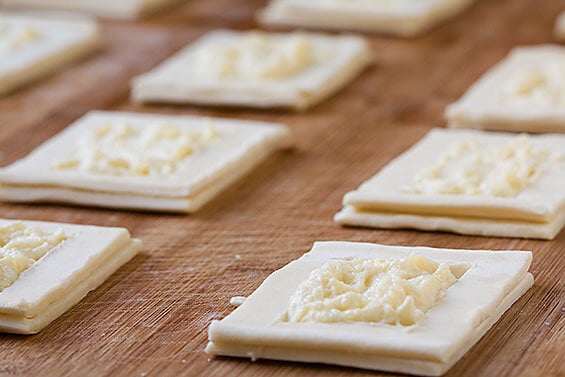 Ali's Tip:
Feel free to poach the berries beforehand to warm them.  Or just pop them in the microwave for a bit.  OR, just serve them (as I did) at room temperature.  That seemed to work just fine for me!  :)