Blueberry Zucchini Bread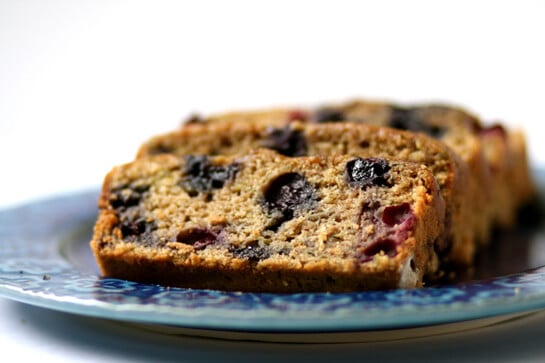 Somehow I've returned home from the farmers' market every week this summer with a truckload of zucchini. And after weeks of stir-frying, grilling, sauteeing, and roasting them up into all sorts of yummy creations, realized I hadn't yet made any zuch bread this summer! So I decided to try adding in some blueberries for something different, and holy cow – this recipe is a winner. Wonderfully moist, fresh, and sweet. Reminds me why I love summer produce!!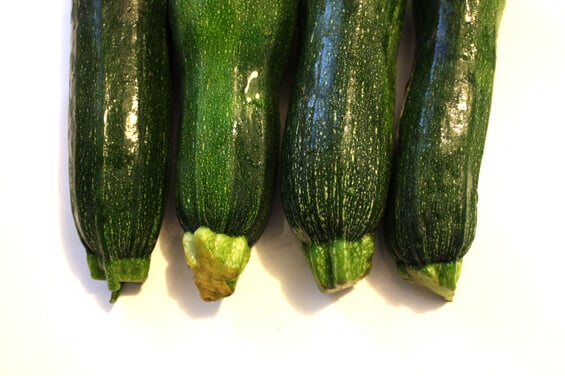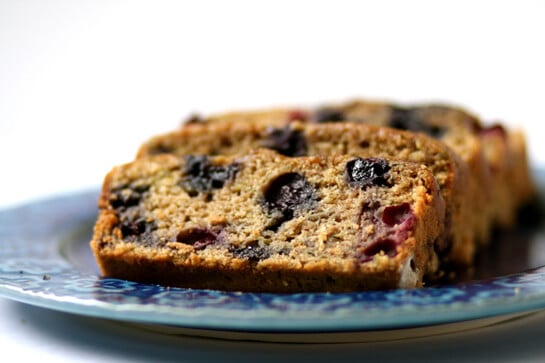 Blueberry Zucchini Bread
So easy, and SO delicious!!! Detailed instructions and photos included.
Ingredients:
3 eggs
1/2 cup oil
1/2 cup applesauce
3 tsp. vanilla
2/3 cup brown sugar
1 cup white sugar
3 cups shredded zucchini
2 cups all purpose (white) flour
1 cup whole wheat flour
1 tsp. salt
1 tsp. baking powder
1/2 tsp. baking soda
1 1/2 tsp. cinnamon
1/4 tsp. nutmeg
2 tbsp. ground flax seed (optional)
1 pint blueberries
Directions:
(For original recipe – two loaves in 9×5″ pans.) Grease two 9×5 inch loaf pans with baking spray and lightly dust with flour, tapping out any excess flour. Preheat the oven to 325 degrees F.
In a large bowl combine the flours, salt, baking powder, baking soda, cinnamon and nutmeg. In another large bowl combine the grated zucchini, eggs, oil, applesauce, vanilla and sugar.  Gently toss the blueberries with 2 teaspoons of the flour mixture. This will help prevent them from sinking to the bottom of the loaf.

Add the flour mixture to the zucchini mixture, stirring until just combined. Fold in the blueberries. Pour the batter into the pan and bake for 1 hour to 1 hour and 20 minutes, or until the loaves are golden brown and a toothpick inserted into the center comes out clean. Allow the loaves to cool in the pan for 20 minutes, then run a butter knife around the edges and turn them out onto a wire cooling rack. Let the bread cool completely before slicing it.
Ali's Tip:
In order to save time grating a ton of zucchini by hand, I used the grater attachment on my food processor.  Worked like a charm!

If you make this recipe, be sure to snap a photo and hashtag it #gimmesomeoven. I'd love to see what you cook!