Chilled Cantaloupe Soup with Lemon and Ginger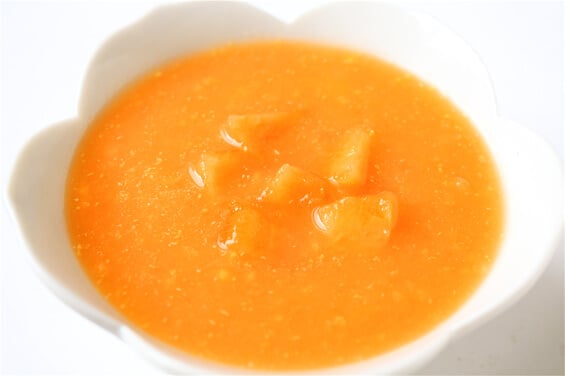 Finally!!  My first soup post on the blog!  It's incredibly ironic that I hadn't yet posted a recipe for this category, because (and any roommate I've ever had will confirm this) I'm a huge fan of soup!!  Hot soups, cold soups, stews, broths – you name it, you can count on the fact that it's often on the menu at my place year-round.  For so many reasons, it's one of my favorite meals to make!
But to honor the fact that is is still August, and cantaloupes were on sale this week for $0.99 each, thought I'd kick off this section with a delicious chilled soup.  While often some cold fruity soups just taste like a smoothie in a bowl, I love that this one has the added kick of ginger and lemon.  The flavor is still quite mild, though, which makes this a perfect appetizer or side to go along with something perhaps a little more savory.  Or, if you're just ready for a fruity lunch or dinner, enjoy this as the main course!
You could also sub in honeydew for this one if you'd like.  (And have a lovely green-tinted soup!)  Enjoy!!
Chilled Cantaloupe Soup with Lemon and Ginger
Ingredients:
2 Tbsp. agave nectar or honey
1 1/2 Tbsp. finely grated fresh ginger root (original recipe called for 1 T, but I like a little extra)
1 heaping Tbsp. finely grated lemon zest
6-7 cups coarsely chopped, fully ripe cantaloupe (about 1 large, or 1.5 medium cantaloupes)
1 1/2-2 cups milk (whatever kind you have on hand)
8 sprigs fresh mint or other herbs (for garnish)
1 cup finely diced cantaloupe (for garnish)
Directions:
Place butter, honey, and lemon peel in a small bowl. Microwave until butter is fully melted, about 45 seconds. Stir to blend mixture. Use a rubber spatula to scrape mixture into a food processor or blender.
Add melon chunks and grated ginger and puree until as smooth as possible. (My food processor only fit about half of the melon, so I pureed it in two batches.) Transfer to a bowl and stir in milk until well-blended. Cover, and chill thoroughly (4 or more hours).
Garnish each serving with a mint (or other herb) sprig, and a few pieces of diced cantaloupe if you'd like.

The best way to test to see if cantaloupe is ripe is to give it a good sniff!!  Ripe cantaloupe are very fragrant, so go for the sweetest, strongest smelling one that you can find!  :)
Leave a Comment:
Comments
Trackbacks/Pingbacks