Gingerbread Pancakes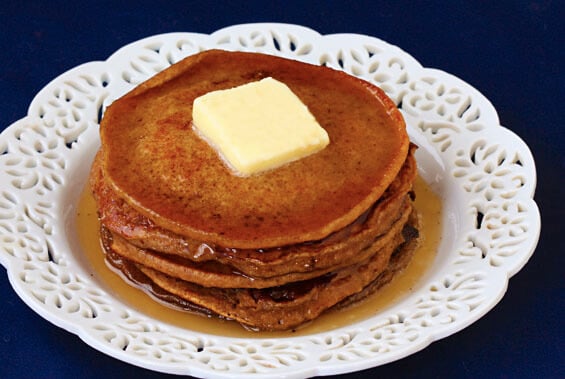 My goal is to make this December a considerably healthier month than in years' past.  And so far — thanks to a little self-control, and less time in the kitchen than usual (December is kind of a busy season working in a church!) — that mission has been mostly accomplished.  :)  But I can't let December go by without a little gingerbread in my life.  So in addition to making a batch of cookies this week, I also decided to try this recipe I stumbled across for gingerbread pancakes.
It's not that often that I eat (or much less, make) pancakes, but when I do, I like them to be flavorful.  Otherwise, I tend to add on a little too much butter and syrup to compensate!  So when I saw that this recipe called for all of my favorite gingerbread spices, and included some healthier ingredients such as whole wheat flour, low fat milk, and only a small amount of brown sugar — I was stoked!
As a proud gingerbread fan, I'm happy to say they were a total success!  Easy to prepare, nice and fluffy (although a little thinner than most pancakes), and full of that delicious gingerbread flavor.  I did top them with a little syrup and butter (not quite as much as in the picture!!), but as hoped, found they were flavorful enough to hold their own well.
So if you're also a fan of gingerbread, or are just looking for a new and healthier breakfast idea for the season, I definitely recommend these!
Gingerbread Pancakes
A simple, healthy and super-delicious holiday breakfast! You will love this Gingerbread Pancakes recipe!
Ingredients:
1 1/4 cups whole-wheat flour (white or regular)
1/3 cup all-purpose flour
1/4 cup dark brown sugar, packed
1 1/2 tsp. baking powder
3/4 tsp. salt
1 tsp. ground cinnamon
1 tsp. ground ginger
1/2 tsp. ground cloves
1/4 teaspoon freshly grated nutmeg
1 tsp. orange zest (optional)
1 large egg
2 cups milk (I used 2%)
2 tsp. vanilla extract
5 1/2 Tbsp. unsalted butter, divided
maple syrup, for serving (optional)
Directions:
In a large bowl, whisk together the whole-wheat flour, all-purpose flour, brown sugar, baking powder, salt, cinnamon, ginger, cloves, nutmeg and orange zest.

In a medium microwave-safe bowl melt 3 tablespoons of the butter. Let cool a bit then whisk in the milk, egg and vanilla extract. Add the wet ingredients to the dry ingredients and whisk just until combined (some lumps are fine). Cover the bowl with plastic wrap and refrigerate for at least 3 hours, or overnight.

***If you want to make all of the pancakes before serving, preheat oven to 200 F. Place a baking sheet lined with foil on the middle rack.***

Using the remaining butter, heat about 1 teaspoon butter in a large nonstick skillet over medium heat. Add 1/4 cup of batter to the pan for each pancake (you can probably make 2 at a time if your pan is large enough). Cook until bubbles appear on the surface of the pancakes and they begin to brown just a bit around the edges, about 2 minutes, then flip and cook on the other side for about 2 minutes more. Move the pancakes to the warm oven (if you need to stack the pancakes on the baking sheet, do so between layers of parchment paper). Wipe the pan with a paper towel, melt another teaspoon of butter and repeat the cooking process.

Makes about fourteen 4-inch pancakes
Ali's Tip:
To cut down on butter, you can also just use cooking spray to cover the skillet before cooking the pancakes. :)
Leave a Comment:
Comments
Trackbacks/Pingbacks