How To Make Pour Over Coffee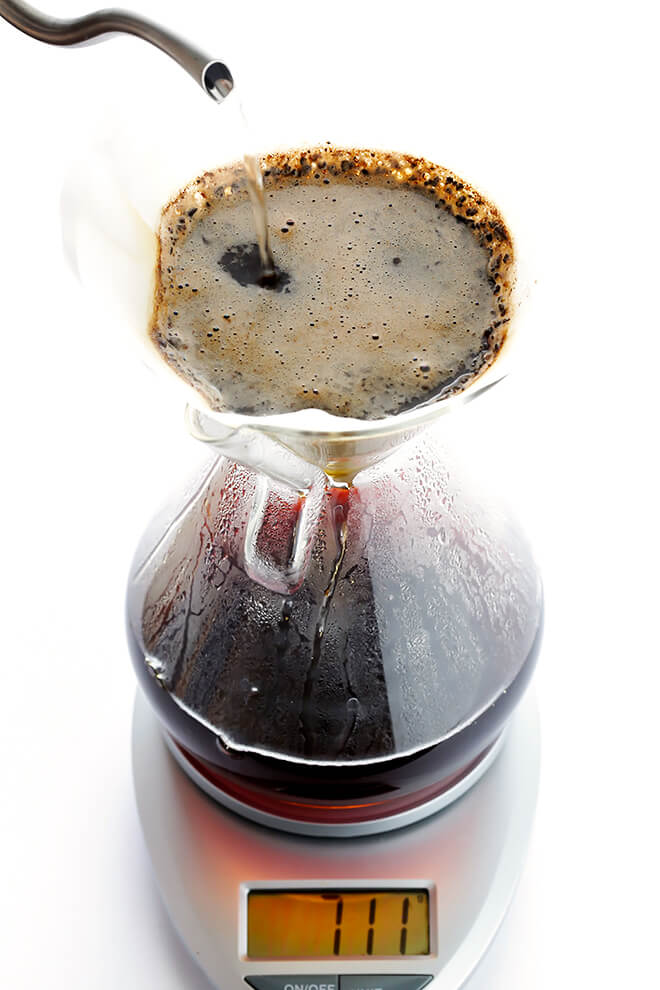 I have been wanting to do this post forever, and it's finally here!  That's right folks.  Today we are talking all things pour-over coffee!
About a year ago, I was introduced to pour-over at Intelligentsia when my friend Amy and I took a road trip to Chicago, and I fell in love.    Then I couldn't believe my luck when the same month that I moved to the River Market in Kansas City, a pour-over coffee shop opened up in the neighborhood and quickly became my home away from home.
That said, I'm admittedly fairly new to the world of pour-over coffee, after years of being a French press girl.  But pour-over is simple to learn, and I've had fun recently studying up on the basics so that I can make my own at home.  So hear me out — I am not an expert!  And even if I was, I'm pretty positive that everyone will always have their own favorite twists and opinions on making the "perfect" cup of pour-over coffee.  But with some advice from my friends at Quay Coffee, and with the help of a Home Brewing Starter Kit that I was given from Prima Coffee, I'm excited to share with you some pour-over basics that works for me.
If you're a pour-over fan, please be sure to also share your tips in the comments below.  Happy brewing!

What is Pour-Over Coffee?
Pour-over is a method of drip coffee in which water is poured in a very steady and slow stream over a filter cone.  There are many benefits to the method, but the main thing I hear (and believe!) is that pour-over helps extract the best flavor out of the beans.  And I think it tends to minimize bitterness as well.
Pour-Over Coffee Equipment
There is all sorts of fancy equipment that you can buy to make pour-over coffee.  But the basic three essentials you need are a: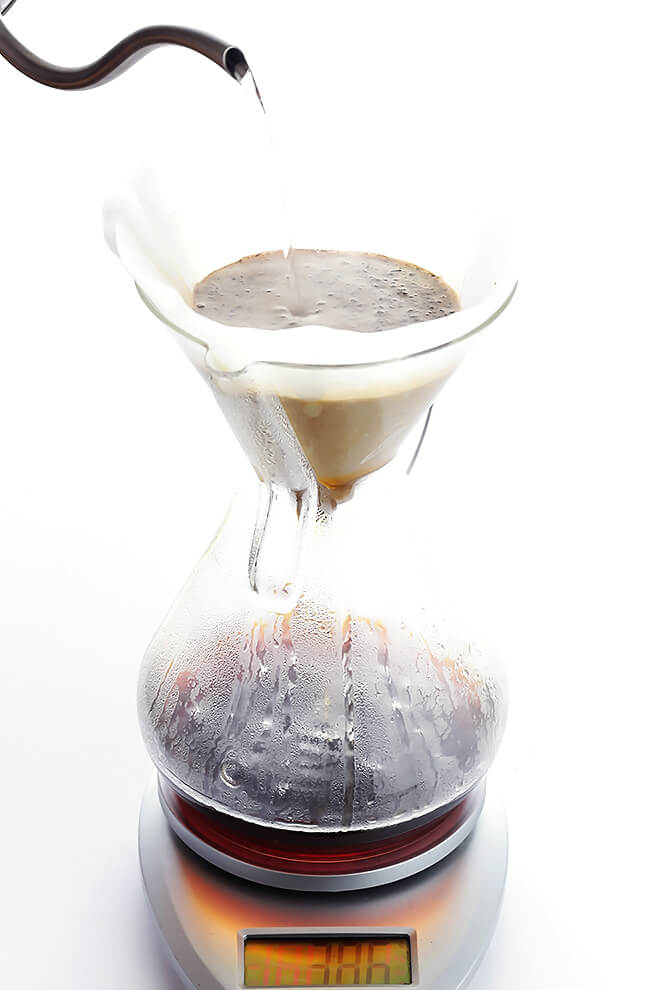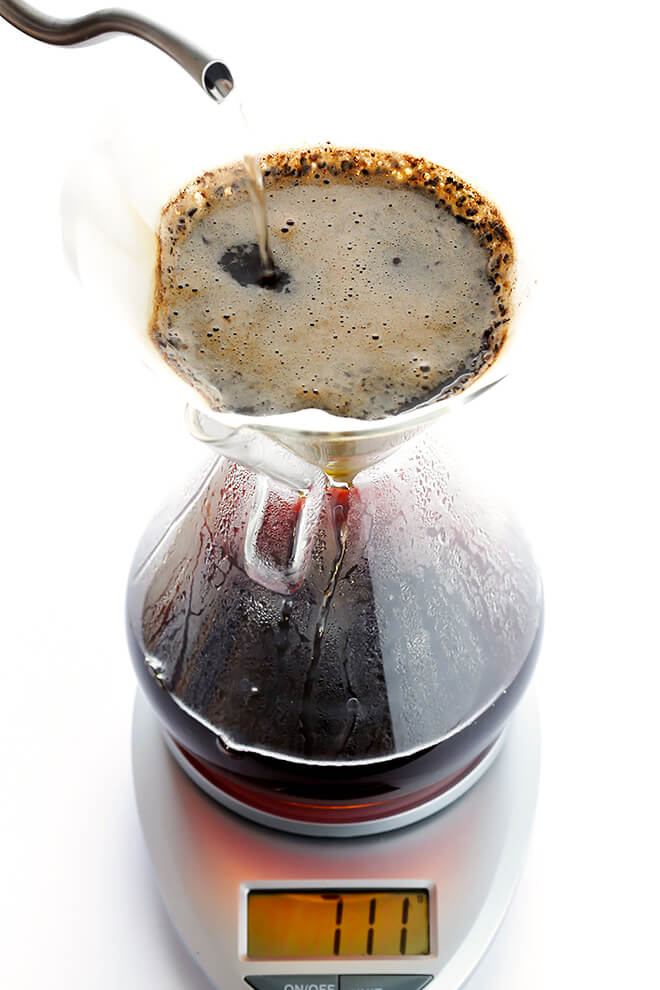 How To Make Pour-Over Coffee
Learn how to make delicious pour-over coffee with this easy recipe.
Ingredients:
3.5 cups water
48 grams whole coffee coffee beans
Directions:
In an electric kettle, teapot or water heater, bring about 3.5 cups water to a *boil (see note below).  Meanwhile, use a digital kitchen scale to weigh 48 grams of coffee beans.
Grind the beans using a hand or electric grinder to medium coarseness.
Place a filter in the top of the Chemex, and with the double-folded side of the filter facing the spout.  Use a slow-pouring kettle to pour the water all over the filter until it is completely soaked.  This "rinse" will help remove the paper-y taste from the filter and preheat it.  Once the filter is completely rinsed, carefully pour out the water in  the Chemex, leaving the filter in its place.
Pour the coffee grinds into the bottom of the filter, and give the Chemex a small shake to even out the grounds.  Then place the Chemex on a digital scale and tare it out so that it begins at 0 grams.
Using a zig-zag motion, pour water over the grounds until they are completely wet (and the scale measures approximately 80 grams).  Wait 30-45 seconds for the grounds to puff up and "bloom", which allows the gasses to release from the coffee grounds.
Then starting from the center and moving outward in slow concentric circles, continue pouring water in a steady stream to rewet the grounds, careful not to pour directly along the edges of the filter.  Pour until the scale measures 300 grams, then wait for the water to mostly drain.
Pour another round of water over the grounds in concentric circles until the scale measures 600 grams, then wait for the water to mostly drain.
Then pour a final round of water over the grounds in concentric circles until the scale measures 750 grams.
Once most (not all) of the water has drained from the final round, carefully remove the filter.  (Be careful, it's hot!)  Don't wait until all of the water has drained out, or else some of the final drops can be really bitter.
Pour and serve!
*For best results, use water that is 195-205°F.  But if you do not have a thermometer, bring water to a boil.  Then remove from heat and let it rest for 30 seconds, and then use immediately.
**For iced coffee lovers, be sure to read this article about iced coffee and cold brewing from Prima Coffee.
If you make this recipe, be sure to snap a photo and hashtag it #gimmesomeoven. I'd love to see what you cook!
Big thanks to Prima Coffee for providing me a Home Brewing Starter Kit to review and use, and for their amazing site with all sorts of great coffee resources.  Thanks also to Liz and Tanner from Quay Coffee for their help and advice in trying pour-over at home.  (And for the hundreds of cups of pour-over coffee I have enjoyed at Quay!)
Leave a Comment:
Comments
Trackbacks/Pingbacks