Pasta With Goat Cheese, Chicken, Asparagus and Mushrooms
Food photography can be bewildering at times.
When I looked through the viewfinder, the main thing I saw was this luscious, creamy goat cheese sauce covering every bite of this dish.  But strangely after uploading my photos — of course after having devoured this for lunch with a friend — the sauce is just barely visible.  What the what?!
Still.  Take my word for it.  You goat-cheese-lovers will go nuts over this one.
I definitely did!  This was my first time making a goat cheese sauce, and it made me regret the years of just dotting my pastas with little crumbles here and there.  This sauce is ridiculous!!!  So full of great, well-balanced flavor with just a few ingredients.  And, it only took about three minutes to whip up, making this pasta a 20-minute meal.  Yet one more reason why I will be making it again.  Stat.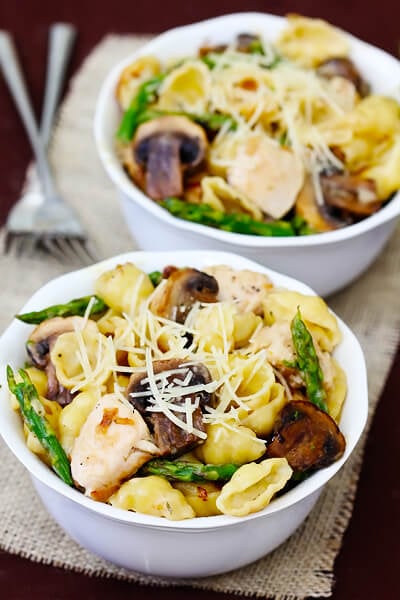 Pasta with Goat Cheese, Chicken, Asparagus & Mushrooms
You'll love this savory Pasta With Goat Cheese, Chicken, Asparagus & Mushrooms recipe. It's flavorful, comforting, and can be prepared in less than half an hour!
Ingredients:
1 lb. pasta of choice
3 Tbsp. olive oil
2-3 boneless, skinless chicken breasts, cut into bite-sized pieces
salt and freshly-ground black pepper
1 shallot, peeled and thinly sliced
3 cloves garlic, minced
1 bunch (about 1 lb.) asparagus, ends trimmed then cut into 2" pieces
16 oz (2 cartons) fresh button or baby bella mushrooms, halved
2 Tbsp. butter
2 Tbsp. flour
8 oz. goat cheese
2/3 cup grated Parmesan cheese
Directions:
Prepare pasta al dente according to package instructions. (I would add the pasta to the boiling water around the time you begin cooking the asparagus and mushrooms.)

Season the chicken with salt and freshly-ground black pepper. Heat 2 Tbsp. olive oil over medium-high heat. When oil is shimmering, add the chicken and cook 5-7 minutes (flipping halfway through) until the outside is lightly golden and the center is no longer pink. Remove chicken and set aside. Add the remaining 1 Tbsp. olive oil, and once it has heated, add the shallot. Saute for 2 minutes, then add the asparagus and mushrooms. Continue cooking for another 4-6 minutes, stirring occasionally. Add in the garlic and cook for an additional 1 minute until fragrant. Remove skillet from heat.

While the vegetables are cooking, heat the butter in a small saucepan over medium heat. Add flour, and whisk quickly to combine, then let cook for 1 minute. Add 1 cup of the pasta water, goat cheese, Parmesan cheese, and a generous pinch of salt and freshly-ground black pepper, and whisk to combine. Cook for 1 minute, then reduce heat to low until the pasta is ready. If the sauce is too thick, gradually add additional tablespoons of pasta water until you reach the desired consistency.

Drain the pasta once it has cooked, then immediately toss with the goat cheese sauce, chicken and vegetables. Serve garnished with additional Parmesan cheese.

Ali's Tip:

I imagine this sauce would also be fantastic when made with feta cheese!

If you make this recipe, be sure to snap a photo and hashtag it #gimmesomeoven. I'd love to see what you cook!
Leave a Comment:
Comments
Trackbacks/Pingbacks