Potato Soup with Bacon and Truffle Oil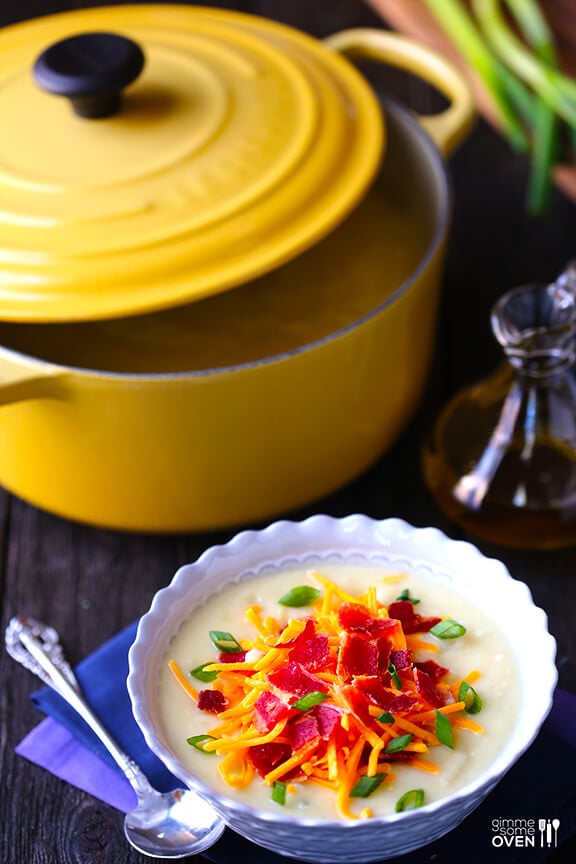 People.  I have to tell you something.
I think this may be the best potato soup recipe I've ever made.
Ok, I'm pretty sure it is the best potato soup recipe I've ever made.
And it's all because truffle oil is freaking brilliant.
For those of you new to the truffle oil craze, you can find all sorts of fancy and expensive brands.  But I bought a fantastic $6 bottle at TJ Maxx, and it has been making my friends and me swoon with each new truffle recipe I have tried ever since.  So far, I have most loved using it to make truffle fries.  But when I was craving some recently, the idea occurred to me — why not use them to make one of my other potato favs — potato soup!!  So behold, this Potato Soup with Bacon and Truffle Oil was born.  And it What can I say?  You really should just make it, well, today.  :)
The fun thing about this soup is that the photo above is actually my entry in the Le Creuset & Williams Sonoma Quince Photo Contest.  18 incredible bloggers (you should seriously check out all of their great sites!) were invited to submit a photo featuring Le Creuset's new Quince Cookware, and I instantly fell in love with that beautiful buttery yellow color.  It is even prettier in person, and I love the bright and cheery pop of color it brings to my kitchen!  They have all sorts of different Quince cookware options you can purchase, so be sure to check it out online.
And then if you have a minute, I would be so honored if you would take a few seconds to pop over and vote for my photo on Pinterest!  All you have to do is "like" my photo, and that counts as a vote.  The contest runs from February 20 – March 4, so be sure to tell your friends to check out all of the board with all of the wonderful recipes being shared.
There's something in it for you, too!  If I win, I get to give away a beautiful set of Quince cookware (valued at $585) to one lucky reader including:
Yay for Le Creuset!  Many thanks in advance for your votes, and happy truffle oil potato soup making!!
You can vote for my Potato Soup with Bacon & Truffle Oil Soup photo here.  Thank you so much!!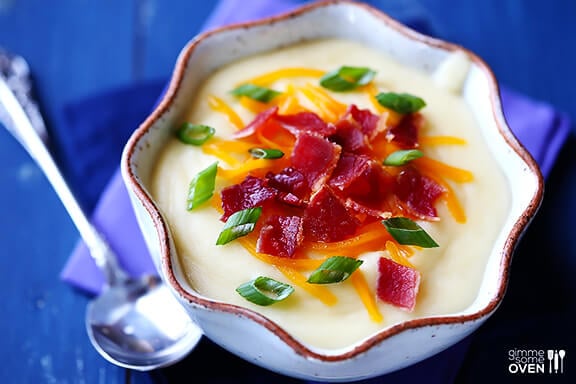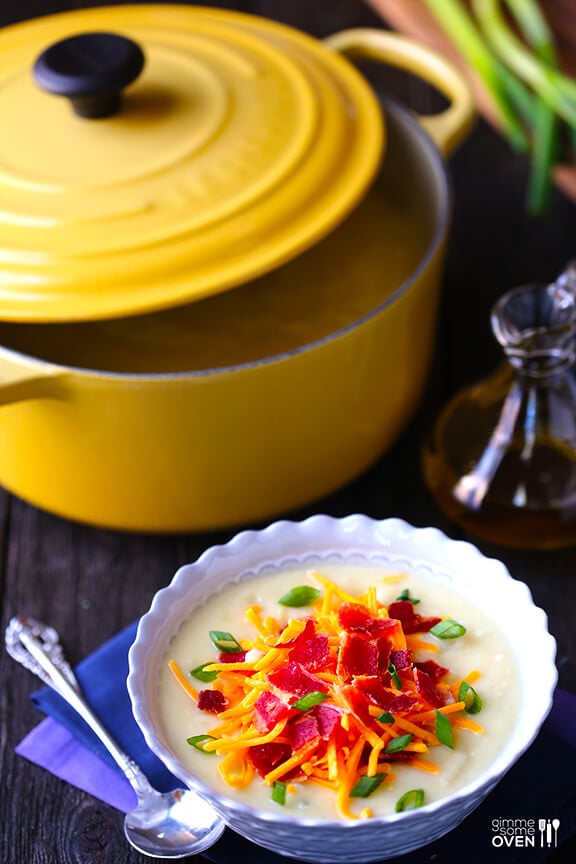 Potato Soup with Bacon & Truffle Oil
Truffle oil and bacon kick this loaded potato soup up a BIG notch!
Ingredients:
10 slices bacon, chopped into 1/2-inch pieces
4 pounds Russet potatoes, washed and roughly cut into 1/2-inch cubes
1 large white onion, diced
5 cloves garlic, minced
5 cups chicken broth
1 cup heavy cream or half and half
1 cup grated sharp cheddar cheese
3-4 Tbsp. truffle oil
salt and pepper
optional toppings: additional shredded cheddar, sliced green onions, sour cream
Directions:
Fry bacon in a large stockpot or dutch oven over medium-high heat until crispy. Remove bacon with a slotted spoon, and then measure out the remaining grease and return 2 tablespoons of grease to the pot.
Add the onion and saute for 5 minutes or until cooked and translucent. Add the garlic and cook for an additional 1-2 minutes or until fragrant. Then add the chicken broth.
Bring the soup to a boil, then reduce heat to medium-low, cover and simmer for 20-30 minutes or until the potatoes are tender. Remove the lid, and use a potato masher to mash the soup until your desired level of smoothness. (It's ok if some lumps remain!)
Add in the heavy cream, cheddar, truffle oil, cooked bacon pieces, and stir to combine. Season with salt and pepper. Then serve warm, generously garnished with (optional) toppings.
All images and text ©
If you make this recipe, be sure to snap a photo and hashtag it #gimmesomeoven. I'd love to see what you cook!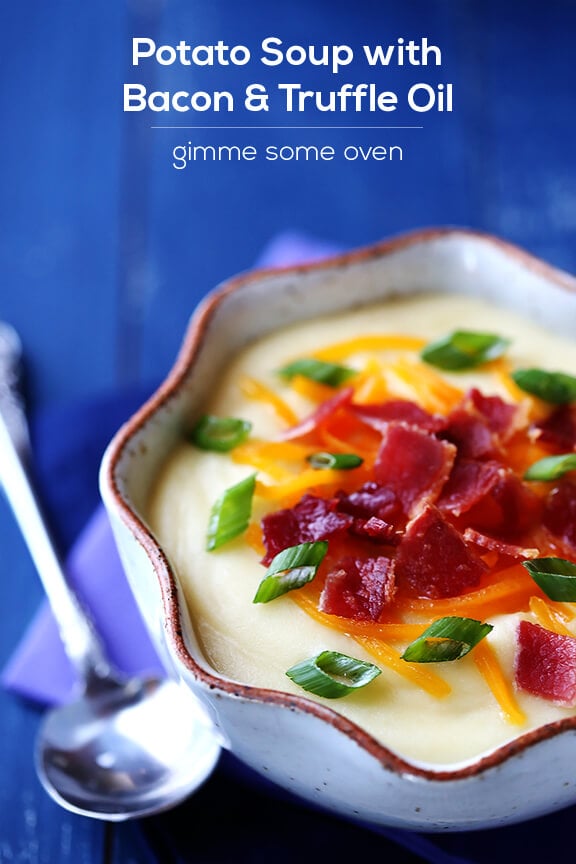 Disclaimer: I was given a Le Creuset dutch oven to participate in this photo contest.  I was not compensated to participate, and all opinions are my own as always.  The post also contains affiliate links.