1-Hour Cinnamon Rolls
This 1-Hour Cinnamon Rolls recipe is quick and easy to make, drizzled with a heavenly cream cheese frosting, and absolutely delicious!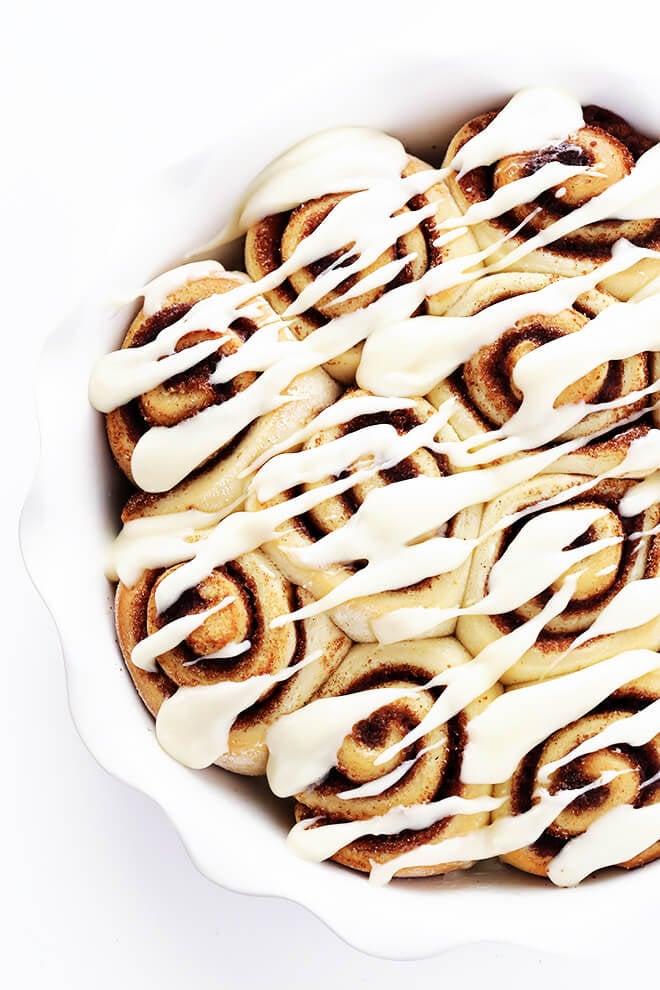 Can we talk today about the magic that is a freshly-baked pan of warm homemade cinnamon rolls?
You know, the kind that are baked juuust right until they are perfectly soft and golden?  With a generous helping of ooey gooey buttery cinnamon sugar swirled inside?  And the most heavenly cream cheese icing drizzled on top?  (Or if you're not into cream cheese, the recipe I've also included for the most heavenly classic icing drizzled on top?)
Mmmm, this is one of those moments when I wish I could invite all of you over to my house to dive into this warm pan sitting before me together, because I'm feeling like you all are totally my cinnamon roll kindred spirits out there.  Mmmm, maybe someday…a girl can dream.  :)  But until then, I'm sending you all lots of good cinnamon-roll-baking-vibes for the holiday week ahead.  And I'm also happy to say that we have a new step-by-step video to share with you today for exactly how to make these!
I know that homemade cinnamon rolls — or working with yeast, in general — can be intimidating.  But I promise that these cinnamon rolls are totally do-able.  (Trust me, if I can do it, you can do it!)  And hopefully this new video and the new photos I snapped of this recipe will take out any of the guesswork.  AND, the best part about this easy recipe is — if you keep up the pace — these amazing rolls can be ready to go an on the table in just 1 hour.  So speedy!
And trust me, SO GOOD.
Alright, let me show you how to make a batch…
1-Hour Cinnamon Rolls Recipe | 1-Minute Video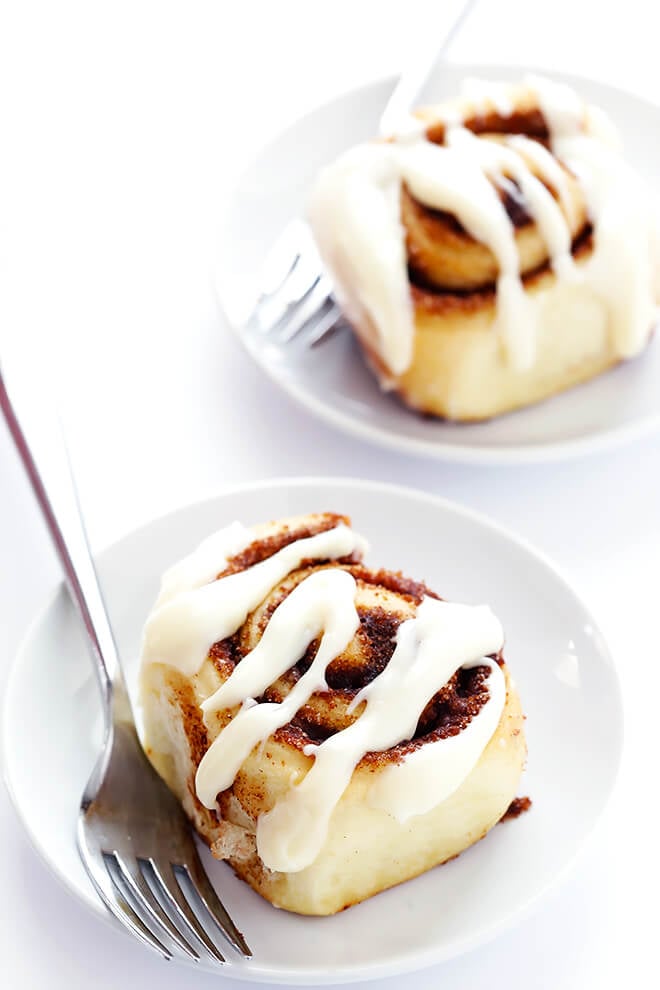 Alright, for those of you photo lovers, here's the step-by-step photo tutorial.
Begin by making your dough.  I love making mine in the stand mixer, which is probably the simplest way to go.  But you're also welcome to knead this by hand if you'd like.  Just follow the recipe instructions below, double-checking to be sure that your melted butter and milk mixture is the right temperature before adding in the yeast.  (You want it to be nice and warm to the touch — about 110°F.)  Then once your dough is ready, form it into a nice ball and let it sit in an oiled bowl and rest for about 10 minutes to rise.
While that's happening, whisk together your cinnamon-sugar mixture, and get your room-temperature softened butter ready to go.
When your dough is ready, roll it out on a floured surface until it forms a roughly 9 x 13-inch rectangle.  (I like to use a knife or pizza cutter to trim mine into an actual rectangle, but you can totally leave those rounded edges on if you'd like.)
Spread the butter evenly on top of the dough…
…and then sprinkle it evenly with the cinnamon-sugar mixture.
Then, beginning with the long (13-inch) side of the rectangle, roll it up tightly until it forms on very long cinnamon roll.
Then comes the fun part — slicing it into rolls!  I've found that using dental floss is actually the easiest way to do this (see the photo above), but you can also just use a knife.  Trim off the uneven ends of the roll, and then slice it into 11 or 12 individual cinnamon rolls.  So cute!
Place them in a greased baking pan.  (I usually squeeze 11 rolls into a pie plate, or 12 rolls into a 9 x 13-inch pan.)  Cover, and let rise for another 25 or so minutes.
Meanwhile, mix up your cream cheese frosting.
Guys, this frosting.  It's just about the most luscious, sweetest thing ever.  <– And let's be real, being made with basically cream cheese, butter, powdered sugar, and vanilla, how could it not be?
(Well, that said, if you're not into cream cheese, I've also included an alternate recipe below for a classic icing, which is also quite lovely. ?)
When the cinnamon rolls have risen, bake them up until they are slightly golden on top and cooked through (yet I still like them to be nice and soft) on the inside.  Then pull them out and place the pan on a cooling rack…
…and drizzle…
…or spread (your choice!)…
…lots and lots of that delicious cream cheese icing on top.
And DIG IN — while they are still warm, please.
Seriously, I've made a bunch of cinnamon roll recipes in my life, and I'm convinced it doesn't get any better than this one.  They're perfectly soft on the inside and golden on top, perfectly cinnamon-y and sweet, and that frosting — oh, that frosting.  They're absolutely my favorites.
Hope you enjoy!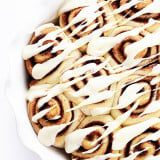 1-Hour Easy Cinnamon Rolls
This delicious and easy cinnamon roll recipe can be ready to go in about an hour!
Ingredients:
DOUGH INGREDIENTS:
1 cup milk (I used 2% milk)
1/4 cup butter
3 1/2 cups all-purpose flour, divided
1/4 cup granulated sugar
1/2 teaspoon salt
1 envelope instant or 'rapid rise' yeast (approx. 2 1/4 tsp)
1 egg
CINNAMON-SUGAR FILLING INGREDIENTS:
1/4 cup granulated sugar
1/4 cup packed brown sugar
2 tablespoons ground cinnamon
1/4 cup butter, completely softened
CREAM CHEESE ICING INGREDIENTS:
4 ounces (1/2 cup) cream cheese, softened
3 tablespoons butter, softened
1 teaspoon vanilla extract, store-bought or homemade
1 1/2 cups powdered sugar
1-2 tablespoons milk (if needed)
OPTIONAL SUBSTITUTION: STANDARD ICING INGREDIENTS:
1/4 cup butter, melted
1 teaspoon vanilla extract, store-bought or homemade
1 1/2 cup powdered sugar
1-2 tablespoons milk
Directions:
TO MAKE THE DOUGH & FILLING:
Combine milk and butter in a microwave-safe bowl. Heat on high for 1 minute, then remove and stir. Continue heating in 20 second intervals, pausing after each to stir, until the butter is melted and the milk is warm to the touch but not hot. If needed, let the milk mixture sit for a few minutes until it is warm but not hot.  (It should be around 110°F.)
In a separate bowl, whisk together 3 cups flour (not all of the flour), sugar and salt until combined.
In the bowl of a stand mixer fitted with the dough-hook attachment, add yeast and lukewarm milk mixture and stir by hand to combine. Add the flour mixture and egg, and beat on medium-low speed until combined. If the dough is sticking to the sides of the bowl, add the remaining flour, 1/4 cup at a time, until the dough begins to form a ball and pulls away from the sides of the bowl (up to 3.5 cups of flour total). Continue beating for 5 minutes on medium-low speed. Remove dough and form it into a ball with your hands.  Then place it in a greased bowl and cover with a damp towel.  Let rest for 10 minutes.
Meanwhile, make your filling by whisking together sugars and cinnamon in a bowl until combined.
When the dough is ready, turn it out onto a floured work surface. Then use a floured rolling pin to roll the dough out into a large rectangle, about 14 x 9 inches in size. (If you want all edges to be even, you can use a pizza slicer to cut the dough into a perfect rectangle.) Use a knife or pastry spatula to spread the softened 1/4 cup of butter out evenly over the entire surface of the dough. Then sprinkle evenly with the cinnamon and sugar mixture.
Beginning at the 14-inch edge, tightly roll up the dough. And then give the final seam a little pinch so that it seals. Use a piece of dental floss* to "cut" off the two ends of the roll (an inch on each end – discard that dough) so that they are even. Then cut the remaining dough into 11 or 12 equal pieces. (11 rolls seem to fit in a pie plate, while 12 rolls fit in a rectangular pan.)
Place each of the cut cinnamon rolls into a greased pie plate or 9 x 13-inch baking dish. Then cover again with a damp towel, and leave the dish in a warm place to rise for 25 minutes.
While the dough is rising, make the icing (instructions below).
When the rolls have risen, uncover the dish. Then place on the center rack of the oven and bake at 350°F for 15-20 minutes, or until the rolls are golden and cooked through. Remove and let cool on a wire rack for at least 5 minutes. Drizzle with your desired icing and serve.
TO MAKE THE CREAM CHEESE ICING:
Either in the bowl of an electric stand mixer, or a mixing bowl, whisk softened cream cheese and butter together until combined. Whisk in the vanilla extract until combined.  Then whisk in the powdered sugar until combined. If the icing is too thick, add a tablespoon or two of milk to thin it out to your desired consistency.  (I usually add in two tablespoons of milk.)
TO MAKE THE STANDARD ICING:
Whisk together butter, vanilla and powdered sugar until combined. If the icing is too thick, add a tablespoon or two of milk to thin. If the icing is too thin, add a tablespoon or two of powdered sugar to thicken.
**If you do not have an electric stand mixer with a dough attachment, you can simply stir the ingredients together, and then knead by hand for 5-7 minutes.
(*To cut dough with dental floss, simply break off a piece of floss about 12 inches long. Then very carefully slide the middle of the floss under the dough to the place where you want to "cut". Then pull the ends of the floss up and cross over the top of the dough. Then give a quick tug to literally cut all the way through the dough. This is the best method for not squishing your dough while cutting it — although the standard knife method still works too.)
All images and text ©
If you make this recipe, be sure to snap a photo and hashtag it #gimmesomeoven. I'd love to see what you cook!