10-Minute Blackened Tilapia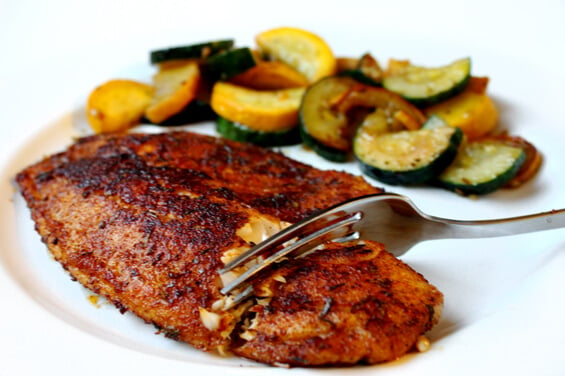 Do you have a quick "go-to" dinner recipe?  A fallback for when you arrive home from work uber-exhausted, and just want to whip up something healthy and delicious in a snap??  Well any roommate of mine who's heard the oil start sizzling in the skillet minutes after I walk in the door will tell you I undoubtedly have a favorite: blackened tilapia.  It's true — I make this all the time, but have yet to ever tire of it!
The beauty of this recipe is that, especially if you can mix together a batch of the blackening powder beforehand to have ready in the cabinet, it truly is super-speedy to cook.  And, it's super-healthy.  And, you get a ton of flavor for minimal calories.  And…it's the fish that Jesus ate!  :)  (Heard our pastor mention a few years back that scholars believe this to be true, since apparently tilapia are plentiful in the Sea of Galilee.  Go figure!)
While it can easily stand on its own, you could also serve this recipe topped with creamy sauce to balance out the spice.  (For some reason I've never been a fan, but know that many are!)  Or, it works fantastically in fish tacos or on sandwiches.
My favorite method to turn this into a 10-minute meal, however, is to cut up and stir-fry whatever veggies I have on hand simultaneously in another skillet.  Then, cut up some fresh fruit to go on the side – and voila!  A very yummy dinner is served.  :)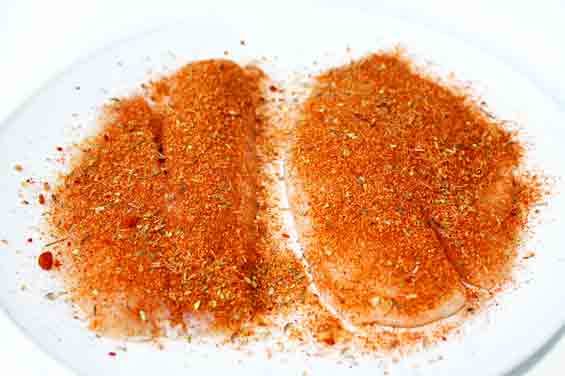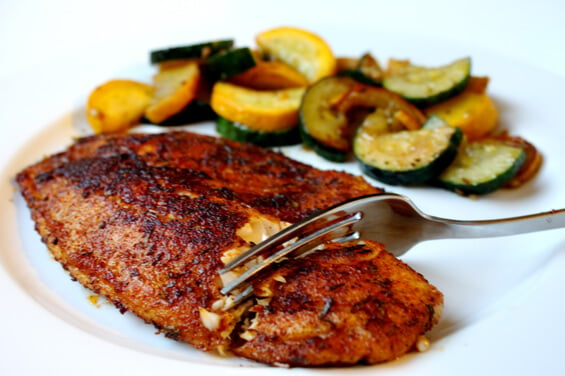 10-Minute Blackened Tilapia
This 10-minute blackened tilapia is one of my go-to weeknight meals!
Ingredients:
Tilapia filets:
Blackening Powder Recipe:
1 Tbsp. smoked paprika
2 tsp. thyme
1 tsp. cumin
1 tsp. oregano
1 tsp. garlic powder
1 tsp. onion powder
1 tsp. salt
1/2 tsp. ground black pepper
1/2 tsp. ground red pepper
Directions:
Mix dry ingredients together in a small bowl to create blackening powder. Then moisten the sides of each tilapia filet (either with water or cooking spray), and coat with blackening powder. (I generally use about 1 Tbsp. powder per filet.)
Heat 1 Tbsp. of oil per filet in a skillet over medium-high heat. Once oil is almost smoking, add filets and cook for about 3 minutes per side, or until fish is opaque and can be flaked with a fork. Remove from pan and serve immediately.
At the risk of undermining my own recipe (clearly not a big concern of mine :-)), I feel that I absolutely must give a recommendation for my favorite blackening powder in the world.  It can be found at none other than our local Planters, located down in the River Market for all you KC locals.  Thankfully for others, it's also available for order online!  Seriously, this stuff is fantastic .  I've given it to countless friends and family members who love to cook, and everyone has said hands-down it's the best they've ever tasted.  Like any blackening powder, it's also great on any other meats or seafood, veggies, pita chips, guacamole…you name it!
All images and text ©
If you make this recipe, be sure to snap a photo and hashtag it #gimmesomeoven. I'd love to see what you cook!