15 Watermelon Recipes
This post may contain affiliate links. Please read my disclosure policy.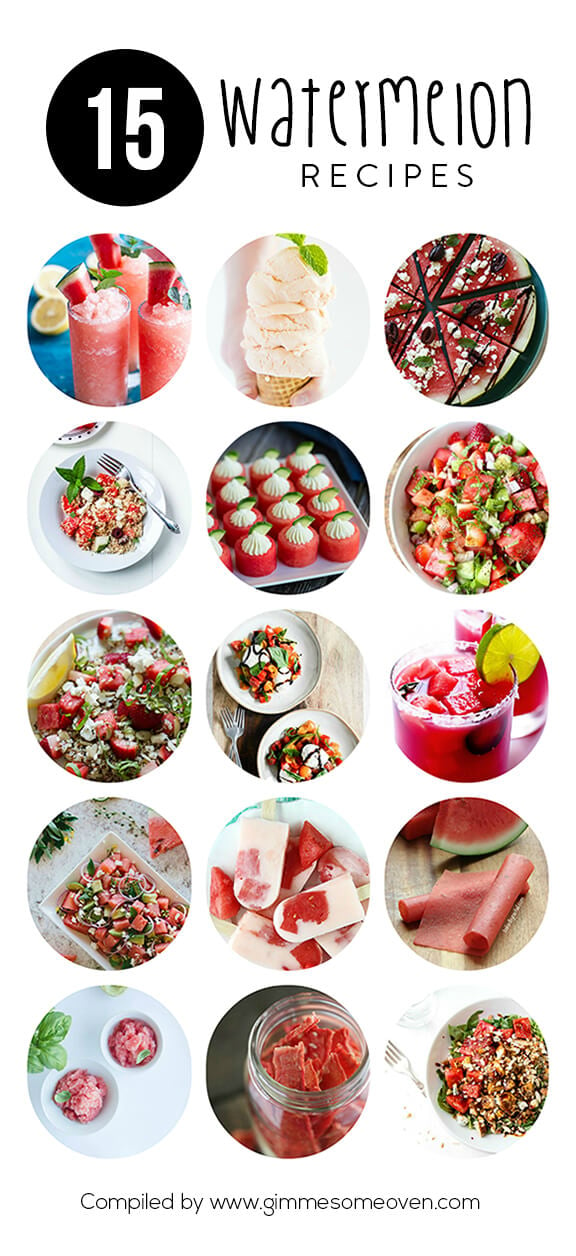 Eating watermelon is pretty much like jumping into a pool on a 95-degree day.
It's invigorating, relieving, ever-so-sweet, and the perfect way to naturally cool you down from the inside-out. I love biting into its soft, yet crunchy flesh, while a flood of sweet nectar dribbles down my chin, no matter how cautious and delicately I attempt to eat it. (*Note: Watermelon is not meant to be eaten delicately.)
In the South where I live (yep, Hayley here today!), many people eat watermelon with a little salt to counter the cloying sweetness. I tend to like it as is. But on particularly heinously hot days, I do love putting some fresh watermelon, lime juice, light coconut milk and ice in a blender, and pureeing until everything's a frothy concoction of thirst-quenching bliss, sometimes with a hint of rum to make me think I'm at the beach. (*Note: Putting rum in most things is generally a good idea.)
Well, regardless of the watermelon customs where you live, we've brought together a fierce roundup of gorgeous, ruby-hued watermelon recipes today that we think everyone will enjoy. From an array of salads, to a spiked granita, and a watermelon jerky, that has us quite curious, we're covering both the sweet and savory ends of the spectrum and think these dishes all look mightly delicious as well.
So grab your napkins, and enjoy!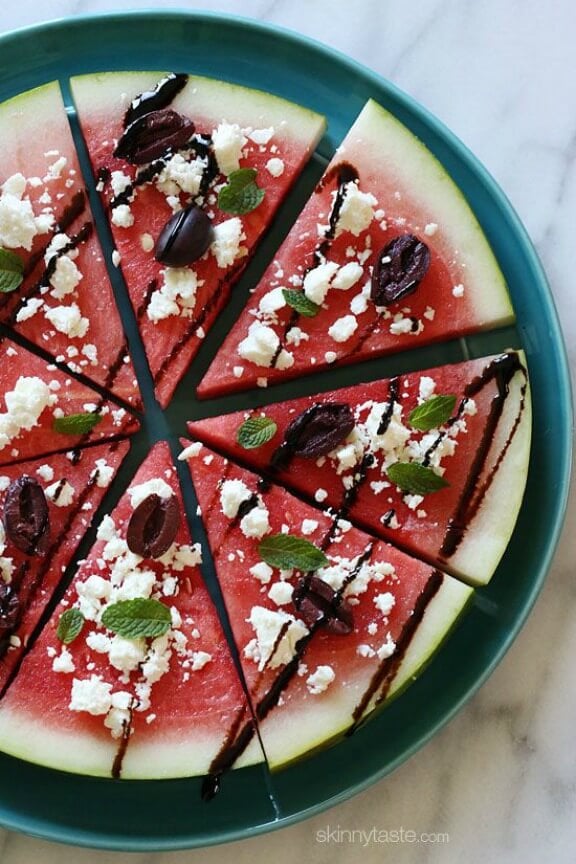 Watermelon Feta and Balsamic "Pizzas" | Skinny Taste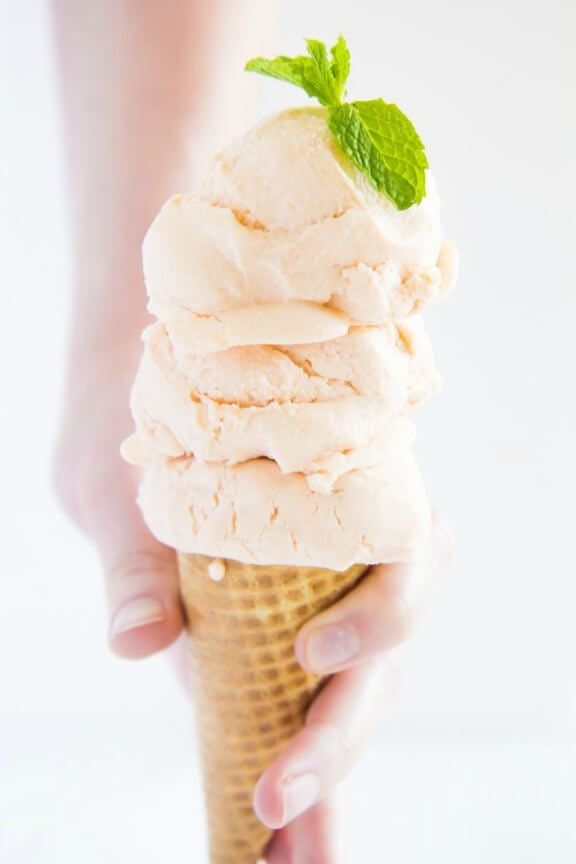 Minty Watermelon Coconut Ice Cream | yeah…immaEATthat
Watermelon and Goat Cheese Appetizer | A Food Centric Life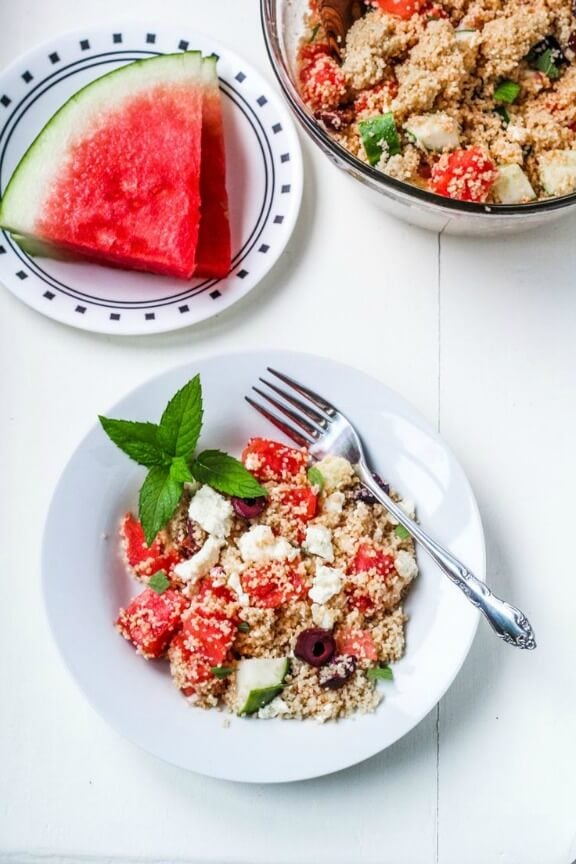 Greek Couscous Salad with Watermelon and Feta | Katie at the Kitchen Door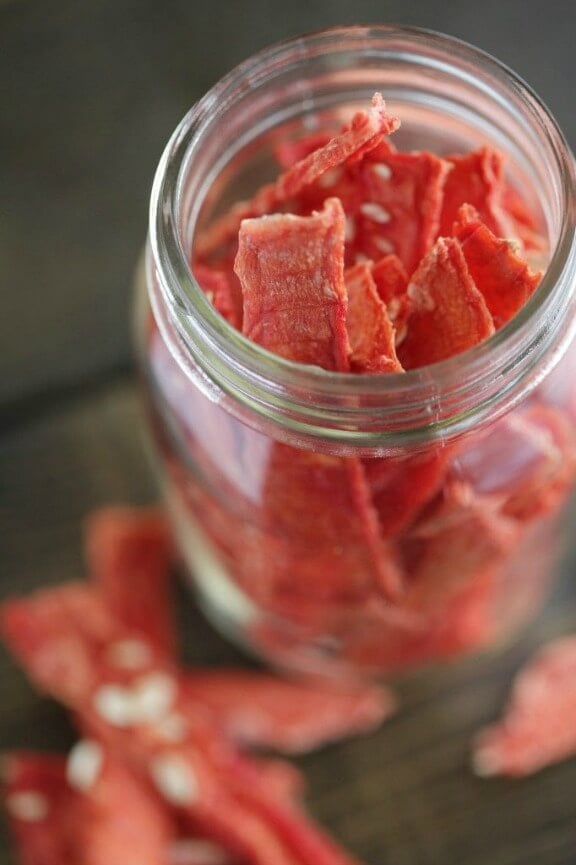 Watermelon Jerky | Dash of Butter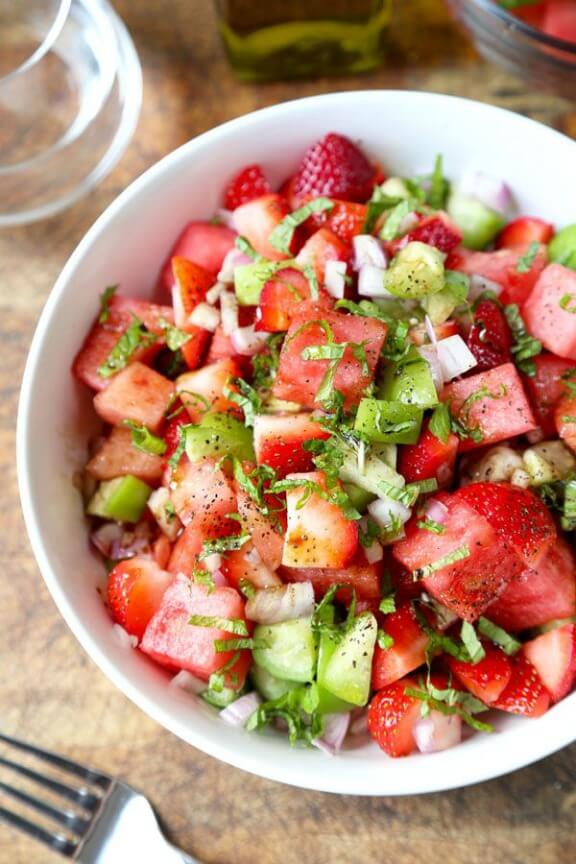 Watermelon, Strawberry and Tomatillo Salad | Pickled Plum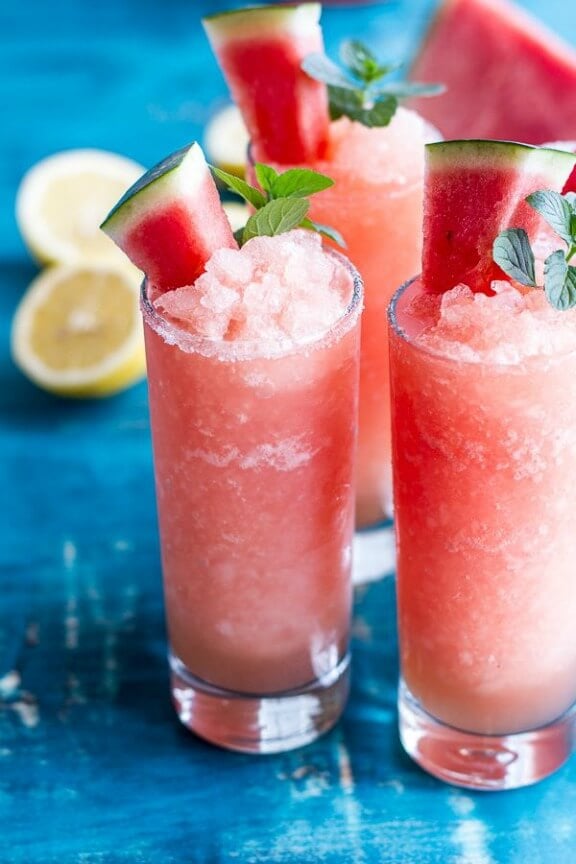 Pink Watermelon Lemonade Slushies | Half Baked Harvest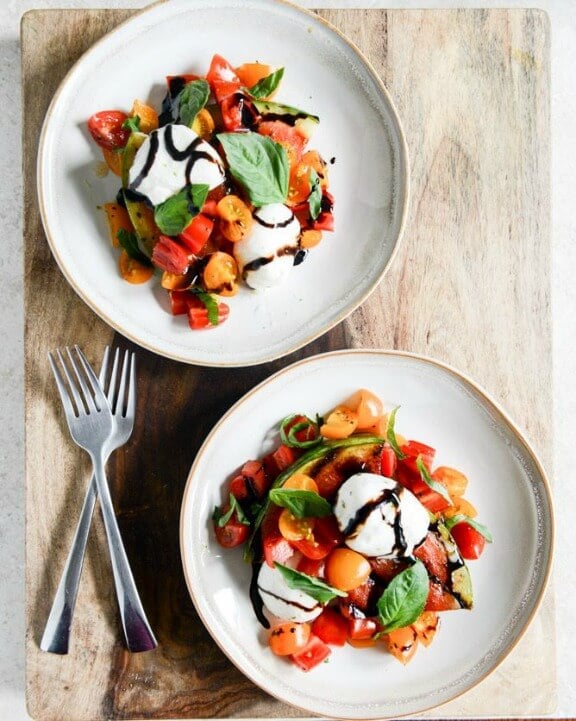 Honey Grilled Watermelon Caprese Salads | How Sweet It Is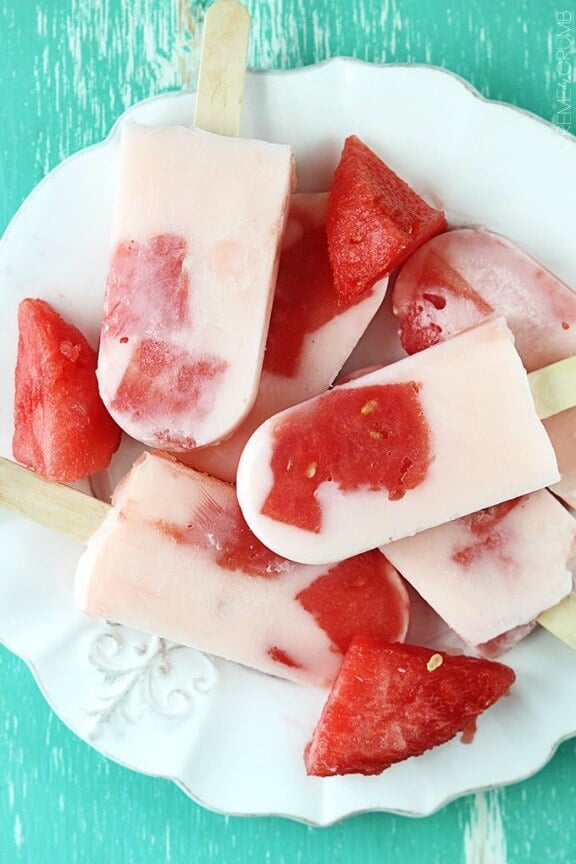 Watermelon Popsicles (2 Ingredients) | Creme de la Crumb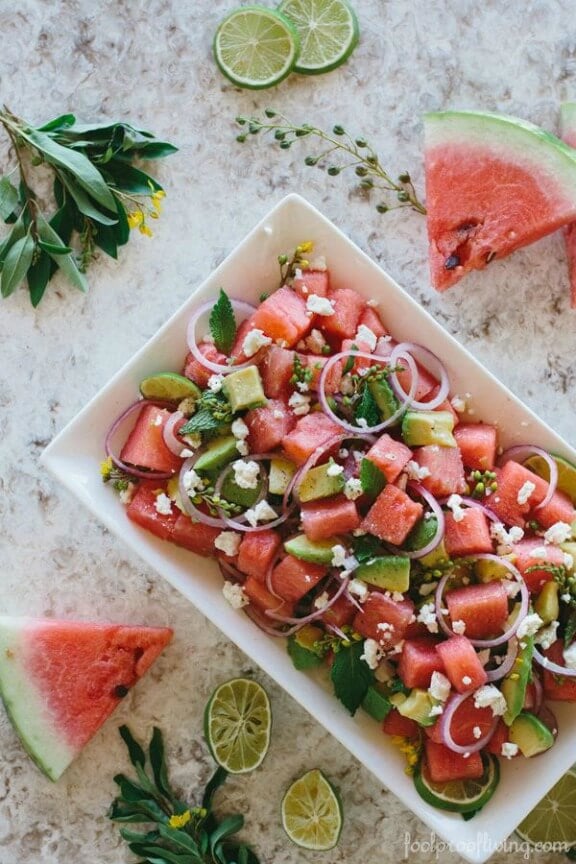 Watermelon, Avocado and Mint Salad with Feta Cheese | Foolproof Living
Jalapeno Watermelon Margaritas | Gimme Some Oven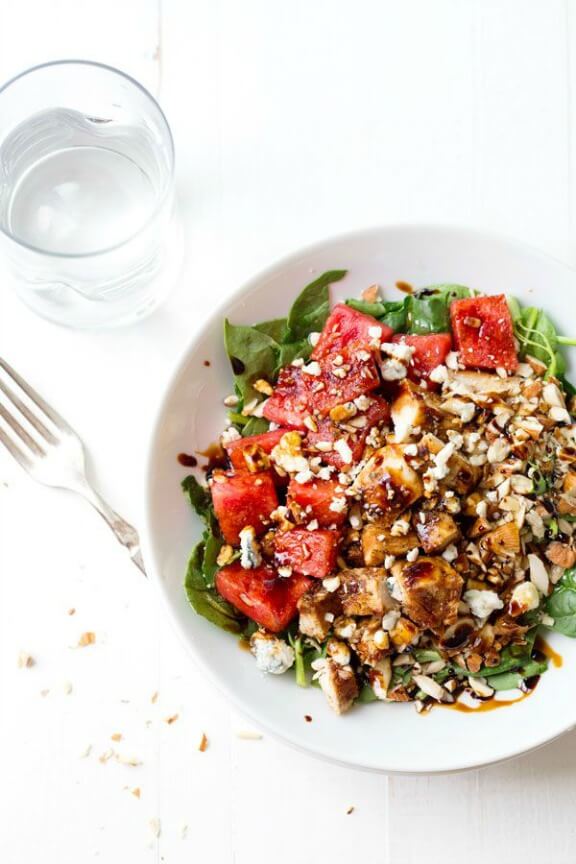 Balsamic Watermelon Chicken Salad | Pinch of Yum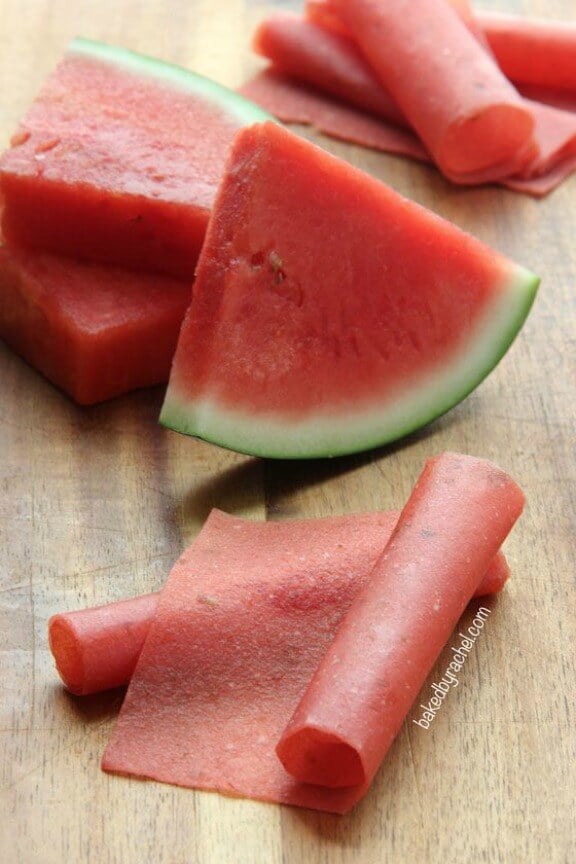 Watermelon Fruit Leather | Baked by Rachel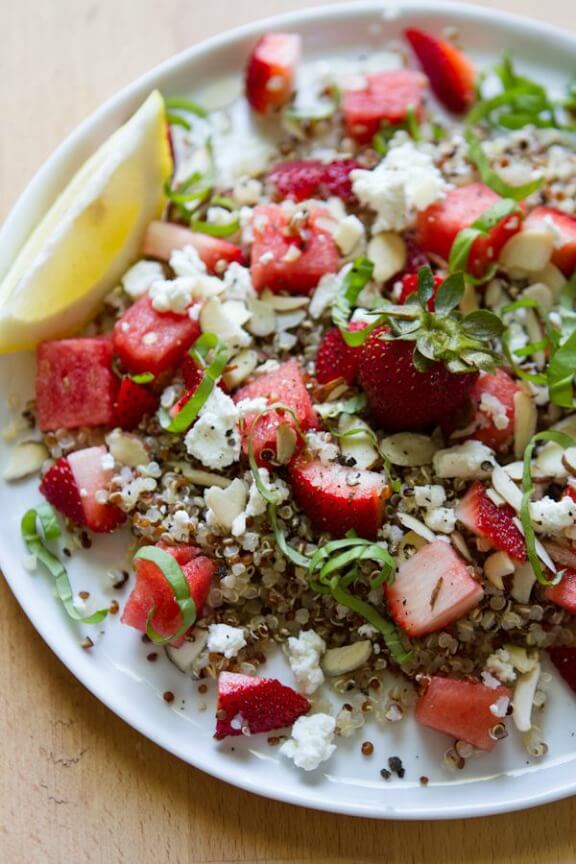 Watermelon, Strawberry, Basil Salad (2 Ways) | Edible Perspective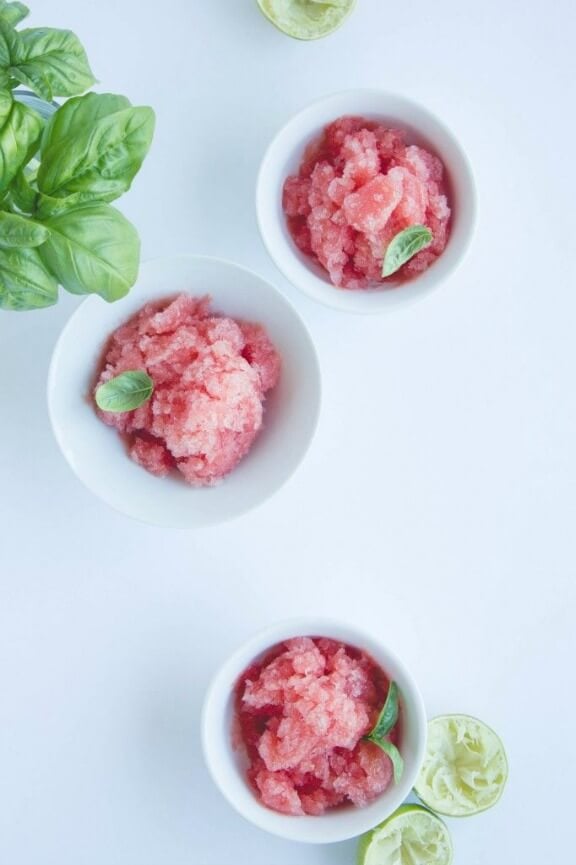 Salted Watermelon, Tequila & Basil Granita | Pink Patisserie