20-Minute Black Bean Burgers
Oh my goodness, is anyone else having an ultra-busy September so far?!  I'm not quite sure how my month got so overbooked.  But from the moment we returned home from our trip to France, I feel like I have had social stuff on the calendar filling up pretty much all of my free time on nights and weekends, which is not how this introvert prefers to roll.  (I love being social, but definitely need my "me time" to recharge!)  Nowadays, I feel like I'm usually better at not overbooking like this, but somehow September just happened to be the month when every fun event with my job and with my friends decided to happen.
So it seemed like a good month to share with you one of my favorite quick-'n-easy dinner recipes, which also happens to be one that we've had requested dozens of times before on the blog.  It's my go-to recipe for easy black bean burgers!
As someone who doesn't really like hamburger, I've long been a fan of all kinds of veggie burgers.  And since I always seem to have a few cans of black beans in the house, black bean burgers are the type that tend to happen most.  I love seasoning them in all sorts of different ways, depending on whatever craving I happen to have that day.  But today, I thought I'd share with you my favorite recipe for straight-ahead, classic black bean burgers, topped with my favorite creamy and tasty Arla muenster sliced cheese..  They're flavorful, they're crispy on the outside, they're not dried out on the inside, and best of all — they're easy to make in just 20 minutes!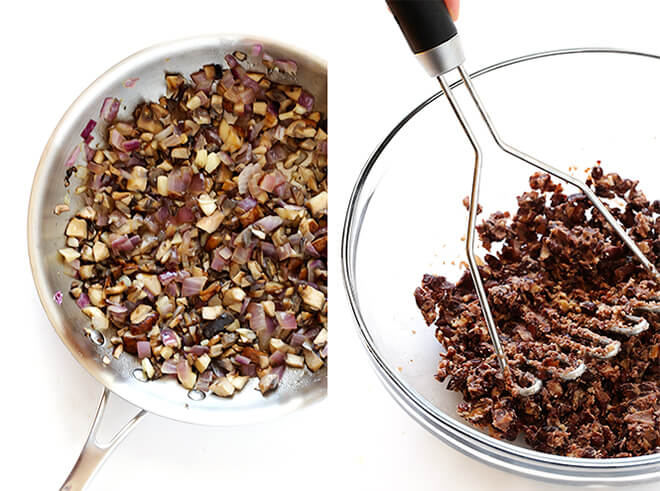 So my key to making juicy, flavorful black bean burgers has always been adding in a secret ingredient that people rarely detect — mushrooms!!  I know, I know, I may lose some of you here.  But even if you usually don't eat mushrooms, I would highly encourage you to give these a try, because they totally blend into the burgers but give them extra flavor and tenderness that I absolutely LOVE.  Really, give them a try!
And then, while you're welcome to season your black bean burgers however you'd like, I tend to season mine with some old school Montreal steak seasoning when I'm just craving a classic burger.  That stuff just has a magical way of making everything taste like it's been on your grill, even if you're just sautéing it up on your stovetop in 20 minutes.  Love it.
So to make the black bean burgers, simply saute up some mushrooms, onions and garlic.  Then while those are cooking, mash a can of black beans until they form a rough puree (see above).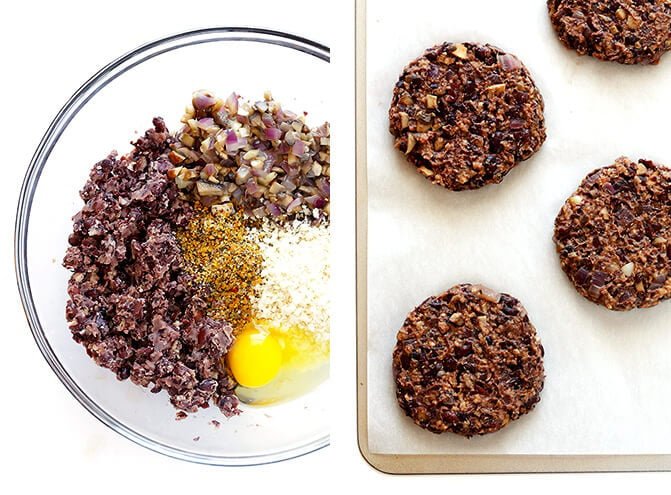 Combine the beans, mushroom mixture, Panko, egg, and steak seasoning together in a bowl, and stir everything together until it's well-mixed.  Then divide the mixture into 4 equal portions — each should be about 1/2 cup — and use your hands to form those into your desired size of burger patties.  (<– I recommend making them fairly thin, so that they will cook through a little more easily.)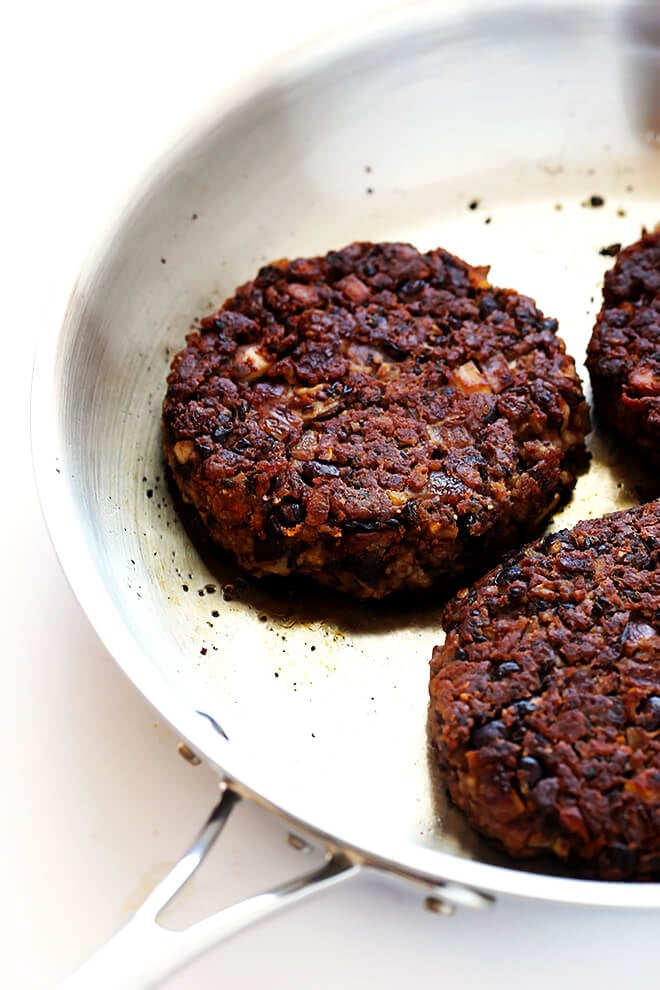 Then simply saute the burger patties on each side for 5-6 minutes until they are cooked through.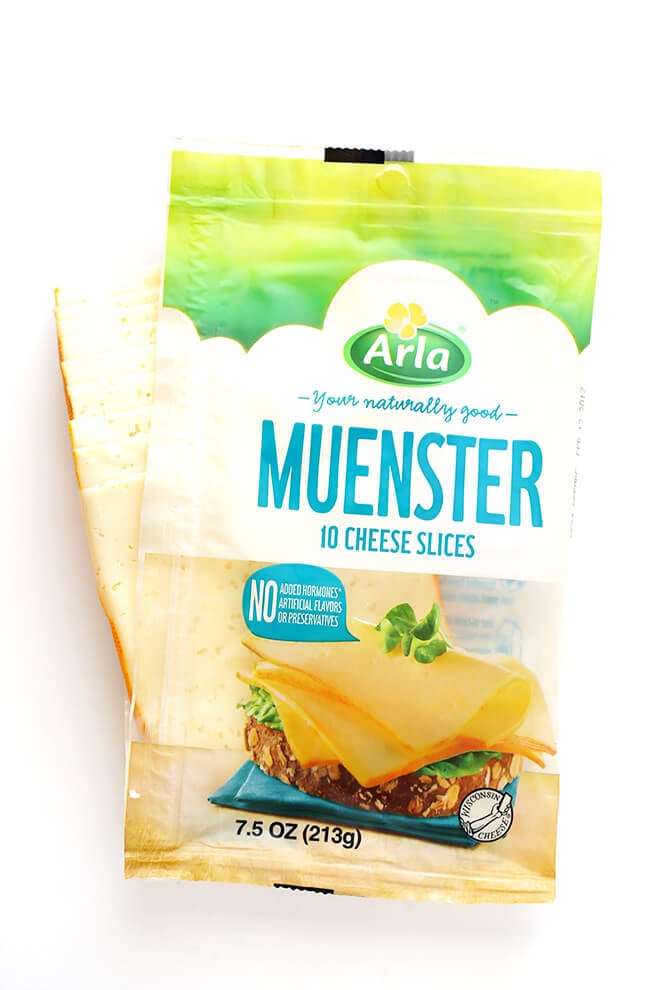 Then grab some hamburger buns (or whatever burger wrapping sounds good to you), some sliced cheese (I absolutely love these muenster cheese slices from Arla, which are made with better ingredients and no artificial flavors or preservatives), and whatever other toppings you'd like for your burger.
I like just topping mine with just Arla cheese and lots of fresh baby arugula, but go with whatever sounds good to you.  ;)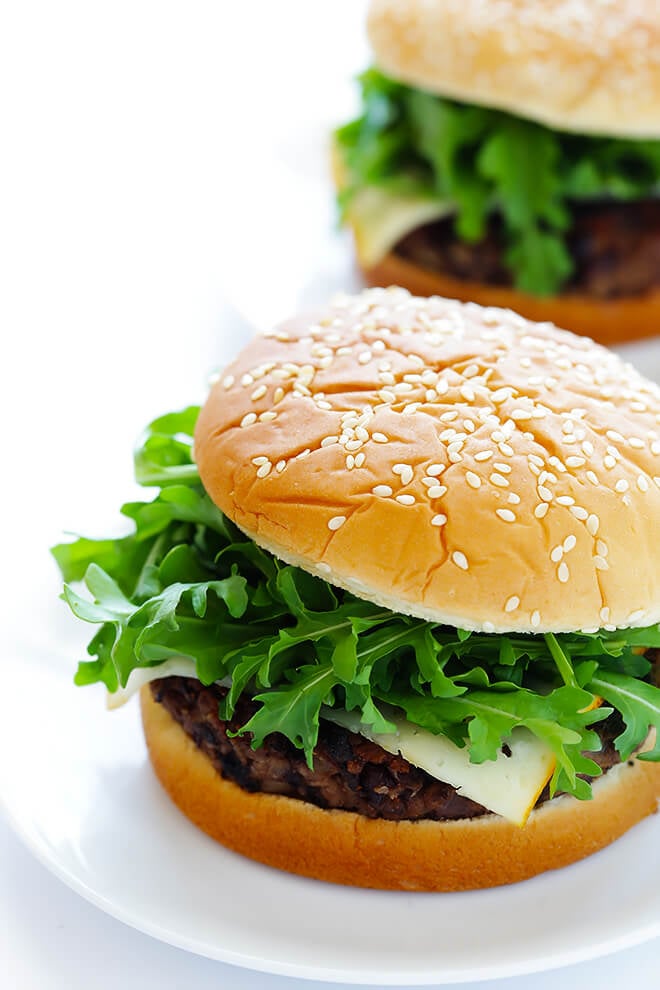 And then within about 20 minutes — voila — these beautiful black bean burgers will be yours to enjoy.  They're full of great flavor, full of great protein, and guaranteed to be a delicious quick meal that keep you going even on the busiest of months.  ;)
Enjoy!!
20-Minute Black Bean Burgers
This 20-Minute Black Bean Burgers recipe is my favorite! It's quick and easy to make, crispy and juicy (not dried out!), and full of great garlic mushroom flavor.
Ingredients:
1 tablespoon + 2 teaspoons olive oil, divided
4 ounces baby bella or white button mushrooms, finely chopped
quarter of a small red onion, peeled and finely chopped (about 1/2 cup total)
2 cloves garlic, minced
1 (15-ounce) can black beans, rinsed and drained
2/3 cup Panko breadcrumbs*
1 egg white
2 teaspoons low-sodium steak seasoning (add more/less to taste)
for serving: hamburger buns, Arla Muenster Sliced Cheese, fresh baby arugula, and/or other desired toppings
Directions:
Heat 2 teaspoons oil in a large saute pan over medium-high heat.  Add mushrooms and onion and saute, stirring occasionally, for 4-5 minutes or until the onion is soft and translucent.  Stir in garlic, and saute for 1-2 more minutes, stirring occasionally, until the garlic is fragrant.  Remove mixture from heat, drain off any extra juices or oil, and set aside.
Meanwhile, as the mushroom mixture is cooking, add the black beans to a large mixing bowl and roughly mash them with a potato masher (or the back of a spoon).  Add in the cooked mushroom mixture, breadcrumbs, egg white, steak seasoning, and stir well until the mixture is evenly mixed.  (If the mixture seems too wet, add in a few extra spoonfuls of breadcrumbs to help bind it together.)
Divide the mixture into four equal portions (each will be about 1/2 cup), and use your hands to form each portion into a large patty.  Set aside.
Rinse out the saute pan, then return it to the stove and heat the remaining 1 tablespoon oil over medium-high heat.  Carefully transfer the black bean burgers to the pan and cook on each side for 5-6 minutes, flipping once. If your pan is not big enough to fit all four burgers, you may need to do this in batches.
Remove from heat and serve the burgers on buns immediately, topped with Arla Muenster sliced cheese, fresh arugula, and/or any other toppings that sound good to you.
*Sometimes I like subbing in ground nuts (cashews, pecans, walnuts, etc.) in place of half of the Panko.  Adds extra flavor and protein!
All images and text ©
If you make this recipe, be sure to snap a photo and hashtag it #gimmesomeoven. I'd love to see what you cook!
This post is sponsored by Arla, maker of these cheese slices that I feel good about eating.  Thanks for continuing to support the brands I love, who help to make this site possible!