3-Ingredient Pretzel Bites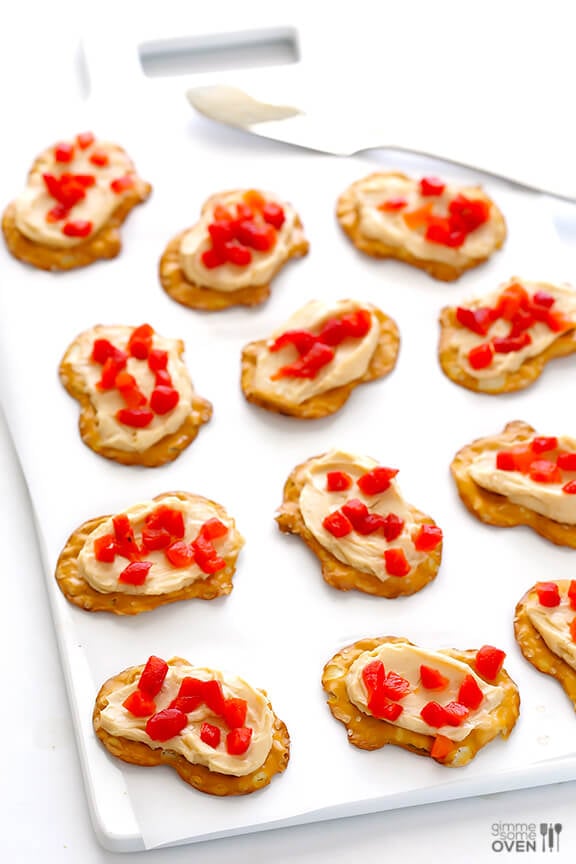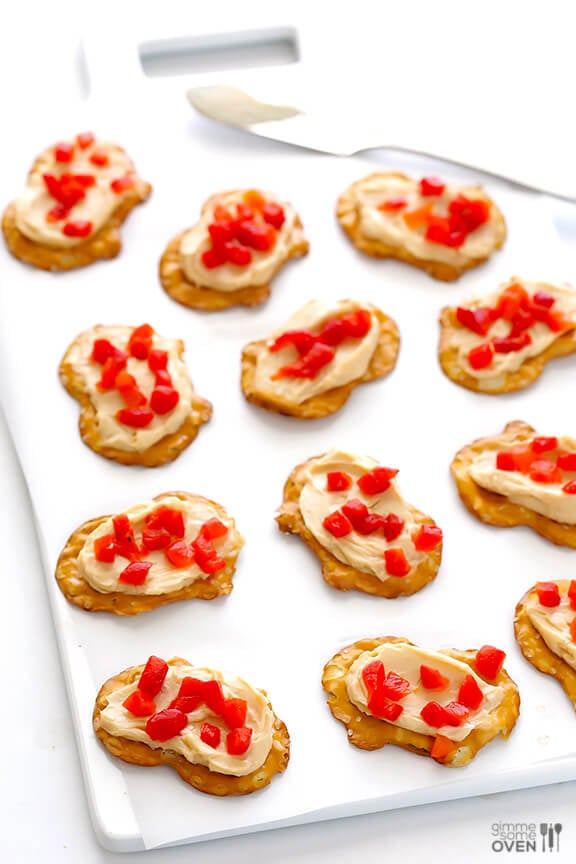 When I first went full-time working on this blog, I hardly knew anyone else who was self-employed.  But somehow in the two years since, I feel like nearly half of my good friends have now become entrepreneurs!
Some of those, of course, are other bloggers that I met via blogging.  Some are good friends who have made courageous steps to leave their jobs and pursue a new business or career of their own.  But many I have actually met at my "office" away from the office — my neighborhood coffee shop.
It has become a literal hub of entrepreneurs in the city.  And on any given day that I walk in to get my coffee, it's pretty much guaranteed that I will see a few familiar faces of friends working at their computers, chasing hard after those dreams.  Most days, I love pulling up a chair and opening my own laptop to join them.  There is, of course, plenty of catching up and idea sharing and general oh-my-gosh-did-you-see-this-article-on-Buzzfeed-ing that happens.  But most of the time, we actually work really well side by side and get a ton of stuff done, which I love.
Most of our working dates, of course, include coffee.  But after my first year of entrepreneurship and eating a few too many of those ginormous (and less-than-healthy) coffee shop muffins, I have learned to be a little more intentional in my workday snacking.  And during a recent "working coffee date", I brought along these little guys.
For lack of a better name, I call them my 3-ingredient pretzel bites.  Can you guess the three?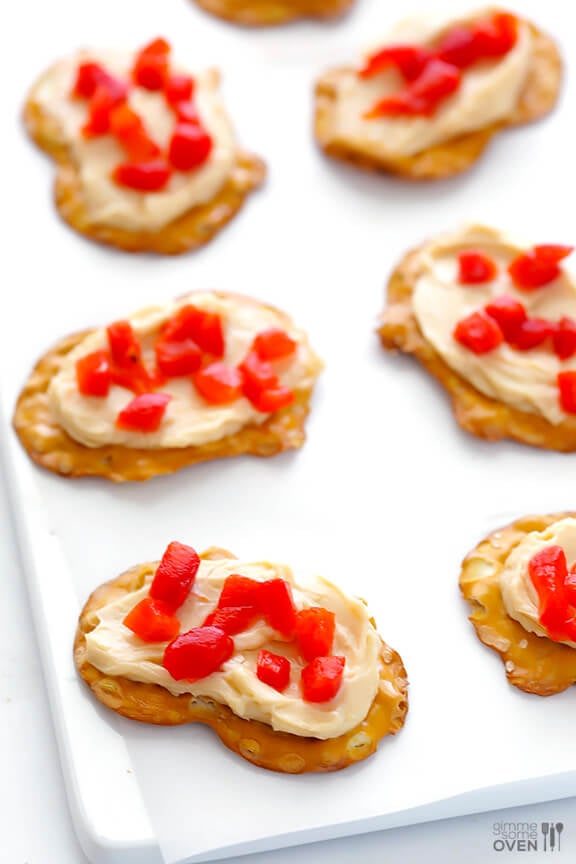 Well obviously, there are the pretzels.  Which, for these snacks, included Pretzel Crisps, which are perfect for spreading and snacking.  And on top of those, I spread some…
…yep, The Laughing Cow cheese.  As you faithful readers may have noticed, this marks my third and final recipe in my quest to develop 3 new delicious snacking recipes with The Laughing Cow.  And I saved my favorite cheese of theirs for my final recipe — their new Creamy Spicy Pepper Jack cheese!
I have purchased those Pepper Jack cheese sticks at the store for years and years to keep on hand for snacking.  But now the The Laughing Cow version has completely replaced those guys.  I love how they come in those perfect little single-serving wedges that make the perfect snack.  Especially when pair with pretzel crisps and…(do you spy the final ingredient?)…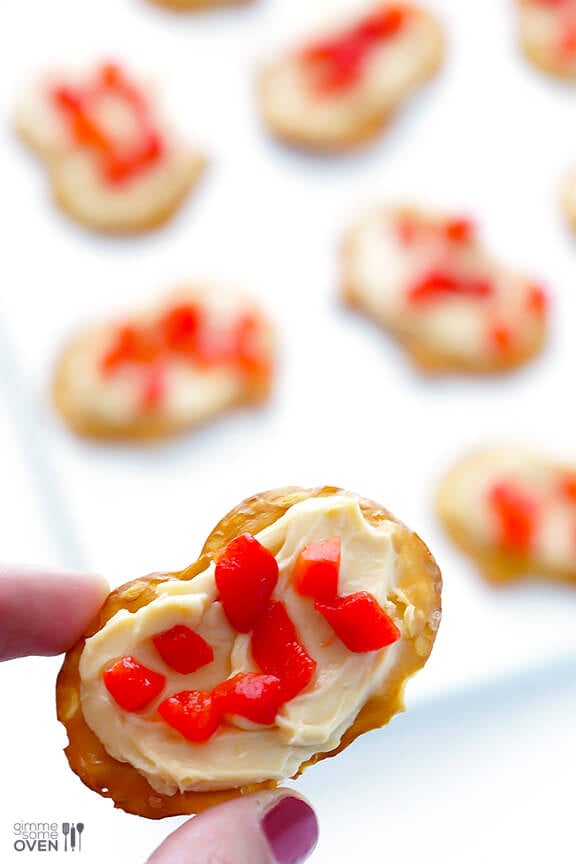 …pimentos!
You guys, I totally forgot that pimentos existed!!!  I grew up on pimento cheese, but literally forgot about these little guys until I spotted them at the grocery store this past year.  And now I kind of want to throw them in everything.  They are all of the goodness of the roasted red peppers I love, but in teeny tiny little pimento pepper form.
So as an ode to the old school pimento cheese I used to love, I combined them and the The Laughing Cow Creamy Spicy Pepper Jack cheese to make these 3-ingredient pretzel bites.  It's a power packed 3-P recipe, and let me tell you, they really do make the perfect snack.
So whether you work at a desk job, if you're staying at home with the kiddos, or even if you're having working dates at the coffee shop with friends, I'm telling you — these little treats are the perfect pick-me-up in the middle of the day.  Enjoy!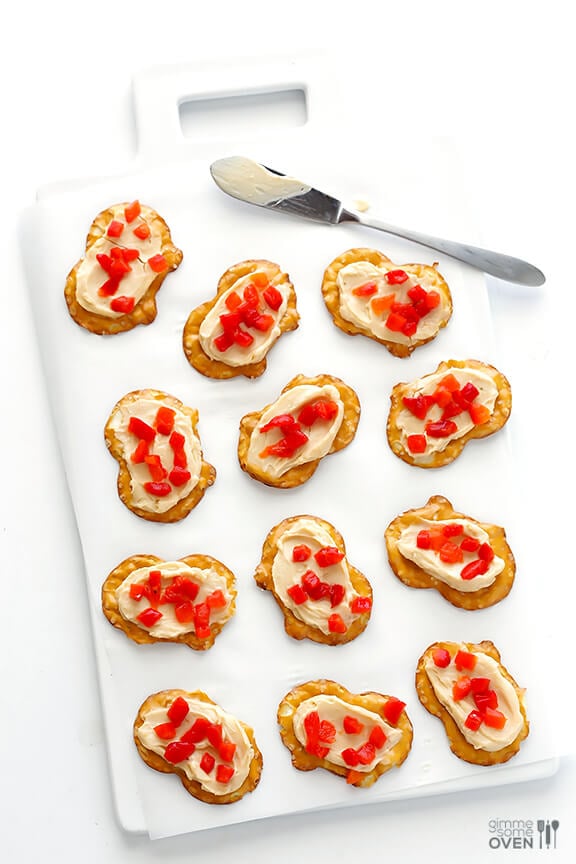 3-Ingredient Pretzel Bites
These 3-Ingredient Pretzel Bites make the perfect delicious snack, and they only take a minute to make!
Ingredients:
1 wedge The Laughing Cow Creamy Spicy Pepper Jack
3 pretzel crisps
3 teaspoons (drained) pimentos
Directions:
Spread the cheese evenly on top of the three pretzel crisps, then top each with a teaspoon of pimentos.  Serve immediately.
All images and text ©
If you make this recipe, be sure to snap a photo and hashtag it #gimmesomeoven. I'd love to see what you cook!