44-Clove Garlic (and Chicken) Soup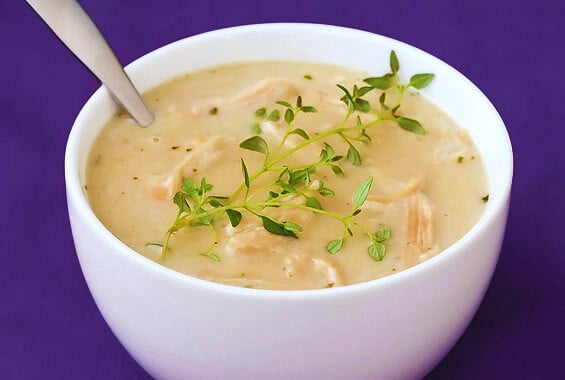 As many of you know, I happen to have a small obsession with roasted garlic.  And soups.  But strangely enough, it wasn't until this year that I finally decided to try the infamous "44-Clove Garlic Soup" that has made its way around the blogosphere.
Now I have absolutely no idea why I waited.  This soup is amazing!
I actually made it for the first time a few weeks ago during Snowmageddon (the crazy blizzard of '11).  It seems like the perfect recipe for a cozy winter day, and I loved the thought of my entire house smelling like that delicious roasted garlic.  So I bought an extra few heads of garlic and some fresh thyme the day before the storm hit (an ominous day, thanks to weather forecasting!), pulled up the long-ago bookmarked recipe from Smitten Kitchen, and began cooking as the first flakes began to fall.
Not surprisingly, the soup ended up being a complete delight!  I had read other bloggers urgings not to fear the big "44", but I admit I was still expecting a pretty strong garlic flavor.  Not so!  I thought this soup was perfectly balanced.  The roasted (and cooked) garlic was a subtle but wonderful compliment to the creamy broth, and I loved the simple combination of thyme, Parmesan and a dash of lemon.  I also added in some shredded rotisserie chicken at the last minute, which I will definitely do again.  I may also experiment with shallots or leeks the next time around instead of onions.
So with that, I cast one more vote into the blogosphere for this delightful soup.  I will certainly be making it again soon.  :)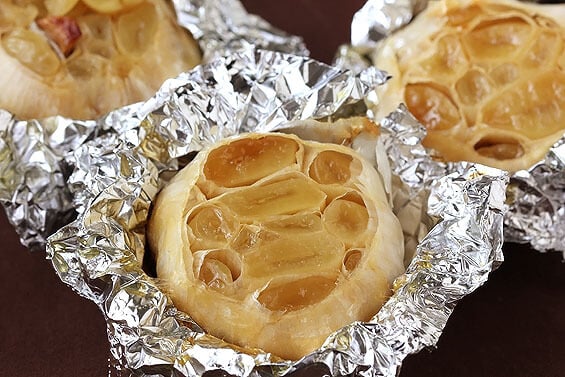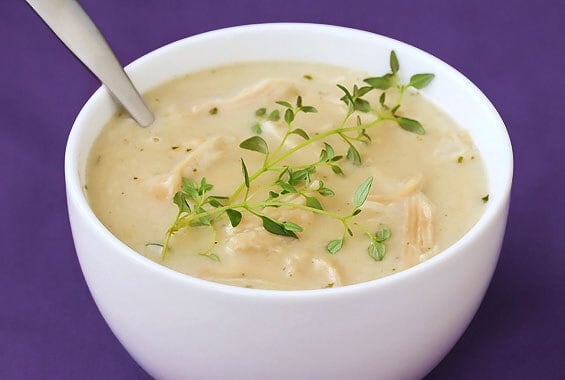 44-clove garlic (and chicken) soup
A delicious creamy garlic soup recipe filled with the most amazing subtle flavor.
Ingredients:
26 garlic cloves (unpeeled)
2 Tbsp. olive oil
2 Tbsp. (1/4 stick) butter
2 cups sliced onions
1 1/2 teaspoons chopped fresh thyme
18 garlic cloves, peeled
3 1/2 cups chicken stock
2 cups shredded cooked chicken (optional)
1/2 cup heavy whipping cream
1/2 cup finely grated Parmesan cheese (about 2 ounces)
salt and freshly-ground black pepper
4 lemon wedges
Directions:
Preheat oven to 350°F. Place 26 garlic cloves in small glass baking dish. Add 2 tablespoons olive oil and sprinkle with salt and pepper; toss to coat. Cover baking dish tightly with foil and bake until garlic is golden brown and tender, about 45 minutes. Cool. Squeeze garlic between fingertips to release cloves. Transfer cloves to small bowl.

Melt butter in heavy large saucepan over medium-high heat. Add onions and thyme and cook until onions are translucent, about 6 minutes. Add roasted garlic and 18 raw garlic cloves and cook 3 minutes. Add chicken stock; cover and simmer until garlic is very tender, about 20 minutes. Working in batches, puree soup in blender until smooth. Return soup to saucepan; add shredded chicken and cream, and bring to simmer. Season with salt and freshly-ground black pepper.

Divide grated cheese among 4 bowls and ladle soup over. Squeeze juice of 1 lemon wedge into each bowl and serve.

If you make this recipe, be sure to snap a photo and hashtag it #gimmesomeoven. I'd love to see what you cook!
Ali's Tip:
Instead of dividing out the 26 cloves for the first step, I just roasted 3 whole heads of garlic via this method.  Once the heads were roasted, I just squeezed out the garlic and continued with the remainder of the recipe.