5-Ingredient Bacon Asparagus Pasta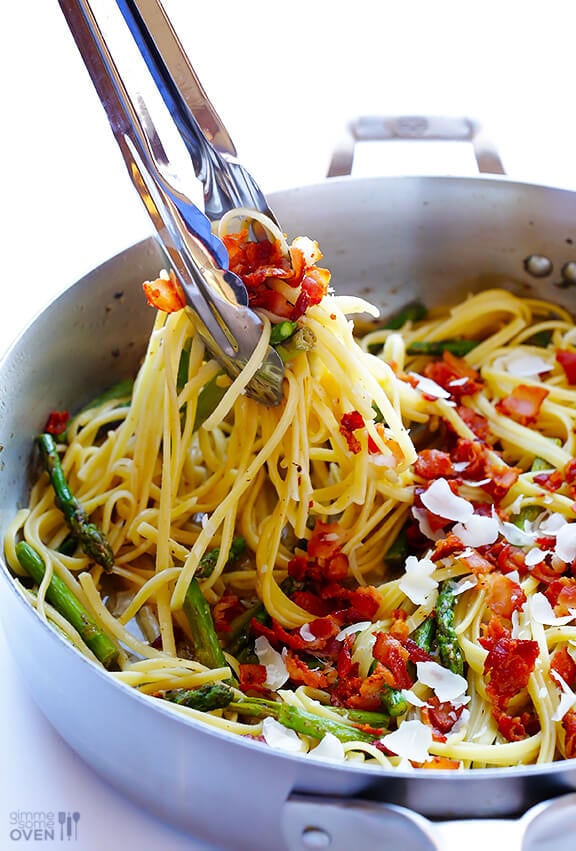 I spy with my little eye…bacon…asparagus…pasta…Parmesan…
…and?
(Triple gold star if you can guess the secret ingredient!)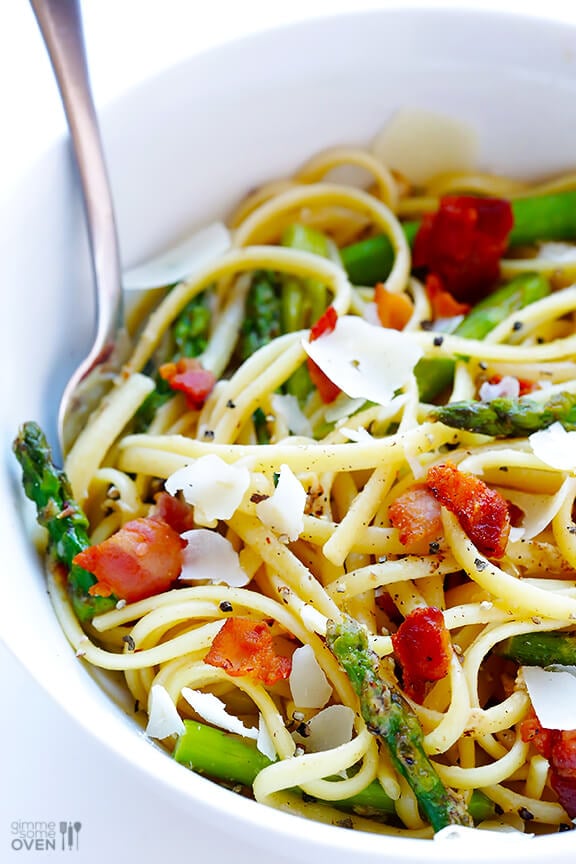 White wine.
Mmmmm.
(Did you guess it?)  Actually, if you're not a fan of cooking with wine, you can easily sub in some chicken broth and maybe a hint of lemon juice.
But this recipe was 100% inspired by leftovers in my kitchen on the Sunday afternoon that I whipped it up.  And after having had friends over the night before, half a bottle of white wine was corked and calling my name.  So, as I like to do, I added half of it to the pasta, and poured the rest into a small glass to drink while I cooked.  Perfection.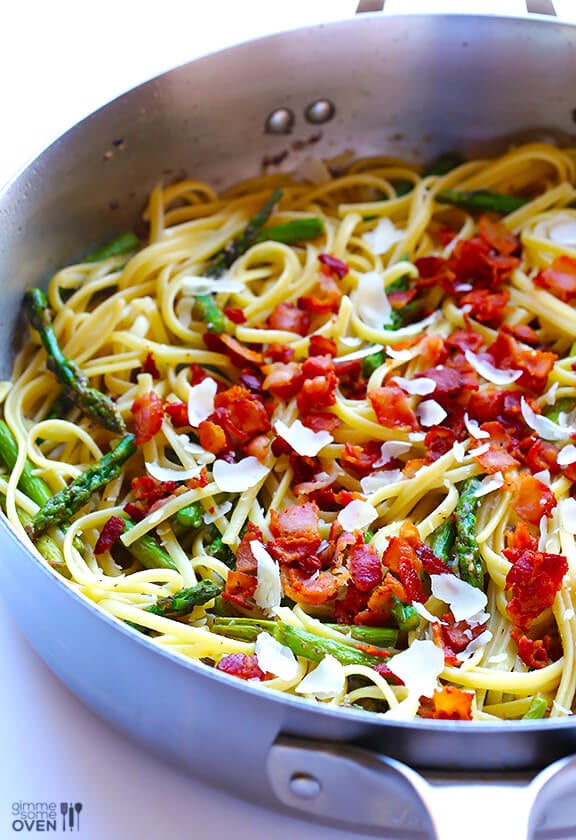 Seriously, though, the wine ended up being the perfect ingredient to pull this simple pasta together.  Let me explain…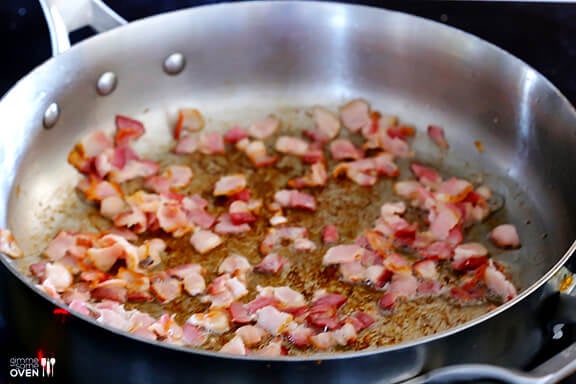 Begin by bringing a large pot of water to a boil, and cook your pasta (I went with linguine) according to package instructions until it's al dente.
Meanwhile, add your diced bacon to a saute pan.  Cook it up in a pan until it's nice and crispy.  Then remove it with a slotted spoon, and leave the leftover (about 1 Tbsp.) grease in the pan.
(For timing's sake, I would add your pasta to the boiling water at this point after your bacon is cooked.)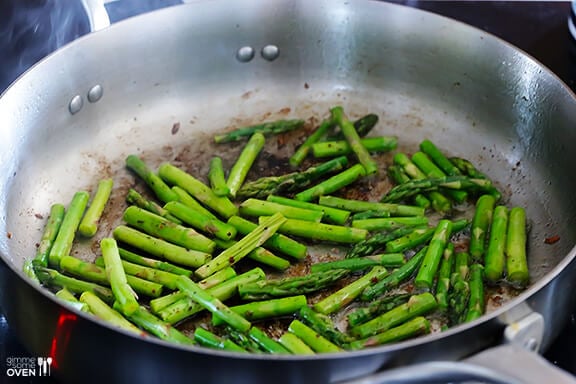 Add your fresh asparagus, and saute it in the bacon grease until it's nice and cooked and still has a bit of a "bite".  (Try to avoid overcooking it!)
Then add the white wine, and give the bottom of the pan a good stir to scrape those brown bits off the bottom.  It might not be the prettiest, but trust me, this step is so worth it and the pasta's loveliness will recover.  ;)
Let the white wine boil down for a few minutes until it is reduced by about half.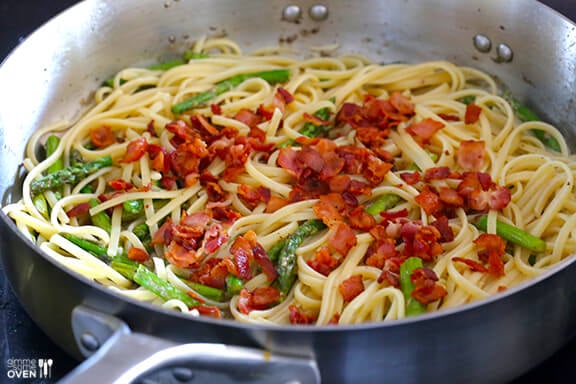 Then once the pasta is ready, drain it and add it to the pan, along with the cooked bacon and asparagus and half of the Parmesan.  Give it a good toss.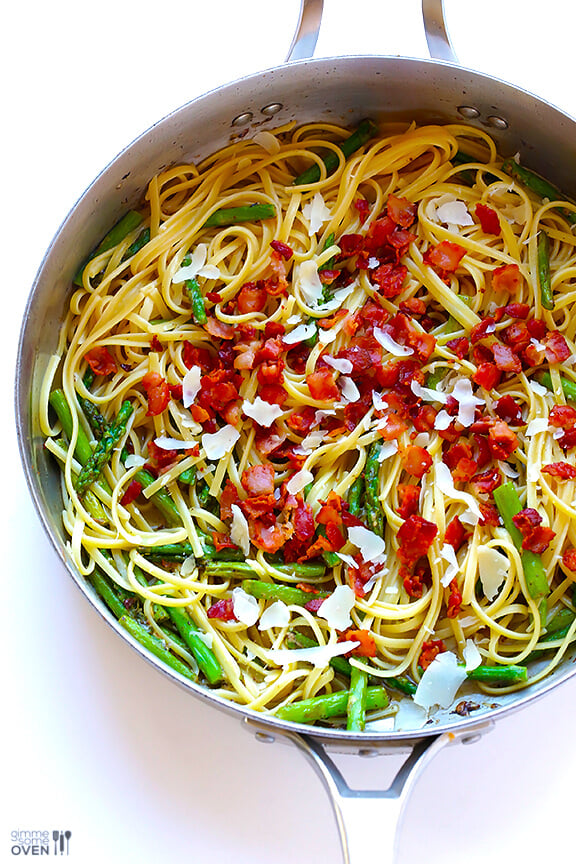 Then sprinkle the rest of the Parmesan cheese on top.
And then dive in!  Because I guarantee you that this pasta will disappear quickly.  ;)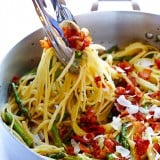 5-Ingredient Bacon Asparagus Pasta
This 5-Ingredient Bacon Asparagus Pasta is super easy to make, and full of absolutely amazing flavor!
Ingredients:
1/2 lb. (8 oz.) uncooked pasta (I used linguine)
1/2 lb. (about 8 strips) uncooked bacon, diced
1/2 lb. (8 oz.) fresh aspagarus, ends trimmed and cut into 2-inch pieces
1/2 cup dry white wine (or you can double this if you'd like)
1/2 cup grated or flaked Parmesan cheese
Directions:
Cook the pasta in a large pot of generously-salted water al dente according to package instructions.
Meanwhile, add bacon to a medium saute pan. Cook over medium-high heat, stirring occasionally, until crispy. Remove the bacon with a slotted spoon and set aside. Add asparagus to the pan and saute in the bacon grease for about 5-6 minutes, stirring occasionally, until cooked. Remove asparagus with a slotted spoon, and set aside with the bacon. Slowly add the white wine to the pan, and scape the bottom of the pan with a spoon to deglaze the pan and pick up all of those yummy brown bits. Continue cooking for 5 minutes, or until the wine has reduced by about half.
When the pasta is cooked, drain it. Then add the pasta, asparagus, bacon and 1/4 cup Parmesan cheese to the saute pan, and toss until combined. Sprinkle pasta with the remaining Parmesan cheese and serve immediately.
*If the pasta seems too dry, add in 1/4 cup of the pasta water after adding in the asparagus and bacon and toss to combine.
All images and text ©
If you make this recipe, be sure to snap a photo and hashtag it #gimmesomeoven. I'd love to see what you cook!