5-Ingredient Mexican Quinoa Stuffed Peppers
This vegetarian stuffed peppers recipe is my fave!  It's full of delicious savory flavors, it's quick and easy to make, and only requires 5 main ingredients.  {This post is also sponsored by Morningstar Farms, maker of the secret tasty ingredient in this recipe.}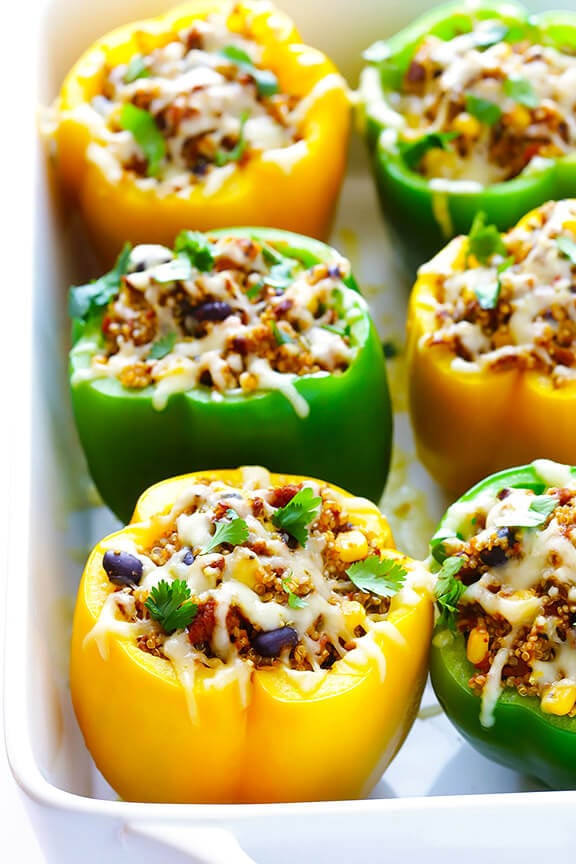 I think this year wins the award for My Favorite Earth Day Ever.
Last weekend, I hopped on a plane and flew to NYC to spend the day hanging out at Union Square Park for the city's annual Earth Day extravaganza.  And guess who was also hanging out there for the day?  Only the coolest host of one of the coolest cooking shows I know — Padma Lakshmi of Top Chef!
Even better, I got to meet and interview her!
Oh yeah, total fangirl moment for this food blogger.  (But you know, I played it cool.)  ;)
As it turns out, Padma is also a big fan of Morningstar Farms' new Veg Of Allegiance, in which they are encouraging home cooks to take a pledge to swap in a few extra plant-based (meatless) meals into their diets each week.  Some of you may have heard me talk about this a few weeks ago, but it's totally in line with how I'm trying to eat these days too.  I'm not going full-on vegetarian or vegan — just trying to eat less meat, which turns out to be a great decision for the environment as much as it is for my health.  Anyway, since Padma's clearly not a vegetarian either — having to sample just about every single dish cooked in every round on Top Chef — it was cool to hear that this is something that's a priority for her as well.
So on a sunny Earth Day afternoon in NYC, we had the chance to sit down and chat about how we like to cook and eat nowadays.  And I put on my pretend reporter hat and recorded the conversation (on my fancy iPhone) so that I could share a few highlights on the blog with you.  Oh, and I also have a stellar new recipe for vegetarian 5-ingredient Mexican Quinoa Stuffed Peppers to share with you, inspired by my own little Veg Of Allegiance.  So much to share today!
Let's get to it…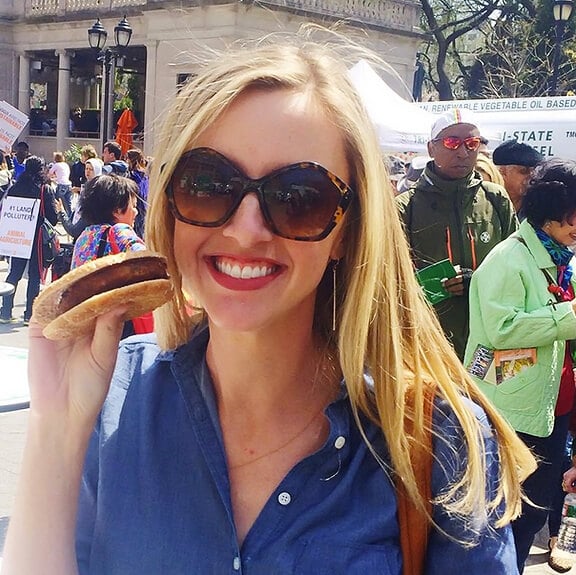 First off, let's start with my trip to New York and interview with Padma.  We chatted about all sorts of things, but in lieu of a 10-page transcript of our conversation, here are a few of my favorite questions that I thought you all might enjoy.  (Heads up — I'm totally not a professional journalist!  But Padma was a pro, and graciously answered my random questions.)
Ali: How did you come to fall in love with food?  And how did you begin cooking back in the day?
Padma: Well, I fell in love with cooking as a child in India.  I spent most of my free time in the kitchen with the women in my family.  And once we moved to the States, my mother worked full-time, and so whenever I could help out in the kitchen, I did.  So I was cooking from a very early young age.
Ali: So fast-forward to nowadays, when you're traveling and hosting Top Chef and around food all day long — what is it that makes you still want to spend time in your kitchen cooking at the end of the day?
Padma: Ha, hunger!  I much prefer — because I have to eat and try so many different things on Top Chef, I want to keep my own knowledge current.  When I'm on my own time, I'd really rather cook at home.  We don't eat a lot of meat in my home and it's mostly plant-based proteins anyway, so I really prefer to make my own food because I think that's the #1 thing you can do to ensure the health of your family is to cook more meals at home and to cook them together.  And I know that we're all busy, we all have jobs, and it's hard to get a square meal especially on a worknight.  But that's why I think these products from Morningstar Farms are really great.  It's nice to have just a couple of bags of them in your freezer, you know, even if you get unexpected guests.  It's easy to just saute one, give it a little crisp with a tiny bit of canola oil or olive oil in the frying pan, and just make all the sides or whatever you need.  And it comes in handy, especially for kids.
Ali: Talk a little bit about your dietary background.  I know that you were raised vegetarian, but have had different experiences with food over the course of your life.  How do you eat now?
Padma: I think people need to eat different kinds of foods during different periods of their lives.  You know, there have certainly been times in any given year when I've had to eat food to gain wait, times when I've had to eat food to lose weight, times when I've had to eat more vegetables and fruits because I want to be a little cleaner and need the energy.  And I find that for me, personally, I don't digest meat well, especially red meat.  On the show, I have to eat everything.  And even in my own life, I like to try everything, again, because it's part of my own education and what I do.  But I just don't digest red meat well, so I can often feel sluggish when I eat it.  At the same time, thought, I also still want to enjoy a burger in the summertime or a corn dog, and I'm not going to go out to some greasy stand to do it.  So this way, with products like Morningstar, I can enjoy this very childhood-y pleasure.
Ali: So speaking of Morningstar, I hear that you also took this "Veg Of Allegiance".  What inspired you to get involved with it and take your "veg"?
Padma: I think it's really important because now were finding that it's not only healthier for us, but it's healthier for the world we live in.  And I think it's such an easy thing to do.  We all need more vegetables in our diet, period, whether we eat meat or not.  So I thought it was a really nice campaign to partner with.  And I thought it was important because, you know, we're struggling with child obesity in this country — and with hunger as well — because we're not educated on food like we used to be.  And so we don't even know how to feed ourselves healthfully and economically.  And so that's why this campaign is important, beyond just swapping in 5 plant-based meals a week or 1 meal a week, because it's important to have a greater understanding of what you're putting in your body.
Ali: When I asked some of my readers what they would like to hear from you, everyone was curious about what you actually eat and what some of your "go-to" meals are.  So what is your favorite quick breakfast (especially when you're on the go)?
Padma: A quick-quick breakfast for me would be simple plain yogurt with a tablespoon of maple syrup, with some fruit and nuts in there.  I'm not a big sweet eater, but a tablespoon of maple syrup goes a long way and it only has 60 calories and it's not as bad for you as some of the other sweeteners.  And I tend to eat a lot of protein that's plant-based in my everyday diet.  I don't believe meat should be used as like — you have your chicken, and your mashed potatoes, and your green beans.  I like to use meat as an accent.  So like last night, I had swiss chard and black eyed peas in a stew, with a tomato and onion base, and then I put that over quinoa and just had like a chopped, fresh, raw salad of cucumber, tomato, salt and lemon.
Ali: Mmmm, that sounds awesome.
Padma:  Yes!  And it's easy to make too!  It's even easier in the slow cooker.
Ali: Do you make many slow cooker recipes?  Because my readers love slow cooker recipes.
Padma: Yes, I do.  The great thing about a slow cooker is that you can leave it unattended.  So for things that taste better when they're simmered for a long time — like beans or lentils — it's really useful.
Ali: What's your go-to favorite 30-minute meal when you're at home on a weeknight?
Padma: Well I boil some brown rice.  Then in a separate pot, I would boil some lentils with a bay leaf, some salt, and a lot of water.  Like 5 times the water to how many lentils you're cooking.  And a lot of lentils cook quickly.  You don't have to soak them like beans, so you can cook them at the last minute.  While that's happening, I chop up a lot of vegetables and I saute them with a little bit of butter or olive oil and some Indian spices.  Then I throw that vegetable saute into the lentils and mix it up.  Then I serve it over the rice.
Ali: What about go-to entertaining favorites?  Like if you have friends coming over at the last minute, what do you make?
Padma: I really like to make a Spanish omelet — like a tortilla — because you can serve it at room temperature, and most vegetarians (at least in this country) will also eat eggs.  So you're getting a lot of protein that way.  The dish is also nice because — well I used to make it in college a lot because — it's very inexpensive.  Potatoes, onions, eggs, these are very easy staples that don't cost a lot.  And for families on a budget, it's important that they learn how to make nutritious meals that are filling and yummy, yet don't also break the bank.
Ali: So I have a series on my blog where I interview people and ask them about 10 Things They Have Learned In Life.  I'm totally putting you on the spot.  But if you were to think of one thing — on any subject — off the top of your head that you have learned in life that's important to you, something that you believe you know, what would that be?
Padma: At this point in my life, I think I've learned that it's not so much what you do in life, but how you do it.  And whether you're making a bed, or writing a book, or making a television show, you need to approach your work with focus and hard work.  I'd rather see a simple thing done well, than an ambitious thing done mediocrely.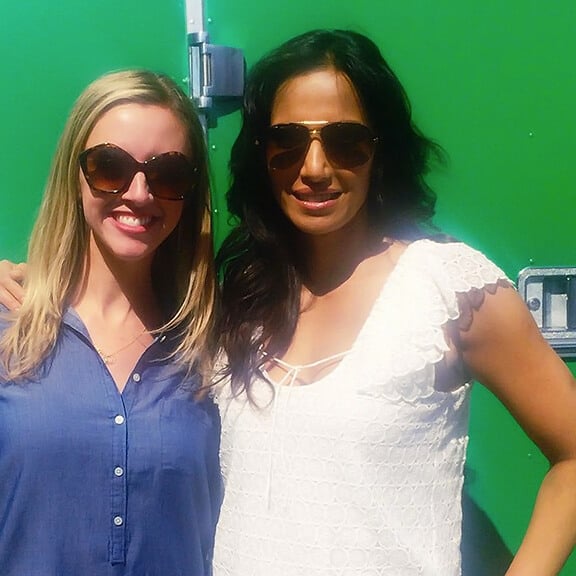 Annnnd then I slipped into my shameless fangirl moment and asked for a picture.  ;)
Talk about a strong, smart, talented woman doing cool things in the world of food.  Weren't her answers great?!  I especially love how she talked about using meat as an accent instead of the main focus of your meals.  And after hearing her talk about entertaining, I think it's high time I asked my neighbors from Barcelona to teach me how to make a Spanish omelet.  I also happen to share her habit of keeping a few Morningstar Farms products in the freezer for quick and easy meals.  For years, their various burgers have been my go-to easy lunch or dinner when I'm in a hurry or don't feel like whipping up an entire meal from scratch.  (Yes, the true behind-the-scenes life of a food blogger who gets tired of cooking too!)
So today I thought I'd share with you one of my new favorite quick and easy go-to meals for weeknight dinners or entertaining — these 5-Ingredient Mexican Quinoa Stuffed Peppers.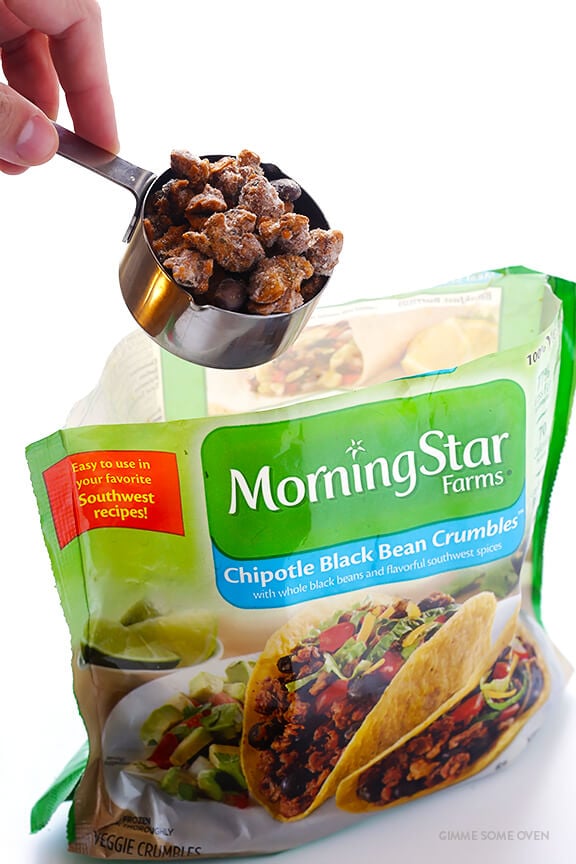 Instead of browning up some ground beef or turkey for these peppers, I have been hooked lately on a new product from Morningstar Farms — their Chipotle Black Bean Crumbles.  (I'm guessing these might have been what Padma was referring to as well when she talked about sauteing up "a bag" for dinner.)  They crumbles are basically a spicy, tasty, and super easy substitute for ground meat.  And they're full of lots of great proteins to keep you going throughout the day.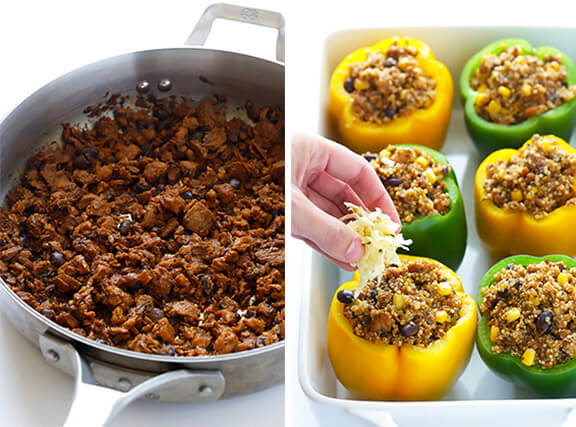 So to make the stuffed peppers, just saute up a package of the crumbles according to package directions.  Then combine them with some cooked quinoa (I always recommend cooking quinoa in broth), shredded cheese (I used PepperJack for extra flavor, but any Mexican cheese will do), and some of your favorite salsa (I used salsa verde).  Portion the quinoa mixture into the cavities of some fresh bell peppers.  Top them with a little extra cheese.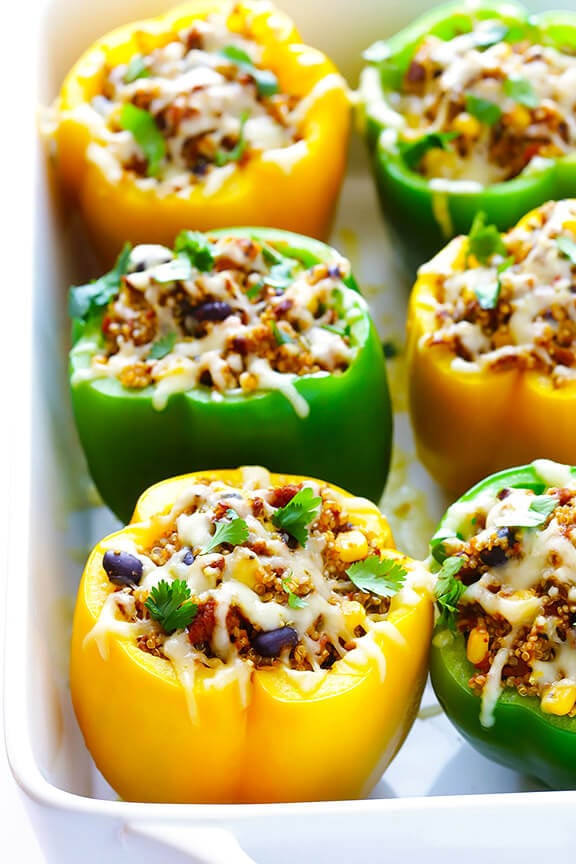 And then bake them up to warm, melty, cheesy, zesty perfection.
Hello…color!!!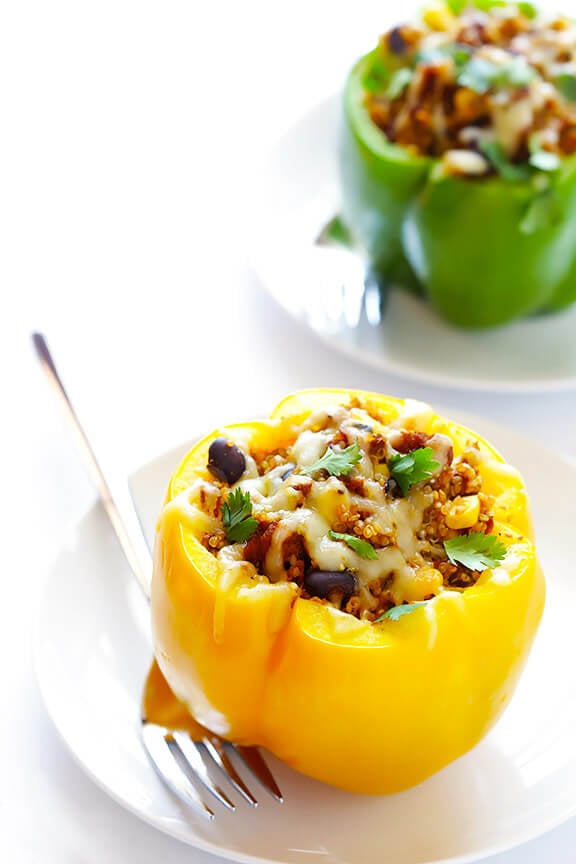 Seriously, I always forget how pretty stuffed peppers can be.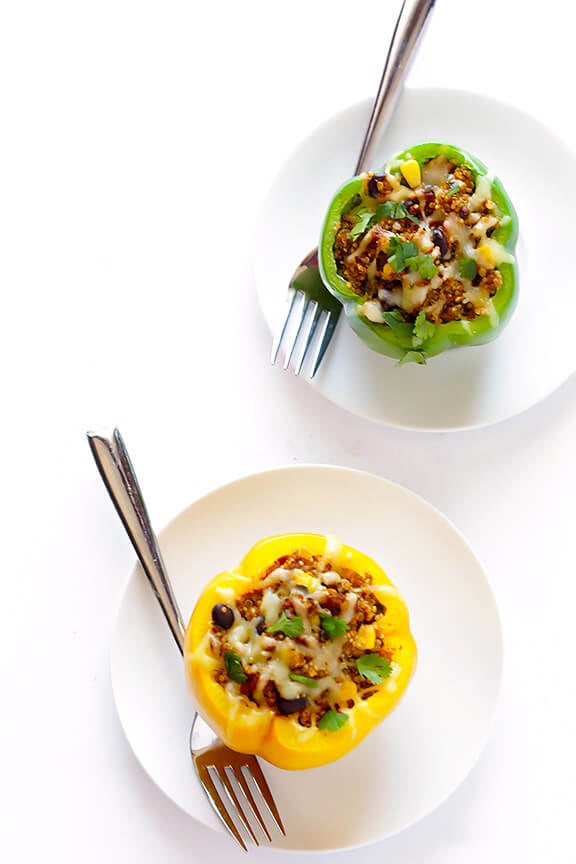 These guys ended up actually being my own last-minute contribution to our Neighbor Night last night.  And amidst a sea of hamburgers and hot dogs and brats galore, I'm happy to say that every single one of these peppers disappeared by the end of the night.  And my neighbors loved them.  And even better?  None of my fellow meat-eaters in the group even realized that they were meatless.  (Mwahaha.)  ;)
Seriously, such a great quick and easy recipe, and one that I look forward to continuing to keep on hand during the summer bell pepper months.
So big thanks to Padma for taking time to meet with me, and I hope that more of you will continue to join us in taking your own Veg Of Allegiance.  Enjoy!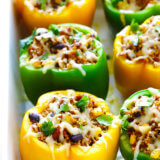 5-Ingredient Mexican Quinoa Stuffed Peppers
These 5-Ingredient Mexican Quinoa Stuffed Peppers are made with fresh and healthy ingredients, they are vegetarian (yet filling!), and so tasty!
Ingredients:
6 medium bell peppers (any color), tops cut off and cores removed
1 package Morningstar Farms Chipotle Black Bean Crumbles, cooked according to package instructions
3 cups cooked quinoa
2 cups (8 ounces) freshly-shredded Pepper Jack cheese
1 cup good-quality salsa (I used a salsa verde with corn)
optional toppings: chopped fresh cilantro, diced avocado, extra cheese
Directions:
Preheat oven to 350 degrees F.  Arrange the peppers in a 9 x 13-inch baking dish so that the cavity side is facing up.
In a large mixing bowl, stir together the cooked black bean crumbles, cooked quinoa, 1 1/2 cups shredded cheese and salsa until combined.  Spoon the mixture evenly into the cavities of the six bell peppers.  Sprinkle the tops with the remaining 1/2 cup shredded cheese.
Bake uncovered for about 25-30 minutes, or until the peppers are cooked and soft and the cheese is all melted.  Serve immediately, topped with optional toppings if desired.
All images and text ©
If you make this recipe, be sure to snap a photo and hashtag it #gimmesomeoven. I'd love to see what you cook!
This post is sponsored by Morningstar Farms.  I am partnering with them on their Veg Of Allegiance campaign — which I love — to create some new plant-based recipes to share with you, and all opinions are my own as always.  Thanks for continuing to support the brands that help make this site possible!