5-Ingredient Tropical Smoothie
Living in Kansas City, smack dab in the middle of the country, I think I'm officially about as far away from the ocean as possible.
Sometimes, I wish I lived closer.
Don't get me wrong.  I have grown quite fond of our rolling plains over the years, which out over the horizon as far as the eye can see.  I love driving through the Flint Hills, with the beautiful jagged limestone carved into the Kansas prairie.  I love our lakes and rivers here, especially the Arkansas River (pronounced our-Kansas in Wichita), which was the home for festivals, high-school canoeing, and many a family bike ride growing up.
But.
As much as I wholeheartedly love this Kansas home that I was born into, there's still a very special place in my heart for the ocean.  And the warm, salty breezes that blow across the beaches.  And the lush, colorful plants that grow wild on the shores.  And the sweet, rich, delicious tropical fruits that the sun warms to perfection.  Mmmm, especially those mangoes.  If I had a mango tree in my backyard, I think my life would be complete.
Alas, as long as I live in the Midwest, that will probably never happen.  Which apparently just means that I need to save up for more beach vacations.  ;)  But in the meantime, when the tropical craving hits, thankfully a trip to the frozen foods section of my grocery store can provide some beachy-inspiration in no time with this tasty treat:
My 5-ingredient tropical smoothie.
Yes, I say the frozen food section because — very unfortunately — ripe fresh mangoes are incredibly hard to come by in the Midwest.  Sure, they're always there for sale sitting in the produce bins at the store.  But after studying abroad in the "City of Mangoes" in Costa Rica, where you could pick a ripe, soft and decadently rich mango off any tree on the street, let's just say that the bins of fruit picked overly-early and shipped hundreds of miles to our grocery stores in Kansas City rarely compare.
But by contrast, I have learned that the frozen mangoes — usually picked at their peak of freshness — actually aren't half bad.  Same goes for the frozen pineapple.  So over the past year, I've gotten in the habit of keeping frozen mangoes and pineapple in the freezer.  And then when I'm feeling particularly restless about living in the Midwest, or am just craving a tropical-inspired treat, I'll whip up this simple 5-ingredient smoothie.
Can you guess the ingredients?
In rainbow form, we start with fresh bananas, then frozen pineapple, frozen mangoes, a fresh orange, and…the last ingredient?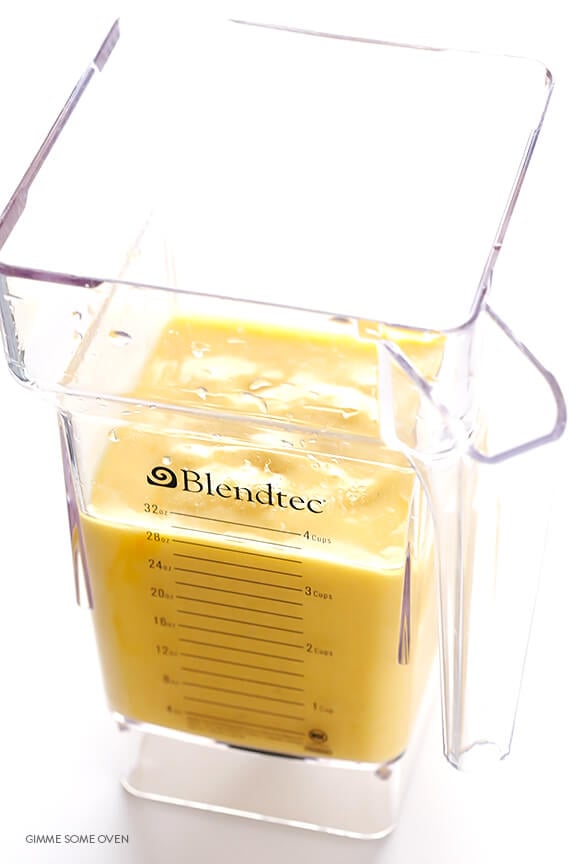 Coconut water!  I'm obsessed with the stuff, and always keep it on hand as a nice natural source of electrolytes to drink during and after workouts.  But as it turns out, coconut water also is the perfect light tropical liquid for blending up smoothies!
Just toss all of your ingredients in a blender and puree them to perfection…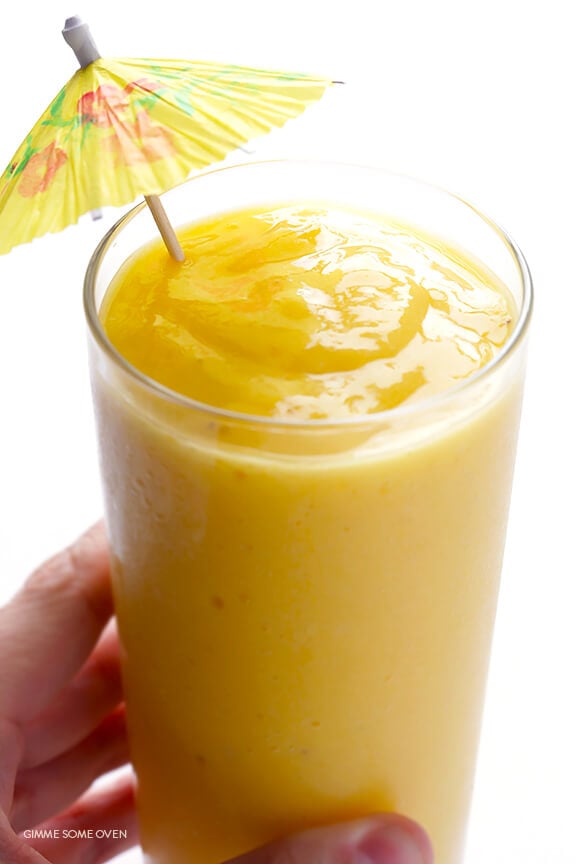 …then serve it up with a nice side of sunshine (and some cocktail umbrellas, if you're — ahem — feeling especially nostalgic for the ocean).
Quick, easy, sweet, naturally vegan and gluten-free, and SO tasty.
If I must live as far away from the ocean as possible, I'll make do with one of these smoothies any day.  :)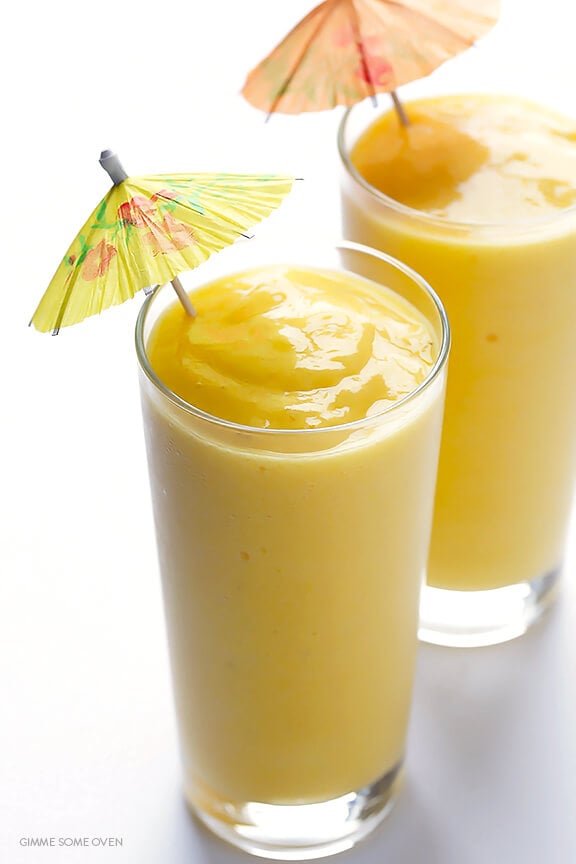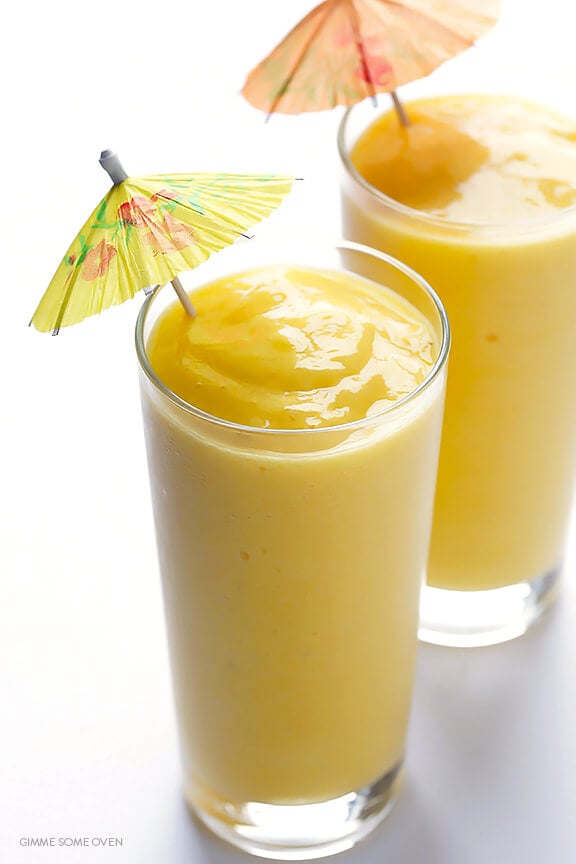 5-Ingredient Tropical Smoothie
This 5-Ingredient Tropical Smoothie recipe is quick and easy to make, it's vegan and naturally sweetened with fruit, and so tropically delicious!
Ingredients:
1 orange, peeled and quartered
1 ripe banana, peeled and sliced
1 cup coconut water (or fruit juice)
1 cup frozen mango chunks
1 cup frozen pineapple chunks
(optional: 1 teaspoon chia seeds or ground flax seed)
Directions:
Add all ingredients to a blender, and blend until smooth.  Serve immediately.
All images and text ©
If you make this recipe, be sure to snap a photo and hashtag it #gimmesomeoven. I'd love to see what you cook!