Agua de Jamaica (Hibiscus Tea)
Agua de Jamaica (Hibiscus Tea) is the perfect refreshing drink, and can also be used as a mixer for mocktails and cocktails!  This post is sponsored by Skinny Cow.
Is anyone else noticing hibiscus on the menu everywhere this summer?
From Panera's Tropical Hibiscus tea, to Starbucks' Very Berry Hibiscus Refreshers, to Argo's hibiscus Tea Squeeze — it seems like this is definitely the summer of hibiscus.
But while the trend may be new to many in the United States, cooking and drink-making with hibiscus has long been popular in many Latin American countries and elsewhere around the world.  In Spanish, hibiscus tea is known as agua de Jamaica, and is super simple to make!  All you have to do is steep some dried hibiscus leaves in boiling water (that is usually sweetened with dissolved sugar).  Then serve it over ice, mixed with a splash of fresh lemon, lime or orange juice if you'd like.  The flavor is bright and floral and tangy, and is definitely a perfect refreshing drink on a hot day!
It also happens to be a fantastic mixer to use for drinks, and was the hit of a WoCave mocktail party I recently hosted for some girlfriends.
But what is a mocktail, you ask?
Well, I have to admit that when I received my third (and final) mission from Skinny Cow to host a mocktail party, I had no idea what that was!  But it turns out that a mocktail is simply a cocktail without alcohol.  That can mean spritzers, aguas frescas, coolers, lassis, lemonades, you name it!
To prepare for the party, Skinny Cow sent me a great Mocktails cookbook and a bunch of fun bar ware to host the party.  But the best surprise came the day before the party.  YOU GUYS.  Skinny Cow paid for a home cleaning service to come make my loft all sparkly and beautiful and awesome!  I was completely honored, and completely grateful.  Best hostess gift ever!!
As for the mocktails, I considered whipping up a few creative drinks for my friends.  But for something different and fun, I decided instead to turn the night into a "DIY Mocktails" party so that my friends could all create their own drinks.  I whipped up a few simple syrups (ginger and jalapeno) to go with the sweet hibiscus tea and some freshly-squeezed watermelon juice.  And then I also made a few of my guilty pleasure snacks — puppy chow and truffle parmesan popcorn.  Par-tay!
It just so happened that two of my other friends had made a bunch of delicious syrups for a party the night before.  So they brought over the leftovers which lead to an impressive lineup of just about every syrup imaginable with all sorts of fresh herbs, fruits and spices.  Friends also brought along some various "cocktail" mixers for those who wanted a little extra kick in their drinks.  And by the time everyone arrived, my entire (albeit, minimal) countertop space was covered with a zillion ingredients to create your own fancy mocktail or cocktail.
SO fun!!!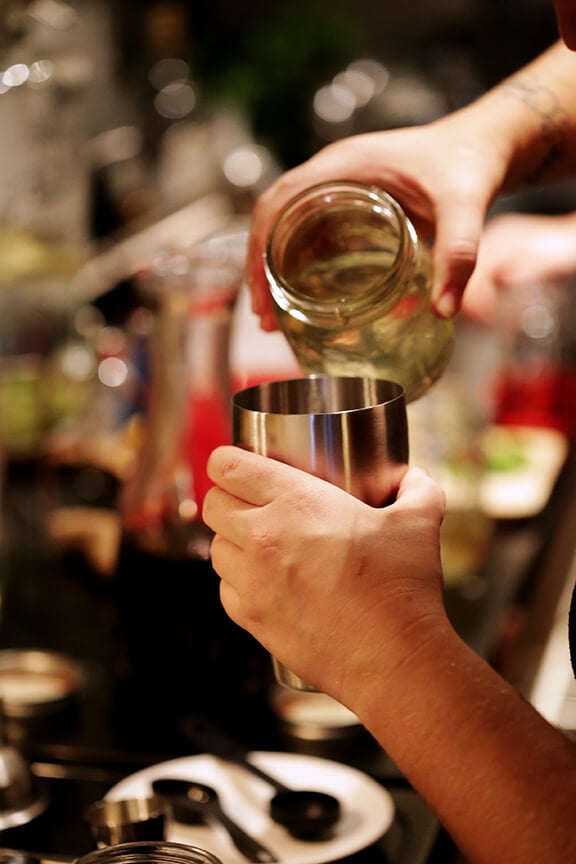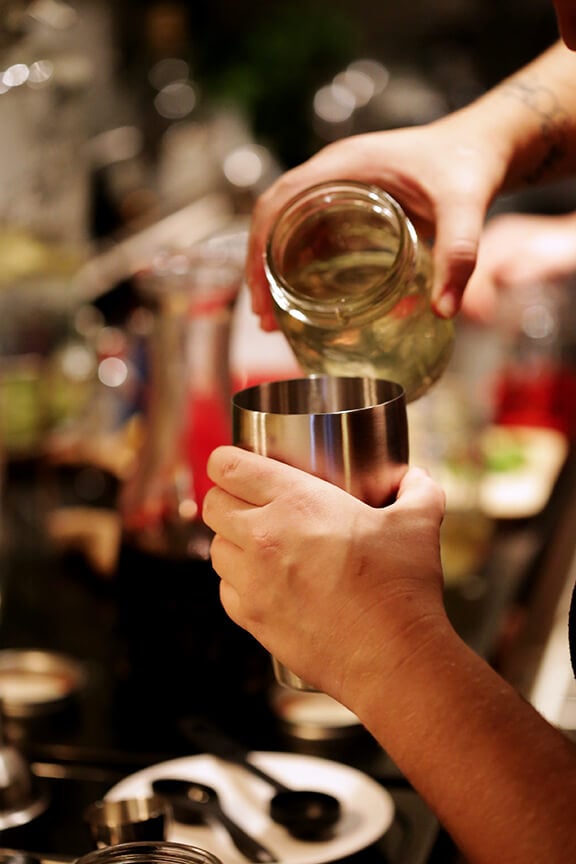 My friends, who are much more organized than me, immediately decided that we needed to keep a record of favorite drinks that we conjured up.  So I grabbed a notebook and one by one we started writing down our recipes.  By the end of the night, we had a veritable cookbook of new favorite drink recipes — all of which were really creative and really tasty!
Of course, the treats from Skinny Cow also made for a sweet dessert.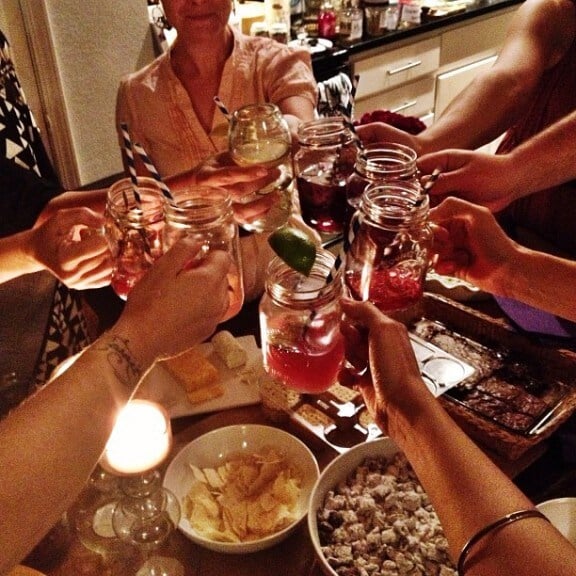 All in all, everyone had a great time.  And we all agreed that DIY drink nights definitely need to happen more often.  It was just so much fun to get creative and try out new drinks that we might never have tried before!  Definitely a great evening with friends, and a great experience to conclude my WoCave missions with Skinny Cow, which are all about celebrating great memories made with girlfriends.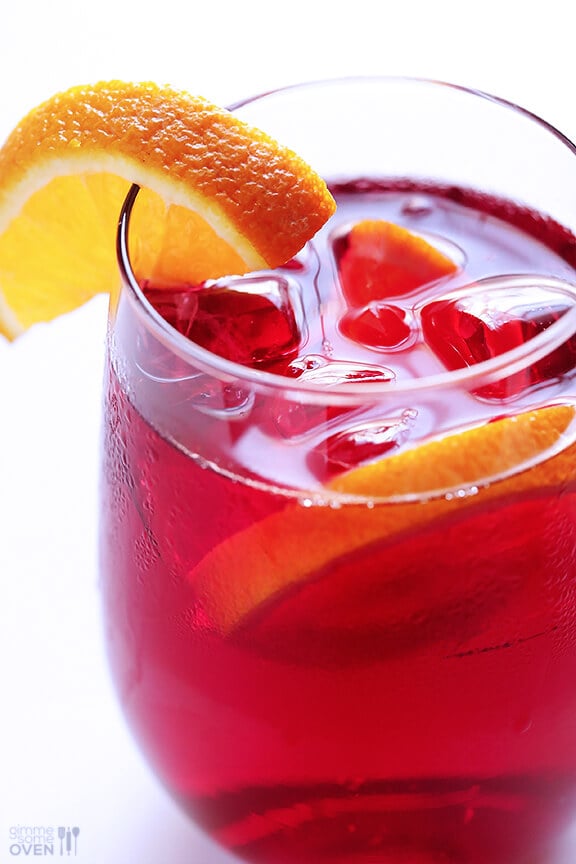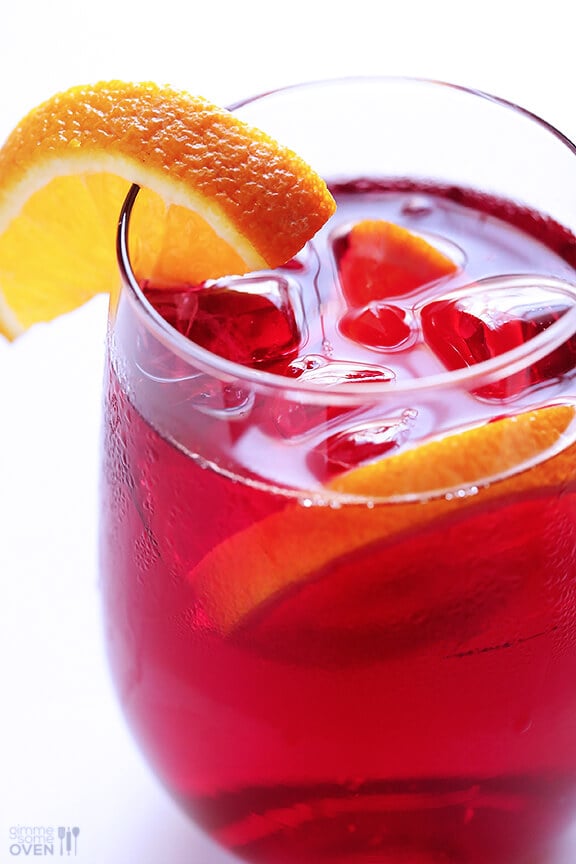 So for those of you who might be interested, I thought I would share the Hibiscus Tea (Agua de Jamaica) recipe with you here on the blog.  To find dried hibiscus, just find a grocery store with a strong Latin American section and look for "Jamaica".  I was able to purchase a huge tub of hibiscus leaves for about $3, which was really inexpensive for how much tea it made!
My Mexican friends all tend to have strong opinions on how sweet Hibiscus Tea should be, or which citrus juice should be added.  But I say go with whatever sounds good!  Adding in lime juice is probably the most classic choice for agua de Jamaica.  But I added in some fresh orange juice, and loved the extra sweetness it added to the juice.  Just taste test as you go, and see what flavors sound best to you.
Enjoy!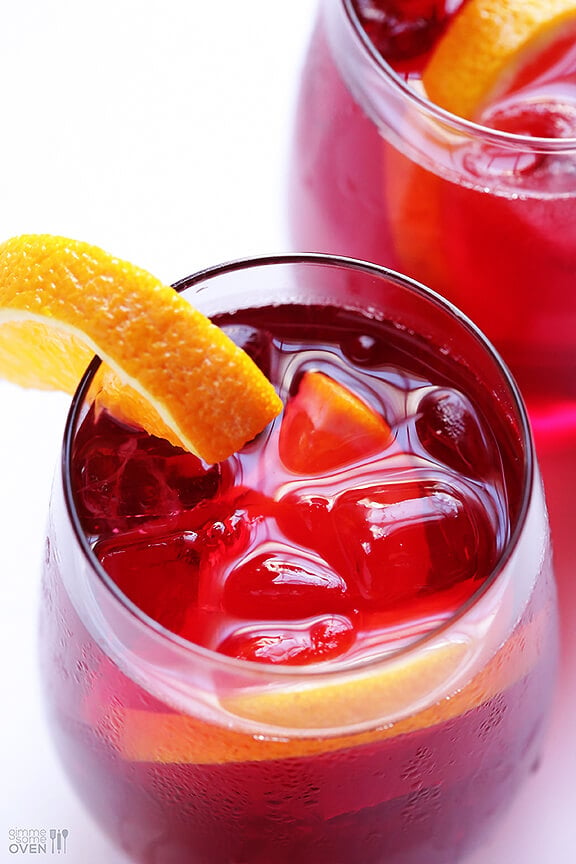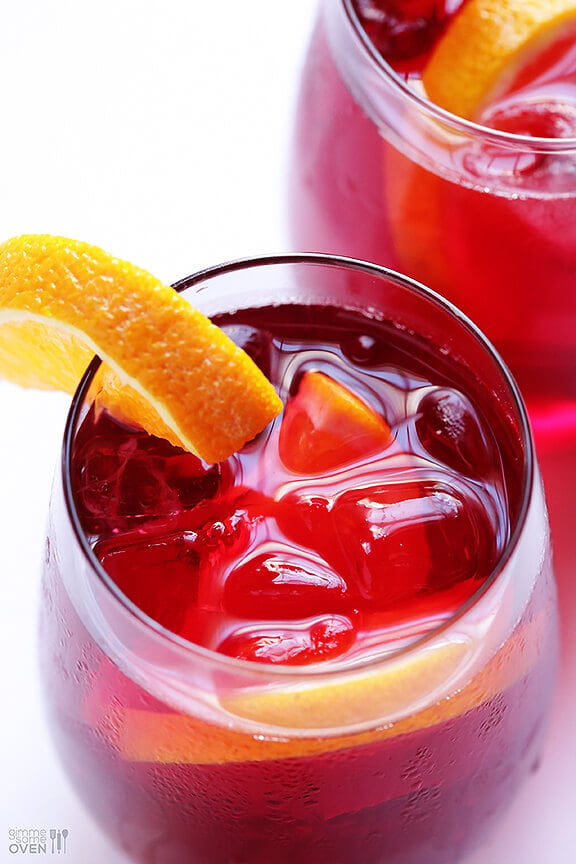 Agua de Jamaica (Hibiscus Tea)
Agua de Jamaica (a.k.a. Hibiscus Tea) is a popular Latin-American drink that also works well as a mixer for cocktails and mocktails.
Ingredients:
2 quarts (8 cups) water
1.5 cups dried hibiscus flowers
2/3 cup sugar (add more/less to taste)
1/3 cup fresh orange, lemon or lime juice (optional)
Directions:
Bring water to boil in a saucepan. Add sugar, and stir until dissolved. Remove from heat, then add hibiscus flours and stir to combine. Let steep for about 20 minutes, the remove the hibiscus flowers with a strainer. Stir in citrus juice if desired, then refrigerate. Serve over ice.
*You can also make this as sun tea, and let the water and hibiscus sit out in the sunlight all day.
**Also, this may go without saying, but be careful not to spill the drink on your clothing when making/straining. Those pink hibiscus leaves can stain clothes very easily!
All images and text ©
If you make this recipe, be sure to snap a photo and hashtag it #gimmesomeoven. I'd love to see what you cook!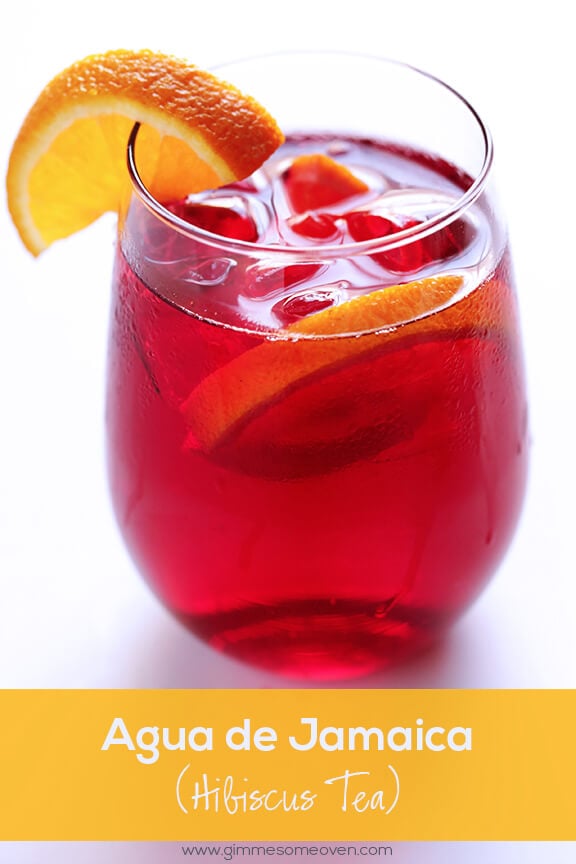 Disclaimer: This is a sponsored post from Skinny Cow.  I am a paid ambassador for their WoCave campaign, and received the aforementioned supplies to host a mocktail party.  But all opinions are 100% my own, as always.