ALDI 101: What To Buy At Aldi
This post may contain affiliate links. Please read my disclosure policy.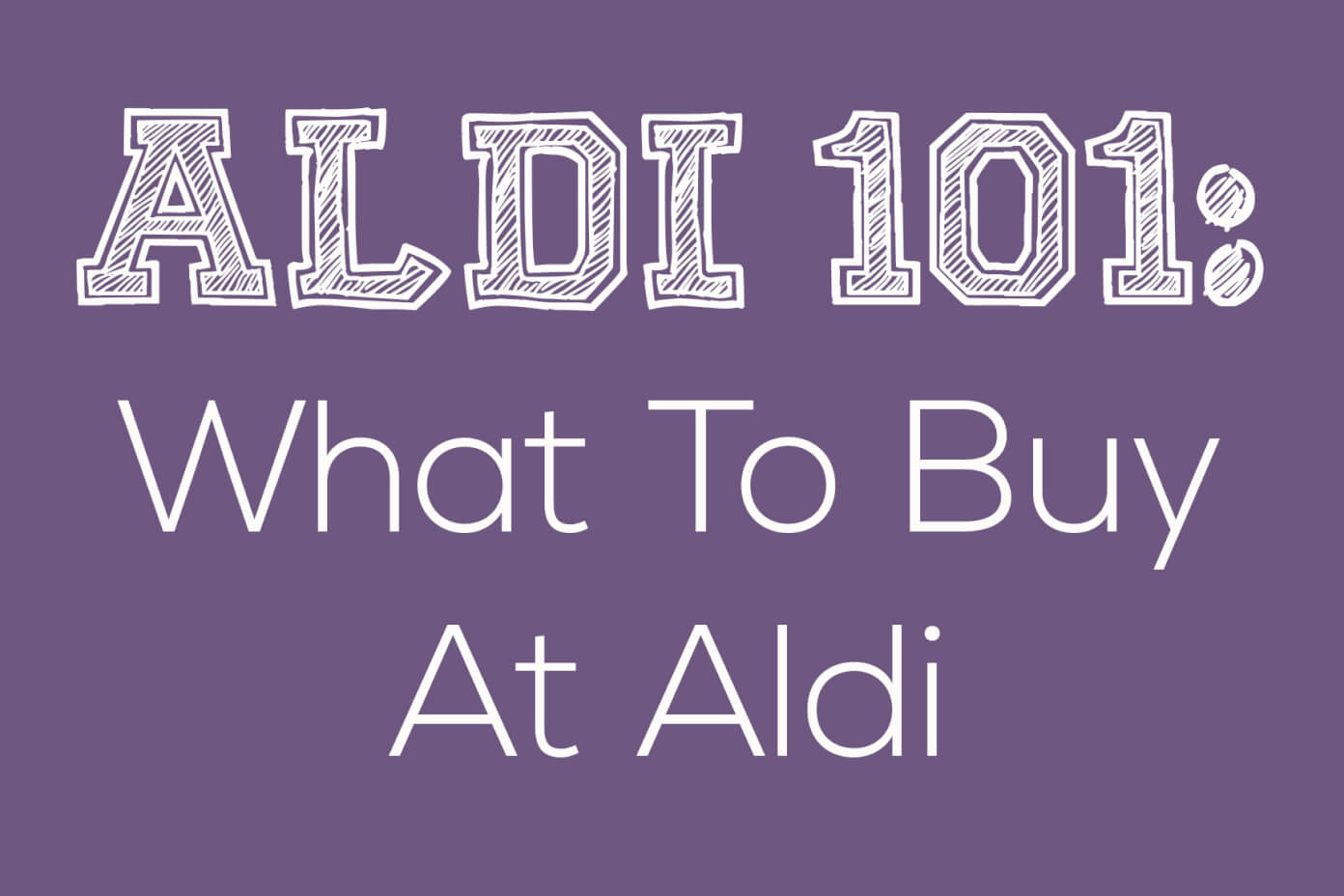 This is the third and final post in our ALDI 101 series. But I have to be honest — I kind of don't want this series to end!
I have been having so much fun reading your comments over email, tweets, Facebook, Instagram, and in the comment section below about Aldi! From those of you who have been longtime fans and have shared your great tips and favorite items, to those of you who may have never set foot in an Aldi but are considering giving it a try, it has been so cool to hear about each person's unique experience with the store. I have to admit that a reader totally made my day when she shared that she ventured into an Aldi for the first time this week, and loved it. That is so cool!!!!  :-)
Well after our first two posts — Why I Shop At Aldi and How To Shop At Aldi — today is the post that gets down to specifics on what to buy at Aldi. I feel like I should probably give a huge disclaimer that this post is based 100% on personal opinion. I have all of my own quirks and preferences, and as you will see below, there is a large section of the store (cereals, many non-organic meats, pet food, makeup, etc.) that I have not tried because those areas do not fall in my normal grocery shopping. And I'm sure there are plenty of items where our opinions may just simply differ! The pina colada popsicles that I adore just may not be your thing.
So please feel free to take this post with a a big grain of Aldi's sea salt. ;)  My hope is to offer a few starting points, and then hopefully you can try some new items and form your own opinions. To organize this post, I have included a few brief thoughts about each section of the store, and then a brief "to buy" and "not to buy" list of specifics. As always, I would love to have you share your thoughts on what you like to buy in the comments below.
This concludes our Aldi series! Thanks so much for joining in the conversation, and I look forward to resuming regular recipe posting with you tomorrow!

Pantry Items
The pantry items are where I recommend people start at Aldi. Almost everything I've ever tried in this section is high-quality and consistently way cheaper than anyplace else. Granted, again, there is only one of most items to choose from. So you do not get the option of white whole wheat flour, unbleached or barley flour — there is usually bleached all-purpose flour, and that's it. But this is an awesome section to stock your pantry, and even try a few of their specialty pantry items in the process.
What To Buy:
baking essentials (flour, granulated sugar, powdered sugar, brown sugar, baking soda, baking powder, basic spices, condensed milk, etc.)
real vanilla extract
chocolate chips (semi-sweet, butterscotch,
nuts for baking (pecan halves, walnuts, almonds, etc.)
garlic vinagrette (with the garlic floating on the bottom!)
Fit & Active light balsamic vinaigrette
natural peanut butter
clover honey
breadcrumbs
whole wheat pasta
potato gnocchi
strawberry light & crispy cereal bars
granola
oatmeal (any kind — there are lots of options!)
rice
dried beans
What Not To Buy:
The only iffy pantry item I have tried at Aldi is their chili powder, but I'm a bit of a spice snob. I think that you get what you pay for anytime you buy $1 spices at a grocery store. I'm also not a big cereal connoisseur, but I do know that their version of Cheerio's does not taste exactly like the original. Just like at any grocery store, many of the cereals or granola bars are made with extra sugar, so be sure to check out the labels if you're going for healthy.

Snacks and Sweets
There is actually a really wide variety of snacks and sweets to choose from at Aldi! I don't usually let myself buy potato chips at the grocery store, but when most all of their chips are under $2, I have to admit that I have now sampled quite a few. And they are pretty much awesome. :)
What To Buy:
dry-roasted almonds
waffle bowls
tortilla chips (restaurant-style, blue and multigrain varieties)
sweet potato chips
kettle chips (sea salt & vinegar and jalapeno are my favs)
moser roth chili chocolate bars
anise pizzelle cookies
Haribo cola candy
chocolate-covered coffee beans
What Not To Buy:
I don't have any no-buys in this section. I will just mention that occasionally the lower prices equal lower serving sizes in some products. Again, to use chips as an example, often their bags are only about half full. So plan accordingly. (Or just use it as an excuse for portion control!)  ;)

Dairy & Refrigerated Items
This is one category where it is "to each his own". The majority of Aldi's dairy products are not organic, although more and more organic options (and alternatives like almond milk!) are starting to pop up. The refrigerated section also seems to have a lot of variety and turnover, so while there may be marscapone and brie some months, they might not be there year-round. Still, my cart is always filled with lots of items from this section each time I go! And I always stock up on butter each time I'm there. It tastes great, and it is always so cheap!
What To Buy:
BUTTER!
fresh mozzarella balls
hummus (roasted red pepper, garlic and cayenne are my three favorites)
fresh salsas (I love the medium)
marscapone
soft cheeses (gorgonzola, blue, goat and feta are usually available)
cream cheese (regular and reduced-fat)
greek yogurt (often they have the Fage brand, and I also like their black cherry)
original organic soymilk
natural almond milk
skim milk, 2% milk, whole milk, half and half, heavy cream (none are organic, but they are pretty good!)
eggs
cinnamon rolls
What Not To Buy:
Obviously if you are looking for organic, anything that is not marked as such is a no. I also think that many of their block cheeses are ok, but probably about worth what you pay for.

Produce
Ok, people, this has become my favorite section of Aldi! Trust me — there is some amazing produce to be found here at some of the best prices I've found. But here's the deal…
You must be smart about choosing your produce. Just like at the normal grocery store, not every piece of produce is going to be perfectly ripe or at its peak season each time you visit. Case in point — Aldi can have incredible deals on avocadoes. (They are $0.19 each this week!)  But if the avocado is wilted, or hard as a rock, it's probably not a good day to buy it. The same goes for if you see any produce that looks super over- or under-ripe. If it looks iffy, you should probably wait until your next trip. Or you may need to eat it immediately, or wait a week for it to ripen if need be. But most of the time, I am completely impressed with their selection of ripe, affordable, delicious produce.
Most of their produce is also not organic, so just a heads-up if that is an important factor to you. Also many of their produce items (onions, zucchini, oranges, apples, kiwi, etc.) come in bags or in bulk. So there is not always the option to buy a single of some items.
Still, I always load up my cart with Aldi produce, so here are some of my favs!
What To Buy:
pineapple
lemons/limes
baby carrots
celery
mushrooms
green onions
sweet mini peppers
specialty lettuce
berries (strawberries, blackberries, blueberries)
zucchini and yellow squash
kiwi
pears
mangoes
What Not To Buy:
Again, anything that looks iffy. I find that their roma tomatoes typically are not very ripe or flavorful. And I would also offer a special note on the bananas — they are awesome, but often they are over- or under-ripe, so you need to eat them in the proper timeframe.

Refrigerated Meats
As I said above, I prefer to buy most of my meat organic, so I haven't tried tons of Aldi's refrigerated meat options. But they have some killer deals on meats, especially in their weekly fresh meat special buys! Be sure to always check for those specials when they are published each Wednesday, as they tend to disappear quickly! A lot of the meat at Aldi is also seasonal, so be sure around the holidays to check out their hams and turkeys. They are amazing!
What To Buy:
turkey bacon
ground turkey
thick peppered bacon
spiral-cut ham
turkeys
What Not To Buy:
Just a heads up that their cheapest bacon is really thin and not very lean. I would "splurge" and go for one of the thicker cuts, since that is practically the same price as the inexpensive bacon at the regular grocery store!
Canned/Jarred Goods
Thus far, I have had 100% positive experiences with the canned and jarred section at Aldi. They have a great selection of your basic canned fruits and veggies, and lots of canned sauces and such to choose from. And the prices are fantastic! Once again, I would caution to read the labels. Their canned peaches have a ton of sugar, as the generic canned peaches do at most stores. And some of their sauces and soups contain more processed ingredients than I prefer, as is common in many jarred sauces. But still, don't be scared of any of the canned produce from Aldi — it's awesome!
What To Buy:
canned veggies
canned fruits
canned beans
jarred marinara sauce
What Not To Buy:
Anything that you might be iffy about being overly-processed. (Look for some Gimme Some Oven recipes for easy alternatives to make soups homemade!)  And again, keep an eye on the sugar content with canned fruits.

Frozen Foods
To be honest, this is a section that I don't know a ton about. I usually stick with pretty straight "ingredients" in the frozen food section — frozen fruit, fish, veggies, etc. So if any of you have insights on more of the prepared frozen foods, would love to hear your thoughts in the comments!
What To Buy:
jumbo shrimp
tilapia
fruit popsicles (pina colada, lime and strawberry)
moose tracks ice cream
frozen berries (strawberries, blueberries, mixed berries, etc.)
edamame
asparagus
What Not To Buy:
Any of their frozen shrimp that are not "jumbo" are tiny. I have also not been super impressed with their frozen salmon. Like most salmon in that price range in any grocery stores, it seems a little lacking in flavor. Also a heads-up that most of the frozen meats are not organic.
Beverages
Gah, I wish I had more experience here! I promise you guys I'm not a super health nut, but I also pretty much stick to water, tea, juices and coffee in life. So I have hardly any experience here when it comes to beverages. But my friends tell me that most of their options (like the Aldi brand of Crystal Light, teas and flavored sparkling waters) are pretty much identical to the originals. Here are a few that I have tried.
What To Buy:
sparkling juice (I love all of them!)
refrigerated 100% orange juice (go for the nicer of the two options for better flavor)
Naked juice (when in stock)
flavored sparkling water drinks
iced tea
What Not To Buy:
I am definitely a big of a snob when it comes to my coffee. So I shy away from any of the bulk or super inexpensive coffee options, but I am sure they are comparable to their counterparts in the regular grocery store. I was also unimpressed by the cheap refrigerated orange juice — seemed to concentrate-y for me.

Alcoholic Drinks
First of all, it's important to point out that wine and liquors are not available in all Aldi's. I live in KC, and our Kansas stores are not allowed to carry alcoholic beverages, but most of the Missouri locations do. So this will depend on your state.
A reminder to all who are iffy about the cheap wine at Aldi — this store is owned by the same company that is the home of 2-buck-chuck, Trader Joe's! So before you immediately write off the drink section, I would recommend you try a bottle or two. In my experience, you get what you pay for and a little bit more. The $3 wines taste maybe like a normal $5 wine. The Bailey's knockoff isn't precisely like Bailey's, but it's darn close and a great deal for a fraction of the price. But my favorite of all time is available seasonally, and I wish it was offered yearround — Aldi's sangria! Oh man. I never knew that I would like sangria from a bottle, but this stuff is crazy good. And you get an enormous bottle for like $4. If you see it, you must try it.
What To Buy:
SANGRIA! (seasonal)
wines in the $5-10 range
Bailey's
What Not To Buy:
I think you get what you pay for with the super inexpensive budget wines — they are definitely hit and miss.
Household Items
For some reason, I held out on this section of Aldi for years, and now I have no idea why. They have some terrific household products at amazing discounts! Especially since I typically get annoyed at having to spend money on these things anyway, it's awesome to have a more affordable option at Aldi. Two areas that I have not tried are their pet section and the makeup. Would love to have you chime in if you have experience with either of these!
What To Buy:
disinfectant wipes
plastic freezer and sandwich bags
trash bags (they are thin, but they do the job)
Crest toothpaste
women's razors
pain relievers (ibuprofin, etc.)
ultra soft & strong toilet paper
paper towels and napkins
What Not To Buy:
You totally get what you pay for with the super cheap ($1 for 4 rolls) toilet paper. It is super thin and not very soft. But their thick TP is awesome!

My Top 10 Favorite Items At Aldi:
10. edamame
9. roasted red pepper hummus
8. fresh mozzarella balls
7. sangria
6. sea salt pita chips
5. pina colada popsicles
4. artichoke hearts
3. almond milk
2. butter
1. pineapple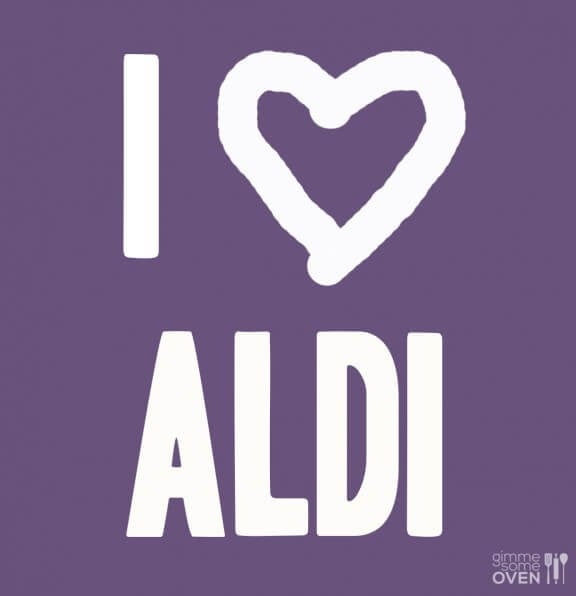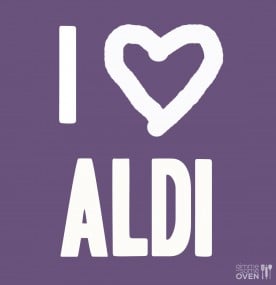 Other ALDI 101 Articles:
Thanks so much for following with the ALDI 101 series! Now it's your turn to share — what are YOUR favorite things to buy at Aldi?