Appledoodles (Apple Snickerdoodles)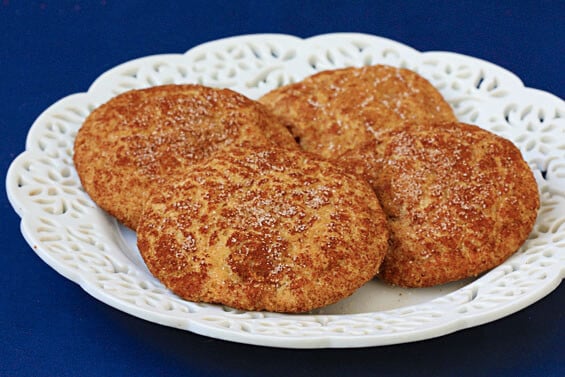 Last night one of my friends served us one of her fall favorites — snickerdoodles!!  Which made me realize it has been at least a year since I've made some!  This should not be so…  :)
So this morning I woke up early to whip up a batch to bring to all of my singers at rehearsal tonight.  But as I was making the dough, it hit me – why not toss in some apples and make…appledoodles?!?  So before popping them in the oven, I mixed some diced apples into the dough (although I would recommend dicing them slightly smaller than I did today), rolled them in that classic cinnamon-sugary goodness, and voila — a new favorite cookie!
I don't know why I never thought of this before.  They've very simple — all of the deliciousness of snickerdoodles, with a few bursts of apples mixed in.  And I must say, the snickerdoodle recipe I based them on is a favorite — wonderfully chewy, without using shortening or cream of tartar.  My kind of cookie.  :)
Couldn't think of a yummier way to get my "apple a day"!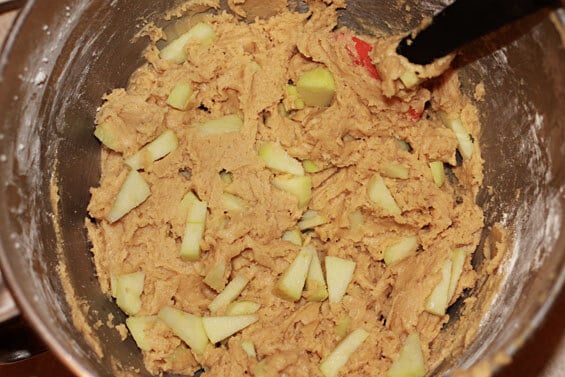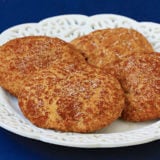 Appledoodles (Apple Snickerdoodles)
Your favorite chewy cookie with some delicious diced apple mixed in! You will love this Appledoodles (Apple Snickerdoodles) recipe!
Ingredients:
8 Tbsp. (1 stick) unsalted butter
2/3 cup brown sugar
2/3 cup white, granulated sugar
2 eggs
2 cup all-purpose flour
2 Tbsp. cornstarch
1 tsp. baking soda
1/2 tsp. salt
1/8 tsp. nutmeg (optional)
1 small apple, peeled, cored and diced small (about 1/4-inch cubes)
Cinnamon/Sugar Mixture Ingredients:
1/2 cup sugar
3 Tbsp. ground cinnamon
Directions:
Preheat your oven to 350°F. In a mixer, cream the butter on medium-high speed until it's soft, smooth and light.

Add both of the sugars to the creamed butter and mix until they are fully incorporated, and lighter in color. Stirring vigorously, add the egg to the mixture and beat until the batter looks uniform.

In a separate bowl, stir together the flour, cornstarch, baking soda, salt and nutmeg. Then slowly fold into the batter until just combined. Then add in diced apples, and gently fold them by hand into the batter until well-distributed.

Form balls of dough (I used a cookie scooper) and plop them in cinnamon sugar, swirling to coat. On a greased or parchment lined cookie sheet, place the dough balls 3 inches apart. Use your fingers to press and flatten the dough slightly and sprinkle an extra pinch of cinnamon sugar on the flattened surface.

Set the first timer for 7 minutes. Turn the pan around and set a second timer for 7 minutes. If you are using a greased pan they might be done at this point, or need another minute. If you're using parchment, cookies will take 2-3 minutes more. You are looking for golden edges and a blonde middle.

Cool on a baking sheet and enjoy. Snickerdoodles will keep in an airtight container, at room temperature for 3 days, but they are best eaten the day they're made.

All images and text ©

If you make this recipe, be sure to snap a photo and hashtag it #gimmesomeoven. I'd love to see what you cook!
Ali's Tip: