Bacon Corn Chowder
I am seriously in denial that it is the middle of August, that temperatures are back down to being in the 80s, that my Facebook feed is full of adorable kiddos proudly heading back to school, that Halloween candy has arrived in grocery stores, and that summer — my beloved summer — is nearly over.
I feel like summer just began!
I mean, wasn't it just yesterday that I was pulling out my tank tops and sandals, and kicking on the a/c for the first time, and getting excited (yes, I get excited) for temperatures to climb into the three-digits, and tasting the sweet summer harvest of peaches, and — I just don't want it to end.  I mean, I love my scarves and riding boots, but I love summer more.
Le sigh.
I need to figure out what to do about this lack of warm weather coming my way soon.  But in the meantime, the one consolation I have about the impending Season That Is Not Summer is that I happen to really, really love fall food.  Namely, soups.  I happily enjoy soups year-round, but they seem to be especially comforting in the fall.  And one of my favorite transition soups into fall is a good corn chowder, made with fresh summer corn.  (Or if that's not available, canned corn will also make do.)  This week, I happened to have a few fresh ears of Kansas corn in my kitchen.  So I paired them with some smoky bacon to try and edge my way into just thinking about this season ahead.
Of course, doing so in a tank top and a glass of iced tea with the windows open and Death Cab's "Summer Skin" on in the background.  Because, you know, baby steps.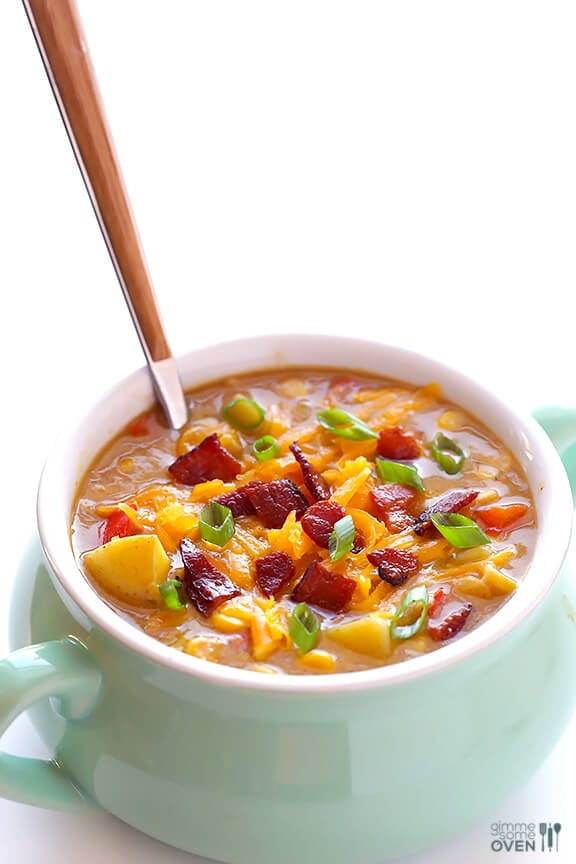 I love a good corn chowder, and this is a good one.  It was the perfect mix of sweet (the corn), smoky (the bacon), cheesy (the cheddar), thick (the potatoes) and creamy (the milk, which is a lighter option than cream).  And it was seasoned like a good "chowdah" should be with Old Bay and thyme and a generous pinch of cayenne.
So flavorful!  And of course, so comforting as well.
It's a great recipe to celebrate the best of summer in the heart of summer.  And a great recipe to celebrate and count down the days til summer…in the heart of winter.  ;)
Whenever you make it, though, I'm pretty sure you will love it.  Enjoy, friends.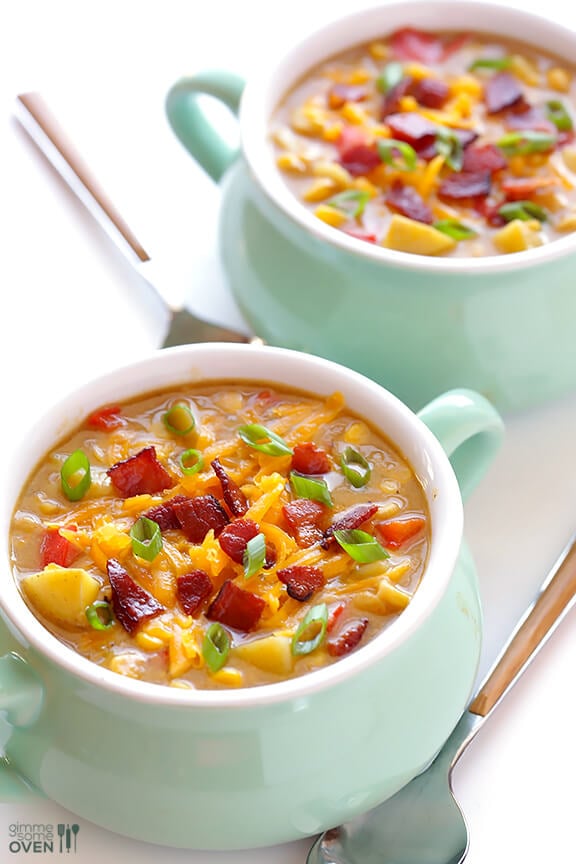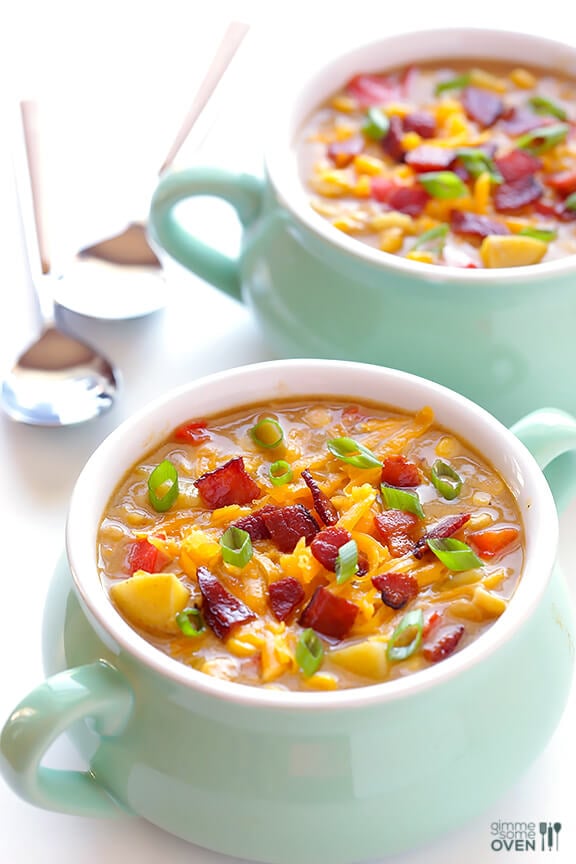 Bacon Corn Chowder
This Bacon Corn Chowder is full of delicious, comforting flavors that can be made with fresh or canned corn.
Ingredients:
5 ears of fresh corn, shucked (*or you can substitute 2 15-ounce cans of whole kernel corn, OR a combination of 1 can each of whole-kernel and creamed corn)
8 slices (about 1/2 pound) bacon, diced
1 small white onion, diced
3 cloves garlic, minced
3 tablespoons all-purpose flour
3 cups chicken stock
2 cups milk
1.5 pounds potatoes, diced into 1/4-inch cubes (I used Yukon gold)
1 (4-ounce) can chopped green chiles
1 tablespoon Old Bay seasoning (add more/less to taste)
1/2 teaspoon dried thyme
1 cup grated cheddar cheese
1 teaspoon salt (add more/less to taste)
1/2 teaspoon freshly-cracked black pepper
1/4 teaspoon cayenne pepper
optional garnish: extra shredded cheddar cheese, thinly-sliced green onions, reserved bacon bits, sour cream
Directions:
Heat a large stock pot over high heat. Add the corn kernels and let them dry-roast for about 6-8 minutes, stirring occasionally, until their edges begin to brown and caramelize. Transfer the corn to a plate to set aside.
In the same stock pot, fry the bacon pieces over medium-high heat until crisp. Remove from the pan using a slotted spoon and set aside. Reserve 1 tablespoon bacon grease in the pan, and discard the rest.
Add the onion and saute for 5 minutes, or until tender. Add the garlic and cook for an additional 1 minute, or until fragrant. Stir in the flour until combined, then cook for an additional 1 minute, stirring occasionally.
Add in the chicken stock, milk, potatoes, green chiles, Old Bay, and thyme, and stir to combine. Continue heating until the mixture reaches a simmer but not a boil. Reduce heat to medium and let simmer for 15 minutes, or until the potatoes are tender. Add in the corn, cheese and most of the bacon bits, reserving a few to save as a garnish if desired. Stir to combine.
Taste test the broth, then season with salt, pepper and cayenne to taste. (I recommended the amounts that I used, but your seasoning preferences may vary.)
Serve warm, with additional garnishes if desired.
All images and text ©
If you make this recipe, be sure to snap a photo and hashtag it #gimmesomeoven. I'd love to see what you cook!