Baked Blooming Onion
One of my favorite memories with my grandma back in the day was going to dinner at Chili's.  My mom would order a salad, my sister would order chicken fingers, and my grandma and my dad and I would all order the baby back ribs, which inevitably brought on a rendition of everyone singing the famous jingle (with bar-be-que sauce!).  
But before we dove into our messy main courses, every now and then we would treat ourselves to their famous "awesome blossom".  Or as other restaurants call it, a blooming onion.  I found out later that this deep-fried onion topped the charts at the time for the most unhealthy thing you could order at the restaurant, but boy was it good!!!  We all loved dipping those onion petals in that heavenly sauce — so much so, that we were often completely full before our entrees arrived!  Oh, to have the metabolism of a kid.  :)
I admit I haven't had a blooming onion in at least a decade.  But when I recently posted a lightened up version of another restaurant favorite, it reminded me of the famous awesome blossom.  And I got to thinking what it would take to lighten it up!  Sure enough, my favorite way to "oven-fry" other dishes worked like a charm with this dish, and my baked blooming onion was born!  Just coat an onion with a heck of a lot of seasoned panko, bake it in the oven, and you're good to go!
It is definitely different than the deep-fried effect.  But the panko made this blooming onion crispy, flavorful, and made for a really fun appetizer to share with friends.  And I guarantee that everyone will be so impressed with how you got the onion to "bloom"!  Definitely a timeless treat, made all the better when it's not loaded with a gazillion calories.  Enjoy!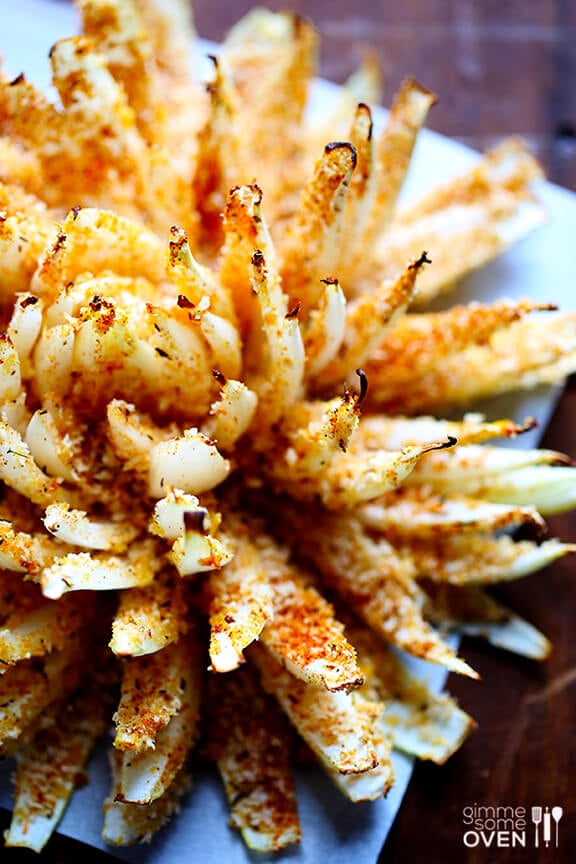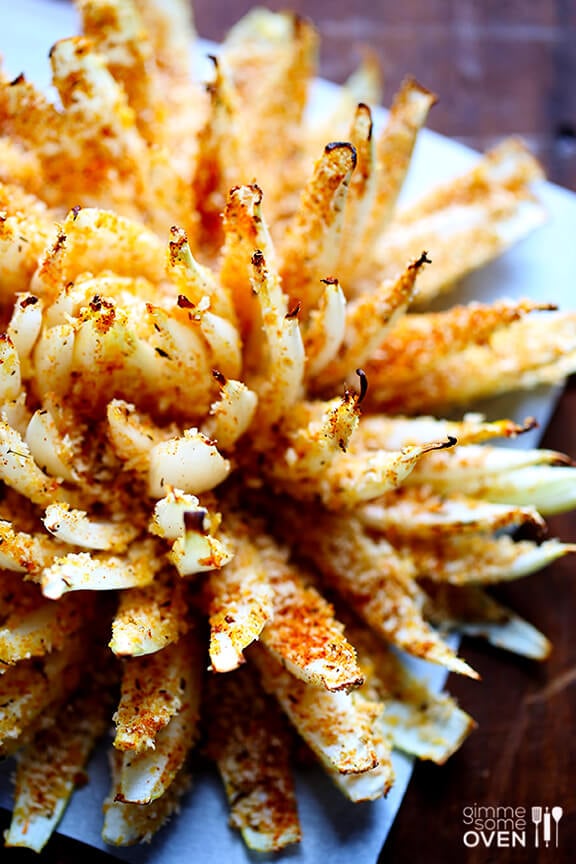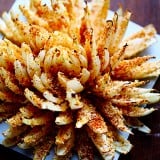 Baked Blooming Onion
A healthier and baked version of the classic blooming onion.
Ingredients:
For The Blooming Onion:
1 large Vidalia onion (or any yellow onion)
2/3 cup Panko breadcrumbs
1 Tbsp. Cajun or blackening seasoning (**see alternate seasonings below**)
1/4 tsp. salt
2 eggs
optional sides: ketchup, spicy dipping sauce (see below), ranch dip, honey mustard
!For The Spicy Dipping Sauce:
1/2 cup Greek yogurt (or mayo)
2 Tbsp. ketchup
2 tsp. horseradish sauce
1/4 tsp. salt
1/4 tsp. smoked paprika
1/8 tsp. garlic powder
1/8 tsp. oregano
Directions:
To Make The Blooming Onion:
Preheat oven to 400 degrees.
On a cutting board, use a knife to cut off the top (not the root) 1/4-inch of the onion until a few of the inside layers are exposed. Peel the outermost layer of the onion down to the root, but leave the root intact.
Lay the onion on the cutting board so that the flat side (that you just cut) is facing downward. Then use a knife to section the onion into 16ths, beginning with your knife 1/8-inch away from the root and cutting straight down. Once all cuts are complete, turn the onion over and set on a piece of parchment paper on a baking sheet. Then use your fingers to gently spread apart the petals. If any of your cuts did not go all the way through, you can use a paring knife to be sure that the entire onion is cut into 16ths.
(Update: I have had readers give the tip that if you soak your sliced onion in cold water overnight, it will open up naturally on its own.)
In a separate small bowl, whisk together the Panko, Cajun seasoning and salt until combined.
In a separate (additional) bowl, whisk the eggs until combined.
Beginning with the lowest (bottom) layers of the onion, brush the top of each petal with the egg mixture until coated, then immediately sprinkle with the Panko mixture. Repeat until all petals are coated. (The panko won't totally "stick" when the egg is wet, but just press it on with your fingers.) It is kind of tedious, but worth it!
Carefully form a tent with aluminum foil over the baking sheet until the onion is completely enclosed. Bake for 5 minutes, then remove tent and bake for an additional 10-15 minutes until the onion is soft and the tips are lightly crisped.
Remove and serve with desired sauces.
To Make The Spicy Dipping Sauce:
Whisk all ingredients together until combined. Serve immediately or refrigerate in a sealed container for up to 1 week.
**Instead of the Cajun seasoning, you could substitute in Italian seasonings or whatever you love best.  Just taste a pinch of the dry seasoning before applying it to the onion to see if it needs to be seasoned with salt and pepper.
All images and text ©
If you make this recipe, be sure to snap a photo and hashtag it #gimmesomeoven. I'd love to see what you cook!